Interviews are no stranger to employed people. A prospective candidate has to go through an interview process for almost all jobs. Interviews are done in a variety of ways. The first type of interview a person would have to go through would be a phone-call interview. This might lead to a video call interview or an interview with a higher official of the company. The third step of the interview process is usually a panel interview. And the process would end usually with a group interview. Interviews can be different based on the job and the company a person is applying to. Some interview processes are long with five stages of interview and some processes are very short and will only have just one or two steps of interview. The job and the company have the ultimate decision on how lengthy the interview process is. Let us know more about that the Group Interview Activities- Know More.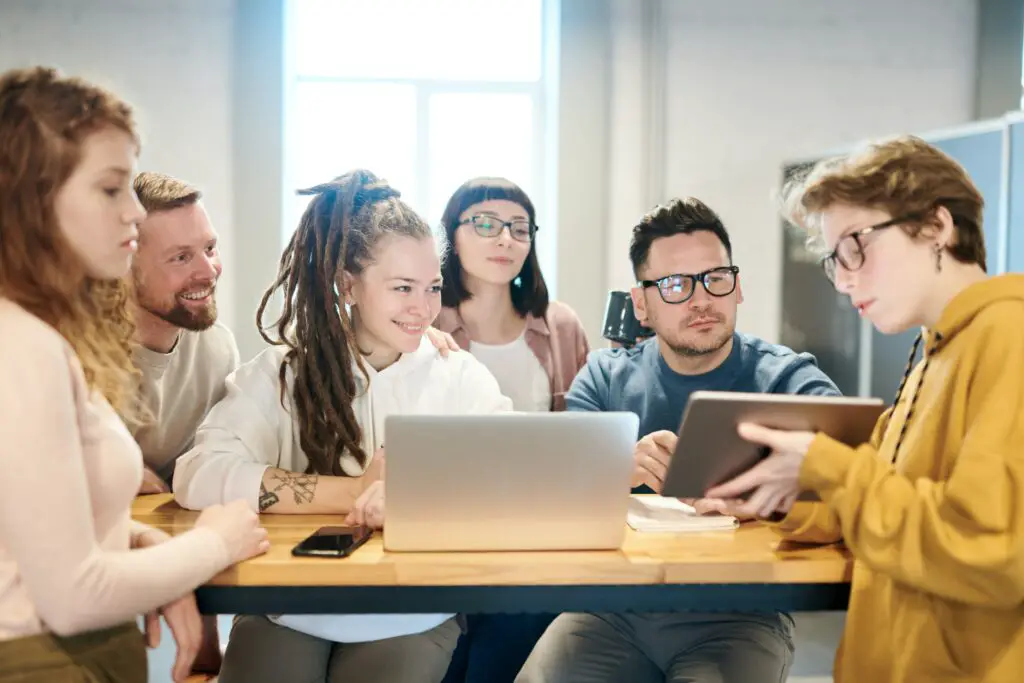 Group interviews are done with multiple candidates who have applied for the same position at a company. The interview will give a chance for the employer to see the candidates in a scenario-based situation and be a part of the team. Group interviews are a good choice of interview for the employer but for a candidate to stand out in a group interview they would need special skills. Some of the types of group interview activities are roleplay scenarios, case studies, practical tasks, group presentations, games or puzzles and general interview questions. 
Group Interviews 
Group interviews are a process that is done by an employer to evaluate and assess multiple candidates at the same time who have all applied for the same or similar positions at a company. It is a way for the employer to see how candidates work in a team and communicate effectively. Group interview activities also help the employer assess the essential skills of a candidate that is needed for the job. If the employer is hiring a candidate for a position that involves a lot of teamwork and customer communication, a group interview is done. 
Group interviews also help employers to understand if the candidate is suitable for a stressful, fast-paced environment, which would be the scenario at the company. These are some of the reasons why group interviews are preferred more than traditional individual one-on-one interviews nowadays. Group interviews save a lot of time for the employer too as they can pick out the right candidate from a list of candidates who have applied for the position. But at the same time, group interviews involve planning and preparation ahead more than the normal walk-in one-on-one interview. 
Types of Group Interview Activities 
Broadly group interview activities can be divided into seven types. The details of each group activity are given below: 
Roleplay Scenario
One of the most common activities used in group interviews is roleplay activities. It is an ideal activity as it enables the employer to properly assess how the candidate would handle a situation that the position they are applying to usually has to face and if the candidate has the required skills for it. 
The employer will look for the candidate's communication skills, problem-solving skills, critical thinking skills, leadership skills, customer service, ability to work in a team, performance under pressure and any other skill that is required for the position that the candidate has applied for. 
In a roleplay activity, the candidates are usually given a scenario which would resemble a typical day for the job that they have applied for. They would be given scenarios where either they would have to solve the issues of an upset customer or manage a situation as a team. As employers get to see the candidates in action, roleplaying activities are one of the most preferred activities in group interviews. 
Case Studies 
A case study is another common group interview activity. Candidates are divided into groups and given a case study to solve. Case studies are different from roleplay because case studies won't involve acting out the scene but rather it would involve a discussion on how to solve the problem. 
The HR team of the hiring company usually draft a document with a scenario which would be a common scenario faced by the job position the candidates have applied to. The candidates have to solve the problem as a group and view other candidates who are their competitors as team members and coordinate with them. The HR team will observe each candidate and how they are doing well in a team. And finally, each team would have to present before the group how they solved the problem. 
Case studies are one of the best activities to understand how well a person thrives in a team. As the problem or scenario presented to the candidates should be solved together, the way candidates work with each other and how they come up with a solution can easily be assessed. Case studies also help portray the problem-solving skills and leadership skills of the candidate. 
Practical Tasks 
In some group interviews candidates are given a practical task to solve. It is different from case studies because case studies usually deal with a problem that would be a common scenario faced by the employee of the job position the candidates have applied to. In the case of practical tasks, it is not necessary that the task should be job-related but it can be a scenario that helps asses the skills of the candidates. And in most cases, the task would contain multiple problems, one arising after the other, so the candidates have to be prepared for anything. 
Candidates are divided into teams and have to work as a team to solve the problem presented to them. Interviewers usually assess the ability to work in a team of the candidate among other skills like logical thinking, communication and problem-solving skills. 
To succeed in the practical task round candidates should first assess the task that they are given and understand the scenario thoroughly. Then it can be discussed with the team members and their opinions can be understood. Thus it is one of the ways the HR team or the interviewer can easily assess the skills of the candidate. 
Group Presentations 
Another group activity is to make the candidates do a group pitch. Candidates are divided into groups and they are given a concept or product and have to work together to create a sales pitch. This is usually done for jobs that involve customer interaction like sales, finance and consulting. 
The candidates are given a hypothetical situation and they are asked to create a sales pitch for a fictional character. One candidate will be asked to choose a topic and the group together will have to create a convincing sales pitch. There will be a specific time limit for both understanding and planning the pitch and for the presentation. 
The candidates will be assessed for skills like problem-solving skills, leadership skills and teamwork as in the case of the case study. The candidates will also be analysed for their communication skills, presentation skills, negotiation and ability to remain calm under pressure. 
Games or Puzzles 
Conducting games, sports or puzzles is sometimes taken up as a group interview activity in some companies. Candidates are given simple tasks like building or creating something from building blocks or playing rock, paper, scissors, escape room, quizzes or even a treasure hunt. For some of the games, the candidates are divided into groups and for some, they are assessed individually. 
Games and puzzles are typically conducted to understand the skills of a candidate rather than the knowledge required for the position that they are applying for. Mostly the candidates are assessed for their problem-solving and creative skills. 
Creating something out of building blocks would be a clear portrayal of creative skills. Other games and puzzles would provide a chance for the interviewer to grade the spontaneity and reflexivity of the candidate, their problem-solving skills, strategic thinking, teamwork and the ability to keep composure in a stressful environment. 
General Interview Questions 
Even during group interviews, candidates can be asked general interview questions. These are questions that are almost asked in every interview and will help the HR team to get an idea about the candidate and their qualifications. 
Some of the general questions asked are as follows: 
Introduce yourself
Why should you be hired for this role?
What are your strengths and weaknesses?
How will you contribute to the company?
What are your long-term plans?
What makes you stand out from other candidates?
Why do you want to work for this company?
Where do you see yourself in five years?
What are the things that you are passionate about?
What motivates you in life? 
Tips to Succeed in Group Interviews
Group interviews are sometimes described as a difficult level of interview. But it depends on how prepared the candidate is to tackle such an interview. The tips to succeed in a group interview are given below: 
Research the company and the interviewers: It is always best to be prepared. You can never be over-prepared. So research as much as possible about the company and the interviewers. Check the internet to see if there are any mentions of group interviews done by the company and if so thoroughly understand the process of the company. Check the type of group interview activities that the company have conducted in the past and be prepared for such activities. 
Good First Impression: As in the case of a normal interview, make a good first impression. Arrive early and greet everyone, the other candidates and the interviewers. Get to know the candidates, assess them and their skills and build a rapport with them as you will have to work with them during the group interview activities. Be friendly and always remember to smile while engaging with everyone. 
Be Confident: Always remain confident. Don't be discouraged if the other candidates are better qualified than you, or better communicating or better dressed. Keep a positive attitude throughout the interview and be confident in your own abilities. Confidence is one of the best armours you can wear for an interview. Also, remember to be dressed properly in something that gives your comfort and confidence. 
Always be aware of your behaviour and your body language: In a group interview, you are always being observed. So you always have to keep your cool and be calm. The interviewer will be watching how you are handling a highly stressful situation. Also, remember to control your body language. Body language can sometimes communicate more than words. If you stand with your arms crossed, you will give out the impression that you are aloof and not open for a discussion. Always remain friendly and ready for conversation, not just in words, but in body language too. 
Always be part of the team: Always remember that group activities involve teamwork which means you have to work as a team. Never do anything apart from the team in a group activity. Always include others and reach a solution together. If you have the skill then make everyone involve themselves in the group discussion which would highlight your leadership skills. The interviewer would then be able to see how you can turn the team into a very collaborative team that is significant for the company. 
Listen actively: Always be prepared to actively listen to your teammates. Understand their views and points and then reach a solution. Acknowledge their contributions and thus be a team player. 
Be Yourself: In an interview always remember to be yourself. Be direct, honest, friendly and open.
Follow up after the interview: After the interview, send an email to the interviewer thanking them for the opportunity so that they are aware of you and your dedication towards the job and the company you have applied for.
1. Are group interviews hard to succeed in?
A group interview can seem daunting but with proper preparation, you can succeed in a group interview. 
2. Will a group interview be done for an entry-level job?
It will depend on the job and the company you are applying to if it involves a group interview. 
Group interviews have become more and more common over the past few decades. These types of interviews simplify the interview process for the interviewer as they can interview many candidates in one interview. The skills of the candidate can also be assessed in such interviews. The group activities that are usually seen in a group interview are roleplay scenarios, case studies, practical tasks, group presentations, games or puzzles, and general interview questions. 
FAQs
Should I give myself a chance for my teammates to speak while in a group interview if I have already found the solution to the problem?
Yes, it is important to let everyone voice their opinions and decide from all the opinions which one is the best. Sometimes there might be a solution that is better than yours so it is always a requirement to listen actively to everyone. 
Are case studies part of group interviews?
Yes, case studies are a part of group interviews.
Group Interview Activities- Know More