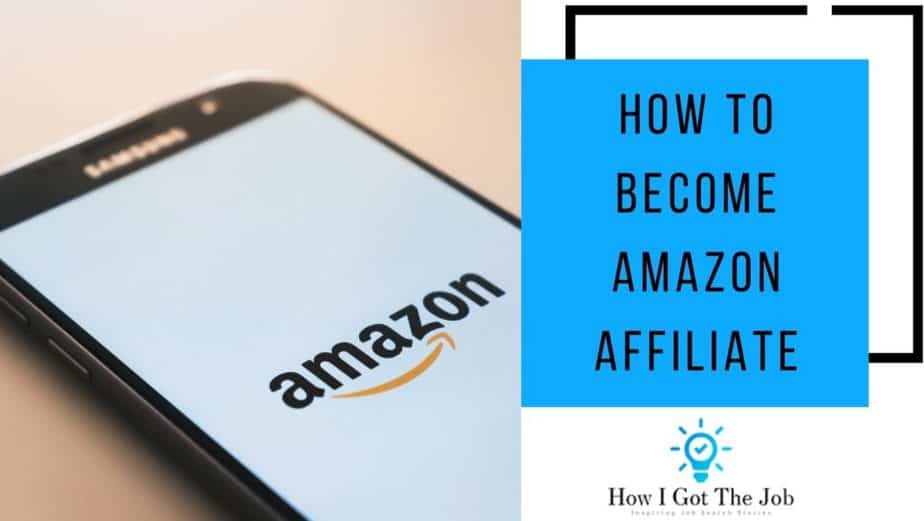 Making money online is no longer new these days. Gone are the days of waking up to go to work, some people are simply setting up systems that bring in money for them online, these days the internet has provided diverse legal means to make money even with our smartphones.  
Are you looking for a way to make extra cash online? Have you heard about the Amazon Affiliate/Associate program, but you do not know how to go about it? I will explain how to become an Amazon Associate in this article.
About Amazon
American Multinational company Amazon is a technology company specializing in cloud computing, artificial intelligence, e-commerce, and digital streaming. Jeff Bezos founded the company in 1994. Amazon is one of the multinational companies in America that was started from scratch and built over the years into a multinational company with world economic influence. 
The company started as an online bookstore and expanded to what it is today. From the time it started in Jeff Bezos' garage in 1994 to this year, Amazon has grown to take over the retail market. We know Amazon for its wonderful customer service and prompt delivery. Amazon has over 100 million subscribers in the world. Apart from full-time jobs, Amazon offers part-time offline and online jobs.
What is affiliate marketing?
Affiliate marketing is a type of marketing that involves promoting other people's businesses or products and getting paid each time a sale occurs. Affiliate marketing is commission-based marketing, earning only occurs when a sale occurs. Over the years Affiliate Marketing has become more popular. Many companies and entrepreneurs have subscribed to the use of affiliate marketing to promote and sell their company products. Any product can be advertised or sold via affiliate marketing. Affiliate marketing is one way to earn money online. Different companies hire affiliates to market their products, and Amazon is one of them. According to Wikipedia, Affiliate marketing involves four core players, namely; 
the merchant (producer, company),
the network (affiliate programs)
the publisher (the affiliate marketer),
the consumer.
The merchant can either be a big company or just an entrepreneur to market their products.
The network is the marketing platform where merchants post products for affiliate marketing. It is the place where affiliate marketers choose products to market. The network serves as the intermediary between merchants and publishers.
The publisher is the affiliate marketer that advertises the products through different means, mostly personal websites and blogs, and social media pages. The publishers choose a product of interest and promote it by writing reviews about it. Anytime a sale is made through the affiliate marketer page, he gets paid. 
The consumer is the customer that buys the advertised products.
What is the Amazon Affiliate Program?
Amazon Affiliate Program is also known as Amazon Associates Program. Like every other affiliate marketing, it involves advertising and selling Amazon products on Affiliates' personal or 3rd party websites or blogs and social media. The affiliates create links and when customers buy through their links; they get paid, often called referral fees by Amazon.
How Does Amazon Affiliate Marketing Work?
Amazon Affiliate marketing work mostly like every other affiliate marketing, but the difference is that instead of going through "the network" to become an Amazon Affiliate, Affiliates, and interested Affiliates register and create an account on the Amazon Affiliate platform, after registration, a unique ID is given to the website owner and this Associate ID is unique to each affiliate. The affiliate will wait for approval by Amazon, which usually takes between 12 to 24 hours before He or she can create affiliate links in their portal (Amazon Portal). After approval, the affiliate can create links that will direct the customer to the page to buy the product this is done by placing the link on their website or blogs and after writing a review of the Amazon product on their websites or blogs, their readers are prompted through a call to action to click on the link to buy the product. Earning occurs when consumers click on the link and buy Amazon products. Affiliates can earn more than $100 depending on the referrals and sales.
Note that the Amazon Affiliate Program is commission-based, and the commission rate differs by product category. So an Amazon's product commission can be higher than another. Affiliates often opt for products with higher commission rates; this does not guarantee making more money than affiliates that choose low commission rate products. The marketing, copywriting skills, SEO skills of affiliates, and audience of the affiliate are the determiners. Affiliates with low commission rate products can reach more audiences, sell more products and earn more referral fees, while another affiliate with high commission rate products can struggle to sell a product. It all depends on knowing your audience and targeting them.
Making money from the Amazon affiliate program is not instant; it involves building presence, audience, and marketing skills, so it does not guarantee instant high pay. Patience, continuous learning, and practice are all it takes.
It is pertinent that you review each product commission rate, and the product category, know the right audience for the products, and before you choose the product, know the product. You can't write a good and converting review on a product you know nothing about, understand the product, and understand what a potential customer wants in the product and the product's selling point.  
Amazon Affiliate/ Associate Program Rules
Just like other affiliate programs, Amazon has rules guiding its affiliate programs; it is advisable to know them before registering.
· Amazon does not permit using link shorteners
· Amazon requires that Affiliates inform their website, visitors, and readers via their website in the product review that they are earning from the recommendations they make.
· Amazon only permits affiliates to write the correct reviews about their products. They do not permit false claims, exaggerations, and misleading content. Etc.
· It is advisable not to mention prices of products as it is subject to change
· Amazon Affiliates may not share products and product links on WhatsApp or Telegram.
· The only acceptable platforms to share affiliate links and products are Facebook pages and groups, websites, blogs, and YouTube channels.
· Amazon does not allow products to be advertised and links placed on sites that promote sexual content and illicit drugs, and racism promotion contents.
You can visit the Amazon Affiliate Program policy for further information.
Skills needed to thrive as an Affiliate Marketer
In every field, there are skills needed to thrive, as an Affiliate Marketer, there are certain necessary skills you must have if you want to make money from affiliate marketing. Below are some of them.
Research
An Affiliate Marketer must be an excellent researcher; he must know how to search for the right information online.
Right Keywords 
An Affiliate Marketer must be able to predict the right keywords that a potential buyer will use to search the product online. An Affiliate Marketer must know how to use keyword research tools like Google Search Console, Google Keyword Planner, Jaaxy, Soovle, etc. High search words are words people type most into their browsers when searching for a particular thing or product or information.  
Copywriting 
Copywriting is the reason an Affiliate Marketer must know how to research for information and keywords. Copywriting is writing content or articles for advertisement, we can write them as information, review, etc. An Affiliate Marketer must be able to write a copy that will convert readers to buyers, the copy must be able to convince them enough to take the action you want them to take, in this case, "click on the link to buy the product". There is a good deal of information on the web as regards how to write a copy that converts, the best form of copywriting that has proven to convert more are those written as information (Information Marketing) where the Affiliate writes certain information about a product, the best way to go about this is to pick a product and compare it with its competitors, giving detailed information about the pros of the product more than the cons and dwelling more on the product the affiliate is marketing than the competitor product. Headings such as ten things that make this product a better choice, ten things you didn't know this product can do. Do you know this and this? How to do this and that. E.t.c. has proved to drive more traffic, as this type of headings makes readers curious to know more.
How to create an Amazon Associate or Affiliate account
Creating an Amazon Associate or Affiliate account is easy and is straightforward as long as you are qualified. To create an account, you may have a personal account or not have one. I will explain how to create an Amazon Affiliate Account with a website and without a website.
How to create Amazon Affiliate Program with a personal website
1) Have a personal blog or website, you can create one or use the existing one you have as long as your website is eligible, and to know if it is eligible, read the Amazon Affiliate / Associate rules above.
2) Decide on the niche you want. It is wise to go for a niche you are familiar with and the one related to your website or blog niche. I will explain this later in this article.
3) Go to the Amazon Affiliate/ Associate home page and "sign up"
4) Provide your account information
5) Enter your website URL or address
6) Provide the store ID of choice
7) They will require you to explain how you drive traffic to your site
8) Choose your preferred mode of payment
9) Create your affiliate links
How to create Amazon Affiliate Program without a personal website
Contrary to popular belief, you can be an Amazon Affiliate without having a website or blog. You can make money from the Amazon Affiliate program without a website or blog and yet not violate any of Amazon's Associate Program rules. I will explain in-depth how to go about this, but before I do, I would like to mention that, success in Amazon Affiliate marketing with either personal website or not is instant, just as you need skills and patience to achieve success in any other marketing, the same applies also in Amazon's Affiliate Marketing program.
Below are the ways to go about it;
1) Choose a good niche
 While some may advise going for a popular niche, some have argued that going for an unpopular niche is better, the first is because people search more for products in popular niches and the second is because going for unpopular niches allow you to be among the first few to choose the niche and you can build a name for yourself without competing with the "giants "in the Affiliate Programs. My advice is, go for a niche you are comfortable writing about, go for a niche you are familiar with, go for a niche where you can easily write in-depth reviews on the product, whether it's a popular niche or unpopular.  
If it's a popular niche that you have in-depth knowledge of, check other affiliate marketers, and study their strategy, see what they are not doing, see how you can add to it, see how you can create your unique copy, review, article, e.t.c. without copying their work, see how you can do yours better, and check for what they are not doing or adding, then add it, create your own and add your extra sauce. You can always do better than your competitor.
If the niche you are good at is the unpopular one, this is better, then there will be little or no competition. Build on the niche, write a great copy, review, do in-depth research on the product, know the right audience for the product. Research the audience buying and decision-making behaviors, know what will prompt them to buy, for example, what will prompt a male to buy a shirt that differs from what a woman wants in a shirt, study your audience, and give your best into marketing the product.
2) Keyword Research
Keywords are words people type into browsers to get the result they want. Before you came across this article, you may have typed something like how to become an Amazon Affiliate/Associate, how to become an Amazon Affiliate, how to become an Amazon Affiliate with a website, how to become Amazon Affiliate without a website or any other sentence that looks like these examples into your browser. Those words are keywords. Keywords can either be long or short sentences.
Keyword research is researching keywords relating to a particular product that people search for online. As an affiliate, you will write reviews about the product, and you have to know the right words to include in your copy that will bring your article or website on the first page of the search result.
3) SEO
SEO is also known as Search Engine Optimization, is making your site visible to search and not just that, make it appear on the first page of the search result. There is no point in writing a great article or copy when it will not be visible to the right audience. Most people only click on sites on the first page of their search results.
SEO is understanding how search engines work and optimizing sites to meet their requirements. Search engines will only show websites that best fit the search query on the first page. So when writing an article or copy about products, Affiliate Marketers should write relevant information and optimize the words for search engine ranking. There are many useful articles and guidelines on the topic online.
4) Choose a good and free content publishing platform to publish your content
Now that you have written a great copy, it is time to publish it somewhere that will make it visible online. Since you do not have a website, you need a site that will publish it for you. There are free publishing sites that are good, that you can publish your site. The advantage of using this publishing site includes;
· Their high ranking rate
· High domain authority
· And brand recognition. 
· Link building, which I will discuss later in this article, is also very easy when publishing on these platforms.  
Some of these sites are Medium, LinkedIn Articles, Ezine Articles, Scoop it e.t.c. You can also publish on YouTube (for video content). Medium is the most popular content publishing platform and most preferred by Affiliate marketers and Content Writers. Search online and go through these platforms to choose the one you most prefer.
5) Social Media
Posting on social media is optional. Amazon permits its Associates to post on Facebook and Quora. The rule of posting on social media is posting relevant information and not dropping links in groups or pages, nor spamming social media pages with Amazon links. They only permitted you to post on your social media page or groups and include your link in the content.
6) Link Building
When you publish on content publishing platforms with eminent domain authority, link building may not be necessary. There is a high probability that your content will be displayed on the first page of search results, as long as you have done your keyword research very well and have also optimized your content for the right keyword. But in a case where after three months your content is still not on the first page, you can opt for link building.
Link building is getting other websites in the same niche to link to your site, article, or content. Websites or content with high numbers of relevant and legit websites linking to them are often ranked high by search engines.
Link building can be in several ways. You can get links from posting on social media pages as discussed above, write a guest post on other peoples blogs in your niche, and link back to your site since you have written good content. You can also ask other bloggers in your niche to mention you in their articles and backlink to you. You can read more on this online.
7) Email marketing and Up-selling
Email marketing and Upselling are most suitable when you have a website or blog, but not to worry You can also do it without one. Although there may be some restrictions with some content publishing sites to use pixels on their platforms, you can create a landing page like a free opt-in page where you can get the information and email of your readers and buyers for future marketing.
Email marketing is simply advertising to email subscribers on your compiled list through email. 
Email marketing and Up-selling is not compulsory, and it is most useful when you have a website.
How to Generate your Affiliate Links
Generating your Amazon Affiliate link is easy once you have registered successfully as an affiliate/associate. Log in to your Amazon Affiliate/Associate account, and you will see product linking on the page and click on product links. If you know the ASIN (Amazon Standard Identification Number) of the product you want, you can add it, but if not, search the Amazon product bar for the link. Once you have seen it, click on the get link button to get the link.
Benefits of becoming an Amazon affiliate
· Extra Source of Income: one benefit of becoming an Amazon affiliate is making extra income, which is probably the reason you want to become one. Making money through the Amazon Affiliate program is easy. It is very easy to join and you can operate it both online and offline.
· Unlimited Access to Choose from a Wide Variety of Products: Amazon has made it possible for its Associates to select from a wide variety of products, and most are relevant and best-selling products.  
· Trusted by the people: Also, people trust Amazon; hence, selling their product is never difficult.
· Never Stranded: You are never stranded as an Amazon Affiliate. There are many articles and information online to help guide Affiliates/ Associates on any question they have about succeeding as an Amazon Affiliate and this article is one of them.
Cons of Amazon Affiliate Program
It won't be right for me to mention the benefits of the Amazon Affiliate program and not mention the cons. Even though making money from the program is very promising, there are some disadvantages. These disadvantages have not stopped people from making profits from the program.
· Low Commission Rate: one disadvantage of the program is the low commission rate; the Amazon Associate commission rate is low per product. To earn more, sell more unless you sell products at high prices.
· Payment Method: Amazon does not pay its Associates through PayPal, the most common and easy online payment platform.
Becoming an Amazon Affiliate requires a lot of patience and hard work as I have stated earlier in this article. You may not start making money right away, but by following the right approach consistently and improving on it, you will make your mark. I hope I have explained in-depth how to become an Amazon Affiliate/Associate in this article. Thank you for reading.
How to become Amazon Affiliate?