Engineering is one of the most diversified fields with various sub-branches that cater to different fields of study. Mechanical engineering is one such branch that deals with the design, building, and usage of machines. Anything that moves, from parts to machines to the human body, may be designed, developed, built, and tested in mechanical engineering. The field of mechanical engineering is expanding quickly as a result of technology and research advances.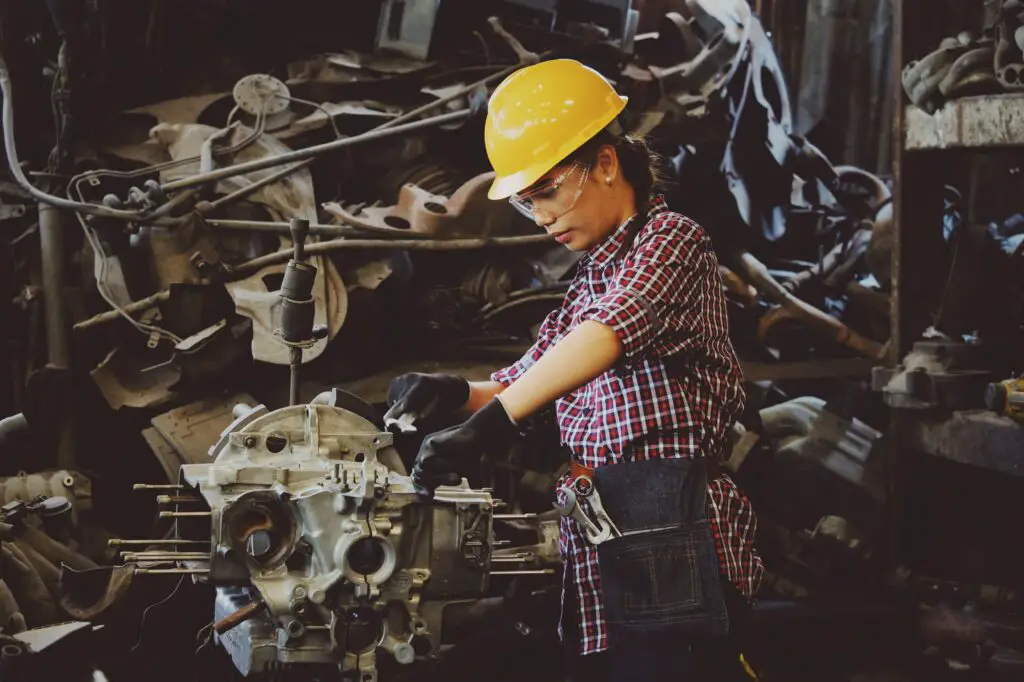 Level of mechanical engineering 
Yes, most people consider mechanical engineering as one of the most challenging subjects among all the disciplines of engineering. It involves a lot of difficult maths and science courses. Technically speaking, it is the process of using engineering concepts and problem-solving strategies throughout the design, manufacture, and marketing of a thing. The challenging process of turning a concept into reality is accomplished by mechanical engineering by combining creativity, expertise, and analytical tools. 
Challenges in Mechanical engineering
A thoughtful judgment on the toughness of this discipline leads to two perspectives. The first is from the point of view of a student pursuing the degree, and the other is from a practicing Mechanical engineer right from his work arena.
Student perspective
An aspirant for mechanical engineering in high school is required to take courses like algebra, trigonometry, calculus, chemistry, and physics, which are not everyone's cup of tea. You can move forward with your plans to become a mechanical engineer if you believe them to be simple. Enrolling in a reputable mechanical engineering college, which requires passing the ACT or SAT, is another step on the road to your ideal job.  To enroll in a mechanical engineering course, you will require a good score on the ACT or SAT. Therefore, it will be beneficial if one starts studying for these exams only in high school. If you also want to get into a reputable institution, you must submit an excellent high school transcript that includes your grades, courses, and GPA listed on it.
Students usually find it very demanding with lot many lectures along with labs and sessional. The workload becomes more challenging as the year progresses and more and more time is spent on the project and lab work in the final years. It is a time-consuming degree, with lots of pressure on studies. Its foremost essentialities include a sound knowledge of physics and mathematics. According to the majority of students, chemistry and physics are the subjects that mechanical engineering students find the most challenging. Most students studying mechanical engineering think that difficulty in any subject depends on one's interest and strength. The majority of mechanical engineering students, however, find math classes difficult. Aerodynamics and engineering theory are other such subjects that are considered a challenge among mechanical engineering students. Although material science can be demanding, if you're considering becoming a mechanical engineer, you could find these topics to be straightforward to understand. It is a highly technical course and requires a problem-solving attitude.  Science, engineering, and technology are all interlinked streams of scientific studies. While on the one hand science is the theoretical part based on theories, calculations, and measurements, on the other hand, engineering is the practical version of science. It deals with the creation of various objects that exist in the modern-day world. Engineering can be considered applied science. After getting an insight into the discipline, it can be very well understood that this subject requires a very technical and diligent mind.
Perspective of a mechanical engineer on the job
 From the point of view of a mechanical engineer with a hands-on job, this field is very interesting as well as challenging. Highways, bridges, buildings, and other infrastructure are frequently designed by engineering firms. Another duty they have is to guarantee the dependability and safety of the things we use regularly. Engineers must use their imagination because many of the problems they face may be original and lack a known answer on the internet or in their books. One needs to be diligent and a performer to solve difficulties. Every day is different working as a mechanical engineer. You must possess both the aptitude and the vision necessary to do the task assigned to you by your employer or client. Good communication skills are essential in public-facing industries like mechanical engineering. This will enable you to effectively convey your thoughts to others, especially those outside of your field. Since you may often have to deal with people from other professions, you should feel at ease working in a team. Mechanical engineers are highly employed in the automotive, aerospace, biotechnology, robotics, and many other industries, and these fields pay well, making all of their hard work worthwhile.
Skills needed to pursue a career in mechanical engineering
Well, choosing a career in itself is one of the toughest jobs which students face while in high school. Make an effort to learn more about the mechanical engineering course to determine whether you possess the knack for it. You should consider whether you would be able to adequately defend the course you are taking. When posing this query, you should be honest with yourself. Ask yourself a simple inquiry such as "Do you appreciate science and math subjects?  Do you approach your studies with an understanding and application of the information rather than just memorizing them?  Can you think outside the box?   Are you open to working at construction, drilling, or manufacturing units?" will help you find the answer to this dilemma. If most of these apply to you, you can work in mechanical engineering. And if the answer is "no," mechanical engineering can undoubtedly be a nightmare for you.
Conclusion
The difficulty of any degree can be roughly judged on two criteria, how intellectually demanding the content is and the quantity of the subject. Both criteria are somewhat relative as each person may find concepts difficult per his understanding. As it is said nothing is impossible if you are determined to achieve it. The same goes for engineering but a scientific bent of mind is required because mechanical engineering is a very technical subject. So, it is advisable to first understand your choices and interests and then come to some conclusion about choosing a field in graduation.
Is Mechanical Engineering Hard?