Medical sciences have highly evolved in recent years. Today, healthcare is more than just curing diseases and saving the lives of people. Medical practitioners are required to keep abreast of the latest developments in the medical field and stay updated with the latest technological advancements in the medical industry. The world over, there have been significant developments in the medical sector. Paramedical training in the USA is the combination of practical skills and theoretical education which helps to advance your career and become a professional paramedic. When you acquire paramedical training in the USA you will get the knowledge and skills of working with patients in the pre-hospital setting.  Here we will see about Paramedical Courses: Eligibility Criteria and Course Durations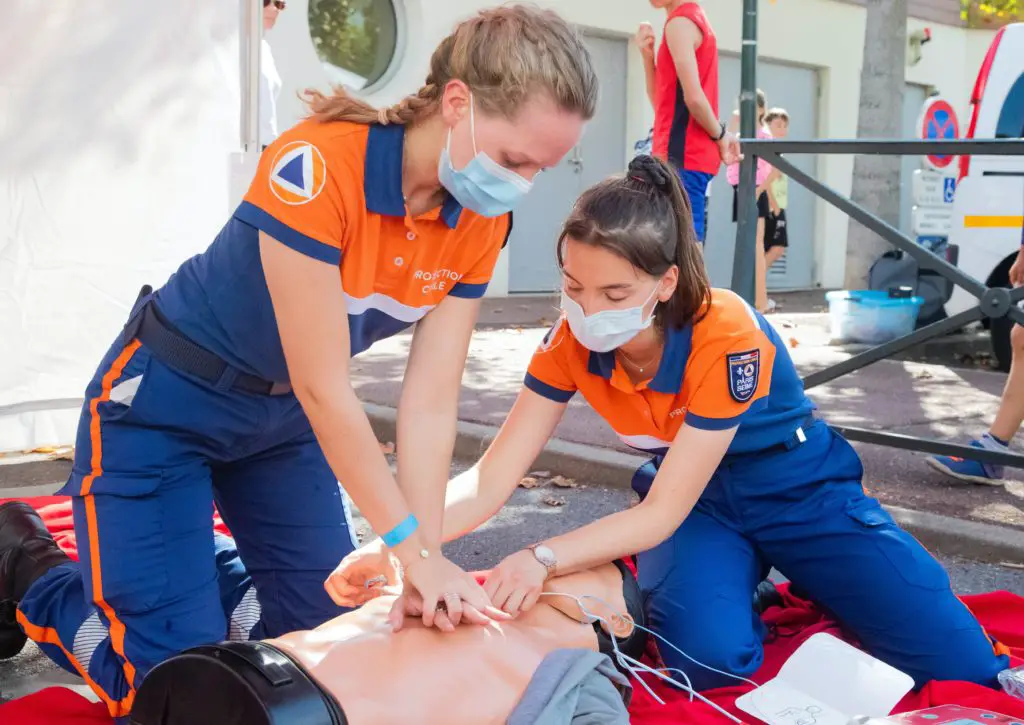 Some famous Paramedical Courses are-  
Dental Assistant 
Laboratory Technician 
Radiology Technician
Physician assistant
 Respiratory Therapist
Emergency Medical Technician
Physical Therapy
Audiology
Echocardiography Technician
Cardiovascular Technologist
Optometry
Paramedical Courses: Eligibility Criteria and Course Durations
Dental Assistant- Dental assistant is a job that requires a lot of skill and training. It's also a job that pays very well. The average dental assistant makes $33,000 to $61,000 per year. And it's a career path with great growth potential: the US Bureau of Labor Statistics expects dental assistant jobs to increase by 18% from 2016 to 2026.
Eligibility – You must have a high school diploma or GED. You must have completed an accredited course and have obtained certification. You must be at least 17 years old. You must be able to communicate professionally with patients, doctors, and employers.
Course duration – The length of a dental assistant program depends on the type of degree you earn. Students can earn an associate, bachelor, or master's degree in dental assisting, with two-year and four-year options. Some schools offer a certificate program, which is usually completed in less than one year.
Laboratory Technician – Laboratory technicians function as an important part of the healthcare team. They conduct tests, analyze biomedical specimens, and report results to physicians. The role requires a strong background in a medical discipline to prepare for these responsibilities. 
Eligibility – There are some differences between the job requirements for a medical lab technician and a lab tech working in a non-medical setting. The job requires training and education in one of two areas. A bachelor's degree is required to be a medical lab technician, while a certificate or an associate's degree is sufficient to work in most non-medical labs.
Course duration – A Laboratory Technician course is a four-year, full-time program. The first two years are generally at the community college level and include most of the basic science courses, including organic chemistry. The next two years usually culminate with an internship experience in a real-world setting. Some colleges also provide certificate courses of lesser duration.
Radiology Technician – Radiology technicians support radiologists in the performance of diagnostic imaging procedures and image interpretation. Radiology techs are specialized medical technologists who may perform mammograms or ultrasounds, or they may help perform contrast-enhanced CT scans. These professionals use high-tech equipment to create images of the heart, lungs, blood vessels, brain, and other parts of the body. Technicians must be able to work carefully and accurately to produce high-quality images that can be used for diagnosis by a radiologist.
Eligibility –  A bachelor's degree of Science in the field of Radiography, Radiation Sciences, Radiological Technology, or a related field. Applicants must be currently licensed as a Radiologic Technologist (R.T.) In any State, or Country and have at least 1-year experience as an R.T. Must have completed the ARRT Basic X-Ray Registry or meet equivalent requirements through another organization recognized by the ARRT. Hold a current BLS certification or equivalent card from the American Heart Association or other approved certifying body.
Course duration – Course duration for the Radiology Technologist course in the USA is a minimum of 13 months and 3 months, as per the requirements from the American Registry of Radiologic Technologists (ARRT). The minimum requirement for an associate degree is still 12 months. While many schools are following the new rule, some are still offering programs of less than 12 months. 
Physician assistant – Physician assistant programs are one of the most sought-after careers in healthcare. These education programs provide a background in medicine and offer a unique perspective on how to provide high-quality care to patients. The physician assistant (PA) is a healthcare professional who works under the supervision of a physician. Physician assistants practice medicine in all areas of medicine where physicians are licensed to practice and can prescribe medication when authorized by the supervising physician.
Eligibility – PA programs are available in almost all states. It is an entry-level healthcare profession, which requires completion of a 2-year formal education program at accredited schools or colleges and accredited clinical training from the university hospitals or clinical training sites. They must also pass the Physician Assistant National Certifying Exam.  
Course duration –. To become a physician assistant, one must first complete an accredited PA program. The typical PA program lasts for two years for full-time students and 3-4 years for part-time students. Upon completing an accredited physician assistant program, individuals must pass the Physician Assistant National Certifying Exam (PANCE).
Respiratory Therapist – Respiratory therapists are responsible for treating and managing patients with a variety of respiratory disorders. They also educate patients about their condition, provide counseling, and help them understand how to best manage it. This is a rewarding career that offers many benefits and opportunities for advancement. Respiratory therapists are crucial to the lives of patients, but they are hard to come by. There is a shortage of respiratory therapists in the United States. The Bureau of Labor Statistics estimates that there will be a shortage of around 56,000 respiratory therapists by 2022. 
Eligibility – The minimum requirements are having an Associate's degree in respiratory therapy or a two-year program that qualifies for an Associate of Applied Science degree. For licensure as a Respiratory Therapist (R.T.), you must also pass the National Board for Respiratory Care (NBRC) certification exam. 
Course duration – The duration of this respiratory therapist course in the USA is not fixed. Students have to complete it within the time frame they get. For example, if a student gets 3 years, he/she has to complete it within 3 years. If the student fails to complete the course within the given time frame, then he/she will be asked to leave the school. However, if the student has passed all the courses and his or her score is high enough, then he/she can get an extension for one more year depending on that person's performance.
Emergency Medical Technician – The Emergency Medical Technician (EMT) is responsible for providing pre-hospital medical care and transportation to sick or injured patients. The EMT is an entry-level position in the EMS field and may provide care under the supervision of a Paramedic, Registered Nurse, or Physician. There are three main levels of the EMT: EMT Basic, Intermediate, and Paramedic. Each level requires successful completion of an accredited course and certification exam.
Eligibility – In the United States, anyone who is not a certified paramedic or a licensed physician must be certified as an EMT. To become certified, EMTs must pass a national certification exam. Many states require specific levels of education and training to hold an EMT certificate. In some areas, it may be mandatory for you to complete your state's required amount of classes before you can take your state's exam. In California for example, you must be at least 18 years old and possess a high school diploma or GED. If you can show proof of these qualifications, you can enroll in a training program immediately.
Course duration – The emergency medical technician is an individual who is trained in the field of emergency medical treatment and transport. The course duration for EMT training varies from one state to another. However, the most common duration for EMT training in the United States of America is 8 weeks. You can also do a part-time course which would train you for a year.
Physical therapy – Physical therapy is the helping and treating of physical injuries by examination, diagnosis, and physical treatment. It is a health care professional that deals with rehabilitation, exercise prescription, and pain management. Physical therapists are educated to diagnose and treat individuals of all ages based on their signs, symptoms, and medical history. They serve as the bridge between the patient and physician or surgeon in terms of determining the best way to help them recover from an injury or disease.
Eligibility – Physical therapy in the United States is a professional degree program that prepares students to work as physical therapists following graduation. In the United States, all physical therapist programs are accredited by the Commission on Accreditation in Physical Therapy Education (CAPTE) of the American Physical Therapy Association (APTA). A minimum of a bachelor's degree is required for admission into an accredited physical therapist program. In addition, individuals may choose to earn a master's or doctoral degree. 
Course duration – The accreditation requirement for physical therapy education is 6 years. This means that the professional degree is awarded after completion of 6 years of education. However, in some cases, it may take more time to complete the course. Thus, it is advisable to choose a course that will have an additional option to continue your studies after completion of the 6-year duration.
Audiology – Audiology is the study and treatment of disorders of hearing, balance, and related communication problems. Audiology is a branch of clinical health care, and professional audiology practitioners work alongside other medical professionals in healthcare settings as well as in private practice. Audiology is about more than just hearing aids and cochlear implants. It's about understanding a client's hearing loss and fitting them with the right hearing device, or if needed, recommending alternative communication options like lip-reading and speech reading. 
Eligibility – The academic requirements for admission to an audiology program will differ based on the college or university you attend. However, most programs have similar prerequisites, which might include a bachelor's degree in any field, but many of them tend to favor degrees in biology, chemistry, physics, and other sciences. There are no particular educational requirements for eligibility in an audiologist program, however. Most programs require that students have at least one year of clinical experience before being admitted. 
Course duration – The course duration of the Audiology course in the USA is three years. The course is a full-time, five days a week program. The students will first have to complete their pre-clinical training and then they will be eligible to move on to the clinical training.
Echocardiography Technician – Echocardiography is a non-invasive diagnostic imaging technique based on the analysis of reflected sound. It falls under the category of ultrasound imaging. The most common means of echocardiography is through the use of ultrasound probes attached to medical devices such as a telephone handset or separate hand-held devices known as Ultrasound Transducers (or simply transducers). 
Eligibility – If you want to be an echocardiography technician, you should have an interest in ultrasound technology, good communication skills, and a high school diploma or a GED certificate.
Course duration – The echo tech course is designed for technicians who have already completed an accredited sonography training program and who are familiar with the fundamentals of cardiac imaging. These hospitals require that candidates pass an additional examination by an independent medical testing company and be certified by ARDMS, a non-profit organization dedicated to ensuring the quality of diagnostic medical sonography. The technician can choose from several different certification options. 
Cardiovascular technologist – A cardiovascular technologist (also known as a cardiac technologist) provides support to the cardiologist in performing non-invasive procedures. The work is fast-paced, but when done right, the benefits are immense. Cardiovascular is also responsible for collecting specimens, performing diagnostic tests, and assisting physicians during surgical procedures.
Eligibility –. The eligibility criteria of the cardiovascular technologist are a minimum age of 18 years, High school diploma, BLS certification, or equivalent. it also requires current certification as a cardiovascular technologist by an approved certifying organization. Most schools offer a cardiovascular technology associate degree, but some also provide training for an associate's degree in nursing or registered nurse. It is important to note that both of these fields require additional hours of schooling after obtaining your certification.
Course duration – The length of the program depends on the school you choose. For example, some schools offer an accelerated program that allows anyone to finish the course in just 12 months. However, if students want to enter their career as soon as possible, they can finish their studies in 18 months, even though they need to attend classes five days a week. 
Optometry – Optometry is a medical specialty dedicated to the care and treatment of the human eye. An optometrist is a health care professional that diagnoses treat, and helps prevent vision deficiencies. Optometrists are trained to examine eyes and vision, diagnose and treat vision problems, prescribe glasses or contact lenses, administer pre-and post-operative care for eye surgeries, and manage ocular diseases.
Eligibility – The Basic Eligibility criteria for the optometry course is a four-year program that you will attend after you finish your undergraduate degree. If you are at the bachelor's level, you need to finish the degree with a GPA of at least 2.0. If you are at a higher level, like a master's or Ph.D., you must have a GPA of at least 3.0 to be eligible for admission into an optometry program in the United States. Optometry schools do not require an entrance exam, but they do require applicants to submit their academic transcripts and also complete them.
Course duration – The duration of the optometry course in the USA is four years, including the first year of pre-optometry studies. The program includes a total of six semesters. After completing the coursework and clinical training, a student must pass the national board examination. Obtaining an optometrist license.
Are paramedical courses in demand?
The US is one of the countries that have a high demand for paramedics. The US Bureau of Labor Statistics predicts a 17% growth in employment for paramedics from 2016 to 2026. There is high demand for paramedics across all healthcare settings, including hospitals, outpatient centers, nursing care facilities, and physician offices. Competition is stiff and only those paramedical students who have completed their studies from top paramedical colleges are. The paramedical course involves an additional 2 or 3 years of study and training after a 4-year or 5-year undergraduate degree. Paramedical courses are seen to be beneficial for students who have a strong academic record and desire to become health professionals such as physiotherapists, occupational therapists, speech therapists, and dieticians. A paramedical course may also help students with a research interest, as it provides them with the opportunity to participate in research conducted at the university level. 
Paramedical vs. other courses
The United States is a great place for paramedical courses. The country has some very good paramedical colleges that offer top-notch education and give students the opportunity of a lifetime. These are the courses that help you to get a secure job in the field of healthcare. This is the right decision that you should make. These paramedical courses provide us with a better career option. Students can take admission in these paramedical courses after finishing their normal education. These future-oriented courses will provide us with more employment opportunities and a better place in our society.
What makes a paramedical course an attractive option?
 Paramedical courses offer specializations in a specific area of medicine, such as cardiology, dermatology, surgery, pediatrics, etc. So what do paramedics do exactly? They don't provide primary healthcare or diagnose illnesses but they are trained to provide support to a medical professional who is treating them. The role of the paramedical staff is to help patients recover from illnesses by providing them with support and treatment. This could include things like monitoring their health, assisting doctors during surgeries, and even performing first aid. They help you make a name for yourself and prove your talent.
Here's how paramedical courses can help you prove yourself at the workplace: –
Paramedical courses prepare you to work in the medical field and are a great option for students who want to get into the medical industry. 
The training and hands-on experience that you get from paramedical courses is second to none and will prove to be useful at the workplace.
Various paramedical courses are available that can help you prove your mettle at the workplace. 
You may also wish to consider pursuing a degree in paramedical science to make yourself more employable.
The paramedical sector is growing at a faster rate than the medical field and has now become one of the most sought-after career choices for students. 
There are different kinds of paramedical courses that offer varied opportunities; the degree you choose will depend on your aspirations.
The Conclusion
A paramedical course provides you with the training that you need to work as a paramedic. There are several different types of programs available, and it is important to choose one that will suit your needs. Paramedical courses are a great way to get started with your career in an area that is likely to grow. If you want to be a paramedic, it's important to make sure that your training is provided by an accredited institution. An accredited school will have the resources necessary to provide you with a quality education. Paramedical courses are very useful and the future of paramedical is also very bright. Students can make their career in the field of paramedical with ease.  With the rising pandemic, the scope of paramedical professions is at its highest demand so it is going to become one of the most sought fields in the world. Thus, this article briefly talk about Paramedical Courses: Eligibility Criteria and Course Durations
Paramedical Courses: Eligibility Criteria and Course Durations