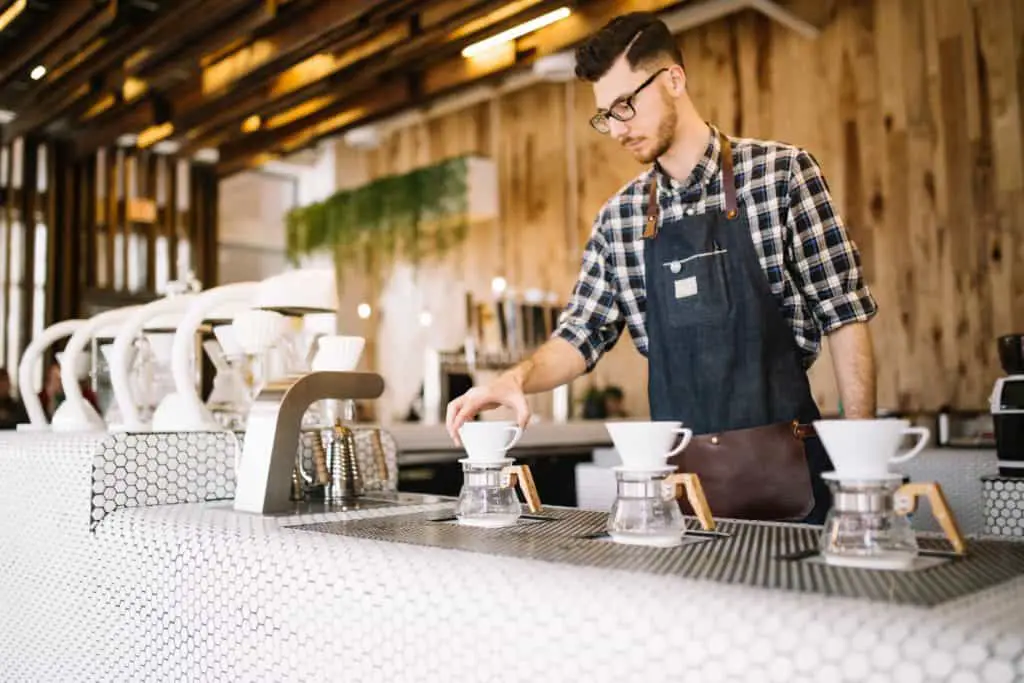 Baristas play a crucial role in cafes and coffee houses. They help to set up the environment of the coffeehouse and make it as welcoming as possible. They ensure that every customer that comes into the coffeehouse gets the best experience out of it. Baristas have many roles to play, and with continuous experience, they can hone in on many skills such as multitasking and being quick on their feet. Baristas are the face of the coffeehouse and so take on one of the most important roles. So creating the welcoming and warm atmosphere of a coffeehouse is the job of a barista. In this article, we'll know what to wear to a barista interview?
Dress Code for Barista interview
The clothing that you wear also depends on the environment of the coffee house. You need to make sure that what you wear matches the overall setting of the place. This is because some cafes will make you wear some uniform and others may be less formal. However, because it is an interview, it's always best to wear something a little formal. The safest option for what to wear for the interview would be something formal.
There is no need to go over the top with formal clothes, but wearing a more formal outfit would benefit you. This is to show the employer of the coffee house that you are serious about the position and extremely interested in the position. Some examples of what can be worn to a barista interview are given below.
For Men
If you feel like dress pants are too formal, swap them out with something like chinos with a shirt and the sleeves rolled up. You could also take it up a notch and wear a blazer with it. Make sure you understand the setting of your choice of the workplace before wearing an outfit. Chinos are versatile pieces of clothing that you could change up depending on the situation. You can dress up with and dress down.
Chinos make those casual outfits look smart, so they are perfect to wear for barista interviews. Another example of an outfit that one could wear to an interview could be jeans. Jeans are classic and again can be made to look highly professional and casual at the same time. There are a variety of jeans to choose from, each that have their charm. Wearing jeans with a shirt can look impressive.
The button-down shirt with a jacket as well to give it the formal touch. Slim Fit trousers may also be an excellent option to wear to an interview. The trousers can be paired with a blazer and a Tee shirt inside for a more casual yet professional look. If you are looking for something more formal, you can wear a dress shirt. 
For Women
There are a lot of styles and options to choose from. Women can opt for an A-line skirt and a formal blouse to get that formal look. However, since it is a barista interview, you can choose something a little more comfortable. A slightly flared formal skirt with a button-down shirt tucked into it is also a good option for an interview. Wearing stockings underneath the skirt also could help tie up all the pieces of clothing.
Dresses can be a good choice if that is more your style and comfort. Again there are various styles of dresses, so wearing one that is appropriate for the interview. Make sure that the dress that you wear suits the environment that you are going to be interviewed in. If you are unsure of what to wear, wear something more formally inclined. For example, A-line dresses can be dressed up or down. You can pair it with a jacket and a nice pair of shoes to complete, and you are good to go! If you are not a fan of skirts, dress pants are a good option.
You can pair them up with a T-shirt and blazer, or wear a formal shirt along with it. For something a little more casual, you can wear jeans and a formal top. This slightly more casual outfit is still just as professional and will still look sleek. Button downs generally can be paired up with most bottoms, from slacks to skirts. Depending on the environment of the coffee house that you are being interviewed in and just how formal and less formal the setting is, you can decide what outfit will work to give the best impression.
You want to make a good impression and stand out for the rest of the interviewees. You don't have to overdo it with the way you look by wearing 'loud' outfits that can leave a negative impression. On the other hand, you don't want to seem like you're trying too hard either. If you, however, want to add a personal touch to your outfit, or if you feel like it is too plain to leave it on like that, jewelry is one way of doing it. Wearing simple necklaces with a small pendant or a long thin chain over your plain colored shirts can be a nice touch to what you are wearing. It can make you look chic and put together. 
Scarves are also an excellent addition to an outfit. They can brighten it up and give it the flare you may be looking for if you feel that your outfit is still too bland. Going for neutral colors or pale colors over your dark-themed outfits can be a good touch. Sometimes wearing an all-dark outfit can make it a little dull. To lighten up, you can think about using a scarf with a lighter tone to help even it out. Of course, you can do it oppositely too. If you feel like your outfit is too pale or overly bright with just the light colors you choose to pair it with, then wearing a darker scarf can help with neutralizing it. 
Shoes are generally the last step that you put on to complete your outfit, so they can either make or break your outfit. First, you have to choose the style and color of the shoe that pulls the outfit together. For example, Oxfords are a good choice for a more formal look and can go well with just your shirt tucked into pants. However, for a barista interview, you can go for something a little less formal. Loafers might be a better option considering that you opt for a little less formal look. These shoes, while laceless, still adds a good flair to your outfit and still can give it that formal touch. Loafers can be matched with anything so consider getting yourself a pair. 
Heels are a good pair for most outfits. It can be worn with skirts, pants, shirts and for formal attires. A lot of times, you generally see women wearing formal outfits paired with heels. However, those are not your only options. You can think about wearing loafers as well if you are not into heels. Wedged heels or kitty heels are also good pairings for your outfits. One other factor that you should consider also is comfort.
While in all probability you will be sitting during the interview, you should still consider something that will be comfortable for your feet. You may also consider styling your hair in a way that doesn't let your hair cover your face. Make sure to be well-groomed. Hair that keeps falling on your face could be distracting for both you and the interviewer. 
With regards to colors, Dark reds and blues may be good choices. However, you can't go wrong with black and white. Black and white are the tried and tested theories that will sure look good together. If you like changing it up, you can choose pastels or colors on the darker shades. Generally, black can be paired with any color and still look good. The same goes for white. Beiges and browns are also other options.
However, refrain from choosing colors that are too loud. An example of that may be fluorescents. The idea of wearing certain types of clothes and colors is to leave an impression on the interviewer. With any piece of clothing, ensure that it fits the overall setting of the coffeehouse or if something is expected from your interviewer.
The right kind of clothing can help boost confidence during, before, and after your interview. When in doubt about what to wear, stick to what is known and wear something a little more formal. Since this is a barista interview, it depends on the place you are interviewing and making sure that you don't go over the top. So dress in a way that best suits the situation and keep your chin up! 
What is asked during the interview?
At the interview, they ask you questions about the different kinds of coffee. So making sure you know the different coffees will help. They may ask you hypothetical situations such as 'What would you do if a customer is unsatisfied,' or they may ask you to talk about your strengths and weaknesses.
When answering questions like this, it is best to stay confident and answer honestly.  Barista work is often repetitive tasks, so they may also ask you how you may handle those. Finding a way to stay motivated and keep you going is essential. An example of an answer may be involving finding joy in serving or understanding that customers are different so that it won't be all the same at all times. 
Other questions may include 'why would you be a good addition to our team' or how would you brew a certain coffee. Answering with confidence and being well-versed with their coffeehouse and how they run things there will help you at the interview with better ease.  When you first start as a barista, it is a learning process, and you may be criticized. It's all a part of the process, and it is important to know that you will grow as you progress with this job and learn to better. It is important to want to continue to improve on the job. 
Skills to Have as a Barista
When becoming a barista, prior experience in hospitality roles or retail is appreciated. However, there aren't any formal qualifications that are required. On the other hand, other skills are also necessary to make the 'ideal' barista. It also depends on the environment you're in, so you must adapt and do your best in those circumstances. Other than taking care of the refreshments like coffee and any other food items, baristas must also have the following skills:
Great Communication Skills: As a barista, meeting and speaking to people is unavoidable, and so you must be able to converse, give suggestions if asked, and be able to communicate with your co-workers and managers, respectively.


Attention to Detail: While working as a barista, it is important to be at your best, whether it is preparing the coffee, making swans in lattes to prepare the bill. Ensuring that nothing is amiss is an important skill to ensure that whoever you are serving is given the best.


Working well with the other employees: Teamwork and cooperation are extremely vital to ensure that everything runs smoothly from the preparation to service. This again ties back to good communication. Communication and working with other employees go hand in hand. 


Good Customer Service and Skills: Being able to help out a customer when needed is also valuable for coffeehouses. For example, it so happens that many customers come in not knowing what to order, and so the barista would be the one to help out. Time management and punctuality on all orders and services are prioritized no matter how packed or busy it is.


Being Quick on Your Feet: There may be instances where there may be trouble or unfortunate incidents that are unavoidable. While that may happen, it is important to jump back your feet and find quick solutions to ensure that the problem does not escalate. 


Understanding Payments: One of the roles of a barista is to manage payments. Depending on the coffeehouse you work for, you will be instructed on managing certain payments. That could be from managing at the counter or even doing inventory work. 


Knowing the menu and any changes that come with it: Many coffee houses have constant menu changes to keep them fresh and exciting. As a barista, it is important to be able to memorize those changes. This will come in handy during the busy periods of the coffeehouse and will be less time-consuming. 


Multitasking: It is crucial, especially during rush hours or when you are short-staffed. You must keep calm and level-headed and continue to do tasks, even the ones you don't usually have to. This may seem stressful, but it is unavoidable. To prevent any mishaps, it is best to know your way around other roles to fill in if needed.
What does a barista do?
Barista has a range of roles to take up. Some of those roles are as follows.
Making and preparing drinks such as tea and coffee. It includes preparing artisan and other specials of the café. 
Setting up the coffee machines beforehand and being prepared to take orders immediately.
Cleaning the utensils used and the workplace as well as the seating area for the customers
Receiving and going over customer payments.
Serving customers and being able to describe menu items and make recommendations if they inform you on what they like or cannot choose.
Inventory work that the manager may give. 
How do they do it at Starbucks?
At Starbucks, many go through an online application that they fill out, which is very straightforward. Then, depending on your application, you may get a call within the week and be asked to attend a hiring event. There you'd meet a store manager who'd give you further details. Another method that many applicants go through during the hiring process may take a little longer, between two to three weeks.
You may have a series of interviews with the store manager and/or the district manager, and then they'll place you in a store. When you arrive at the interview, it's best to come in a more formal outfit, especially if you're going to sit down with the store manager and district manager. This will help the candidate create a good image and show that they are serious about it.
Frequently Asked Questions
How much is a barista paid?
On average, a barista is paid around $11 per hour. With that being said, it also depends on the coffeehouse you're employed in and the city and area that you are in. For example, in a Starbucks, you may be paid roughly around $12 an hour, but in other places such as The Coffee Bean &Tea Leaf, you may be paid around $11 an hour.
Is there any special training required to be a barista?
Most employers may not ask you for any specific qualifications. Therefore, it is important to showcase your skills and talk about what you are good at applying to a coffeehouse environment. However, if you do have some training in these kinds of environments or prior experience of working in coffeehouses and such, it may be easier to land a job. 
What should you know before becoming a barista?
You should know the different types of coffee and what it takes to make them. You should keep in mind the different kinds of milk and know when to use it. There may be lactose intolerant customers or prefer different milk in their coffee, so you must be mindful. Hygiene is of utmost importance.

Maintaining cleanliness while working helps keep things organized as well as neat. It is vital to pay attention to your customer and respond accordingly. Some may come in a rush, or some may take their time. So one must respond accordingly to the customer and the environment. 
What to wear to a barista interview?