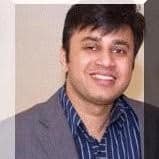 Mr. Javed is a seasoned Co-Founder & CEO with Lyftrondata with specialty expertise in delivering Big Data & Cloud Analytics, Data Lake, Data Warehouse – BI Modernization, MDM, and Information Management domain, recognized by the industry as a thought leader and an innovative solution architect. Mr. Javed has provided architecture oversight, advisory, and hands-on technical delivery leadership to more than 30+ organizations ranging from global Fortune 50 companies to large government agencies. A data entrepreneur himself, Mr. Javed seeks out opportunities to maximize the ROI for every dollar on his projects and leads his team to deliver consistently. 
Mr. Javed have expertise in rescuing organizations if they face below challenges:
Rescuing a troubled Data Lake, Data Warehouse, Cloud, BI, MDM, or Big Data projects
Strategic planning, advisory, POC development for Big data, Cloud, Data Lake, ETL, or modernization of legacy EDW, BI, or MDM platform.
Data Lake Modernization & Migration to Snowflake, Azure Parallel Data Warehouse, Azure Data Lake, Azure Data Factory, AWS S3, Dynamo DB, Cosmos DB, AWS Redshift from Hadoop, Spark, HBase, and more.
ETL Modernization & Migration to scalable open source or cloud tools like Lyftrondata, Fivetran, Snaplogic, Matillion, Talend, Pentaho, AWS Glue Azure Data Factory from Informatica, Datastage, Ab-Initio, OWB, SSIS, and more.
Database Modernization and Migration to Redshift, Snowflake, Azure PDW from Teradata, Netezza, Oracle, MySql, and more.
Third-party independent validation & verification (IV&V) of your program
Single point of accountability for project delivery of a big data, modernization of BI or data platform
Establishing a data governance program
Notable Leadership Results – CEO of Lyftrondata
A career marked by senior technical leadership roles at industry leaders – Universal Studios, Anthem, 3M, Citibank, eBay, Virginia Tech, Fannie Mae, Weather Channel, Vertex Pharma, United Healthcare, Accolade, American Test Kitchen, Tractor Supply.


A trusted senior executive team leader influencing organization-wide focus on engineering leadership, BI & data analytics solutions, service delivery, Agile implementation, customer satisfaction and improved user experience, HIPAA, PCI (Security), data security & SOX compliance.


Management & Governance for multiple portfolios of on-premise and cloud applications. 


Global Team Leadership: Led and managed diverse and geographically distributed teams (20-300) in multiple time zones ranging from India, China, Japan, China, Singapore, Taiwan, and North America. Established high performing engineering teams and offshore development centers for 3M, Bigdata Dimension, Citibank, and eBay, from the ground up 


Led Large-Scale Initiatives – Data Lake, Data Warehouse Modernization, BI Modernization, ETL Migration, Data Strategy, Data Integration, Data Management & Governance, Data Security Data Center Migration, Big Data Analytics Platform Development, Data Services Platform, Business Intelligence Program & Cloud Applications development. 


Consistently improved software products quality and time to market while reducing costs. 
How was your University time?
I have enjoyed my Bachelors of Engineering and Masters of Business Intelligence university times and learned good stuff, just a lot of competition out there. In a race to the top sort of way. I didn't have any negative experiences with it academically or socially. My experience was one of maturing and learning to handle problems as they came along and to keep my focus on why I was in university (to be educated as an engineer). When I started college, so many more people knew so much more than I that it terrified me. It took half a year and possibly a little longer before I was on equal footing with everyone. Of course, the Phi Beta Kappa's were still quicker to absorb any course's critical points and were the class leaders. They still had their own problems too. Once I got to its point, things got easier, but the study hours were still many, which has given me what I am today. 
Why did you choose a career in this field?
I was one of those kids who followed the success of family seniors. I was always instrumental in technology innovation and was guided by my family seniors who have already tried their luck with computer science and have many good things to share about it. So basically, I didn't choose engineering. My family chose it for me. 
And then when I started studying, I found it's the best career as:
Computing is part of everything we do today.
Computing offers great opportunities for true creativity and innovativeness.
Computing offers many types of lucrative careers.
Computing jobs are here to stay, regardless of where you are located.
Computing has space for both collaborative work and individual effort.
Future opportunities in computing are without boundaries.
What was your first job or nuggets from jobs you had that helped you get to where you are today?
I started my first job at a big retail chain in Delhi, India, in their Management Information System department. I helped them transfer warehouse sales order data between their multiple stores and helped them build some custom SQL-based reports over crystal reports. At that time, Business Intelligence and Data Warehousing were very new in the enterprises. This job has given me a lot of good experience and confidence to pursue my career in the Business Intelligence field further. To pursue my future goals, I quit my job in Delhi and moved to Bangalore, known as Indian silicon valley, and did some specialized training in Business Intelligence and Data warehousing courses. So in 3 months, I landed my big job with Tata Consultancy Services, a premier software consultancy firm, posted in South Africa and then came to the USA.
How did you prepare for the interview?
I did more practical and followed below steps to clear any interview that may come:
Conducted mock interviews with friends
Developed Pilot projects to test real-life scenarios
Prepared the list of all the possible questions that the interviewer may ask
Prepared the scenarios of how to derive the interview. Always remember to clear the interview. It should be driven by the candidate, not by the interviewer. 
Covered all the relevant cookbooks, red books, toolkits, or whatever name you know them.
Can you provide some book recommendations?
If you are planning to make your career in the Data Warehouse and Business Intelligence, the below books are a good read, and even I have published some detailed hands-on example books to help the newbies in the industry.
Ralph Kimbal: The Data Warehouse Toolkit
Ralph Kimbal: The ETL Toolkit
Javed Syed: Evolution of Modern Data Hub
Javed Syed: Modern Data Architecture for Profitable Business
Javed Syed: Evolution of Modern Data Sharing
Javed Syed: Why enterprises don't need traditional ETL/ELT platforms anymore.
Javed Syed: Zero to Snowflake in 60 minutes
Things are changing very fast in the industry; how do you keep yourself updated. Please list techniques or newsletters, podcasts, events, etc.
Technology is a part of learning and evolving, so to be in the game, you need to keep upgrading yourself with what's new in the market and how you will utilize it to help enterprises solve their pain points. I keep up to date and also host various webinars, write ebooks, whitepapers, etc. Some of my Webinars links can be found below.
https://lyftron.com/videos/how-modern-data-pipelines-are-changing-the-landscape-of-data-warehousing-2/
https://lyftron.com/videos/your-agile-modern-data-delivery-platform-2/
Any advice about CVs?
Your resume is about yourself and how you want to sell your services to the interviewer. A resume shouldn't be more than a page or two max and list your accomplishments, projects, skills, education, awards, and overall career objectives details. List down any blogs, whitepapers, and ebooks that you have written.
Advice for someone looking for a job?
No work is small, and no job is complicated. The market is good for self-learners and fresh graduates. Update your skills and keep yourself up to date with recent technology, and do many practical projects. I would say pick these four technologies or tools, and you will land an excellent job.
Snowflake
Lyftrondata
ETL with Python
AWS/Azure Cloud
Why do you think you were selected among other candidates?
As I was dedicated and had a clear path of what I wanted, and didn't lose hope. 
Lessons from jobs that you couldn't get.
I initially felt bad for some interviews that I couldn't crack and felt devastated, but later I realized that one shouldn't go after a job and let the job come after you. So the bottom line is never to lose hope and sees the big picture.
Tag few friends/colleagues whose story you would like to see them share their story.
Atul Kakar, Anupam Jaiswal, Shagufta Begum
Also read How I became a Forbes 30 under 30 Co-founder with Mark Cuban by Building Rather Than Overthinking.
Story of Co-Founder and CEO of Lyftrondata