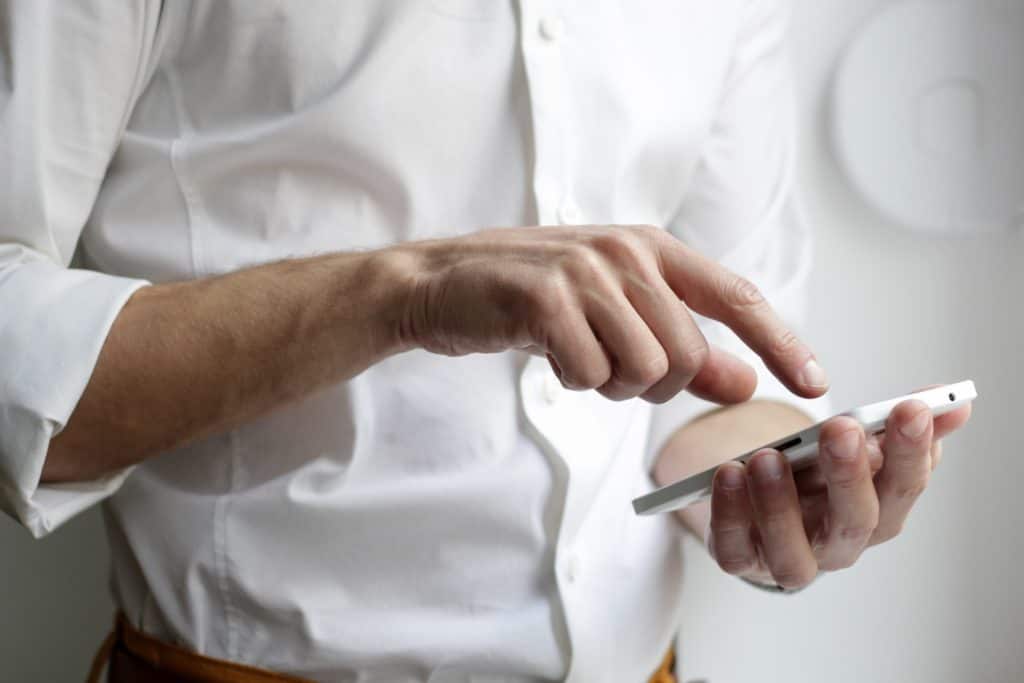 About Wayfair
Wayfair, formerly known as CSN Stores, is an American e-commerce website that sells home goods and furniture. We will discuss in this article that who owns Wayfair and about the CEO and co-founders.
Who Owns Wayfair?
Here are some facts and figures about the same:
It has been founder-led since its inception in the year of 2002. It is one of the largest online home retailers on a global level. It has been serving over 33 million active customers and still counting. 
It has a vast network of hubs and customer service centers to ensure 100 % customer satisfaction and that the customers' needs are thoroughly and efficiently met. It has a network of hubs and centers across the United States of America, Germany and even the U.K.  
It has its Sales and Service teams working in the U.K., Germany, Ireland, and the U.S. and has a virtual meeting setting to connect with its customer base globally. 
At present, they run five big-name retail websites: Wayfair, Joss & Main, AllModern, Perigold and Birch Lane.
The Foundation and Roots
Here are some facts about the birth of the company, its early years, and its expansion over the years:
Wayfair was founded in August 2002 by two friends pursuing entrepreneurship – Steve Conine and Niraj Shah but not under its very name. 
It was initially launched by the name of 'CSN Stores' (a mixture of Conine's and Shah's initials), which was an accumulation of more than two hundred sites selling everything from stools, bedroom furniture and even small and decorative items like birdhouses.  
In the early 2000s, both friends noticed a trend that popped up unexpectedly – people buying furniture on the internet to get a wider variety of products for selection. This eventually led to them creating around 350 to 370 different websites that sold all kinds of furniture and materials, from stools to birdhouses. 
In 2011, all of this was combined under a single umbrella brand, named 'Wayfair': a site where one could find thousands and millions of furniture items and other products which are a regular and essential part of our houses.
The company now provided more than 14 million items in 2019 and brought in more than $9 billion as net revenue in the same year. 
As of 2021, it brought in $15 billion as net revenue for the 12 months ending on March 31st and is home to 22 million+ products for any kind of needs of home supplies, materials or furniture, be it for kitchen, bedrooms, bathrooms, halls etc. and provides all the supplies from 16,000+ suppliers. 
It provides employment status to around 16,000 employees operating in North American (mainly the USA and Canada) and the European continent (mainly the UK, Ireland and Germany).
Co-Founder, Co-Chairman And CEO: Niraj Shah
Niraj Shah is an Indian-American businessman who, along with his friend Steve Conine, founded the organization Wayfair back in 2002. Today he serves as the CEO and Co-Chairman of the company. Here are some facts about him and his working experience over the years:
Before this, he had served the following roles:

CEO and Co-founder of Simplify Mobile, which was a software enterprise that was sold back in 2001
Entrepreneur-in-Residence Greylock Partners
COO and a Board member in iXL (a global consulting firm)
CEO and Co-Founder at Spinners, which got sold to iXL in 1998.

He graduated from Cornell University with a B. S. in Engineering. He has been included in Fortune Magazine's "40 under 40" in 2013 and has won the award for the Ernst and Young's Entrepreneur of the Year.
He is also a Board Server of Massachusetts Competitive Partnership and the Great Boston Chamber of Commerce.
Co-Chairman And Co-Founder: Steve Conine
Steve Conine is the other hand, the other eye, the other equally important part of the Shah-Conine pair, acting as the Co-Chairman aside from his high school buddy Niraj Shah. Here are some facts about him and his association with the company:
On June 22nd, 1973 (now 48 years old), Steve Conine is an American businessman and is the co-chairman and co-founder of the online retailer company Wayfair. 
He studied at Delbarton School and graduated with a B. S. in Mechanical Engineering from Cornell University. 
Conine is majorly responsible for creating and giving Wayfair a technological edge, which helped the online business grow- for instance, developing architecting software systems, leveraging next-gen technologies like AI and augmented reality.
Before Wayfair, he played the following roles in the company Spinners, an IT service firm. 
He co-founded Spinners Incorporated.
The company provided development services to Fortune 500 companies like AOL Time Warner, The New York Times, JP Morgan Chase, and Merrill Lynch. 
Through his contributions, the company reached a revenue and net income growth of 300% per year while maintaining a net income margin of 30%. 
The company was sold to iXL (a publicly traded global technology consulting firm) in 1998. 
The Inception of Wayfair and Beyond: The Working of The Owners
An overview of the early years in the making and working of the company is given below:
Wayfair started as a two-person company in August 2002. Both the founders hold a Bachelor of Science Degree from Cornell University. They had previously run some companies together as a pair like Simplify Mobile and iXL before beginning Wayfair. According to Shah, their priority was to let the customers pick any category they wanted. They could not focus on only electronics or the same items that other big e-commerce giants like Amazon also provided. So, each website offered a range of thousands of products to choose from and provided editorial content on how to pick the right furniture. Initially, it started as CSN Stores with the website handle 'racksandstands.com' and sold media stands and furniture for storage. 
Eventually, Shah and Conine decided to build an all-in-one ultimate home store by rolling their 270 websites into a single one. They raised about $200 million for their funds from four Boston-area venture capital firms – Spark Capital, Battery Ventures, Great Hill Partners and HarbourVest Partners. In 2003, the company included patio and suppliers of garden goods, three online stores and more than a dozen workers. They also relocated their headquarters in a new office on Newbury Street, in Boston only, in Massachusetts. In 2011, the company launched Joss & Main, a site for home goods with a low price point. In September 2012, Shah announced that Wayfair launched its first TV marketing campaign, and brand awareness increased from 6% to 27% over the next year, that is 2013. As of December of 2018, both Shah and Conine share the position of Chairman, with Shah being the Chief Executive Officer of the firm.
From Basement to Billionaires:
Although the two co-founders are billionaires today, they started from very humble beginnings. The ideas and ventures were born in Steve's basement. They would try and find ideas constantly from their environment. During an NPR interview, Shah recalled how they remembered watching a lady who sold birdhouses and stored them in the garage. And every day, she would take all the orders, collect the items out of the garage, pack them, and take them to the post office. This was when it became apparent to Niraj that the consumer base was turning to purchase products from the internet. This is how the idea of an online furniture business was born.
The Heights of Success: An Allocation of Big and Small Achievements of The Company
Every company's success reflects the hard work and positive and never-give-up attitude of its workers, primarily its owners and people involved in the making and initial working of the company. Here are some of the exceptional achievements of Wayfair:
By 2006, the company reached a sales level of a hundred million dollars.
In 2008, the company was ranked as the fastest-growing private e-commerce company in Massachusetts in the Boston Business Journal.
It was also ranked fourth fastest-growing private company overall. 
Wayfair's share prices rose to more than $70 per share, and this made both the Co-founders, Shah and Conine, billionaires. As of 2019, both had an estimated net worth of $2.3 Billion each.
The company generated net revenue of $15.3 Billion for the 12 months ended March 31st of 2021.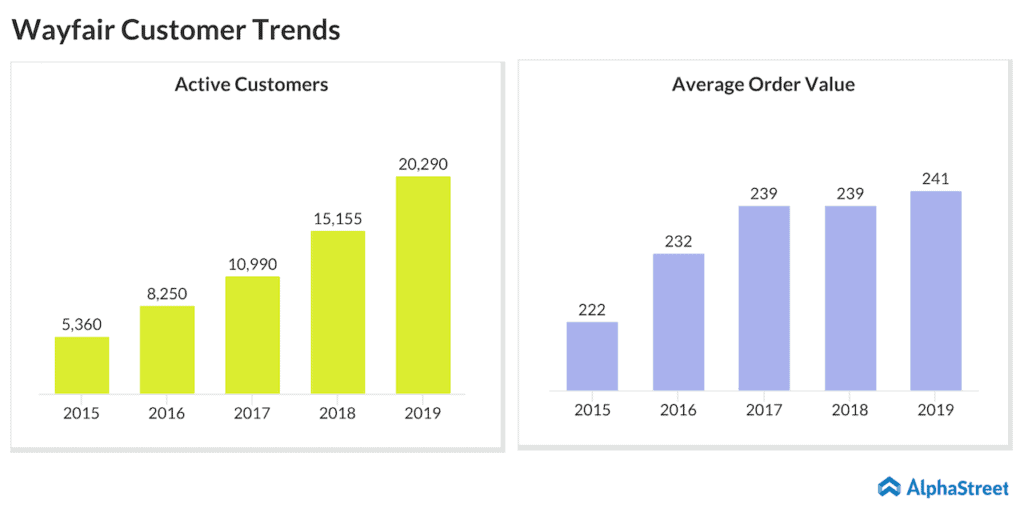 (The figures are in millions)
The above graph shows the two major customer trends of the company:
Active Customers – In simple words, this means the number of customers that have made a purchase from the company within a calendar year or a span of 365 days. As seen in the graph, the trend of active customers for the company has only increased, which implies a more significant customer base and a more comprehensive source of revenue for the company since more customers imply more purchases from the company. The base has increased by approximately 15,00 million customers within a span of four to five years.


Average Order Value (AOV) – This tracks the average amount of dollars spent each time a customer places an order on the website or mobile app of the company. To calculate this, one must divide the company's total revenue by the number of orders placed by the customers. As shown in the graph, the AOV of the company rose by around 19 figures within a span of three to four years. This increasing AOV shows that the amount of dollars spent per order placed in the company is constantly rising, implying exponential growth. 
Conclusion
With a revenue of $14.145 billion (as of 2020), employing over 16,900 employees (as of 2019), owned and operated by Co-chairmen Niraj Shah (CEO) and Steve Conine (net worth of 370 crores USD each), Wayfair is now one of the most renowned e-commerce furniture businesses in the USA. But as they say, Rome wasn't built in a day, implying that every great success story has people who worked to make that dream a reality. So here we learned about two friends, aspiring entrepreneurs, studying together, rising from humble beginnings, and turning themselves into billionaires by creating one of the greatest e-commerce giants who never fails to satisfy the customers' demands and needs, which explains their entrusted and hyper-growing customer base.  
Also read Humble Beginnings – Proud Endings | Darren Christopher Rowland
Who Owns Wayfair? – Foundation and Achievements