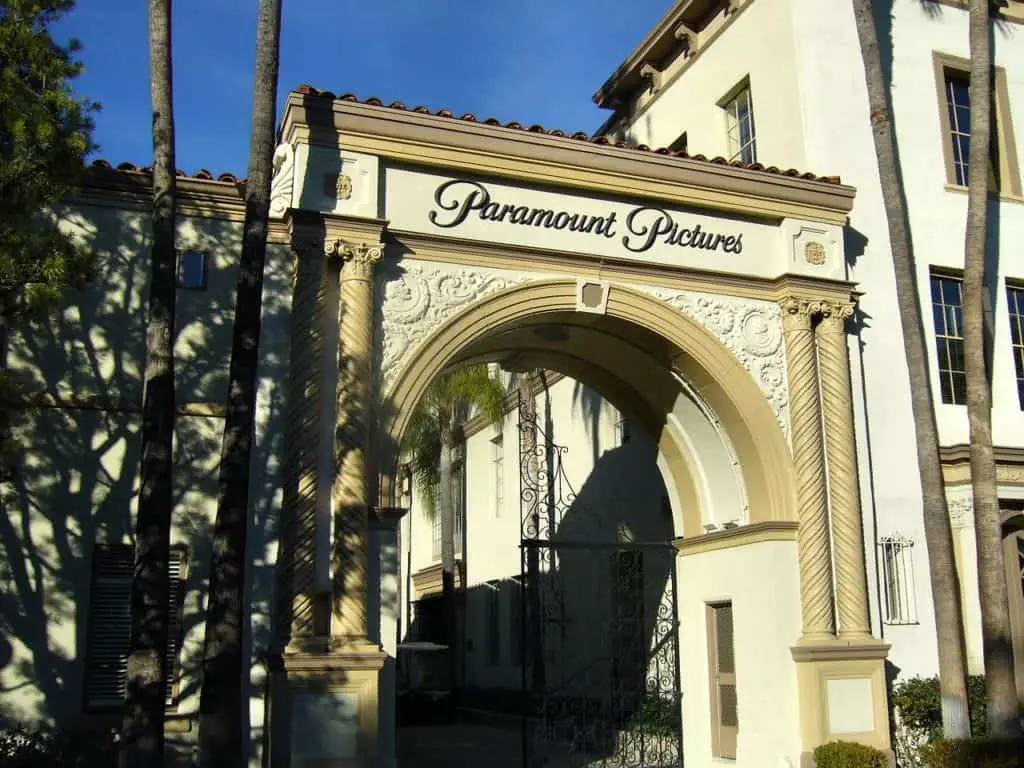 Who Owns Paramount? – Remember the last time when Titanic saw the sunset? Rose and Jack are at the front of the ship, Jack holding her from the waist while she steps up onto the railing. 'My Heart will go on' by Celine Dion playing in the background, and Rose exclaim, "I'm flying, Jack!". These are the kind of cherishable moments in everyone's lives who remember Titanic brought to us in the picture by Paramount Pictures Corporation. Not just Titanic, there were various other blockbuster movies like The Avengers, The Godfather, Top Gun, Mission Impossible, Iron Man, The Wolf of Wall Street, Interstellar, Forrest Gump, Thor, and Transformers. Do you know what all these movies have in common? It's their production house, and all of the iconic movie scenes and legacy that these movies have left behind will forever be remembered.
Who Owns Paramount?
Paramount Pictures Corporation (commonly known as Paramount Pictures, or simply Paramount) is an American film, distribution, and television production company. It is currently a subsidiary of ViacomCBS. Paramount was the symbol of power in the American film industry – so much so that the USA government named them first in a landmark anti-trust case that ended the so-called Golden Era of Hollywood. It is the fifth oldest film studio globally, the second oldest film studio in the United States (behind Universal Pictures). The sole member of the "Big Five" film studios is still located in the city limits of Los Angeles.
So, the question arises how did it all start? Who owns Paramount? Well, to answer that question, we have to dive into the rich history of over 100 years.
A History: Paramount
Famous Players Film Company
Paramount Pictures dates back to the founding date of 1912 of the Famous Players Film Company. A young power-hungry Hungarian-born Adolph Zukor. Zukor and his family landed in New York harbor in 1889, where he worked in an upholstery shop, and he got himself a job as a Furrier. In 1912, Zukor struck out on his own and, with the help of a Broadway producer Daniel Frohman purchased the American rights to the French film Queen Elizabeth. Since people couldn't get enough of the Frenchies, he took the film to tour and generated over $200,000. He founded the Famous Players Film Company in New York to film successful stage plays with the money. Another key player came into the picture with Zukor just entering the film business, Jesse Louis Lasky. Born in San Francisco, he produced two plays in 1911, and he started the Jesse L. Lasky Feature Play Company with Oscar Apfel and Samuel Goldfish (known better as the G in MGM – Goldwyn). Lasky rented a barn to shoot a feature film called 'The Squaw Man' in 1913. 
In 1914, both the companies started releasing their films through a company called Paramount Pictures Corporation, started by Utah Theatre owner WW Hodkinson. When we think about the movie filming industry, the first thing that comes to mind is the LIGHTS! CAMERA! ACTION! But the real money in the filming industry lies in the Distribution Business. This Paramount company that Hodkinson put together by buying 11 film rental bureaus became the first US-wide distributor of feature films. In 1916, Zukor took this opportunity and merged FPF, Lasky, and Paramount companies by buying out Hodkinson and forming the Famous Players- Lasky Corporation. 
Publix Theatres Corporation
Zukor put Jesse L. Lasky and his partners Goldwyn in charge of production and Hiram Abrams in charge of Distribution. Zukor had understood the power of movie stars. He realized that people went to the movies to see their favorite stars, and Zukor had most of them on his payroll: Mary Pickford, Marguerite Clark, Pauline Fredrick, Douglas Fairbanks, Gloria Swanson, Rudolph Valentino, Wallace Reid.
Zukor was an intelligent individual. He thought why to give theatres the cut from the movie, so he decided not to buy the theatres through The Publix Theatres Corp. Zukor bought 2000 screens, and in 1916, he picked up the successful Balaban & Katz and finally became the Paramount Publix Corporation. In 1927, Zukor opened Paramount Headquarters at 1501 Broadway in New York City with $13.5 million, which was the tallest building in Manhattan at that time with 33 stories. All the filming studios were hit hard during the economic slowdown of the late 20s and early 30s. Zukor had bought out most of the partners. 
In 1935, Publix went bankrupt, and Zukor was made the board chairman when he successfully led the company out of bankruptcy. Paramount was still strong with stars like Marlene Dietrich, Mae West, W.C. Fields, Jeanette MacDonald, Claudette Colbert, Gary Cooper, Bing Crosby, The Marx Brothers graced their screen in the first half of the 1930s. Paramount contracted Dave Fleischer of Fleischer Studios in other cartoons, who produced characters like Betty Boop and Popeye: The Sailor Man, who in 1935 event beat out Mickey Mouse in a popularity contest. 
The Split
In 1940 Washington decreed an end to block booking and preselling (the practice of collecting distribution fees for movies not yet in production). After which, the Paramount film-making factory went down to 19 feature films per year from 60-70 during World War 2. With their vertical monopoly and a list of best actors at that time, Paramount made more money than ever. By 1945, big studios like Paramount owned 17% of all theatres and 45% of all film-rental revenue. Hence, the Society of Independent Motion Pictures Producers (SIMPP) filed a lawsuit against Paramount for their outright monopoly. The case didn't go to trial. But Washington decreed all studios were forbidden from owning their own theaters.
Hence, Paramount got split into Paramount Pictures Corporation and a 1500 screen theatre chain called United Paramount Theatres. Adolph Zukor stayed with the former, and Leonard Goldenson became the President of the spin-off United Paramount Theatres. In 1948, Paramount launched its own Television Network. From his real estate holdings, Goldenson acquired the struggling ABC TV network in 1953. Because of the FCC guidelines and limit of owning only 5 TV Networks, Paramount was under a lot of pressure. It sold their New York building, and at the age of 91, Adolph Zukor stepped down as the Chairman of the Board to become Chairman Emeritus – a title he held until his death at 103. Now the second-worst performing studio of the remaining nine Hollywood studios, Paramount was up for sale. 
The Era of Charles Bluhdorn
Now, began the roots of Modern Corporate Hollywood. Paramount was saved by industrialist Charles Bluhdorn with its conglomerate Gulf + Western Industries Corporation. Bluhdorn made Robert Evans as Head of Production, who further brought Peter Bart as Executive. They created many American cinema 60s-70s masterpieces like The Odd Couple, Rosemary's Baby, Love Story, The Godfather, Chinatown, and Paper Moon.  Also, in 1967, Gulf + Western purchased Desilu TV Studio hence getting rights to shows like Star Trek, Mission Impossible, Mannix. After Evans left in 1974, Paramount stumbled a bit under Richard Sylbert, who was rather quickly replaced in 1976 by Bluhdorn's newest protégé Barry Diller. 
Barry Diller, a former TV producer, was running the studio that made The Godfather. Diller surrounded himself with a TV-trained team of folks who were known as the "Killer Dillers." This team included Michael Eisner (later on became head of Walt Disney Pictures), Dawn Steel (later on became the first woman to head a studio: Columbia Pictures in 1987), Jeffrey Katzenberg (later went on to join DreamWorks), and Dom Simpson (who created iconic films of the 1980s like Top Gun). 
The combined shared vision of these visionary individuals led to the production of movies like Grease, Raiders of the Lost Ark, Beverly Hills Cop, and Saturday Night Fever. In 1984, Diller moved over to Fox Studios. After the sudden death of Charles Bluhdorn, Gulf + Western Industries Corporation changed its business model from a conglomerate into a streamlined media and publishing company.  
Paramount Communications Inc.
In 1989, Gulf + Western Industries Corporation rebranded itself as Paramount Communications Inc. Eventually, after dismantling their other ventures, Paramount was only in addition to film, television, home video, music publishing divisions, and since it didn't want Disney and Universal to have all the fun, they also ventured into many other businesses that included theme park, TV Networks, etc. But then, in 1994, Summer Redstone of the National Amusement Theatre Chains and Viacom take control, buying Paramount Pictures for $9.75 billion in 50.1% stock. In 1999, Redstone even went and bought the parent network CBS along with gaining many other assets. 
While all of this buying and selling of assets is going on, Jonathan Dolgen served as Chairman of Paramount with Sherry Lansing as Chief of the Studio. Between Dolgen's careful accounting and Lansing's sensibilities, this leadership team oversaw Paramount's greatest track record with a crowning jewel of Titanic, which hauled in $2.2 billion since its release in 1997. It even took home the best picture wins and commercial successes like Forrest Gump, Braveheart, and box office successes like Saving Private Ryan, The Truman Show, Event Horizon, Mission Impossible Series, and Pootie Tang. According to Lassing, at this point, 80% of all Paramount films during this period were profitable, hence, leading everyone to believe that Paramount was a well-run movie studio in the 90s. 
Star Trek was paying off really well in the Television world – from movies, books, videotapes, and licensing through toys – the franchise was a huge chunk of Paramount's revenues. By the late 90s, nine of the studio's 36 sound stages were dedicated to shooting Star Trek: Voyager and Star Trek: Deep Space Nine. 
But since every great Hollywood movie comes to an end, the winning streak of Paramount did as well, the parent company Viacom split off CBS and other assets, leaving it to approximately 1/5th of its former self and put under the leadership of Brad Grey (2005-2017) who picked up DreamWorks. After his failed story came to an end with whopping losses of $450 million, the studio replaced him with Jim Gianopulos (the current CEO). 
From Zukor and Lasky to Evans and Viacom, Paramount Pictures is a fascinating tale of rising and fall, rise and fall, and rise and fall again. Obviously, there are more stories to unlock in this company's 106-year history. Who knew that when in 1916, film producer Adolph Zukor put 22 actors and actresses under contract and honored each with a star on the logo, this studio will go on to 2014 and become the first major Hollywood studio to distribute all of its films in digital form only. The company's headquarters and studios are located at 5555 Melrose Avenue, Hollywood, California, United States.
Who Owns Paramount? – History and the Split