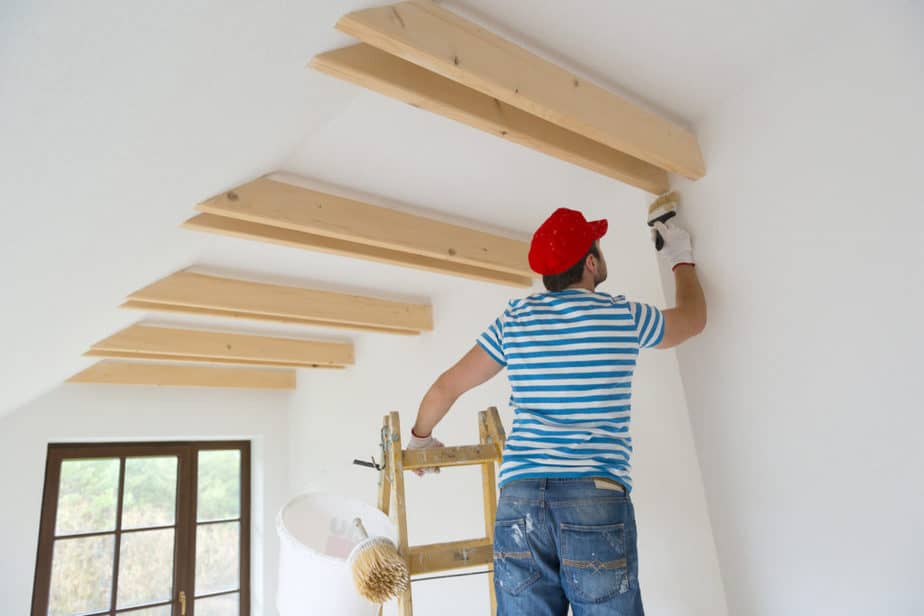 Introduction: 
The painting contractor is responsible for the painting of different articles and buildings. However, this is only one aspect of his job, and he has to perform other duties too. So, in this article, we will tell you all the job roles of a painting contractor and the roles that he has to perform. We will also delve into other aspects of the painting contractor job. 
What does a painting contractor do? 
A painting contractor is bestowed with the duty to paint different buildings, houses, properties, factories, retail outlets, etc. Based on his job role, he is given the membership of a company's maintenance department. If he is not employed by any particular organization, he gets employed through the help of property maintenance companies, rental agents, firms dedicated to the real estate business, etc. 
The detailed list of duties of a painting contractor is given below:
General duties: 
A painting contractor has to paint the exterior and interior surfaces of various materials. 
He might also be required to take out the old paint before applying fresh paint if it is badly worn out, flaking, or peeling. 
A painting contractor is also required to select the appropriate painting material and ensure quality. 
Might need to mix two or more different painting colors to create unique combinations.
Proper maintenance of all the painting equipment is also his duty. 
Ensure a properly cleaned environment for the mixing of paints to prevent any undesired results. 
Repairing duties: 
Besides painting jobs, a painting contractor must also do some sort of repairing work. These duties include sealing the corners, holes filling with putty or plaster, etc. 
First, he has to check if the surface or the building he is going to paint needs some repair. This detection is done based on settled inspection protocols. 
He might also be required to repair some ceilings and trims of the buildings. 
Repair the glass windows, if he is asked to do so. 
The basic purpose of all this repairing work is to smooth the surface for a beautiful painting. 
Tasks to perform before starting the actual painting: 
He has to deal with various clients and customers and consult with them about the paint choice. He needs to discuss the approximate time, the taste and preferences, the requirement of the material, etc. with the client. 
Another essential duty is to estimate the appropriate costs and make a proper bid to the contractor. Sometimes, some special or extra costs like scaffolding for the exterior walls of a building might be required. So he has to estimate and inform the client about these costs also. 
Proper measurement of the area to be painted is also the responsibility of a painting contractor. 
Besides this, he might be asked by the customer to do some additional work like bringing material, recommending suitable brands, making the final accounts, etc. 
A painting contractor has to understand the surface type (metal, wood, etc.), and based on that, he has to decide what kind of paint and efforts, he has to apply. 
He to keep the inventory of materials, equipment, and tools handy with himself. 
Preparation duties of the painting contractor: 
Another crucial aspect of the painting contractor's job is to make preparations and plan for the successful completion of a painting. Under this, 
he has to prepare the surfaces to be painted, 
clear the rooms and give an estimated timeline,
 remove the things that can lead to poor finishing,
 fill holes and cracks for fine painting, 
Use a good quality primer and smooth the surface and perform other preparatory activities. 
If the painting work is on height, he also has to arrange for a ladder or erect scaffolding. 
Actual painting duties: 
Once the construction painter is done with preparation, he has to apply several paint layers that can give nice look to the room, or the building. He will apply the first paint layer and let it dry for some time, and then move to the next layer and so on. 
The coating on the material or building can either be a normal paint or varnish, enamel, stain, lacquer, etc. 
Use various tools like brushes, paint rollers, airless spray, sponges, and even fingers to create beautiful painting effects, as required. 
If the surface he has to paint, is made of wood, he has to effectively stain, seal and varnish it. 
Duty to ensure safety on the site: 
A painting contractor has a very crucial duty to ensure the safety of all the goods and himself.  For this, 
he has to comply with all the safety procedures while working with different tools. 
 Handle the materials safely. 
The lifting or the climbing of all the material has to be done vigilantly. 
Also, he must be very careful about storing and disposing of paints, stains, and other chemicals that he uses in his painting job. 
In case, there is an unsafe environment or equipment, he has to inform directly to the supervisor. 
Duties after the completion of work: 
Once all the painting work is done, a painting contractor must prepare a detailed account of the painting costs and other expenses and give it to the customer. 
After the end of the work, he must leave the place neatly and cleanly. 
Supply an accurate record of all the labor and the material used. 
Besides all these duties, a painting contractor might be assigned some tasks by the maintenance department. Usually, when the company fells short of staff, they might ask the painting contractor to assist in other maintenance works. 
Skills and requirements to become a painting contractor: 
To become a painting contractor, one needs to possess some skills and qualifications that can help in doing the work efficiently. These skills are listed below: 
Good knowledge of various painting techniques, materials, equipment, and required technology. 
Stamina and physical fitness to complete the task on time, and properly apply the painting strokes. 
Able to manage the time properly and complete the painting work within the specified deadline. 
He should also stay focused on what exactly is the customer looking for. Otherwise, he can create problems for himself. 
Communication skills and interpersonal skills will further give him an edge in his work because you would be able to deal better with the clients. 
A detail-oriented approach is vital because painting is all about giving a nice look to the room or the building or any other thing. Examples of detailings required in a painting contractor job include crisp clean edges of the walls, proper layers of the paint, etc. 
Must be well versed with the use of different tools like sandpaper, different brushes, airless spray gun, etc. to perform high-quality painting. 
He must be comfortable with different heights because he might be required to work on high buildings. 
Must be good in basic maths to do basic calculations and estimations. 
He must understand the aesthetic aspect of the painting and make rational decisions in case of uncertainty from a client. 
He must comply with the directions given by the client or the company in both a verbal and written manner. 
A painting contractor is also required to have a flexible approach because he might be required to perform some other maintenance works. 
You must be well versed with the painting styles of various buildings. For instance, a residential building will have different requirements in comparison to a commercial building. So you need to know the painting needs of various houses, factories, retail outlets, etc. 
Required Educational qualifications: 
To become a painting contractor, a person does not need any formal education or any academic qualification. But there are chances that some companies or clients might ask for a high school diploma for hiring you for this job. 
Another thing that you might be asked about is apprenticeship. The reason for asking for an apprenticeship is that in a painting contractor job, you are provided on-site training. Therefore the employer might ask you to show professional experience in this field to get the job. You might be also required to show a license to the recruiter to become a painting contractor. 
The list of equipment that you need to be aware of in this job: 
You will be using the following equipment: 
Different kinds of brushes 
Roller 
Taping equipment 
Striping machine 
Color sprays
Air compressor, 
Ladders and scaffolding 
Light truck or van to carry your equipment 
Tools for drying the painted surfaces
Sand and water blaster, etc. 
Working conditions of a painting contractor: 
A painting contractor job is a physically challenging job. You are required to perform constant physical activities to excel in this field. The job requires you to: 
Walk frequently from one area to other
Climb the heights
Lift heavy things and equipment,
Bending and kneeling for effective painting
Operate various tools and work in a tiring environment. 
The surfaces that require painting can even be slippery, uneven, hot, cold, etc. 
You might also experience loud noises from the frequent moving of objects, operating of tools, and required to travel frequently according to the different clients. 
Salary insights of a painting contractor: 
A painting contractor can earn almost 40976 USD in a year. 
Final words 
A painting contractor is required to perform various duties. These duties include various pre-painting duties like making a bid, giving approx. timeline, estimating costs of material, etc., preparation for a beautiful finish, follow safety procedures, actual painting duties like working with the right paints and post painting duties like keeping the place clean and giving the account statement. 
Based on the duties, he is required to have relevant skills and paid a good amount of money. So in this way, based on the in-depth analysis of a painting contractor job that we have provided, you can make a rational decision whether to take up this career or not. 
FAQs
Ques1: What are some of the interview questions asked in the painting contractor interview? 
Ans: some of the commonly asked interview questions are: 
Tell us about the first few things that you will perform once you are assigned the painting task? 
Imagine a situation, where the client gives different preferences, and you have already done half of the painting. What would be your response? 
Name some of the safety equipment that is crucial for a painting contractor. 
What is the difference between airless spray and normal painting brushes, and how to determine which one to use for painting? 
Tell us about your knowledge of PDCA (Plan do check adjust) standards. 
Ques 2: How can we effectively estimate the cost of painting for a site? 
Ans: Estimating the correct bid for painting can indeed be difficult. But you can follow the following steps to get the proper estimation: 
Visit the site which is to be painted to know the requirements. 
Talk with the client about the requirements and what the client is willing to provide. 
Then you have to check the cost of material and various paint brands in the market and their quality. 
Write down the estimated cost of paint and material on the paper-based on your understanding of the site. 
Check the cost of labor and finally come with your profit margin. In this way, you can add up these costs and get the estimated bid that you should make. 
Painting Contractor Job- Description and their Duties