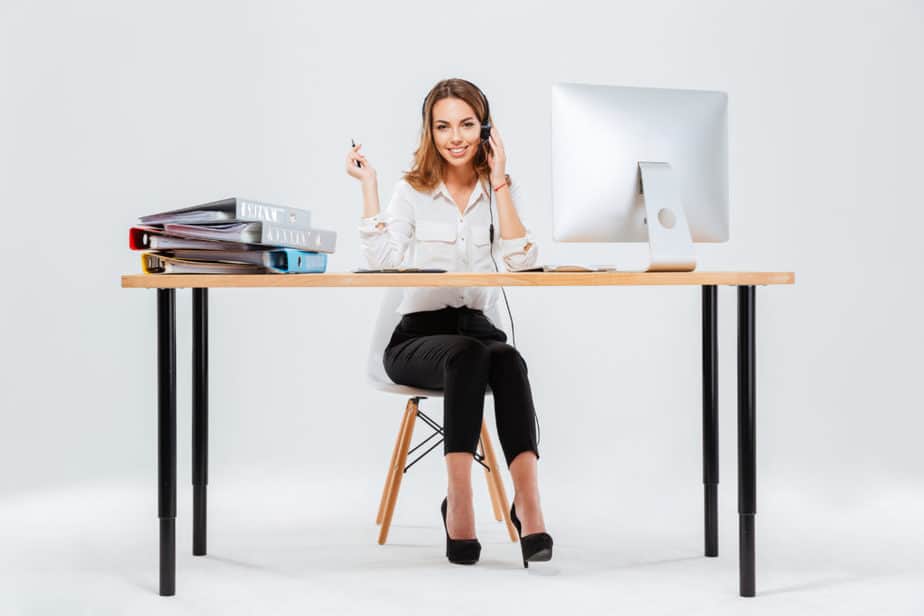 The jobs which require sitting down in a particular place for longer durations are called desk jobs or seated posture jobs. Here is a list of Jobs where you can sit down and do not require a lot of standing up in their profession:
Jobs that don't require a lot of standing up
Auditors and Accountants: Accountants are professionals who are responsible for creating and maintaining the financial statements of an organization. This includes filing taxes, maintaining debit notes and credit notes, and any other related work. In addition to this, they also provide advice on financial decisions to their respective organizations to maximize monetary gain. These individuals use conceptual as well as athematic knowledge to draw conclusions and justify their paperwork. In order for an aspirant to get into this field, they must obtain a degree in accounting or any other related field. It is advised to obtain your bachelor's degree beforehand to start in a reputable position.

They are required to obtain a Certificate of Public Accountants (CPAs) certificate in order to submit their documents to the Security and Exchange Commission. In order to fulfill all these requirements, aspirants are supposed to take additional courses and score well on the national exam. As for the income, according to indeed.com, the average base salary for an accountant is approximately 56,057 American dollars annually. However, the earnings may vary according to the skills and experience of an individual. Currently, Los Angeles is paying the highest amount of salary to their accountants, that is, approximately around 62,599 dollars annually.


Bus Drivers: A bus driver has a responsibility to transport passengers from one place to another while driving his bus safely. A bus driver may work for a private organization, a school, or the public. As a driver, the individual is required to perform the following duties with utmost care and responsibility. Since bus drivers deal with the lives of people directly, it is their duty to ensure the passengers' safety. The duties include:
Transporting people from one stop to another on a fixed time plan to ensure that the passengers do not get late for their work.
Follow the road rules and regulations.
Communicate with other drivers to avoid any overlap.
Ensure the protection of pedestrians on the road.
Ensure customer comfortability during travel.
There are also a few other responsibilities that a bus driver must fulfill. Concerning the salary, a bus driver earns a base salary of 17.03 American dollars per hour. However, please note that the income level varies according to the type of organization you work for, such as a delivery bus, school bus, and so on. Along with the salary, the job of a bus driver may also provide additional perks like life insurance, paid leaves, flexible time plans, and so on.

Graphic designer: Graphic designers have the responsibility of creating visually appealing logos, posters, websites, layouts, and so on, along with text written on them. Organizations contact these individuals to meet their needs for creating creative media needed for their firm's promotional activities. Graphic designers use computers like Photoshop, Illustrator, etc. to create their project pieces and revise them whenever needed according to the client's desire. People in this career may work for a huge organization or have their own independent firms that deal with creating creative pieces. Graphic designers have to perform various duties to produce quality content. Some of them are as follows:
Create designs that meet the demands of the customer and be patient with their continuous requests for changes.
Work with the content department and other creative teams to create the design.
Use the theories used in creating art pieces to produce attractive work.
Graphic designers earn an average of 17 dollars per hour, thereby roughly earning around 36,000 American dollars annually. However, this is just the entry-level salary of an individual, meaning, according to the experience and skills of a graphic designer, they might also earn up to 40 dollars per hour or more. The income range of graphic designers heavily depends on their knowledge. To become a graphic designer, people are required to get a bachelor's degree in arts, design, or any other related field, while also making a portfolio of their work.

Software developers: A software engineer is the creator of the computer programs that we use. They plan, design, and create computer programs that are required according to the current needs of customers in the market. They have the duty to create and test new software that can be introduced to the market, provide modifications to previous programs, maintain the working of existing software and record all their program code for future reference. They also create various model codes that help other software developers to use them for their applications. In terms of the money earned by a software designer, the average income amounts to 103,026 American dollars annually, with additional compensation of 4000 dollars annually. However, this amount may vary according to the expertise and competency of an individual as well as the seniority of the individual in the industry. In order to work in this field, aspirants are required to have a bachelor's degree in any computer science course or related field. Along with academic advancement, they are also supposed to gain practical knowledge through internships.


Legal Assistance: Legal assistance contributes to the smooth functioning of a law firm by facilitating the daily activities of the organization. They have the duties of filing legal documents, performing administrative tasks, and communicating with clients regarding general matters. They also have the duty of liaising with other legal firms, making appointments, organizing the office by updating records, software, etc., making sure that deadlines are met by senior lawyers, and conversing with clients about their case status. The average salary of a legal assistant is about 16.85 dollars per hour. However, this is not a fixed amount and the income of such an individual varies anywhere in the range of 16.38 dollars to 26.27 dollars per hour respectively. With respect to educational qualifications, aspirants are required to pass a GED test and enroll in a legal program to obtain an associate degree with the main focus on paralegal studies. They also have to develop the skills required by taking part in internships or any other voluntary training focusing on legal matters.


Receptionist: A receptionist is an individual who sits at the front desk of a firm and performs administrative duties for an organization. They are required to interact with customers with a positive attitude, either in person or while answering phone calls. They have the duty of arranging meetings, directing visitors, and answering generic questions about the firm's work. They also plan and create the daily working calendar of the organization, any appointments to be scheduled, and prepare the rooms for any meetings. They also work on computers replying to emails, forwarding mail to the required individual, and also creating and sending the general promotional mail of the firm.

In the United States, a receptionist earns an average of 13.37 American dollars per hour, but this varies according to the experience level of the person and the state they are working in. This means that a receptionist can earn anywhere from 13.37 dollars to 22.99 dollars per hour. Presently, the firm Kaiser Permanente pays the highest income to its receptionists at 22.99 dollars per hour, whereas, as a whole, Los Angeles is one of the highest paying cities in the United States. In order to become a receptionist, you are required to at least obtain a minimum school diploma and can pursue further studies as per your own aspirations. To become a front office worker, you need to develop strong interpersonal skills like communication, phone manners, attentiveness, etc.


Judges: A judge is an individual who makes the final decision over a person's criminal charges by either ruling against or for the guilty person. They have to follow the rules of the law and provide a fair and just ruling. In any court case, they are required to hear witnesses, evidence, etc., and check the credibility of all these documents before giving any verdict. They also perform other duties, like:
Giving written permission for arrest and search warrants.
Sentence the person guilty according to the degree of the crime they have committed.
Leading and working with the jury to make fair decisions.
Conduct the hearings according to the sensitivity of the case.
The average base salary of a judge amounts to 81,719 American dollars per month, along with additional perks like paid leave, developmental training, health insurance, and so on. Please note that this is a median salary and varies according to the experience level of the judge. To pursue this profession, candidates are required to obtain a background degree in a law-related field and work their way up from a lawyer to a judge. You also need to pass an exam issued by the bar council.

Actuary: An actuary is a professional who analyses and manages all the risk factors related to financing in an organization. With the help of mathematics, business administration, and statistical knowledge, they formulate plans to protect businesses, either big or small, from any financial losses and issues. They work with and for insurance companies, marketing companies, and investment firms. They work with managers and analysts and other teams to collate huge amounts of statistical data to design a policy that helps firms to protect themselves from any future losses. They use the help of research and strategies to develop these policies by assessing different areas of business.

They also prepare reports about their procedures and plans and present them to the department heads for review. On average, an actuary earns a base salary of 113,404 American dollars annually along with other beneficiaries. However, the salary differs according to the level of knowledge they have acquired in their work life. Currently, the highest paying city is Hartford. To become an actuary, people must obtain a bachelor's degree in a course that includes math or any other statistical course, complete the Validation by Education Experience qualification, take part in internships or any other voluntary work that helps you gain an insight into the life of an actuary, and then finally pass the Actuarial exam and obtain a certificate in order to professionally work in this field.


Data Entry Clerk: The job of a data entry clerk is to arrange, organize, maintain, and update the information provided to them in the required databases and excel sheets. Their main work is to transfer facts and particulars from paper format into computer databases. Some of their other work includes reviewing errors in datasheets, performing general administration tasks, maintaining records, printing and storing paperwork both in hard copy and on computers. The income of a data entry clerk is approximately 15,26 American dollars per hour, which can be more or less depending on the expertise level of the individual. Currently, New York pays the highest salary to their data entry clerks at an average of 18.90 dollars per hour respectively. In order to work in this, candidates are required to obtain a minimum high school qualification, and anything other than that depends on the aspirants and their interests.


Post-secondary Education Administrators: – Post-secondary administrators are individuals who have the duty of keeping a check on the services, academics, and faculty of universities and colleges. These candidates may work in private or public institutions. The main duties of someone in this job include recording the number of students admitted, maintaining the credit sheet of students, motivating the ones with growth potential, handling the institutions' promotional activities, and so on. The average base salary of a Postsecondary Education Administrator amounts to 60,761 American dollars annually, with the salary range differing from anywhere between 39,000 dollars to 96,000 dollars annually, according to payscale.com. The income of an individual depends on their experience level and the type of institution they are working for. To pursue this career, aspirants need to have a bachelor's degree as well as a master's degree to get appointed to reputed institutions. Candidates who have working experience in any administrative field have a higher chance of getting selected than those who do not.
Along with these, several other jobs involve sitting down on one assigned desk like analysts, computer scientists, and so on.
Jobs where you can sit down- List of Various Jobs