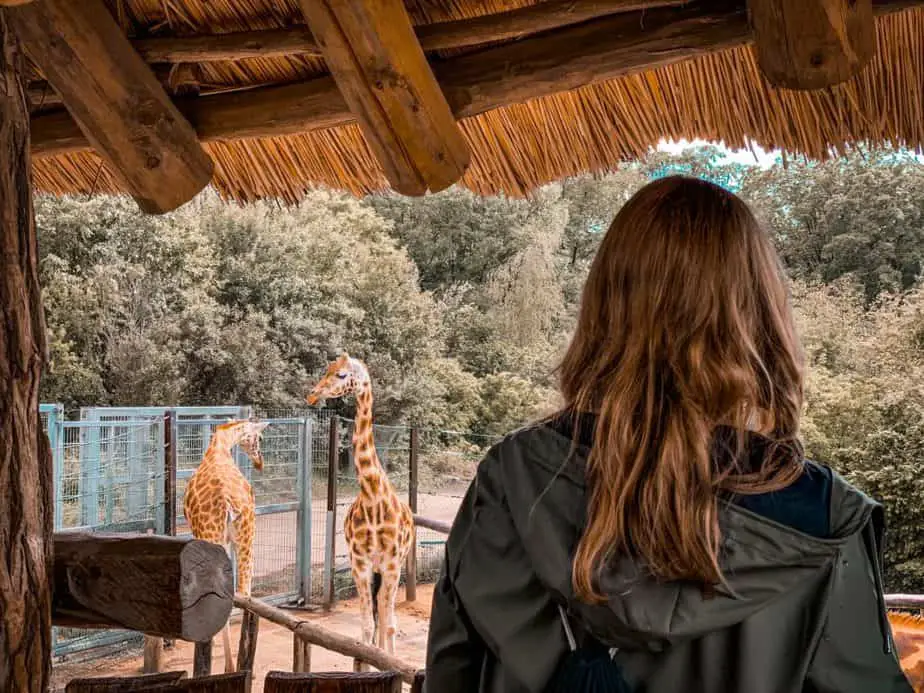 A zookeeper is a person who takes care of animals in a zoological park. A Zoological Park is an area where wild animals are kept in captivity, either for conservation, educational purposes, or for a display to the common public. Zookeepers are solely responsible for the daily maintenance of animal space, their daily care including feeding, bathing, and other maintenance within animals' space. Is Zookeeping a Good Career?
A Zookeepers' career offers a variety of unique opportunities to individuals who love to be around animals. The duties are not limited only to the Zoo but also extended to the relocation of injured, sick and endangered animals from their natural habitat to the zoo or vice versa. 
Though a Zookeeper is paid less annually as compared to Corporate Employees, despite this the career is hugely popular among animal lovers for the unique experiences, opportunities, and specialization it provides. Many Zookeepers when they start were fresh graduates and novices however they get specialized in a particular field like some are more specialized working with Big Cats, some work with Elephants, and so on. If you think that Zookeeping is in your blood and want to go down this path further, you are at the right place. 
This article will provide you an insight into the duties of a Zookeeper, Salary, Skills Required, and Qualifications.
How To Become a Zookeeper? 
This is the most frequent question which hurls our mind, To become a Zookeeper you need to be an enthusiastic and passionate animal lover. This career does not have any gender, race, ethnicity, Nationality preferences. 
To become a Zookeeper, firstly you need to have a minimum of a High School Diploma or passing certificate for higher education and a degree in Zoo animal management or Zoology or a related field. A Management diploma certificate from a Zoo and Aquarium or equivalence. However different Zoological Parks have different demands so it is recommended to check their website or any informational source before applying to any Zoo.
For entry-level positions qualifications are not required, the hiring team will just see your dedication and passion for working toward animals but these qualifications are more preferred for full-time positions and when a particular zoo receives a greater number of applications. 
Enroll in Certificate iii in Captive animals certificate course to ensure your possibility of becoming a Zookeepers. Must Ensure you have 
Types of a Zookeeper
Zookeepers also work in different professions with relevant skills, some of these professions are: 
Veterinary
Zoologist
Wildlife Rehabilitator
Animal Health Technician
Animal Trainer
What is the Role of a Zookeeper? 
Zookeeper does a variety of work which includes taking care of animals in their enclosure like an aquarium, cleaning of enclosures, feeding them, observing their behavior, constructing items inside the enclosure for the comfort of animals, giving them basic veterinary care, and educating zoo visitors. Their wide range of duties includes: 
It is one of the main duties of a zookeeper, they need to monitor the health and behavior of the animals they are taking care of. If you opt for Zookeeping you need to have a keen eye to notice any unusual signs out of blue. Also, animals need to be carefully monitored after their surgery or any treatment so you need to check thereafter treatment activities and keep giving them medicines owing to successfully proven methods. 
A Zookeeper needs to assist the veterinarians to ensure successful treatment for the animal. More like a nurse in a hospital, Zookeepers are keen on helping out during surgeries and conducting tests. 
Their roles are not limited to veterinarians but they also assist animals in their post-surgery and captivity traumas.
One of the major skills required in Zookeeping is the compassion and ability to provide comfort to others. Not many are top-notch in these skills, however, if you think you are Zookeeping is the right path for you. They work to provide first aid to the injured animals and are also seen to comfort the agonized animals after or during treatment. 
Zookeepers also nurse and comfort young babies after any mishappening to their mothers
A zookeeper is the one responsible for providing basic care essential for animals. Their daily duties include measuring food according to nutritional values and chopping, grinding meat and other protein contents, ruling out unqualified, maintaining a diet chart for the ailing, healing, and pregnant animals. Mixing prepared commercial foods and forage grasses are also included. 
Zoological parks are most essentially set up for research and hence a zookeeper has the responsibility of safely shifting the animals from one location to another and ensuring if the new location is suitable according to the animal's habitat. 
Many Zookeepers are also researchers and are involved widely in research projects, publishing papers or keeping up a professional journal, and holding up of the conference. Many Zookeepers participate in national conservation plans inside the States or abroad. 
The role of a Zookeeper around the animals is very vast. Sometimes they train animals to communicate with them, and thus it makes their caring way easier. Like Zookeepers can train giraffes to lift their neck or elephants to sway their trunk so that if they require veterinary services it would be easy to do that.
They also talk about their experiences with certain animals to the audiences defining the animal's behavior. 
Skills Required for Being a Zookeeper
A person needs to have proper skills and qualities to become a professional Zookeeper. Here are some of the skills which you can culminate onto yourself before starting your career in Zookeeping. 
One of the important skills for a Zookeeper is to have a good hold over the language to ensure that the recipient which is mostly animals are understanding precisely. If you are a good communicator it will more probably eliminate the possibility of errors that can be caused due to any sort of miscommunication. 
You need to have good decision-making skills for there must be instances when the decision needs to be taken about the rehabilitation of animals. These skills include calculative and risk management methods to minimize the chances of a wrong decision. 
A Zookeeper must have a keen eye for the fine details and can be attentive at all times to the animals. The job mandates attentiveness so that nothing can be missed out while treating an animal and can monitor the ailing animal in its recovery process. 
If you want to be a Zookeeper, you need to be an absolute lover of your job. The position required a helping nature and lover of wildlife because there might be chances that you need to handle a difficult animal and thus out of spite you won't want to mishandle the situation. 
Critical Thinking
Customer Service
Zookeepers also work towards educating the general public about each animal in a Zoo. And working to create awareness among the public requires friendly nature and highly efficient customer service and hence ensuring a favorable and Enjoyable experience for the Public. 
Basic Knowledge of Computer
Zookeepers also keep a record of the animals they care for. These records are kept in computers inside the Zoological Parks and thus records related to behaviors, medical records, can be entered and accessed through the latest technology. 
It is required for a Zookeeper to have basic computer knowledge like MS Office. 
We all have seen Zoological Parks once in our lifetime either live or on television. While on our way there we all have wondered, Will Zoos are as much fun to the workers there as us, Haven't we? Or If you are looking forward to starting your career as a Zookeeper, you just wanted to know that about the working environment of the zoo. Here is the answer to the question that often paves the way in our minds every time we see Zoos. 
Work Environment of a Zookeeper
It is a common notion that Zookeeper requires traveling, while it is not mandatory and Zookeepers traveled rarely. However, if you are in a para-veterinary field, you need to keep traveling to a different place for the sake of checking up on animals, their rehabilitation, and conducting research. 
A Zookeeper's job is a full-time job and stretches to 10-11 hours per day and can be stretched long and overtime as per the Zoological Park's Requirement. For Para-Veterinary, one can do part-time research projects and rehabilitation programs. The Workdays are seven days per week because animals need daily cleaning and feeding. Zookeeping is a tough job and you also need to work sometimes on adverse weather conditions. But Zoological Park gives holidays however rarely it may be. 
Zookeeping requires working in harsh areas including rural, arid, tundra zones. Your work will not be limited to zoos but can be extended to Wildlife Sanctuaries and National Parks. 
Zookeepers follow a tight schedule and time constraints according to the animals they care for, depending on their habitats, feeding, and napping habits. Time management is highly appreciated and demanding in a Zookeeping career. 
Zookeeping needs to put in the high effort, job factors and conditions solely depend on animal health. 
Benefits of Being a Zookeeper
According to indeed.com a Zookeeper in the United States enjoy many benefits. The most common benefits are: 
You'll get sponsorship for your Visa. Hurray!
No need to worry about lunch during working hours, Food will be provided. 
Paid Sick time
Took a loan a long time ago? Worry not, Loan Forgiveness is here to save you
Tuition reimbursement
Like many other jobs, Zookeepers in the US gets Health Insurance
401k Retirement Plans
Disability Insurance
Paid time off. 
Salary of a Zookeeper
A Zookeeper gets an average hourly pay of $14.05 per hour which might range from $7.25 to $34.10 per hour. The salary of a Zookeeper depends on their work experience, educational qualifications. Those with higher educations like a Masters's degree or Ph.D. and a great amount of experience in the related field are likely to enjoy good pay. Other factors in deciding the salary are size, type, and location of the facility or Zoological Park where a Zookeeper works. 
Other Requirements for Being a Zookeeper
A bachelor's or a Master's in the related field is not enough, you need to get enough experience on your hand during your college days. Volunteering or an internship at a local zoo to learn techniques and methods as you get to be around the animals, Cool right! You might discover new talent, a career choice, and your specificity. 
Look around the Zoological Parks in or nearby your locality as they keep hiring students for volunteer purposes to create awareness. so keep on checking with your local zoo before applying to an internship opportunity at an outside facility. 
It can be possible that you will get an unpaid internship firstly which will benefit you in getting College credits. Then try your hands-on paid internships. Volunteer and internships during your University years may put you in a better position and can get you an early opportunity to work right after getting out of University. 
College students have zero to no idea as to where they must apply. So these are few places mentioned here,, Contact them to see if they are open to hiring volunteers or any interns. Zoological Parks often prefer experience to hire for Zookeeper. Check out these places: 
Veterinary Offices
Local animal shelters
Non-Governmental Organizations
Wildlife Rehabilitation Centers
Frequently Asked Questions
Ques1. What are the skills one needs to cultivate in oneself to become a Zookeeper? 
Ans 1. Zookeepers need to have excellent communication skills to easily connect with animals they care around and ensure Audiences understand how to behave in front of animals. You need to have an immense love for the animals. These kinds of traits are generally visible during Childhood. 
Ques 2. Is Zookeeping a Good career? 
Ans 2. Zookeeping is the dream job people desperately seek, no wonder it's more popular and gets a lot more effort to get into. You can start at any age if you seek comfort in the company of animals. 
In the USA Zookeepers are paid quite well and enjoy several benefits like Life insurance, Health insurance, and tuition reimbursement, etc. 
Ques 3. What kind of degrees are required to get a full-time job as a Zookeeper? 
Ans 3. Full-time jobs generally required Bachelors's in Zoology, Zoo-related management, animal husbandry, veterinary science, or related fields. 
You need to have a lot more Volunteer and internship experience to get land a full-time job. But you can always start with an entry-level job. 
Ques 4. Does hiring require interviews and tests? 
Ans 4. Depending on the faculty, the post of Zookeepers requires entrance examinations in some research projects and National Parks. However Zoological parks mostly see eligibility like the kind of degrees you possess, how you are around animals, and your knowledge. 
Is Zookeeping a Good Career?