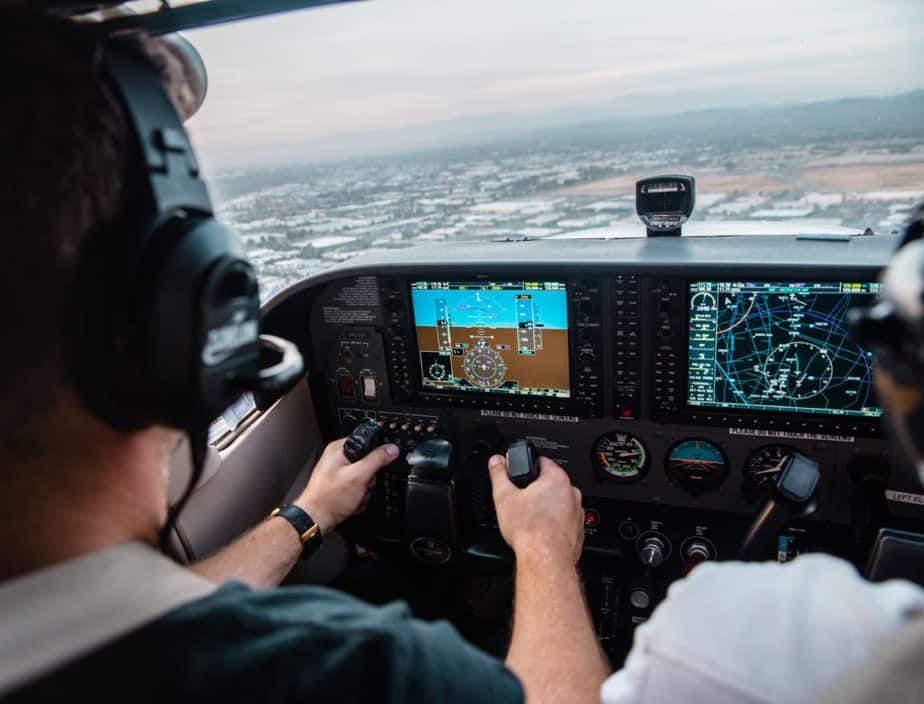 Airplanes are one of the best inventions by humans. Doesn't it seem like a dream that we can travel thousands of kilometers in such a small span? This innovation not just excited us to travel to a new place but allowed us to be the driver of that journey. Getting the job of Pilots can be a thrilling experience in itself. But, most of us find it hard to become a Pilot. Here is the answer to this question- Is it Hard to Become a Pilot?
Becoming a pilot can be difficult for those who don't pay proper interest in ground school and flight training. Specifically, to get a commercial pilot license, you need sufficient interest, attain years of experience, and confidence to operate a plane yourself. It also requires some basic skills and a good amount of capital to get a big paycheck later. Let's dig more into this topic and get the answer to the subject here "Is it hard to become a Pilot"? 
Steps to Become a Pilot 
Have you always dreamed of flying an airplane? Do you get excited with the thought of flying 3000 feet above the surface? Do you want to look at the world from to top angel? Do you wish to travel and get paid for it? Then this can be an excellent career choice for you. 
But flying a plane is not easy as riding a bike. You need to get proper knowledge, need sufficient training, and experience to become a licensed pilot. Let's look at the basic steps to become a pilot:- 
Step 1: Research 
 Research is the first step to understand your career as a pilot and what kind of pilot you want to become. It can help you know the process, time, and cost incurred to get a pilot license. 
Although the pay is well and attracts many to go for this profession, it requires you to spend lots of time training and covering a particular number of hours. To get more clarity, you can take advice from professional pilots and gather the knowledge to understand more about this profession. Online platforms like Pilot career live shows act as a great help as you can ask the professional pilots questions about their lifestyle, training process, and salary offered. 
Step 2: Getting a Pilot Medical 
Before starting Pilot training, you need to get your pilot medical.  Passing a medical examination is essential to know if you are medically fit to fly a plane. It is compulsory to get your first Class 1 Medical if you want to start your training for getting a commercial or airline transport police license. 
This whole medical examination process takes around four hours as it covers the full-body examination. If you wear eyeglasses and are capable of becoming a pilot, then don't worry. Because as long as your eyesight is correctable to 20/20, you can still fly commercial flights wearing your contact lenses or glasses. 
Step 3: Getting a Certificate 
Various types of certificates will help you in getting a pilot license. All the certifications vary from one another and help determine the type of pilot you want to become. Here are few examples:-  
Airline Transport Pilot (ATP) certificate 
Federal Aviation Administration (FAA)  provides Airline Transport Pilot (ATP) certificate to those who want to get hired at the position of Co-pilot or First officer by an Airline. To obtain an ATP certificate, you need to:
Pass the application knowledge test 
Pass practical examination 
Be at least 23 years old 
Get a commercial pilot certificate with an instrument rating 
Have recorded a total time of 15,000 hours as a pilot. 
Have recorded timing of at least 50,000 hours with a multi-engine airplane 
These certifications and experience are only attended by attending a flight school or getting an aviation certificate. The best way to get this many hours of flying, you can work as a flight instructor. It will sharpen your skill and creates a clear pathway to achieve the dream of becoming a pilot. 
Sport Pilot Certificate 
Getting a Sport Pilot Certificate is one of the easiest ways to become a pilot. Unlike other certificates and schools, you don't have to spend long hours, get a medical pilot, or have no need to spend years in-ground aviation schools. 
To get a Sport Pilot Certificate, you need to spend around $4,000 to $6,000 and complete around 25-30 hours. This whole process of certification usually gets completed in few weeks.  
Step 4: Learning to Fly 
There are multiple options available in the Aviation industry. Choosing the best path will help you in deciding which type of pilot you want to become. Let's see the schools and institutions for learning to fly a plane. 
Attending a Flight School 
Flight schools are categorized into two parts one is Part 61, and the other is Part 141. Both the flight schools follow the regulations stated under FAA. 
| | |
| --- | --- |
| Part 61 Flight School  | Part 141 Flight School  |
| It states the requirements for the certification of pilots | It explains the regulations about the pilot schools. |
| It is a more informal and least expensive option as they follow the least regulated instruction.  | It is more formal and fast-paced.   |
| They conduct training in their manner without much instruction from FAA.  | They have a strict outline and got approved by FAA.  |
Both the flight schools provide you training on weekends and nights. 
 Aviation College or University 
 While entering the field of becoming a pilot requires you to have a basic bachelor's degree, attending a university or college with aviation programs can offer you much more benefits. You learn to fly and earn four years of degrees in the aviation program at the same time. 
The four-year degree consists of providing the knowledge and the training required to create future pilots. The bigger the university, the better your chances of getting trained with the professional equipment and latest technology. 
The only issue with an aviation university is its fees. Training students with these updated technologies and equipment is a little high. So it becomes hard for students to take admission in this expensive course. But to solve this, many universities provide scholarship programs and financial aid that helps with the tuition and flight costs. 
Some professional Aviation organizations that offer scholarships are the Aircraft Owners and Pilots Association (AOPA) and  Experimental Aircraft Association (EAA). 
Getting enrolled in an Aviation Academy is one of the fastest ways to gain the knowledge and the required pilot certificates. These Aviation academics plan their courses to train you as an airplane pilot in a span of one or two years. 
The program consists of condensed coursework and intense airline-oriented training that comes under the Part 141 program. Just like any other professional university, these academies offer guaranteed jobs and interviews with their partner airlines. With all these opportunities, the only issue that many people face is its expensive fees. 
 Making a career in military aviation is another option to fulfill the dream of flying and working in the military. It is long term commitment, but it can benefit by giving ease in-flight fees. As military Aviation offers a tradeoff of around ten years with the commitment towards the military in which they cover the cost incurred in flight training
Becoming a Military pilot can be a most feasible option as it gives various perks like: 
It covers the cost of flight training 
You receive the opportunity to travel the world 
Helps in gaining experience in handling large aircraft. 
Assists to stay fit and active mentally and physically. 
Provide high chances of getting recruited by airlines due to military background. 
Apart from these advantages, military pilots also face various issues like: 
Strict guidelines to get enrolled with military aviation course 
It is a long time commitment 
Need to spend a long time traveling that means more time far from home
 More chance of deployment  
Step 5: Earning Seniority 
Earning seniority is the most superior level of position in the field of airlines. The only way to receive seniority and eventually get the promotion as a captain is to put in lots of time and effort.
Airlines only want their most talented and experienced pilots to have previous experience as captains of their jets and have served few years as a first officer. After getting recruited to the position of Captain, you need to spend much more time with the busy schedule before getting the flexibility of choosing your preferred schedule. Also, you can earn seniority by adding more time on weekends and nights. 
Top 3 Aviation School and Colleges 
Pilot schools and Aviation Colleges provide aviation education with different specializations in the flight and aviation industry. Acquiring a professional pilot or flight certificate enables you to operate an aircraft. Many airlines collaborate with pilot schools to provide scholarships or recruit aviation graduates. 
Getting a bachelor's degree in flight or aviation will enable you to operate flights commercially with only 1000 flight hours.  Whereas others without aviation degrees require 1500 flight hours. We listed the top 3 Aviation schools and Colleges to acquire a professional degree:-  
Purdue School of Aviation and Transportation Technology 
Purdue School of Aviation and Transportation Technology is a public state university. It is a top-ranked school of aviation and technology situated in West Lafayette, Indiana. It offers a bachelor's Professional Flight degree designed to provide a larger perspective of the flight industry. The Aviation Accreditation Board International accredited this course. 
You will learn from aviation professionals and get training by flying in the state-of-the-art fleet with matching stimulators. It will help you to obtain the highest level of medical and student certifications. You will earn private and commercial pilot certificates and graduate with 1000 flight hours. 
Tuition Fees : 
Resident – $5,282
Non-Resident- $14,683
International Non-Resident-$15,683 
Additional Expenditure:- 
Flight Course Fees: $3,952 – $12,900
Simulator Course Fees: $2,900 – $3,000
Embry – Riddle Aeronautical University 
Embry – Riddle Aeronautical University is one of the best highly regarded institutes, providing degrees in flight. It has the latest and updated policies and data research for the betterment of students. As students receive benefits with the latest national and international aviation education. Flight minor program covers topics necessary to receive FAA commercial certificates with instrument and multi-engine ratings. 
Along with FAA, they provide academic classes for professional pilot education. The course will hone your personality with communications skills, resource management, team building, and other topic related to handling multi-engine aircraft at the commercial level.  
Tuition and Fees: $39,216 
Flight course rate varies as per the type of aircraft or simulator. 
Median Costs of Commercial Flight: $19,200
Median Costs of Private Pilot ASEL: $27,700 
University of North Dakota Department of Aviation 
University of North Dakota Department of Aviation is a world-renowned aviation university for its academic excellence. John D. Odegard School of Aerospace Sciences offers 7 Aviation Degree with a Professional Flight minor. UND designed the course to prepare students for a variety of flight-related classes. It's a liberal art core curriculum that helps you to understand aviation and multi-engine ratings with your major in other professions. 
 It allows you to get commercial pilot certification with flight training in Helicopter or fixed-wing aircraft. After earning a Professional Flight minor, you can establish your career as a commercial pilot, helicopter pilot, cooperate jet pilot, or in other related professions. 
Tuition and Fees: $12,153.84 
Active duty in the Military, military veterans or dependants will receive added benefits in the tuition and fees.
What is the Salary of a Pilot 
As per salary.com, the average salary of the Pilot in the United States is $140,601 per year. The lower 25% earn around $121,801, while the upper 75% get around $158,701 per year. There are no fixed criteria for a pilot's salary. It can vary depending on the airline, education, experience, type of flight, and location. 
As per the Bureau of Labor Statics 2020 report, many pilots working for major airlines earn more than $7,00,000 per year. Also, the Pilot's salary lies on the actual flown hours, which means more time means a bigger paycheck.  
Why is it hard to become a Pilot?
Pilot training can be difficult at times and requires pure dedication and hard work. Due to this, many students leave it in the middle. Why student finds it hard to become a pilot?  
Let's take a look at few reasons:-
Many aviation schools face this issue due to the limited availability of airplanes. Many trainees didn't get the chance to fly aircraft during their sessions which eventually slows their training process. It leads to a decrease in their interest in attending lessons, and eventually back out from this course. 
Due to this, it becomes essential to choose the school that offers proper training and availability of aircraft with the schedule for every student.  
Motivation is one of the factors that can make or break your career as a pilot. As with time, training will become difficult and tuff. To complete this tuff training, you need to remain motivated throughout the process. Usually, the students who enter with excitement to fly or have money to spend in this course eventually quits after realizing its difficulty level. 
Completing flight training requires you to spend long hours on the ground as well as in-flight training. Students doing flight training only on weekends usually find it hard to complete their number of hours, compared to the full-time professionals. It serves as a reason for irregular students to quit after some time. 
Many students quit the course even during the ground school level, as the ground school syllabus is very lengthy and gives rise to stress levels in students. Many times flight schools don't prepare a proper syllabus that takes more time to finish. It leads to repeating classes and takes more time for students to finish them. 
 Completing lengthy courses and repeating the same classes can lead to a high chance of students losing interest. It will lead to an increase in the rate of dropouts from this course. 
Becoming a pilot is a long process and requires you to get many years of experience. It means that the earlier you start with training, the better the chances of getting selected. The minimum age to obtain a private pilot license is 17 years. You can get a commercial pilot license at the age of 18 years. 
There is no age limitation for obtaining a private license, as many people like to fly the plane as a hobby. You need to pass the medical examination to prove that you are medically efficient and get a medical certificate. 
Cost or financial issues are the vastest factors why most people find it hard to become a pilot. Is it be earning a certificate or getting training as a private pilot. The whole process of training is expensive as compared to other career options. The more you progress and spend time in training, the more difficult it becomes in financial aspects to complete the training. 
There is no minimum budget required to complete this course. And the cost can vary with the time you spend on training. FAA sets particular time criteria for its certificates, and every student needs to spend that much of the time before getting a license. So be sure to add the extra money while enrolling in this course. 
Necessary Skills required to become a Pilot 
Becoming a pilot is not only about an interest in flying airplanes and completing flight training. It is also about possessing some basic skills that will help in finishing this whole training process. 
Good Communication Skills 
 The profession of a pilot isn't just limited to flying planes, but it is also about proper communicating with your staff. While flying an airplane, you need to be in continuous contact with Air Traffic Control and onboard staff to ensure the safety of the passengers. Even before becoming a pilot, you have to communicate with your instructors during training days. So that there will be no doubts and confusion after your training gets completed. 
Good Coordination with Team 
 It is the extension of the first skill, as you need to communicate appropriately with the team members. Communication with team members assures proper coordination and leads to a safe journey. It includes Air Traffic Control, dispatchers, or other crew members. 
Stress Management 
 Stress management is another essential skill that makes a great pilot. As a pilot, you have to stay calm and composed during emergencies and guide the crew member to do the same. It will reflect the passages that they are in safe hands. It gives you the confidence to take big decisions in these stressful situations. 
Pay proper Attention 
 Flying an airplane is the work of attention and staying focussed on the necessary details. You are not only required to operate the flight. But you also need to know about various other things that you have to do at the time of emergency. 
Should be Multitasking 
 Along with paying attention, a pilot needs to be a multitasker because you should be able to do various activities at the time of flying. They have to communicate with the Air Traffic Police, operations, the members of your cabin crew, the passengers. 
Know the basics of Aircrafts 
 A pilot also needs to know the technical aspects of an aircraft to ensure safe operation. A pilot is required to check the inside and outside condition of the aircraft. They have to continuously check whether the airplane is in the proper condition or not. 
To do this, they need to check fuel levels(make sure they are satisfactory), there is no damage before, during, and after every journey. Along with that, they keep proper attention on the engine's performance. They also need to have good knowledge of operating the radios, as they have to stay in contact with the Air Traffic Police and know how to navigate the plane.
Basic understanding of Mathematics and Physics 
 Your school studies also play a crucial role in letting you know your capability of becoming a pilot. After entering a flight school, you will study the topics related to mathematics and physics. Some of the basic subjects like the principles of flight, balance, and mass involve physics. But the subjects like navigation of flight require mathematics to understand the formulas and calculations that fall under it. 
Awareness 
 A pilot needs to be quite aware of the surroundings. As a pilot, you have to keep an eye on changing weather conditions, checking airplane configuration or system, and know the techniques to handle a flight in crucial situations. 
Having awareness about the surrounding provides a path to correct decisions. Like, when and where to land the flight in bad weather conditions and help the crew members and passengers. All these avoid chaotic situations. 
Conclusion 
Becoming a pilot is not as simple as getting a degree. It requires more focus, dedication, and long hours of training. It may sound like a lot to give, but at the end of the day, when you achieve that platform and get to fly aircraft, everything will be worthy of all hardship. 
If you want to become a pilot, then don't think about the difficulties. Just prepare yourself mentally and physically, be prepared to spend long hours in the sky. 
Is it Hard to Become a Pilot?