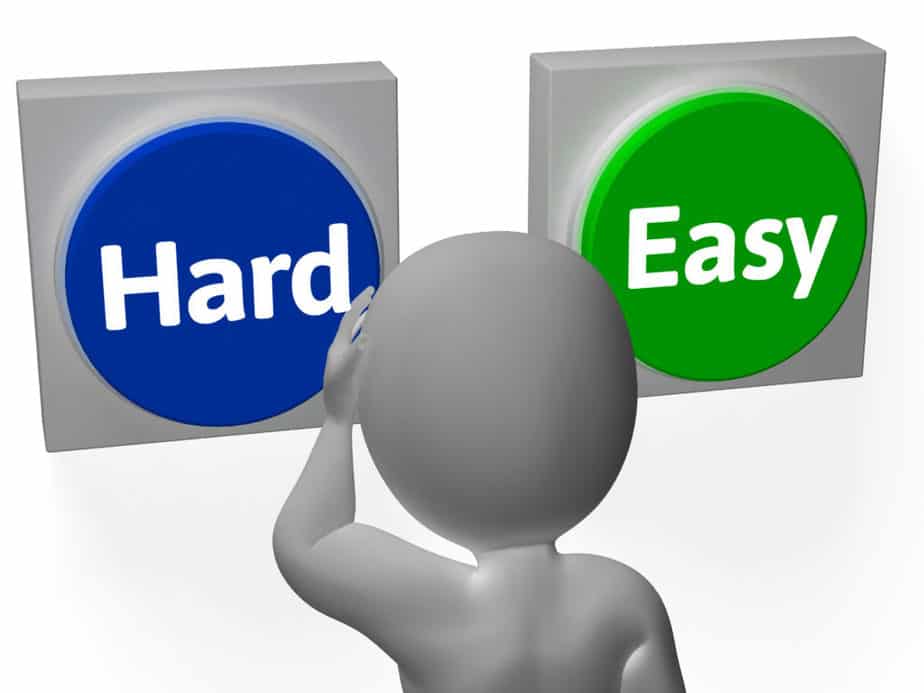 Are you someone, who is interested in graphic design but, you are in a dilemma thinking about whether learning graphic design is hard? If your answer is yes, then this is the place for you. In this article, we will be discuss that is graphic design hard as a career in 2021 or upcoming years.
So, is it hard to learn graphic design? The answer is, it depends on how persistent you are to learn graphic design. It is needless to say that one must do hard work in order to achieve what they are aiming for. Hard work, in this context, refers to the level of persistence you are possessing to be an expert in graphic design. 
Graphic design is the art of communicating information through visual means. Here, the graphic has to depict the entire information without actually using any verbal communication. So, the graphic designer must possess such a level of creativity to be able to convert the information into a design.
What Do You Need To Be A Graphic Designer?
To be a graphic designer, it takes a set of requirements, if not qualifications, to excel in the art of designing. Let us see below what those requirements are:
Creative mind
Required knowledge and skills
Persistency
Patience
Research
Visual Communication
Theory
Resources
Creative Mind
One must need to have a creative mind to design anything. So, to be a graphic designer, you must have a unique way of presenting things, which is beyond ordinary thinking. The more creative you can be at presenting the information, the better you are at graphic design. 
Required Knowledge and Skills
Just having a creative mind does not make you a graphic designer. You also need to have the required knowledge and skills to assess your creativity and make it into reality. Knowledge includes awareness about the design principles, theories, techniques, tools, models, and various software applications, which can be used to design graphics. Skills refer to the practical
knowledge about how the tools, techniques, models, and software applications work and ability to create a graphic design using those tools and applications. 
Persistency
Now, this is the most important requirement in the process of learning anything. No matter how hard or easy it is, being committed to achieving your desired goal and having the willpower to continue learning is what makes you different from others. There may be times where you face a creative block. 
Creative block is the condition when you cannot pull yourself to design anything. Even in such creative block situations, you just need to sit there and continue designing whatever comes into your mind. Those designs may not turn out to be good or more likely to look horrible. But this practice is what is going to make you perfect in the long run. So, if you truly want to be a graphic designer then just keep designing anything and everything. This persistence to keep practicing will help you achieve your goal to become better at designing graphics. 
Patience 
Best things take time to happen. One cannot excel in anything just in a day or two. So, patience is the key here. You have to be patient while learning. Even at the times when your designs come out not as good as you have expected, you should have to be patient and keep trying until you are satisfied with the outcome. You may learn it in a few days or months or maybe a year, no matter how much ever time it will take, you must have the patience to keep trying until you achieve your goal. 
Research
To produce unique designs, which can communicate what they are supposed to, a designer must do proper research before actually starting to design. The more research you do, the more unique your designs can get. So, you may have to spend a lot of time researching to design even a simple logo or a graphic. 
Visual Communication
Graphic design is all about communicating through visual means. It is a must for a designer to know what kind of visual elements to use to make the communication more significant. The visual elements may include choosing a suitable type of layout, coordinating the colors and composition. A designer must have sufficient knowledge of all those visual elements. 
Theory
While learning anything, fundamentals form a basic foundation. The same is for a graphic designer. They should have a better understanding of the fundamentals and principles of design. 
Resources
Let it be starting a business or beginning to learn a new skill, resources form a basic foundation. Some of the useful resources for graphic design are as follows:
Adobe Photoshop is one of the most popular resources for almost everything about designing and editing. It offers various software applications such as Photoshop, Premiere Pro, Illustrator, InDesign, After Effects, Lightroom, Premiere Rush, XD, Spark, Animate, Dreamweaver, Substance 3D Stager, Substance 3D Painter, Stock, and many more to help people design graphics, illustrations UI and UX. 
Unsplash, Shutter Stock, Pinterest, Envato Elements, Pexels, Stock Unlimited, Burst, Freephotos.cc, Stock Vault, Pixabay, and Deviantart provide unlimited free images and other resources to help in the designing process. 
Epic Pxls, Pixelbuddha, PSDrepo, and other similar sites offer both free and premium products like customized design templates, PSDs, textures, and UI assets. 
Font Shop, Fontjoy, Google Fonts, Adobe Type Products, and other sites provide a wide variety of font styles for typography in designs.       
The above mentioned are the only basic requirements that help as a foundation to be a graphic designer. If you are meeting all these requirements then you are good to go to pursue graphic design.
However, there is no stopping in learning even after you have become a better graphic designer. Because, in this evolving technical world, you must have to be up to date with the latest changes in software applications and tools. Keeping oneself updated with the market is also an important requirement for not just a graphic designer but also all other professionals. 
Building Career In Graphic Design
If you are planning to choose graphic design as your career then you may as well have to know about what are all the pros and cons of it. In this article, you will learn about how you can be a professional graphic designer and what it takes to choose graphic design as your career. 
In the present times, where the whole world is going digital, there is a lot of scope for graphic design as a career option. Everything from the corporate level business to start-up enterprises, technical industry, education sector, health sector, and advertising agencies, all often depend on visual means to convey their message to the targeted audience more effectively. 
So, there are many chances that you can earn your living by choosing graphic design as your career. Below are some of the statistics for your better understanding of the earnings from a graphic design career:
In states like Washington, California, and New York City, the average annual salary of a graphic designer was around $52,110 in the year 2019. This is the data acquired from the US Bureau of Labour Statistics. And soon, the graphic design profession is expected to grow at a 3% rate, which means there will be high competition and high demand for the profession.  
So, you need to do hard work to make your place in the market as a graphic designer. 
Do You Need A Degree To Be A Graphic Designer?
Now you may have a question about whether you need a university or college degree to become a graphic designer. The next part of this article will help you clarify those doubts. 
There are many universities and colleges, which offer many courses for graphic design. However, just having a degree is not what makes you a graphic designer. There may be some people, who even after graduating with a graphic design degree, are not successful graphic designers. It may be because of a lack of the required skills. 
And then there may be some people who are successful in graphic design even without having any degree. It is because they are having the skills that are required to be a graphic designer. 
Hence, one can become a graphic designer even without a university degree if they have the required skills. You may go for a college degree if you need expert guidance and for assistance to help you have a clear path as to what to learn. 
If you are passionate about being a graphic designer then you do not necessarily need a university degree. Required skills and persistence to be better can help to make you a graphic designer. 
Therefore, whether a graphic design is hard or not depends on how hard you are working to pursue it. The more you are persistent to master the art of graphic design, the better you can be as a graphic designer. 
Frequently Asked Questions
Can I choose Graphic Design as my career?
Yes, you can. It is the most popular and growing sector, which can offer many job opportunities. 
Do I need to have a degree to be a graphic designer?
A degree is not compulsory to be a graphic designer. Skills and knowledge about tools are what is required. 
Can I learn graphic design for free?
Yes. There are various sources across the internet to help people learn graphic design for free of cost. 
Which software applications to use to design graphics?
Adobe is the most popularly used application. But there are many others too. 
Is Graphic Design Hard as a Career?