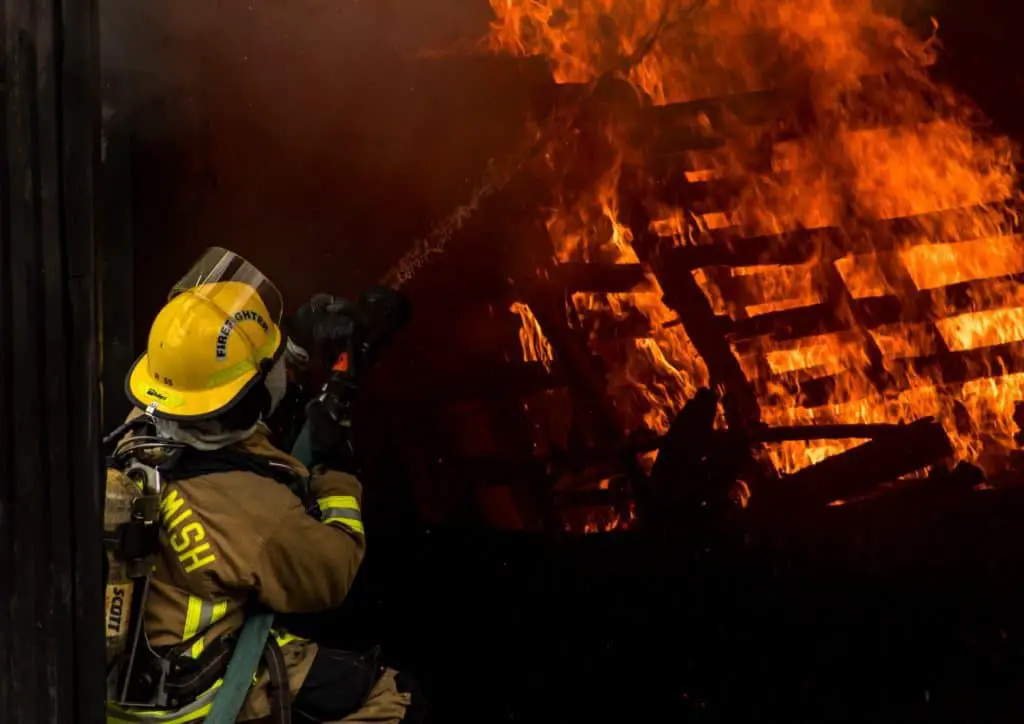 Smoke is everywhere, the scream of people is heard, and the blazing fire is spreading. At that moment, people's lives are at stake, and just by hearing the siren of the firefighting truck, there is a relief in those people's faces. These firefighters risk their life venturing in the blazing fire to save the lives of these people. They are the real heroes, and it could be that you are thinking of becoming a firefighter. Indeed, you have many questions traveling in your mind like; Is firefighting a promising career? You did the right thing by clicking this article, as we will help answer your questions. Obviously, in anything that you choose to do, there is a positive and negative side. Now, to choose firefighting as your career, you need to evaluate both its advantages and disadvantages to know where you stand. But, even despite all the risks involved, you are ready to become a firefighter. 
Advantages of a Firefighter
Job Satisfaction. Firefighting is not only about rescuing people; it is as well a public service where they educate the public about safety. You know that rescuing and helping people is what makes the job rewarding as, at the end of the day, when you come back home from work. You know that today you have been able to help others and have been able to rescue someone's children, parents and family. So even though working in the fire sector can be traumatic, just the thought of saving a soul gives you genuine job satisfaction.
Room for Improvement. Like any other job that you just started, you will get a lower salary; then, with time, your salary will increase depending on your performance, overtime work, training, and education. Similarly, for fire fighting, it functions like there is room for improvement and more salary. Moreover, When working as a firefighter at any time, there can be an emergency. That is, there will be times where you have to work overtime and do overnight shifts. Honestly, it is not easy and can be extremely tiring. Nevertheless, once you get your salary, you will see that they have paid you for your overtime. Seeing them paying for your extra work, you get the incentive and satisfaction to work even more. In addition to the overtime pay, you can get extra pay for other skills and qualifications that you have, such as a paramedic license, bilingual abilities, specialty rescue or hazardous material training, or additional educational hours that you have accomplished.  So one can see that in fire fighting, there is room for improvement.
Security Benefits. Despite that firefighting is a risky life career, it comes with many useful benefits that ensure security. As a full-time and permanent employee, health and medical insurance programs are granted to you and your family. The type of health and medical insurance that you will get will differ from the department that you are working in and the state you are located. Some of the benefits you might get are regular health insurance, dental, vision, prescription, and emergency medical care. What is more impressive is that these benefits are to be shared with your family as well.  Another security benefit that you are entitled to as a firefighter is pension or retirement plans. Once you are at the end of your career and it's time for you to retire, you will still be remunerated through pensions. The fundamentals of how a pension works are as follows: both you and your employer contribute to the fund at predetermined percentages of your salary each month. Once you reach the age of retirement eligibility, you will be able to collect compensation based on the number of years of service you have accrued.
Disadvantages of Firefighter
Uncertainty if you will come alive. Firefighting is for sure a dangerous job as while saving others' life you are at the same time putting your life at risk. There is a high probability as well that you might not come out alive while rescuing others. Despite multiple years of training and working experiences, the uncertainty is still present. No one can really predict the situation and come out of it one hundred percent safe.
Health Complication. Getting injured and experiencing smoke inhalation are inevitable when working as a firefighter, and it is automatically going to affect your health. Heavy smoke inhalation is also known as the 'silent killer,' is poisonous to your health. As you may be in a fire scene helping people and successfully, you have rescued everyone, and just after a while, you might start not feeling well. This may be because of long-time exposure to heavy smoke inhalation. You might get the common symptom after smoke inhalation: vomiting, unconscious, and having breathing difficulty. In addition, you need to know that you might develop serious diseases such as cancer, heart disease, and hearing loss later in your life. All of this might happen to you due to long exposure to heavy smoke and high fire exposure injury risks.
Unusual Shifts. Firefighting is not like any regular job that has a fixed time to work or a free weekend. There are unusual shifts, and at any time you get a call, you must leave everything behind you and save the community. That is, you don't really get time for yourself or have a relaxing family time that often.
Trauma. There are incidents where you will witness someone else's death in front of you, which can be traumatizing, leading to depression and emotional disorder. In these situations, you are asked to be calm; nevertheless, it might leave a scarred memory to you as a human being.
Are you now ready to become a firefighter?
After analyzing both the positive and negative sides of becoming a firefighter, you need to understand that this is a job where the community's security comes first and then after that your family or even yourself. It is a job that demands you to be selfless and a lot of sacrifices, and if you feel that you are ready to follow this career path, you need to know the next step, which is the requirement needed to become a firefighter.
Basic Requirement to Become a Firefighter
Many careers demand you to have a college degree and training qualification for an entry-level job position. However, in the firefighting domain, the only requirement you will need is simple and easy to fulfill if you are healthy and fit. Usually, you will have to fill in information about your age, health, and education level. Then you will have to prove your writing and physical strength through exams. Once you are done with these tests and have succeeded in each of them, you are ready to start your career in the firefighting sector. Nowadays, there are many associated degrees in fire sciences, so having this degree might be a plus for you when applying to become a firefighter. However, another important thing that you need to know when applying for the fire academy there are certain criteria that you have to meet, such as:
Be at least 18 years old or older
To pass the background check
Have a driver's license
Have a good health condition
Have a high school diploma
Have an Emergency Medical Technician (EMT) certificate
List of Skills to Become a Firefighter
Communication Skills
Team Spirit
Able to Work Under Pressure
First Aid Skills
Problem Solving Skills
Leadership Skills
Mechanical Skills
Adaptability Skills
Visualization Skills
Attention to Detail Skills
Good Physical Fitness
Confidence
Risk-taker
Some of the responsibilities involved in becoming a firefighter are:
Using modern firefighting and rescue tools.
Collaborating with police and ambulance staff.
Checking and maintaining equipment between usage.
Pursuing physical and academic training.
Promoting fire safety through discussions, guidance, and training sessions
Practicing Drills
Assessing and enforcing fire safety standards in buildings.
Is firefighting a good career?