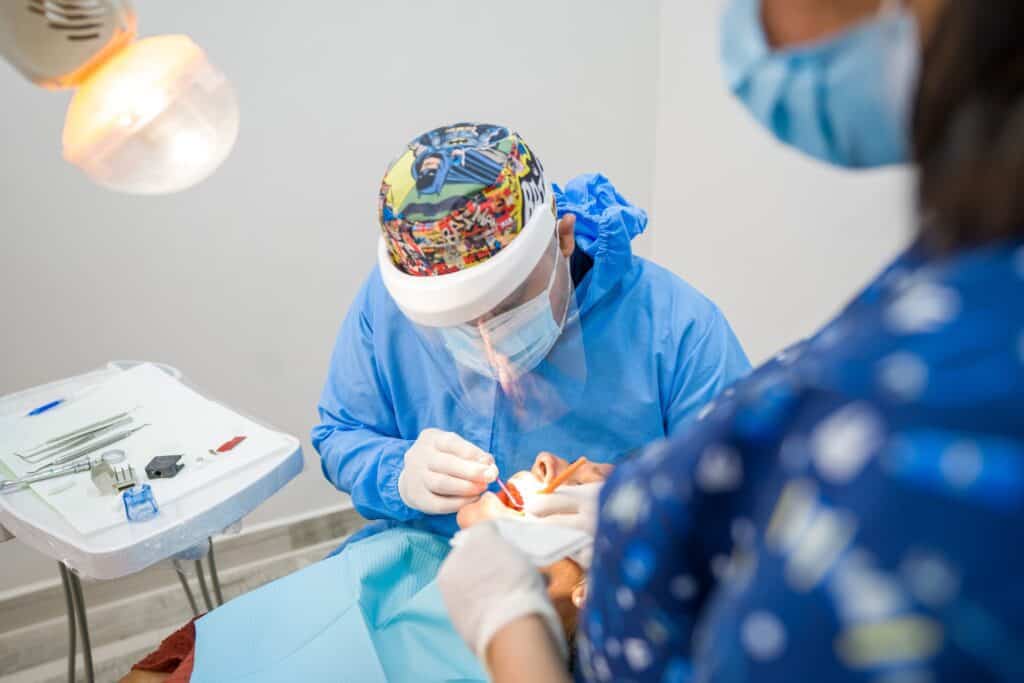 Everybody wants a beautiful smile. Our teeth are an important part of our physical body, and we need to keep them in perfect health. We will discuss that is dentistry a good career or not. Our smile is one of the first things people notice about ourselves. It is as important as the rest of our features, and we need to take good care of it. They need to be in perfect condition so that we can show off our pearly whites. Dentists help maintain our oral health. They perfect our teeth like it is a work of art, and we get the gift of a great-looking, toothy grin.
Dentistry is for those who are service-minded. They help people by treating oral problems and looking after their oral health. A dentist makes society a healthier place and brings about smiles. Being a dentist has its merits as well as demerits. For example, the job may be physically demanding, but at the same time, it has a good salary too. Become a dentist if you are good at hands-on work and if you are a scientific thinker. Read on and see if dentistry is the career choice for you.
Is dentistry a good career?
Duties of a Dentist
Here are some duties of a dentist:
Checks the oral health of patients
Performing dental procedures like cavity filling, root canal, etc.
Prescribing necessary medicines for oral care and cure
Giving patients anesthesia before extraction of operation
Analyzing X-rays and getting to the root of the problem
Using tools like mirrors, drills, etc., to check and clean the mouth and teeth.
What are the pros of being a dentist?
Here is a list of the merits of being a dentist:
Dentistry is a field which gives you a good salary
You are independent and your own boss. You answer only to yourself.
A dentist is a respected position in society.
As a dentist, you will get to meet a lot of people and will be able to build relationships with them.
There is high demand for dentists everywhere as it is a cosmetic field, too, apart from just removing a bad tooth.
Work hours are good. You set the hours according to your preference. This job is also great for women with a family. Work/life balance is good in this job.
There is always something new to learn from this field. It is never boring. You will have to keep updating your knowledge about the latest trends.
It is service-oriented. You get help people out of trouble and spread the smiles.
Dentistry is a creative job apart from being scientific.
Dentistry has job stability. You will not be out of the job after a few years of practice.
If you take up dentistry, you can lead a balanced lifestyle.
What are the cons of being a dentist?
Here is a list of negative points about being a dentist:
It takes 8 years of studying, and you cannot stop there. You will have to keep getting educated in the subject as new trends are always on the rise. Education and learning never stop.
The course is not cheap.
It is a huge responsibility. The patient has put his trust in you, and you cannot mess up.
It can be a stressful job as the customer has put his faith in you. You may also meet difficult customers.
Dentists need to be available during weekends, too, as you do not know when an emergency may arise.
The work conditions may be unhygienic as you are dealing with the inside of a patient's mouth.
The work hours are long if you are a dentist.
You will have to deal with patients who do not like you as a dentist
Being a dentist is physically demanding as you spend hours crouching over a tiny area. It is stressful for the back and arms.
Dentistry is a competitive field. Acceptance into dental school is a difficult process.
What is the work environment if you are a dentist?
The work is indoors. Most dentists have their own practice. They work for 5 days a week and also sometimes during weekends in the case of emergencies. Usually, dentists work for 35-40 hours a week. Work can get unhygienic as you are dealing with the inside of people's mouths. You will need to wear gloves, a coat, safety glasses, and a mask. Dentists will have to deal with a lot of people. They have to be sociable during work. Dentists also come in contact with X-rays and UV-rays. The job is physically demanding, too, especially for your arms and shoulders.
What are the educational qualifications needed to become a dentist?
To become a dentist, you must have passed your 12th with physics, chemistry, and biology as your main subjects. You need a bachelor's degree before attending dental school. You will also need a doctoral degree. You need to attain state licensing as well. You must pass written and practical examinations of medicine that your place is conducting. Get a DDS or DMD degree which takes a span of 4 years.
What is the average salary of a dentist?
The average annual salary of a dentist is around $159,200. Salary varies with your qualification, specialization, experience, and the organization you work for or if you are self-practicing.
What is the job outlook for dentists?
Employment will rise by 17% in the future 10 years, which is must faster than average. There is high demand for dental services in today's world as cosmetic needs increase and tooth problems are also rising.
What are the skills required to become a dentist?
Here is a list of skills you need to make it as a dentist:
Dentists need to have good communication skills
They need to exercise patients
They need to be able to work under pressure for long periods of time
They must possess dexterous hands
They need to be good at teamwork
The dentist needs to have the problem-solving ability as it comes in handy in this particular field of work.
A dentist must be detail-oriented
A dentist must be a lifelong learner
A dentist needs to be enthusiastic about his work
A dentist must be compassionate in nature. He must like helping other people.
What are some of the job titles in dentistry?
Here are some careers that you can take if you specialize in dentistry:
Dental Assistants-They provides help to the dentist. They do work like sterilizing the tools, taking molds of the jaw, and developing X-rays.
Dental Hygienists-They does dental cleanings and checks for dental problems and oral diseases.
Dental Laboratory Technicians-They makes dental prosthetics.
General Dentist-They takes care of your oral health and helps prevent oral diseases. They take care of problems such as cavity fillings, root canals, etc.
Orthodontist-He is a specialist in jaw alignment and position of teeth.
Periodontist-Diagnoses and treats periodontal disease.
Oral and Maxillofacial Surgeon-Performs surgery on the mouth and jaw.
Prosthodontist-They replaces lost teeth with oral prostheses. They correct any mistake so that mouth can resume normal function.
Pedodontist-They specializes in the dental care of children
Medical Biller-Has the job of handling patient information.
What are the employment opportunities for dentists?
Here are some institutes where dentists are employed:
Dental departments
Dental clinics
Nursing homes
Dental institutes
Health departments
Pharmaceutical companies
Private hospitals
Dental colleges
Government dental departments
Conclusion
Becoming a dentist is for you if you like helping people.  Through your work, you can help spread smiles in society. You can promote the health of society as well. A dentist is a respectable position, and we need them in today's world, which is seeing an increase in dental problems among kids and adults. Dentists are in demand to cure dental ailments like root canals and cosmetic demands like putting on braces. Dentistry can be a rewarding career and a satisfying job. If you are service-minded and a scientific problem solver, then this job will suit you. Dentistry helps spread smiles across the world. Treat people and help them achieve that perfect smile. Become a dentist now and do not look back.
Also read Is environmental science a good career?
Is dentistry a good career?