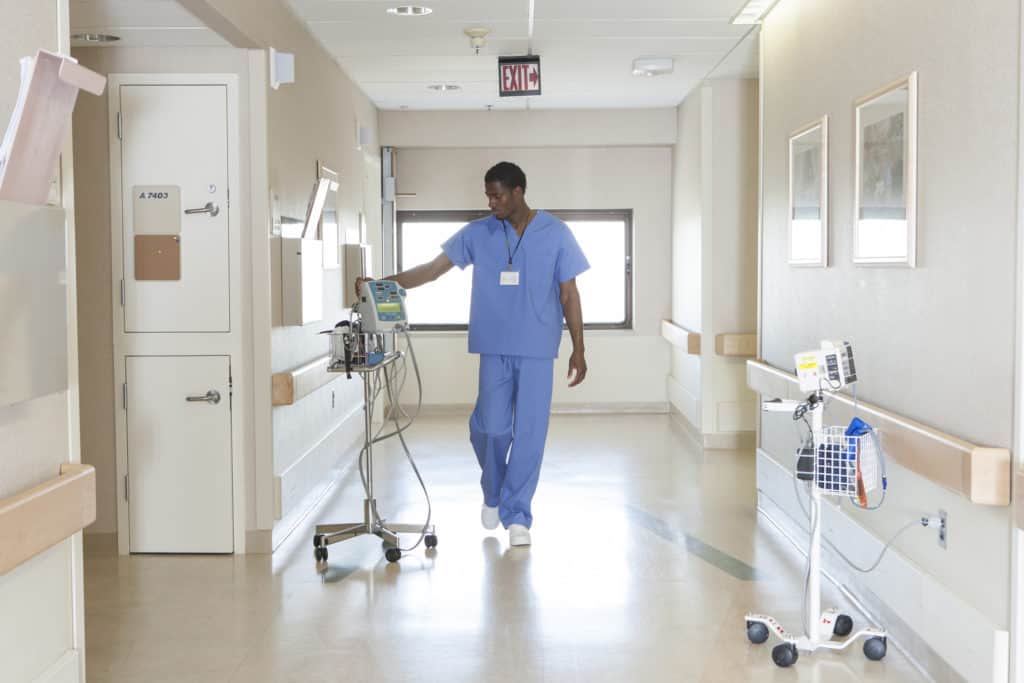 Is a Licensed Practical Nurse (LPN) a Good Career Choice? Let's see here in this blog. Licensed Practical Nurse tend to treat sick, injured, convalescent, or disabled individuals. This nurse title is seen in the United States and Canada. Their pay grade is above certified nursing assistants but below registered nurses. They are directed by physicians, mid-level practitioners, and in some jurisdictions, by the registered nurses. 
A licensed practical nurse has to work closely with sick, injured, and disabled people. One needs to have the ability to empathize with the hurt as well as have a strong passion for helping people deeply. The educational requirements are minimal for this career. Some of the benefits of choosing to be LPN are:
There is a huge demand for nurses. More and more nurses are required to work at home, clinics, and hospitals.
Working as an LPN can help to improve one's skills. LPNs get the opportunity to go for further education while working at a hospital or any other health care facility. 
The schedules are mostly very flexible. The individual can choose the hours as well as the location that is convenient to them like a clinic, palliative care or hospital. 
Economic stability and job security are high for this career.
The responsibilities of LPNs have increased over the years. They are now eligible to work in emergency rooms and critical care units.
Lastly, the job is very fulfilling. It is always good to help the needy and give them your attention and care. Proving the hurt basic care and also teaching their families how to care for them is a good opportunity.
According to the US Bureau of Labor Statistics, LPNs earned $47,480 annually as of 2019. This amount is thought to increase in the coming years. To put it all together, LPN is a good career choice. It is a wonderful opportunity to look after others, spread kindness and improve nursing skills. 
Since we concluded that LPN is a good career choice, let us understand the path required to become an LPN in detail.
Path to Having a Successful Career as a Licensed Practical Nurse
Step 1: You can either choose to get a degree or a diploma before becoming certified as an LPN. Students can prepare for the certification exam while pursuing their diploma or degree. The quickest route to becoming an LPN is to get a diploma and then take the exam to get certified. The diploma can be earned in about ten months and there are universities that offer the course online.

This will not earn you any credits that are needed for further education. Hence, it will not be possible to advance your career. Another way is to get an associate's degree in nursing. This degree can be obtained in two years and the course can be taken online. This program will earn you enough credits to go for further education to become a registered nurse or RN. 


Step 2: Once you decide to get a diploma or a degree, the next step is to search for a program that is state-approved or accredited. Some colleges will have an entrance exam before accepting the students. Getting an associate's degree opens the door to get a bachelor's degree in the future. The diploma is offered by hospitals, community colleges, and junior colleges. Some of the coursework that needs to be completed are physiology, anatomy,   nursing care, psychology, growth and development, medical terminology, and nutrition. 


Step 3: The next step is to get certified. Like mentioned before, you can prepare for this examination while pursuing the degree or diploma. Once you obtain the degree or diploma, you need to sign up for the NCLEX-PN exam which is obligatory in all the states of the US. This exam provides the license needed to work as an LPN. NCLEX-PN exam is conducted by the National Council of State Boards of Nursing.

The exam is objective type and includes questions from psychosocial integrity, maintenance and health promotion, safe and effective care environments, and physiological integrity. The exam duration is five hours and if failed, you can retake the exam in 45-90 days. 


Step 4: This is the final step. Once you clear the NCLEX-PN exam and get certified, you can start looking for employment. Some of the institutions that hire LPNs are:
Home Healthcare. The nurses are required to care for their patients at their homes. They will be employed by agencies that send them to the patients' homes. Their duties include helping the patients to keep up good hygiene, taking them outside, making sure the living conditions are good, keeping the patients entertained, educating the patients' families about basic care. 


Nursing Care. Nursing care facilities are for people that are terminally ill or mentally ill.  It could also be rehabs and hospices for both old and young individuals. Some of their duties are to make treatment plans for the patients, clean their rooms, maintain their hygiene and entertain them.


Hospitals. LPNs are employed in maternal, emergency, and surgical departments. Their main role is to assist in medical procedures and direct new LPNs. 


Community Care. This includes retirement homes, nursing homes, and assisted living facilities. The main duties are to entertain the patients, help with exercise and physical therapy and maintain their hygiene. 


Physician's Office. This includes emergency rooms, clinics, ambulatory medical centers, doctors' offices. Some of the duties are assisting in medical procedures, cleaning, and dressing incision sites, prepping the patients, administering shots and medication. 
Skills That are Necessary to Become a Licensed Practical Nurse
Physical Fitness – It is essential to be fit since they will have to lift the patients and help them in their day-to-day lives.
Empathy – They should be empathetic and sympathetic while dealing with the patients and their families.
Tolerance – While tending to the sick and the injured, it is common to come in contact with blood and other body secretions. LPNs should be able to handle such incidences and have a high tolerance to such sights.  
Communication – LPNs should be able to communicate clearly with the patients, their family and the doctors about the conditions of the people they are looking after.
Multitasking – Taking care of people is highly demanding work. LPNs should be able to care for their patients and manage other information at the same time. They should be quick and clear while working.
Supervision – They should be able to direct newly appointed LPNs.
Computer Skills – Having good knowledge about computers is essential in this line of work. They will have to frequently record data. They should be able to access computers to enter and record patient information. 
Time Management – This particular skill is extremely important. One nurse will be appointed to more than one patient. Nurses should be able to manage their time among all their patients in order to make sure all of them are properly cared for. 
Work Under Pressure – They should be able to work under pressure and make quick decisions during an emergency. A small mistake might lead to a disaster hence they should be efficient and fast. 
Detail-Oriented – LPNs should be detail-oriented and focused while working. They should be able to make out even the small changes in their patients' health and report them to the doctor. 
Further Education After Being a Certified Licensed Practical Nurse
Job and education opportunities do not end after being a licensed practical nurse. Having an associate's degree will qualify you to sit for the NCLEX-PN exam for getting certified as an RN or registered nurse even without a bachelor's degree. Registered nurses are at the top of the nursing workforce, and they have many job opportunities.

The responsibilities of a registered nurse are more than that of a licensed practical nurse, and so is the annual income. Registered nurses are required to have critical thinking and decision-making skills. They will also work with extremely ill patients and will be responsible for administering medications. In addition, registered nurses can take more courses and specialize in legal nursing, information technology, and research. According to the Bureau of Labour Statistics, a registered nurse earns up to $65,950 annually. 
Given below is a pro and con list to summarise the article. 
Pros of Being a Licensed Practical Nurse
As you know from the information provided above, a licensed practical nurse is an excellent career choice. It has a lot of advantages.
The time taken to complete the course is faster than other career options. Like mentioned before, the diploma will take only 10 months and the associate's degree in nursing will take only twenty-four months or two years. Hence, if you are looking for a way to start working as soon as possible, a licensed practical nurse position is the one for you.


Even if the educational requirements are minimal and the time taken to start the career is short, the annual salary is high. The Bureau of Labor Statistics estimates a salary of $47,480 annually for a licensed practical nurse and this amount is expected to increase in the coming years. Economic stability is good for this career.


As the population grows and as we come in contact with more diseases, the need for nurses to tend to sick increases. A lot of diseases and disorders require around-the-clock care for the patients. In most cases, the family members are unable to look after them and employ nurses for the same.  Especially during a pandemic, the need for nursing staff is at an all-time high.


The educational and skill requirements needed to get an associate's degree in nursing or a diploma to become a licensed practical nurse is less compared to other nursing degrees. But at the same time, the economic and job stability provided by this career is high. 


Opportunities do not end after getting certified as a licensed practical nurse. One can still pursue further education while still working as an LPN. You can get certified as a registered nurse which has a better job and economic stability. 
Every career option will have pros and cons. It is the same for LPN. Some of the cons of the career are:
Cons of Being a Licensed Practical Nurse
They earn less than a registered nurse. Even though one does not go into the nursing field with the sole interest of making money, economic stability is a huge deal, especially during these times. 


Even after obtaining a certificate for becoming a registered nurse, the areas available to specialize are extremely small. Some of the available areas of specialization are operating room nurses, public health nurses and intensive care nurses. There is no guarantee that these areas will provide desirable working hours. The nurses should have earned an associate's degree in nursing or a bachelor's degree to be qualified to sit for the exam that get them certified as a registered nurse. LPNs with a diploma are not qualified.


The main role of a licensed practical nurse is to make the patient comfortable, maintain their hygiene, maintain their medical records and give them their medication. They are not qualified to work in emergency situations in most states. 


Licensed practical nurses are mainly required to look after the elderly population and are often employed by nursing facilities and old age homes. This might seem like a limited option for someone who wanted to work in dynamic environments like the emergency rooms of a hospital. 
Once again, to put it all together, a career as a Licensed Practical Nurse is good and noble. You get to help the needful and make them comfortable. In addition, this career helps people further their education and opt for better job opportunities. 
Frequently Asked Questions
How long does a licensed practical nurse work in a day?
They usually work for around nine to twelve hours a day. This can vary depending on the institution that they are working at. 


What makes a  licensed practical nurse(LPN) different from a  registered nurse(RN)?
LPNs mainly administer medication and make the patient comfortable. The educational requirements for an LPN are minimal. They are employed after obtaining a diploma. Registered nurses work in the emergency room of hospitals and can assist in complex medical procedures. RNs are required to have higher degrees and skills than LPNs. 
Is a Licensed Practical Nurse a Good Career?