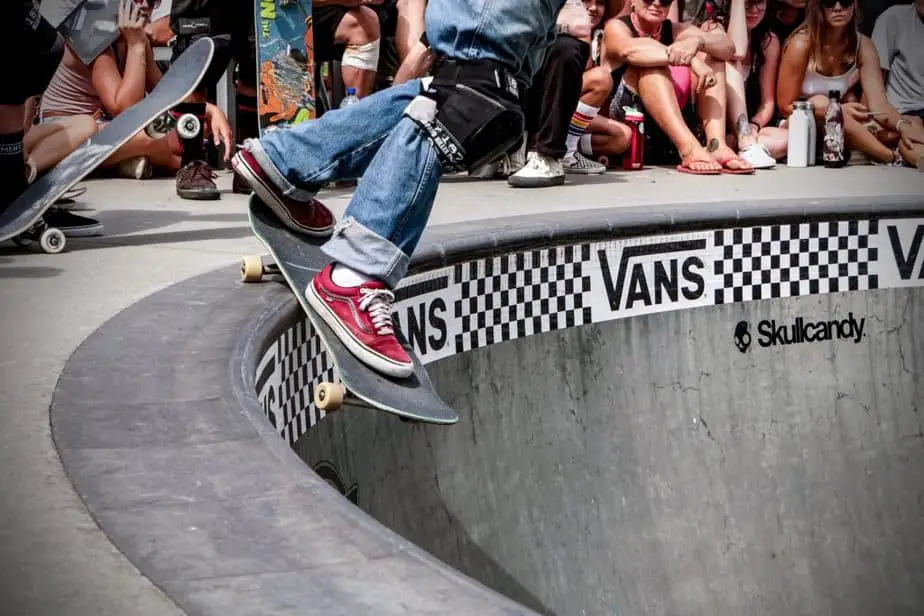 Applying for a position at Vans can help you with your fashion career since the company stands out for how fashionable and laid-back its attitude is towards working. A job at Vans will allow you loads of discounts and coupons along with various other benefits while working there. How To Get A Job At Vans?
Various procedures need to be followed to secure a job at Vans. You start by filling some applications and then move on towards an interview if the authorities allow it. After getting interviewed (online or in-person) you wait a few days or a week to confirm whether you passed or failed the interview. 
How To Apply At Vans
Vans advise using their online application system to apply for jobs.
If you want, you may also complete a paper application in person at one of the retail locations.
Information on the Application
Minimum Age Requirement: To work at Vans, you must be at least 18 years old.
The majority of Vans stores are open from 10 a.m. until 9 p.m. You may use the Store Locator to see what hours the location closest to you is open.
Online and in-person applications are accepted.
Look for a Job
Begin the application process by utilizing the online search tool to locate an available position that you want to apply for. You may search for jobs by region, function, job type, job level, and a variety of other factors.
Use the "Add to My Job Cart" function if you discover more than one job that interests you. This will allow you to apply for numerous job positions at the same time.
Make a User Account
You're ready to establish an account once you've discovered one available job or filled your cart.
Simply choose a username and a password that is at least six characters long. If you already have a Yahoo! account, you may use it to log in instead of creating a new one.
Resumes must be uploaded
Upload a current copy of your resume on the website to make the best impression on the recruiting manager.
Not only will this provide an easy-to-read record of your job and educational history for the hiring manager, but it will also save you time by pre-filling most of the data on the application system.
Fill in the Missing Information
Fill in any blank boxes and repair any problems that occur when your resume information was submitted, once you've uploaded the app.
Proceed to the following screen after you're happy with everything.
Respond to the screening questions
The following stage of the application process consists of questions that are specifically customized to the position you are applying for. Their goal is to evaluate if you're a good fit for the position.
You'll also be quizzed on your ethnicity and gender. These questions are only for HR monitoring purposes, so you don't have to answer them unless you want to.
Documents to Support Your Case
On the final screen, you may upload any supporting papers that the hiring manager would find useful.
These might be a list of references, a copy of your college transcripts, or a unique award that is relevant to the position you are applying for.
You are not required to upload any papers, however, they may help you get a call for an interview.
Application Suggestions
Highlight Your Successes
The Vans employment application requires you to give a summary of your most notable accomplishments.
You should highlight your greatest advantages but, it would be great if you read what the job is about. Through that, you could highlight your strengths that best fit the role you are applying for. 
If the position needs a specific level of education, you might wish to indicate that you graduated from high school or college. You can also include any achievements in surfing, skateboarding, BMX, skiing, or snowboarding, as Vans frequently hires people with one of these hobbies.
Create a Powerful Cover Letter
You'll be asked to compose a cover letter to go with your CV during the final step of the application process.
An introductory paragraph in a strong cover letter should include the following:
A statement describing the position you're applying for and how you learned about it.
A statement regarding when you will be able to begin.
Describe why you're applying to Vans in a few sentences.
Then, in the second paragraph, pitch the recruiting manager on your talents. Make sure to include any relevant abilities, job experience, or education for the position you're applying for.
Keep the job description open in a tab in your browser so you can refer to it and make sure you don't forget anything.
Before sending your cover letter, double-check the spelling and grammar.
Include a list of references
Although it is not required, providing a list of three references when applying for a job at Vans might be advantageous if you choose excellent recommendations.
Choose people with whom you can discuss your skills, personality qualities, and experiences that make you a strong contender for the position.
The greatest references come from coaches, instructors, professors, religious leaders, mentors, and past and present bosses.
Before you submit your list, be sure that the people you want to add agree to you giving out their contact information. Ensure that the phone numbers and email addresses you have are their preferred contact options.
Vans has a reputation for processing applications fast, and the online system makes it simple to track your application's progress after you've filed it. If the human resources department thinks you'd be a good fit, your application will be sent to your local shop. In most cases, giving the recruiting manager 1 to 2 weeks to call you is a smart idea. 
If you haven't received an email or a phone call, please contact your local shop and respectfully request an update. It's preferable to call retail establishments early in the morning on weekdays when they're less likely to be busy.
Salary and Position Information
Vans provides a variety of job openings to meet your needs. You can discover a position that is a suitable fit for you whether you need a second job, or are searching for your first job out of high school, or want to pursue a career in retail.
Here are some of the roles that Vans retailers frequently need to fill:
Assistant Manager – Oversees daily operations and assists the Store Manager in implementing initiatives. At Vans, the average Assistant Manager makes between $13 and $14 per hour.
The typical Floor Supervisor at Vans makes between $10 and $11 per hour; trains and supervises staff serve customers and opens and shuts the shop.
Vans' typical Sales Associate makes between $8 and $9 per hour and assists customers conducts sales transactions and maintains the sales floor clean.
Stock Supervisor — Processes shipments, organize inventory, and assists with the movement of products to the sales floor. At Vans, the average Stockroom Supervisor makes between $10 and $11 per hour.
Store Manager — Creates and implements plans to boost sales, enhance customer service, and successfully manage inventories. The average hourly wage for a Vans Store Manager is between $21 and $22.
Job Openings During the Season
Sales Associate (Temporary)
Vans retailers frequently extend their hours over the Christmas season to accommodate holiday customers. Temporary Sales Associates might be employed to cover the extra hours and deal with the increased foot traffic.
Temporary Sales Employees have the same responsibilities as year-round sales associates.
Supervisor of the Floor
The Floor Supervisor is in charge of managing the day-to-day operations of the selling floor's Sales Associates. They may provide coaching and training as well as help with transactions and wait on customers as needed.
Floor supervisors should have high school graduation or at least one year of experience in a similar role with another company. Those with a diploma and past retail supervising experience will have the highest chance of being employed.
Supervisor of the Stockroom
The Stockroom Supervisor is in charge of processing shipments, keeping the stockroom orderly, and keeping the sales floor supplied. When staff is involved in stocking or inventory management tasks, he or she oversees them.
High school graduation or at least 6 months of experience in a similar position at another shop is required to work as a Stockroom Supervisor. Applicants with a diploma and prior inventory control experience will be given priority over others.
Conclusion
Although the application process may not be that hard to follow, the interview to apply for a job at Vans needs some preparation. You will also need to be patient and wait for a positive/negative response after the interview stage is completed. Knowing the positions available and tips to help will certainly boost your chances of getting hired at Vans.
FAQs
How can you land a job with Vans?
Those interested in working as a sales associate at Vans must go through group interviews which are typically followed by one-on-one interviews with recruiting supervisors. Job applicants must reply to a series of questions meant to assess personalities in a group interview which generally includes five to ten people.
If you work for Vans, do you receive free clothes?
When you employ a sales associate, you get a free pair of shoes. You also get a very significant discount on clothes and shoes (50 percent). The majority of staff and supervisors are kind and easy to get along with.
Is it enjoyable to work at Vans?
Overall, it's been a fantastic work experience and they'll always put you first as an employee. It provides an excellent working atmosphere with several benefits. Everyone gets along and the store managers do an excellent job operating it. Vans is a caring corporation that genuinely cares about its workers.
How To Get A Job At Vans?