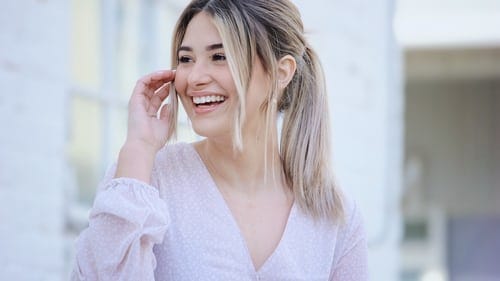 The thought of attending a job interview the very next day can be nerve-wracking. The anxious feeling does not subside until you are completely done with your interview and finally receive a call from the employer telling you, "you are hired!". Double-checking your resume, properly arranging all your paperwork for the next day, preparing a few answers in your head, and practicing them in front of the mirror- all these are very common for a candidate to prepare for the big day. However, there is another thing which you should prepare before going to the interview- a proper set of clothing. This article will give an overview of dress for interview.
Dressing according to the place and occasion, no matter how much you dislike fashion, matters. Especially when you are going for a job interview. Resumes and questions will come later; what will help you make a good first impression in front of the employer is your appearance. We may sometimes think that our dressing sense does not reflect our personality, but in reality, that's not completely true. Wearing the right outfit for an interview shows that you are ready for the interview. It highlights your confidence and level of maturity that is suitable for the position you are applying for. Of course, you cannot just wake up, wash your face and run towards the office with your pajamas on, hoping your interview would go great. To showcase your sense of responsibility and willingness towards the job, you must look presentable.
Nowadays, it's very common for teenagers to look for part-time jobs or go for seasonal positions to help get exposure to the workplace and gain experience and certifications. According to a recent study, 34.6% of teens in the United States are engaged in seasonal jobs. There are many options available for high school students to learn a few things about the working industry. They can get a job in the service industry, such as restaurants or retail stores, and can even apply for babysitting and volunteering at different organizations. If we consider the new generation of teenagers, one can say that generally, they are very bold and open-minded when it comes to fashion. However, there is no need to be too bold or too casual while choosing your interview outfit. Instead, if you are applying for one of the positions, be sure to dress appropriately for the occasion.
Choosing the perfect outfit can be pretty hectic, especially if you are someone who is not very much interested in the world of fashion. You may enjoy trousers more than jeans and baggy shirts are something you prefer more. However, no matter your preferences, you will have to give your dressing sense some thought in this situation. This article will provide a few suggestions for teenagers, helping them choose the perfect attire for the interview.
A Few Tips To Consider to Dress For Interview:
Before we start talking about the kind of dresses you can wear, let's look at these additional guidelines which you should definitely consider while looking for your outfit:
1. DON'T WEAR ANYTHING FLASHY: This suggestion is something that you should prioritize the most. Remember, it is an interview you are going for, not a party. Refrain yourself from wearing anything too fancy or gorgeous and instead go for a more simple yet professional look. Try not to wear too many revealing clothes and/or fashionable footwear; it will be very distracting and uncomfortable for both you and the interviewer.
2. DON'T DRESS TOO CASUALLY EITHER: While dressing up for an interview, you will have to find a balance between extravagant outfits and casual outfits. Please do not end up wearing clothes such as trousers, hoodies, and t-shirts because yes, it will definitely not help you make a good impression.
3. CHOOSE A DECENT COLOR: As I said in the first point, there is no need for you to look too flashy, and that's why you don't end up going for a bright and colorful dress. If you wear flashy and mismatched colors such as neon, it can give you a very distracting and unprofessional look. Instead, go for neutral colors such as black, white, blue, navy, and brown, making great combinations with each other.
4. BE SIMPLE: Along with your outfit, the employer will also look at your face. And if you end you applying too much makeup, it can make a bad impression on them. You will present your qualifications, and this situation is the last place where you should be showing off your makeup skills. Also, use cologne and perfume to a minimum while interviewing for a position. Remember, the goal is to present yourself in a neat and clean appearance so that the employer can focus on your qualifications.
5. LOOK UP FOR THE DRESS CODE OF THE COMPANY: In some companies, there are fixated dress codes for the employees. You can look it up on their website and can choose your outfit accordingly. Review their website for a policy or photos of employees, and go for that dress code is called in for an interview.
6. CHOOSE SOMETHING WHICH YOU'RE CONFIDENT IN: As I said, you will have to find a balance between your dressing sense to look presentable for a job interview. Do not go for outfits that are uncomfortable in. Instead, choose something which matches your preference as well as make a great choice for the interview.
7. CHOOSE YOUR ACCESSORIES WISELY: While dressing up, you are also supposed to add a few accessories which enhance your look but not overwhelm it too much. Small and simple earrings and a decent wristwatch will make a great addition.
8. STYLE YOUR HAIR PROPERLY: A good outfit and a shabby hairstyle does not make a good combination, does it? Whether you want to go for a traditional hairstyle or a trendy one, it's up to you. But whatever you choose, try not to make it too distracting for the interviewer.
WHAT OUTFITS YOU CAN WEAR FOR AN INTERVIEW?
There are several options out there from which teenagers can choose to give themselves a proper, professional look for a job interview. Here are a few options you can take help from:
1. A SIMPLE POLO SHIRT WITH A SKIRT OR SLACKS
This is a fundamental yet professional look you can go for. If it's a seasonal job you are applying for, which is in summer, this outfit will make a perfect choice. Polo shirts may be simple, but they are also very comfortable during the summer season. And here, you can enhance your look by combining it with a stylish skirt or slacks. By tucking the shirt in your skirt or slacks, it will give you a decent look, demonstrating your professionalism.
2. POLO SHIRT WITH KHAKIS
Another outfit you can go for is a polo shirt with khaki pants. The reason behind wearing khakis is to match its color with the belt and shoes you'll be wearing. Don't end up going for color combinations that look completely out of place. Instead, go for a pair of brown loafers or dress shoes along with a belt, which will go great with dark khaki pants and a polo shirt. A neat and presentable appearance is necessary, and this outfit will definitely help you get that.
3. BUTTON-DOWN SHIRT AND A CARDIGAN WITH KHAKI PANTS OR A SKIRT
If you want to level up a little and go for a more enhanced look, choose a button-down shirt for yourself and accessorize it with a lovely cardigan. Go for colors like black or navy for your pants and skirt and then see for yourself. This look is neither too overwhelming nor too casual and can actually give you a more fashionable yet professional look.
4. BUTTON DOWN SHIRT WITH A SWEATER AND SLACKS OR KHAKI PANTS
 If you don't have a cardigan, then don't worry; you can also accessorize your outfit with a lovely sweater. Keeping the temperature of the place in mind, sweaters maker a great addition to a button-down shirt combined with khaki pants or slacks. You can match your look by choosing the proper pair of footwear for yourself. However, don't go for any open-toed shoes. Loafers and dress shoes make a much better match than sneakers and sandals.
5. GO FOR A DRESS SHIRT AND DARK JEANS 
If you are a fan of jeans more than slacks or pants, then look for dark-colored jeans in your wardrobe and pair it up with a neutral-colored dress shirt. Dress shirts and jeans make an ideal outfit for an interview if you are a high school student and if the employer also approves such attire. Although, if you are having those ripped jeans with yourself, do not wear them. Look for any stains on your dress shirt before going for the interview, and pair your outfit with a decent footwear pair. Iron your clothes and tuck your shirt properly before leaving for the interview.
6. CHOOSE THE PERFECT TIE FOR YOUR OUTFIT
If you want to accessorize your outfit a little more, look for the perfect tie. Depending on the position you are applying for, a tie can make a great addition to your button-down shirt and slacks/khakis outfit. You may feel like you are overdressing here a little but don't worry; this addition will demonstrate your professional attitude. You can also give yourself a more casual look by rolling up your sleeves, but you will have to do thorough research on whether the workplace allows it during an interview or not.
So, these are a few options and tips you can take help from. Remember, making a good impression should be your priority during an interview, and to achieve that, a neat and professional look always helps. And if you choose from one of the outfits suggested above, I'm sure you'll be able to secure a job at your desired workplace. I wish you luck with the interview!
Also read How Long do Interviews Last?
How To Dress Up For A Job Interview? – Dress For Interview