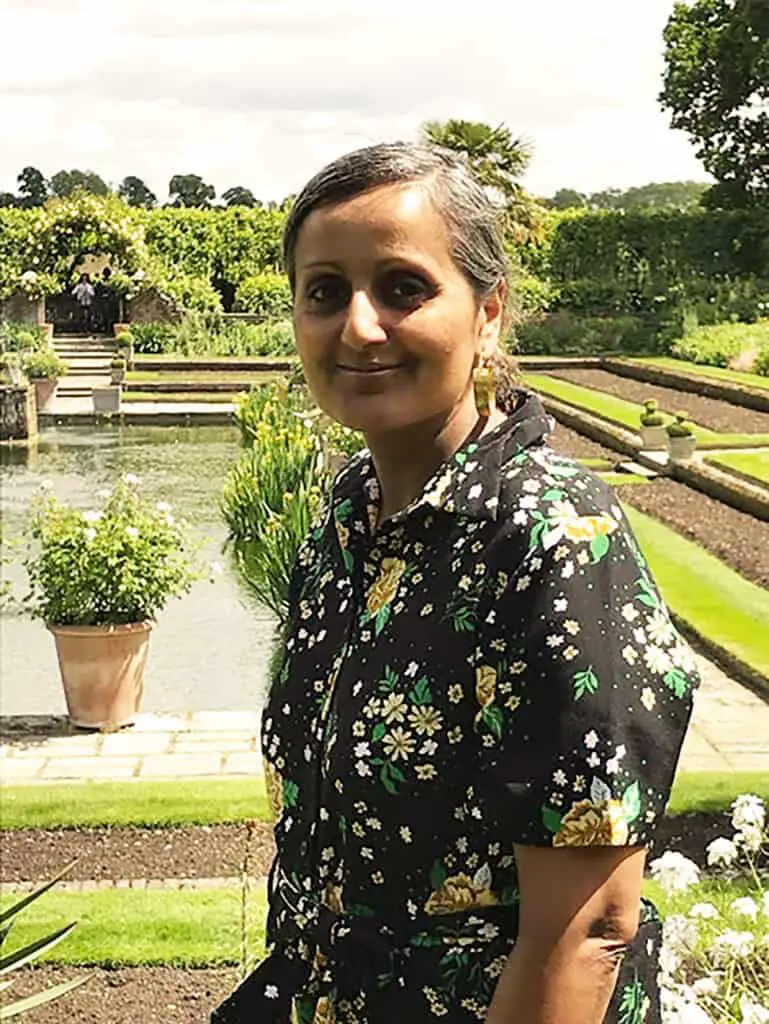 My name is Rakha Madahar and I am a freelance Surface Pattern Designer based in the United Kingdom.
Some Of You May Be Wondering What Is A Surface Pattern Designer?
Well, it's an artist/creative who can design anything that can be applied to a surface. From fabric to wallpaper and bags, ceramics, and mobile phone covers – the list is endless!
My Story:
Ever since I can remember, I have always used my hands to create from creating a doll's house that I tried to replicate from a classic UK children's Tv program called 'Blue Peter,' using a large cardboard box, to sewing three different sized strawberry-shaped cushions for the local church, for their annual Strawberry Fayre. Then there was the traditional red stocking that I made for my siblings one Christmas containing an orange – I don't think they were too impressed by the contents.
Keeping abreast of the latest forecasting trends, colors, and fashion, combined with developing your own unique style so you begin to create something beautiful, are important attributes. Each artist has their own style. My designs are often described as textural, layered,
sophisticated with good use of color.
When I was a teenager, I wanted to be a Fashion Designer, maybe because my family was in the textile industry. They manufactured apparel for the main chain stores in the UK. So, I embarked on a two-year Diploma in Fashion Design and Pattern Cutting, followed by a two-year Higher National Diploma in Fashion Design at the London College of Fashion, where I specialized in Machine Embroidery. Looking back now, this was probably my first real professional introduction to surface decoration. I experimented with so many techniques at the time, including Screen printing, stitching on paper, and fabrics. Surface Pattern Designers can either do a course at college or university or like me; I signed up for an online course by Make it in Design, which was run by an established Surface Pattern Designer, who had already licensed deals with companies for her prints.
When I signed up for the course, all I knew was that I wanted to learn alongside my day job at the time (which, I knew one day, I would quit!). The course was live and offered the chance to win some great prizes – I have never enjoyed myself so much! I was learning new skills, and for the first time in a long time, I felt this was something I wanted to do long-term. I particularly enjoyed learning how to use Adobe Photoshop and Illustrator to create my patterns. Having completed the course, one of my designs was chosen to be published on the 'Print and Pattern Blog' (a must for all Surface Pattern Designers and companies looking to recruit designers). Subsequently, I completed more courses – with each one increasing my knowledge and developing my unique style.
Forward to 2020
Finally, I quit my day job! I registered my company as 'desgn.prnt' with HRMC in the UK and launched my website. I also took advantage of courses available to residents in my area that offered sessions in starting a business. The courses gave me the confidence to start reaching out to companies to see if I could collaborate with them. Currently, I have greeting card designs that are sold exclusively on Wuzci.com. Also, I have gradually been extending the print designs available to purchase via my shop on Spoonflower (an online custom fabric print company).
Having a Network
I think it's essential to have a supportive network around you. I joined the Make it in Design Live Hub (an online creative community that opens its doors a couple of times a year). Not only does this group give you access to trend reports by Porter and Brawn (an interior design trend consultancy), each month, guests are giving you invaluable industry insights, tips, as well as a design brief – this enables you to develop and update your portfolio. You can ask questions in a safe and supportive environment to fellow creatives, some of whom I have known since the beginning of my more recent creative journey or as a result of taking part in other courses. Being part of this network also provided the opportunity to enter a competition in conjunction with Adobe. On two occasions, they chose my designs to display on their exhibition stands in Barcelona and LA to promote their software plugin.
Reading Material
I subscribe to 'Uppercase' – a quarterly magazine for creatives, an online community called 'Uppercase Circle' (a private online group for subscribers of the magazine).
I am a regular visitor to the 'Print and Pattern Blog' online. This site celebrates all things to do with Surface Pattern Design.  You can advertise your design services and seek job opportunities through companies that advertise on the site.
Social Media Presence
As result of my work being very visual, I am active on social media. Follow me on instagram.com/desgn.prnt/
Also read Walking the thin line between Digital Design and Art
How To Become A Surface Pattern Designer?