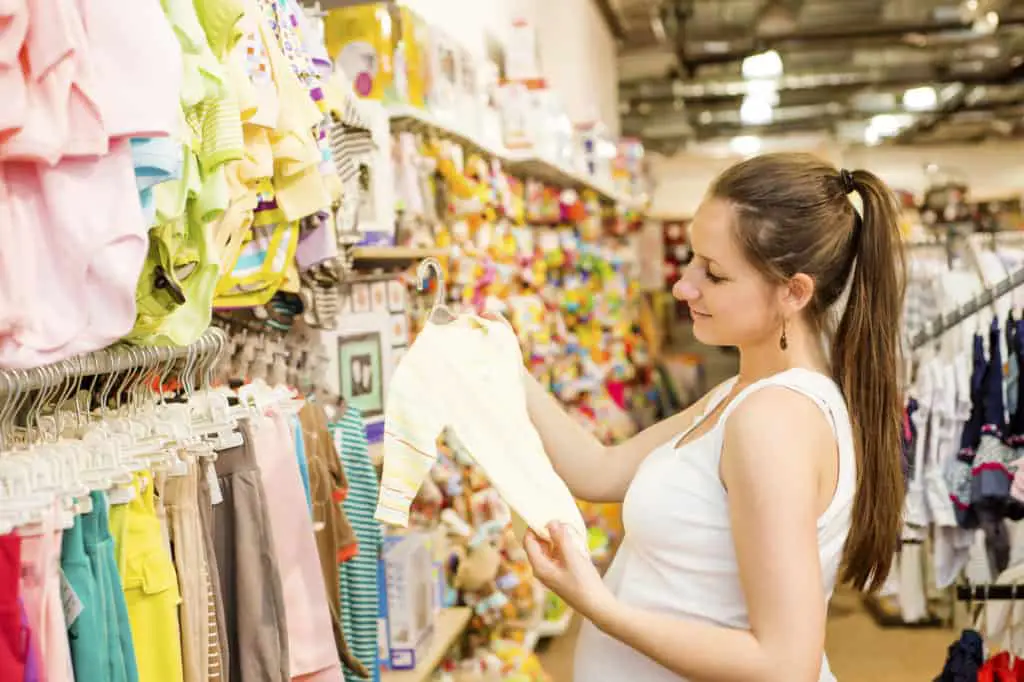 Are you seeking a new career but wondering where to apply? Then let us help you to explore promising job opportunities waiting for you. Your career may fit well with CARTER'S. Carter will ensure to provide the best quality products to nurture the sensitive skin of your child. CARTER'S, a leading online retailer focused primarily on kids' apparel, has over 1,000 locations in the United States. The business was founded in Needham, Massachusetts, by William Carter in 1865. CARTER currently employs more than 20,000 people at its locations. How to Apply in CARTER'S Careers?
The brand sells its products under its brand name and OshKosh B'gosh. CARTER'S owns both the brands. The brand also sells its products through certain third-party department stores. Moreover, CARTER'S has partnerships with Target Corporation, Walmart, and Amazon. With CARTER'S website, you can now shop directly from the business' online store from anywhere in the world.
Online applications are available for CARTER'S jobs. You can find careers at any of CARTER'S retail locations or their corporate office by going to the CARTER'S Careers website. It will be necessary to create an online profile if you intend to submit a resume and application. Your application should be able to stand out from the crowd by highlighting any experience you have.
Job Roles at CARTER'S
CARTER'S careers come with a variety of posts and responsibilities. Many open positions are available at entry-level and in the customer service fields of CARTER'S. Let's look at some of the different jobs you may have at CARTER'S. 
Here are a few of the CARTER'S job opportunities you may be interested in:
Human Resources Coordinator
Working at CARTER'S as a Human Resource Coordinator entails several duties and responsibilities. The following are among them:
As an HR coordinator, you are responsible for responding to internal and external inquiries about human resources and providing assistance.
You are responsible for recording all the personnel-related information (payroll, personal information, leaves, turnover rates, etc.), both on paper and in the database. 
Human Resources Coordinators are responsible for scheduling meetings, conducting interviews, coordinating HR functions, etc., and maintaining a team atmosphere.
It would be good for you to hold training sessions and seminars.
If necessary, you should stay in touch with your employees during the pre-boarding and onboarding process, answer their questions, send them relevant materials, etc.
Ensure to present all the reports you prepare about general HR to the higher authority.
Make suggestions for improving existing processes and recommend possible actions.
Qualifications and Requirements for Human Resources Coordinator Role at CARTER'S
If you wish to join the CARTER'S family as human resources coordinator, then you must meet the following requirements, which we listed below. Before applying for this position in CARTER'S, you should review the following prerequisites. The requirements are –  
A minimum of a bachelor's degree in Human Resource Management or one related field is required.
Working experience as an HR coordinator or relevant human resources or administrative position is required.
You are capable of handling data ethically.
Ability to work efficiently with Microsoft Office (MS Excel and MS Powerpoint).
It is crucial to have good time management skills and organization skills
Be able to communicate well and have excellent interpersonal skills
You need to be a good problem-solver and a good decision-maker.
Know how HR functions work and what best practices are.
Payscale
If you become a human resource coordinator, you will receive a great deal. It pays between $17 and $24 an hour for this role at CARTER'S Career, based on experience. In this case, candidates with no previous experience in the sector will receive the minimum wage. In general, the working hours of human resource coordinators are between 10 AM and 9 PM. 
Store Manager
If you want to become a store manager at CARTER'S, you will have a few duties to fulfill. Some of these include
Ensure that customers are fully satisfied with the level of service provided.
Encourage your sales team to meet sales objectives by training and mentoring them.
New employees should be hired, trained, and overseen.
Professionally address customer concerns and complaints.
Maintain financial records, manage budgets, and perform other store administration tasks.
Ensure your inventory levels are accurate and order more items when necessary.
Qualifications and Requirements for Store Manager Role at CARTER'S
To become a member of CARTER'S as a store manager, you must meet the basic requirements. As long as you meet all of the qualifications listed below, you can apply for the store manager position at CARTER'S. The following specifications are listed: 
You should possess a degree in Business Management.
To qualify to apply for a Store Manager job role at CARTER'S, you need at least one year of retail store management experience.
You should be good at communicating and interacting with other people.
Your leadership skills and business-minded attitude should be strong.
Shows evidence of managing multiple tasks, setting priorities, giving instructions, and following through.
Payscale
At CARTER'S, pay scales heavily depend on work experience. In the role of the store manager, candidates without experience will receive a minimum hourly wage of $15. In this field, experience has led to a drastic increase in hourly wages to $17. The working hours of store managers are usually between 10 AM and 9 PM.
Area Supervisor
You will have some responsibilities if you would like to become an area supervisor at CARTER'S. Some of these include
When a manager is taking duty, the area supervisor manages the specific area of the store and oversees all the planning for the smooth operation of the store to promote its growth pattern.
In the Area Supervisor position, you will need to manage the opening and closing of the store, supervise associates, and ensure that the store environment is friendly and easy to shop in. 
You will need to ensure a bridge to connect all the positions in a hold and supervise their smooth workflow. 
You will make sure all commodities on sale are displayed correctly and keep their work area clean at all times. 
As an area supervisor, the employer may also ask you to take up many other responsibilities. When needed, this will include taking on responsibilities such as conducting and overseeing the firm's operational processes.
Qualifications and Requirements for Area Supervisor Role at CARTER'S
You will require certain specific qualifications to apply for the post of area supervisor. The following are some of these things:
To apply for an area supervisor job, you must obtain a college degree. 
Excellent communication skills, both verbally and in writing, are essential.
You understand legal guidelines and company policies in this field.
You are responsible for overseeing a specific area of the store, including markdowns, sizes, and cleanliness.
You can communicate effectively in English
Payscale
When they hire you as an area supervisor at CARTER'S, your salary will range between $11 to $15 per hour. As a fresher, you will likely begin at the lowest end of the wage scale, but you will see your salary increase rapidly over time and passage of experience. The working hours of an area supervisor at CARTER'S are between 10 AM and 9 PM. 
Retail Team Leader 
You will have a few duties to fulfill if you wish to become a team leader at CARTER'S. Some of these include:
You will be required to set a clear organizational goal, along with KPIs (Key Performance Indicators) if you are a retail team leader.
You can foster a healthy and motivating office environment.
It is vital to communicate with your teams about their work performance. 
Your priority should be listening to your team members' feedback and resolving any disputes you find.
Qualifications and Requirements for Retail Team Leader Role at CARTER'S
If you wish to join the CARTER family as a retail team leader, then you must meet the following requirements, which we listed below. Before applying for this position in CARTER'S, you should review the following guidelines. The requirements are:
A minimum of one year of team leader experience is required.
You should have a degree in Management.
Communication skills are imperative in every situation and at all times to engage with people.
Having strong leadership skills that can manage a sales team and guide them effectively.
You must have some basic computer knowledge, especially of Microsoft Office.
Payscale
Retail Team Leaders at CARTER'S receive a minimum wage of $11 to $13 per hour. You will most likely start at minimum wage if this is your first job. Carter will promote the retail team leader to a manager based on their performance, and their salaries will be accordingly high. As CARTER'S retail team leader, your working hours are from 10 am to 9 pm. 
What is the Hiring Age for different Job Positions at CARTER'S? 
Are you interested in knowing what age CARTER'S is looking to hire? You can find out this information here. The minimum age requirement for employment at CARTER'S is 16 years old. GEDs and high school diplomas boost the chances of being hired. 
What are the Application Procedures at CARTER'S?
Are you interested in becoming a CARTER employee? 
In the following sections, we will discuss the steps involved in applying for a position at CARTER'S as briefly as possible. 
Step 1: Visit the Carter's Career official page.
Step 2: Once you click the page, fill in your search criteria by scrolling down the page. For example, you can search for a job title by entering your keywords or by location.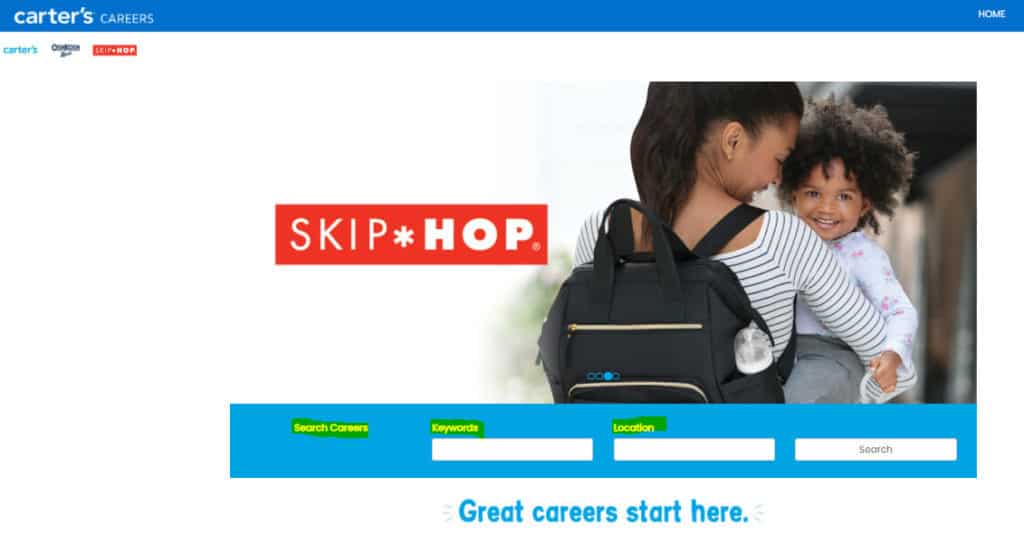 Step 3: After filling in all the details, the website will display details regarding current job opening positions (including the location information). So, if you see a job you're interested in, click it.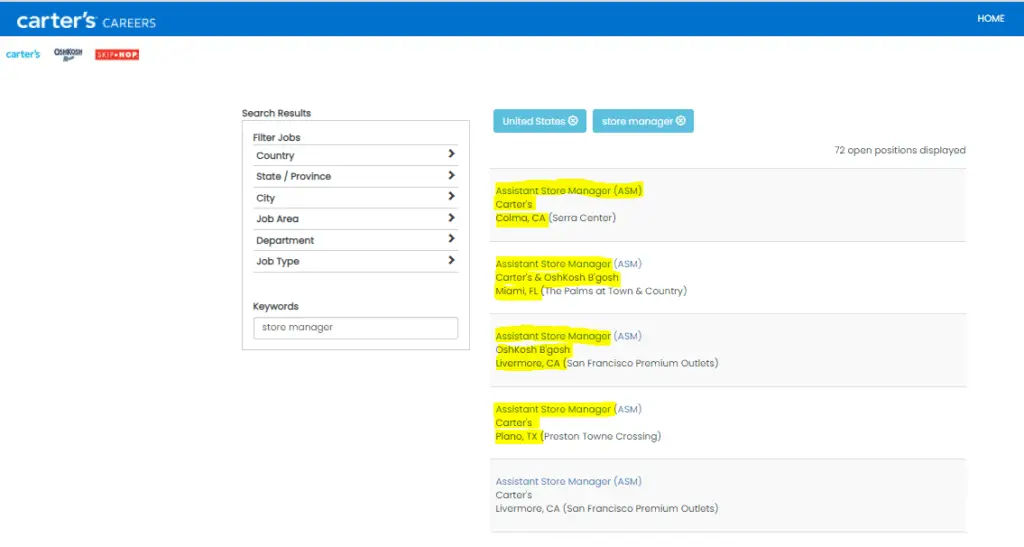 Step 4: You should scroll down the page and click on the "Apply Now" button after reading the job description.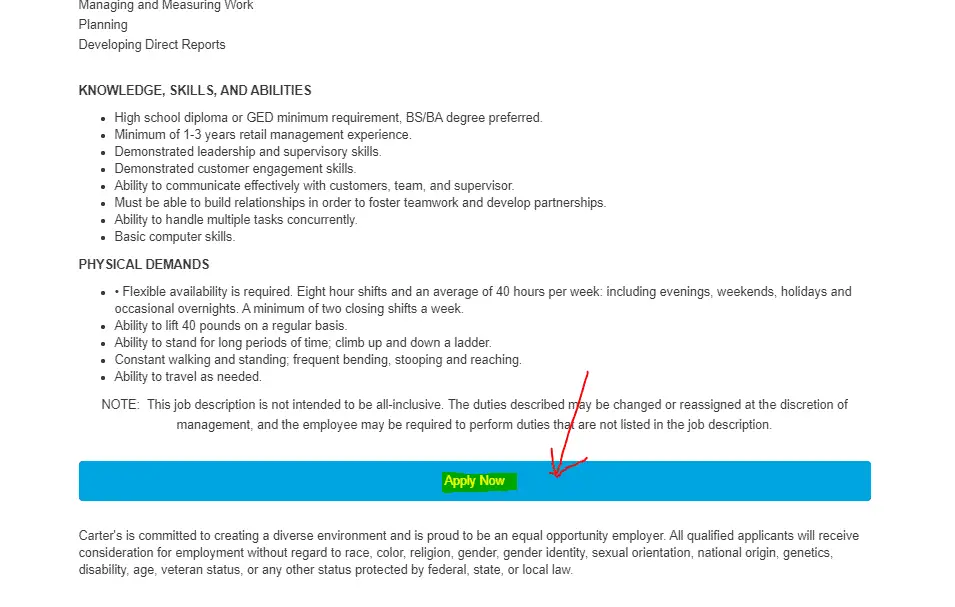 Step 5: Sign in to your account or create a new account to begin the application process by providing your username and password. You must then click the following address button to create your account.
Step 6: Next, you will need to attach your resume/CV and any other documents relevant to your application (such as references, transcripts, etc.). Next, please enter your personal information, such as your name, your address, your city, state, and your contact information. Your educational background and work experience should also be mentioned. Next is to answer the questions regarding how available you are to work on each day
Step 7: When you have filled out all the details, show that you have completed the first step and click on the "Next Step" button.
Step 8: After that, you will receive a welcome note from Carter after clicking the Next Step of the window. They will verify whether the information you put in is correct or not. After that, click on the "Continue" button.
Step 9: If you click on the continue option of the window, the next page will ask you to accept the business agreement and its terms and conditions.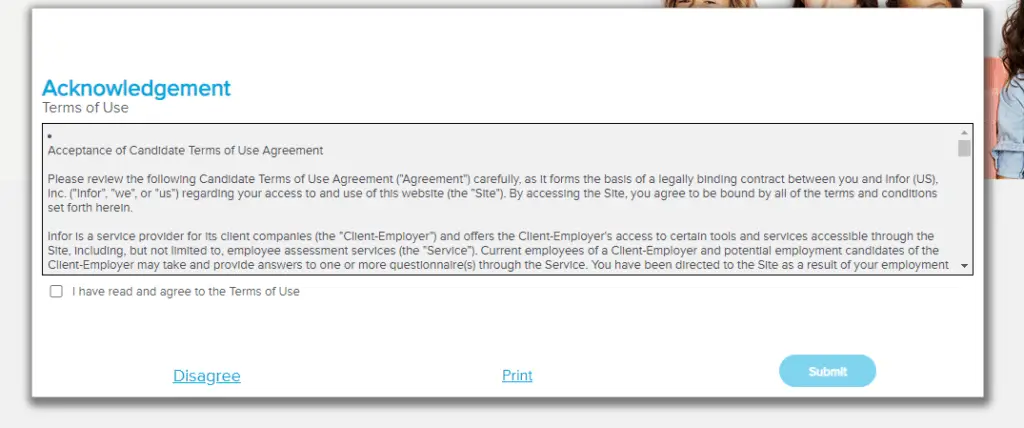 Step 10: Then they asked for demographic information.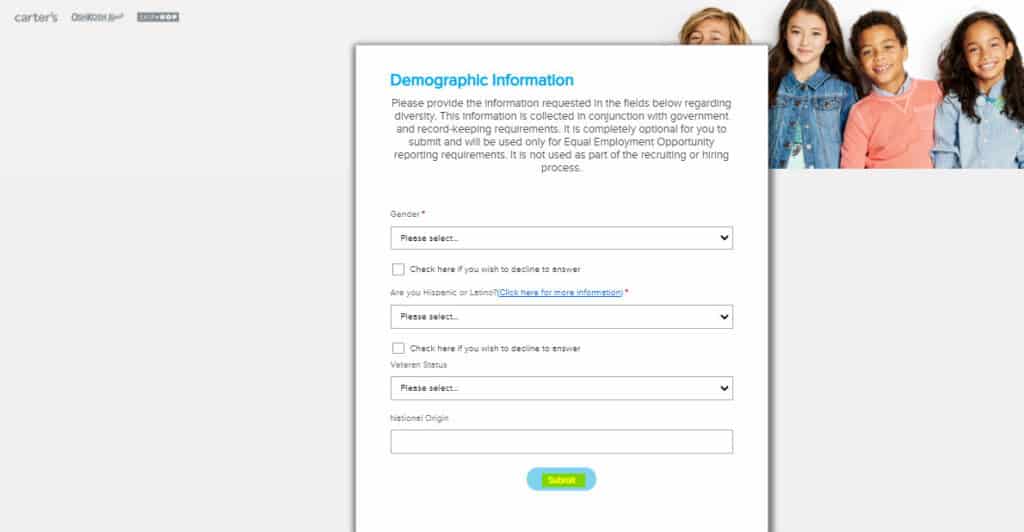 Step 11: As long as you follow all the steps outlined above, your application will be successful, and you will get a welcoming message from the CARTER'S team, with a mention of the amount of time it took.
CARTER'S Employee Benefits – What are they?
CARTER'S offers several benefits both for full-time employees and part-time employees. Employees receive different and specific Employee Benefits. These benefits depend extensively on various factors like- the length of work (full-time or part-time), duration of work, and their role in the firm. Most CARTER'S employees who have 3 to 6 Years of experience rate their Park and Benefits highly.
Carter's employees received the following benefits:
In addition, they are providing Retirement Saving Plan 401(K) to their trusted employees.
To reward their quality employees, they offer them a 50% discount at the store.
For all the employees, CARTER'S provides PTO (Paid Time Off)/ Vacation Policy. 
Their employees will get flexible working schedules at this organization.
CARTER'S offers its employees various insurances such as health insurance, life insurance, and dental insurance.
Women employees have access to several benefits such as paid maternity leave and unpaid maternity leave.
The organization also provides paid holidays to full-time employees. 
CARTER'S offers its employees a tuition reimbursement program. 
Additionally, CARTER'S offers its employees relocation assistance. It covers the cost of moving an employee from one city or state to another city or state to work for that business. 
What Type of Questions Asked in CARTER'S Interview?
Did you ever wonder what kind of interview questions employers asked? If you are confused, you can trust us to guide you, and it will assist you. So here are a few probing questions that we are going to discuss in this section. These questions are just a bunch of common questions asked in CARTER'S interviews. However, they will vary according to the interviewer, the position to hold, and many other related factors. 
How would you describe yourself?
Answer – A concise description of your personal and professional self.
Are there any people who inspire you? 
Answer – Mention your guardian or mentor's name, who inspired you for this.
Do you know anything about CARTER'S?
Answer – You should have a brief note on the historical background of CARTER'S and other operational information.
What is your greatest strength?
Answer – Workaholic, enthusiastic about learning, customer satisfaction proficiency can be critical points to mention as your greatest strength.
What is your greatest weakness?
Answer – You should cite some positive factors of your driving as the most significant weakness. For example, solutions like "I get too focused on deep research," etc.
Do you have any work experience?
Answer – Cite the previous experiences in the relative field domains.
How can we benefit from hiring you?
Answer – Cite your experience, positive work ethics, which can be beneficial for the hiring company. 
Conclusion
CARTER'S provides numerous employment opportunities. Applicants can choose which position they are interested in. But, it is essential to fill out the form with patience and care. Now you know what types of work CARTER'S offers and how to apply for them. So, grab this golden opportunity to be part of the CARTER'S family without any further delay.
Frequently Asked Questions
What is the minimum age required to get hired at CARTER'S?
CARTER'S start hiring at the minimum age of 16 years or above. 


Do you have flexibility in your work schedule?
Yes. Candidates can choose their preferred work timing. 


How can I apply for any position at CARTER'S?
You can apply online through the website and also directly by visiting the store.


Are you able to tell us what time CARTER'S is open?
They are usually available from 10 am to 8 pm every day of the week. However, variations may occur based on location.


I am 15 years old. Can I apply for jobs at CARTER'S?
No. A year more is needed to fulfill the age requirements.


Can you provide any customer care number and mail address?
To contact a customer service representative, dial 877-333-0117. Call At:

Monday – Friday =7:00 AM to 10:00 PM
Saturday – Sunday = 9:00 AM to 8:00 PM
.
How to Apply in CARTER'S Careers?