If you are searching for information on radiologists and the medical specialty of radiology, you have come to the right place. We created an informational guide on introduction to the field of radiology. It provides a step-by-step guide for a future medical student searching for answers on how to become a radiologist and how much one can earn. Let's learn about 'How Much Does A Radiologist Make And How To Become One?'.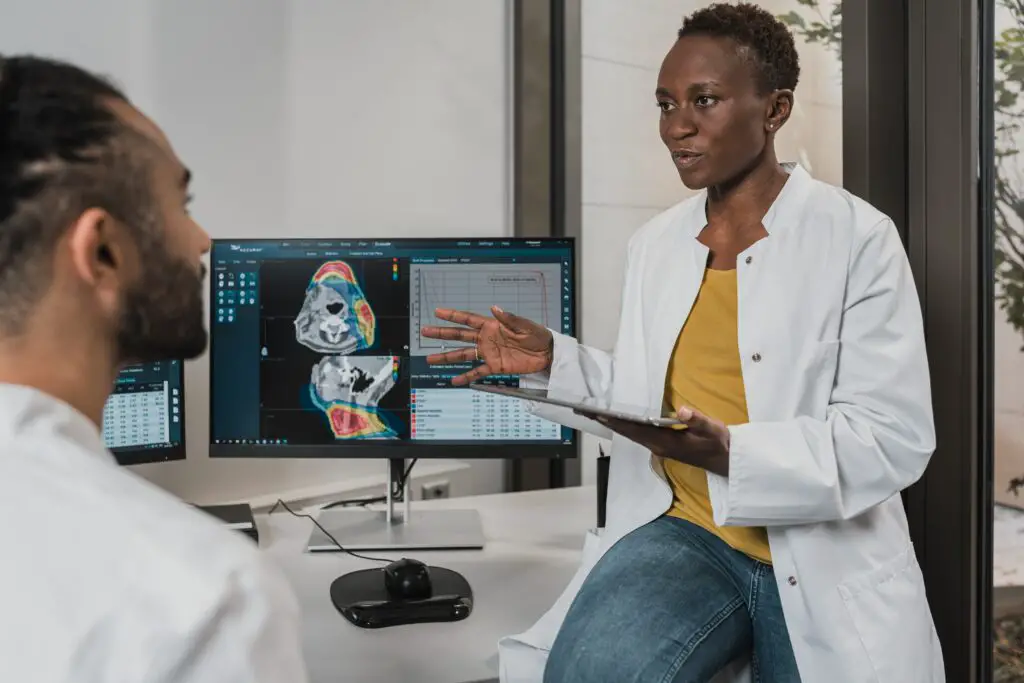 How Much Does A Radiologist Make And How To Become One?
Radiologists must complete at least 13 years of training.  On average, an annual salary of an entry-level radiologist is 209,620 dollars or 99.48 dollars per hour, as reported by the US Bureau of Labor Statistics on May 2016. Salary increases will rely on the patient load of the radiologist. Places like New York, Alabama, Texas, and California pay the highest amount to a radiologist. 
Measures that you can take to become one radiologist from high school 
You will need to go to a medical school for becoming a radiologist and it is important to take up science and maths training while in High School. 
Courses like calculus, chemistry, statistics, and biology can show your interest in the field. AP courses are acceptable when possible so that you show that you can face challenges.
Participate in pre-medical activities
Activities related to pre-med or radiology can prepare you for college and help you get admission to a medical school.  Shadowing a radiologist at a local clinic or volunteering at a hospital can help you.
Getting into the right college
If you want to become a radiologist, find a college with a proven Pre-Medical track. You must find an institution strong in premed.  It needs to be a good fit for your requirements too.
Bagging bachelor's degree
There is no definite pre-med major, but schools will have a track. If you have a major in a different field, you may need to take different courses to fulfill the prerequisites. You have two advisors: major and premed.
 The pre-med advisor will ensure that you meet medical school requirements.
Maintain your GPA score 
Getting into Medical School can be competitive and tricky.  Keep your GPA high to stand out from your peers.  Most schools will consider a general GPA and a science GPA.
Move to a postgraduate course
After completing your MBBS and residency, aspiring individuals can move for a postgraduate course. You can pick from any choice.  
Diplomat of the national board, DNB is a 3-year course.
Doctor of Medicine, MD is a 3-year course.
A diploma in medical radiologist, DMRD is a 2-year course.
Candidates can get entry to the courses after clearing different entrance exams. A postgraduate degree can let you walk through your career while guaranteeing that you have in-depth expertise and knowledge about radiology. It assures that you can make more.
Go for a fellowship program
Aspiring individuals may like to learn more about subspecialties in the field of radiology. Some of these are breast imaging radiology. Diagnostic radiology. Cardiovascular radiology, gastrointestinal radiology.
In a fellowship scheme, aspiring individuals advance their idea by training in one or more radiology specialties. In general, fellowship programs last for one or more years.
What is the job of a Radiologist? 
A radiologist is a medic specializing in overseeing individuals with medical imaging. In addition to medical imaging, radiologists can perform day-to-day activities that include the following. 
Determine the type of imaging for a patient based on their health issues. 
Check a patient's medical history.
Perform medical imaging procedures without or with help from imaging specialists.
Interpret and review images from the examination
Provide treatment recommendations and advocates testing based on imaging result.
Give medicine-related advice to doctors and other medical specialists.
Supervise imaging techniques.
A radiologist has to complete at least 14 years of training, which includes medical school and a four-year residency. In addition, one can go through one or two years of a fellowship program in a specialized field like pediatric radiology, radiation Oncology, or interventional radiology.
They get certified by the American Board of Radiology and have the exact requirements for continuing medical education throughout their professional years.
Interventional Radiology
Doctors can diagnose and treat patients using minimally invasive approaches like MRI and x-ray.  Interventional radiologists guide medical equipment through body incisions. The treatment for conditions like heart disease uterine fibroid offers less risk.
Diagnostic Radiology 
A subspecialist radiologist can use a variety of imaging procedures to see what is inside the body.  The specialist plays a vital role and acts as an expert consultant to refer your physician. He can understand and report the resulting images and recommend treatment. A diagnostic radiologist can also specialize in the following through clinical work.
 Cardiovascular radiology 
 Emergency radiology 
 Genitourinary radiology 
 Musculoskeletal radiology 
How much can a Radiologist make in a year? 
As far as salary and benefits are concerned, radiology is one of the well-paid medical specialties. On average, radiologists in the US can make about 300000 dollars annually. How much radiology makes in a year will depend on his education, location, certifications, and work experience. Radiologists who can complete a fellowship program can make more.
What time does it assume to be a radiologist in nations like the US?
Radiology is not the shortest residency Program you can take. While other residences can take 3 to 4 years, radiology will take five years to complete. The time it takes to become a radiologist depends on whether you like to subspecialise or not. 
Conclusion
Radiologists are licensed medical experts specializing in imaging, X-rays,  ultrasounds,  CT scans, and MRIs. A radiologist will require many years of university education. 
If you love to analyze medical images and provide insight into your findings, you can learn what it entails and what to expect. After completing college, it takes about thirteen years to become a radiologist.
You may need to complete an undergraduate degree, which takes four years. You may go for a fellowship program in a subspeciality of radiology to earn a fair amount. Now that you learned about the radiologist career and how much one can make, you should start your career. 
FAQ's 
How long is a radiology residency?
Radiology residences will take about five years to complete.
How many years of schooling do you need to become a radiologist? 
Becoming a radiologist takes about 13 to 15 years, depending on whether you want to subspecialise through a fellowship program after residency. 
How is the work environment for radiologists? 
Most radiologist work within a hospital or Medical Centre. They can also work in an emergency clinic. Outpatient centers and breast imaging centers. 
Radiologists need to stand for long periods of the day. One may have to move or live  outpatient, medical, and office accessories.
How Much Does A Radiologist Make And How To Become One?