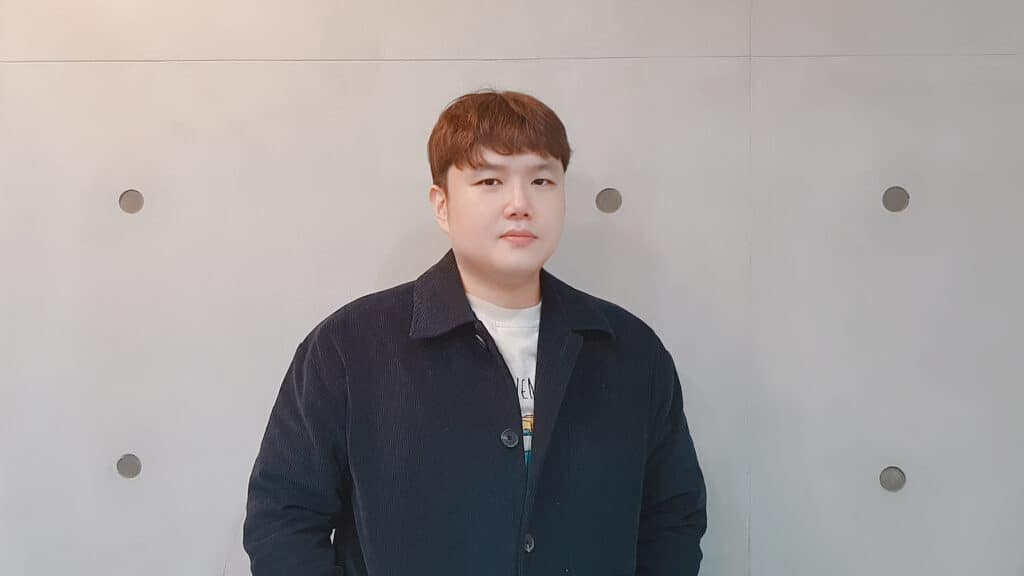 Hello, I'm Manager Lee Bum-chan working for Valentine's Dream, a video IT company. Currently, I'm working on Im Cre's client and server, which will soon become the world's best video education application. We are also using Git to manage the app's overall source and deal with general issues of the app.
Why did you choose Video IT Company and this job?
There could be a lot of reasons… I wanted to work for a company where I would play an important role, rather than a place where I was there or not. When I joined BallantineDream, there were a lot of developmental issues in general. At that time, I was the only one who could solve the problems, but I was confident enough to solve them. The CEO and executives of BallantineDream listened to what managers say without ignoring them and gave them trust first so that working conditions could increase their focus on development.
I graduated from the business administration department and prepared a certified public accountant. After failing my  CPA exam, I started looking for something I wanted to do rather than making more money. The last challenge was a developer after being a student council Vice President of college and winning a prize in the start-up competition. At first, I tried to get a job as a business student who knows how to develop, but as I was working as a developer, I chose this job because it was so suitable for me. There were a variety of processes to be a developer.
How was your college life? And why did you choose this major? (You don't have to write it if it's not related to your current job or college major.)
I spent my college life meeting people or doing different activities rather than studying. I regret a lot that I didn't study hard enough, but I am glad that I found the aptitude in my 20s through doing various activities that I should have done when I was a teenager. I chose computer engineering as my minor in college, and I changed to computer engineering while studying development because I had a good attitude.
Is there any place gave any helps where you're currently working(your company)? (e.g. workplace or educational institute)
I took a computer engineering class at a school in Seoul during the day and studied development at Seoul Game Academy at night. I remember studying hard while sleeping less for doing two things at the same time. Because I studied hard, I graduated and joined Netmarble right away.
How did you prepare for the interview?
I organized my portfolio and reviewed all the technologies I wanted (e.g., unity, coos2d-x, c++, etc.) when it posted a job opening. Also, if I can use the product developed by the company, I tried it in advance. Many people memorize a self-introduction, but for me, I didn't prepare and memorized a self-introduction or expect interviews separately because I thought it would be too formal 
How do you organize the portfolio?
We recommend taking a portfolio video and organizing the source code (such as variable names). If you are an application developer, you can get a high score if you make a self-introduction program.
Can you recommend a book? Or a helpful training website, video, etc.
I recommend a book called "Repactoring." It may be hard for novice developers to understand, but I think it will be very helpful if you read it little by little. You can go one or two pages at a time. If you don't give up until the end, you'll be able to read it completely someday. Nowadays, YouTube is also full of development information, so YouTube and Gamecodi are also helpful.
The situation in the industry is changing rapidly. Can you give me the latest information? (website, newsletter, podcast, etc. where you can get the latest information or references about my job)
The development industry quickly brings new information and know-how. Because I am a developer specialized in Unity, I get a lot of information from Gamecordi and Unity Naver Cafe. Also, now aws is very important and have strong functionality. I also apply for related events and training, then take the course and   get information quite often 
With this job, what advice would you give for those looking for a job?
I hope you lay the groundwork first. Rather than starting the engine for faster performance without basic knowledge of the language, you can create applications faster and clearly if you start after you study c# hard. I think the most important thing for recruits is the groundwork and portfolio. If you build a solid foundation and create a good portfolio, you'll be a talent coveted by all companies. As a tip to new developers, I'm sure you'll be an attractive talent if you try to create a program that's used on both sides, even if it's good to do either a client or a server.
Why do you think you were chosen by this company?
I'm not a great developer, but I've been working for many companies to launch Android and iOS. I've also developed applications for Google ai, and I've experienced a variety of engines, including coos2d-x, unity, and unreal3. I think many launches and various experiences helped me get into this company.
Tell me about achievements, pride, lessons, etc. you can get from this job.
One of the best things about being a developer is how pleased it is to release my app on the market. I still can't forget the feeling of joy for completing my portfolio while taking a class at the game academy, and I think I've never given up on the developer so far because I lay in the raptures of joy. Of course, if the application you've developed is successful, you'll be able to experience greater achievements. First of all, it is recommended that developers try to launch even a small program with trial and error. If you feel pleased and excited, I think you can start your career as a developer.
Also read How I Became an Account & Partnership Manager at Stably
How I Got the Job in Video IT company?