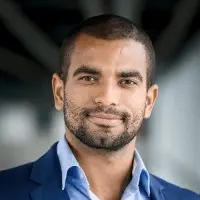 Edward Siafa is the current Account & Partnership manager at Stably and has been with the company since its early inception back in 2018 as the first non-founding employee. Stably is a fin-tech company that provides blockchain-based financial services that aim to bridge the gap between traditional finance and the blockchain economy.
In his free time he enjoys: reading, writing, weight-lifting, being in the woods, and tinkering with things.
Interests: Psychology, Economics, Philosophy, Investment, Astronomy
Education: Tacoma Community College A.A.S. (2018), the countless books I have read over the years (probably around 175)!
Educational Experience
My time at college was enjoyable. I went to a medium-sized community college. I took a variety of courses and learned ideas and concepts that still stick with me to this day. I took an astronomy course because I have loved outer space since I was a little kid, I even wanted to be an astronaut when I grew up! I took human anatomy & physiology because I wanted to know how the body works. I took nutrition because I wanted to learn what to feed the body. I took business classes to better understand how businesses work.
I learned many things in my human biology class and even held a human brain, spinal cord, and observed a human cadaver which was a very humbling and existentially trying moment. We often used microscopes in the lab, too. This spurred me to buy a microscope and explore things on my own at home under the microscope. 
What a fascinating experience this was. We live in a great day and age with abundant access to great resources and great information, but we must also know where to look, how to think, and have the willingness to act on our wishes. That's the magic combination. 
Among the other courses that I took were: psychology (numerous), business law, entrepreneurship, inter-personal communication, nutrition, inferential and descriptive statistics, sociology, environmental science, literature, weightlifting and many others.
I didn't know it at the time, but I was expanding my mind in a way that Charlie Munger describes at "wordly wisdom" or a "lattice-work of mental models." It basically means that you should learn all the big ideas from the various disciplines because this expands one's thinking so that they are able to assess any given situation with a broad and nuanced understanding.
My time at college was a wonderful experience of personal growth and self/world discovery. Since I have been out of college I still read extensively and remember to keep the curiosity alive, much like a young child who finds something every day to be blown-away by.
Work & Business Experience
How I got to my current position at Stably as the current Partnership & Account Manager is a serendipitous roller coaster of chance and choice. A few years before I joined Stably, and before I had graduated from college back in 2016, I was also running my own landscaping business. Since I was a young boy I have always been entrepreneurial in my thinking. 
Through an acquaintance I was introduced to stock and real estate investing. At this point, I began to take investing more seriously. I began to buy stocks, dabble in crypto, and precious metals. I bought a bunch of books on stocks, economics, finance, investing, you name it.
I had heard about Bitcoin back in 2012, and even had a desktop miner on my computer. That was back when it might have even been worth it to mine that way.
Fast-forward a few years, and I am going to meetups for blockchain and cryptocurrency. I went to many, and I soaked about as much knowledge as I could and make any meaning connections that were possible. The last meetup that I went to was the one that change it all.
The current CEO of Stably, Kory Hoang, was giving a speech on principal-protected notes, which ironically had nothing to do with crypto. I had done some research before I went to the meetup and listened to a few of the podcasts that Kory had already been on. 
That is how I got the idea that he was forming a stablecoin start-up and that I wanted to be a part of it. I saw enormous potential in this industry and figured it would play a large role in the future of finance. I attended the meetup, approached Kory at the end, and gave him my story. He liked what he heard and decided to give me a chance. The rest is history.
It wasn't easy at first. There was a lot to learn. A lot to be done. In a startup at the early stages you just have to take ownership for whatever you can and see that it gets done, because the structure in the beginning isn't quite formed. It is still a baby, and babies need maximum care, attention and dedication.
Those early days were great fun, and I look back and am shocked how far we have come and yet how far we still have to go.
Lessons Learned From Jobs
My first job was working at a farmers market during the summer when I was 16 years old. During my time there, I learned how to operate a tractor, operate shop machinery, set up displays, interact with customers, show up on time.
From my time working at Subway as a teenager I learned the importance of customer service and how to interact with the general public, who isn't always the nicest. I also learned how to be accountable and responsible for opening and closing the store and cashier balancing.
Reading Recommendations
Crystallizing Public Opinion – Edward Bernays
The Mind and The Brain – Jeffrey Schwartz
Made In America – Sam Walton
Grinding It Out – Ray Croc
The Crowd – A Study of The Popular Mind
Up From Slavery – Booker T. Washington
On The Shortness of Life – Seneca
22 Immutable Laws of Marketing – Jack Trout & Al Ries
Meditations – Marcus Aurelius
Tao De Ching – Lao Tzu
50 Quantum Physics Ideas You Really Need to Know – Joanne Baker
Holographic Universe – Michale Talbot
Dumbing Us Down – John Taylor Gato
War Is A Racket – General Smedley Butler
The Art of Thinking – Rudolph Flesch
Essays – Ralph Waldo Emerson
Essays – Henry David Thoreau
The Teachings of Buddha
This Is Your Brain On Music – Daniel J. Levitan
As A Man Thinketh – James Allen
The Success System That Never Fails – W. Clement Stone
Autobiographies: Nikola Tesla, Frederick Douglas, Theodore Roosevelt, Milton S. Hershey, Andrew Carnegie, George Washington, George Washington Carver, John D. Rockefeller, Benjamin Franklin, 
How I Stay Up To Date
Things are indeed moving at light-speed it seems. Though I do aim to stay updated, I don't want to become inundated. I try to stay away from the click-baity headlines and articles and read more case studies or reports put out about what is taking place in the industry. Another way is to set up google alerts with specific keywords, this way every time that keyword is triggered online, the information will be compiled and sent to your inbox.
There are many good podcasts out there as well. Just search and you will find a plethora!
Some of My Favorite Quotes
Do the difficult things while they are easy and do the great things while they are small. A journey of a thousand miles must begin with a single step. – Lao tzu
"The line between failure and success is so fine that we are often on the line and do not know it. How many a man has thrown up his hands at a time when a little more effort, a little more patience, would have achieved success. A little more effort and what seemed a hopeless failure may turn to glorious success."—Elbert Hubbard
"Every person is average because every person has an average. The only way to get better is to live above your average and create a better average."
—Michael Bernoff
"I constantly see people rise in life who are not the smartest, sometimes not even the most diligent, but they are learning machines. They go to bed every night a little wiser than they were when they got up and boy does that help, particularly when you have a long run ahead of you."
—Charlie Munger
"Courage is fear holding on one minute longer."
—George S. Patton
"Be brave. Take risks. Nothing can substitute experience."
—Paulo Coelho
"It's the constant and determined effort that breaks down all resistance, sweeps away all obstacles."
—Claude Bristol
If you do not change direction, you may end up where you are heading.
–—Lao Tzu
CV & Resume Advice
My only advice would be to do a great job, create a resume or CV that you would be proud to present to a potential employer. If you can't do it on your own, get the help you need whether from friends, family or a CV professional.
Advice For Job Seekers
Yes I do. My main advice would be for people to keep their options open, stay optimistic and never to write themselves off. The world will do that for you already, so be an ally to yourself. You don't always need a degree to get a job in certain fields if you can prove that you are effective and proactive. Now, of course certain professions require specific degrees and certifications, and that is good and protective of the people they may one day serve.
My last piece of advice would be to go out into the world and seek what it is you are looking for. Put yourself in a place where you are exposed to the people and ideas that resonate with you, and you are eventually bound to find a role somewhere where your talents can be utilized.
Why Was I Chosen
I believe I was selected because of my energy, my insights, my eagerness to learn and contribute, and by the sheer fact that I was so early on and the first official employee of Stably.
Lessons Learned From Jobs I Didn't Get
A no or a rejection isn't a big deal. What is a big deal is how you interpret it and if you keep moving forward.
Also read: How I got the marketing job in blockchain industry
How I Became an Account & Partnership Manager at Stably