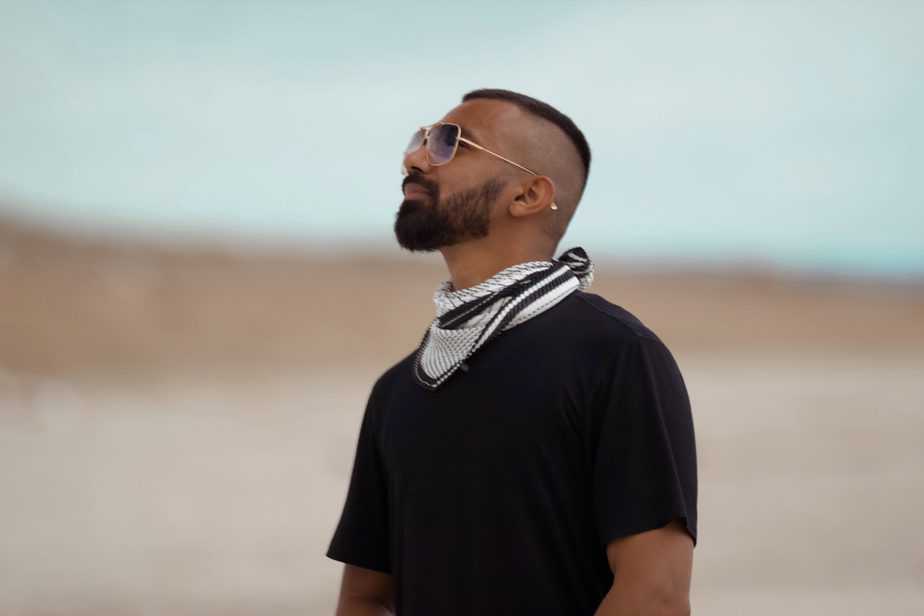 I'm Deep. I was born in Punjab, India. I wasn't a good student in my early school time, and I barely used to go to school because I never liked what schools used to teach. So I was a home school by my mom and used to give only my exams. Usually, I get pass marks to get to another class. But on the side, I was interested so much in art, I used to draw and take random photos and edit them in photoshop, and my parents never stopped me from doing it. After my 12th class, I got the desire to go to Canada to do study in Art. But my English was so bad I couldn't communicate in English at all. I decided to learn English. I still remember used to watch English movies with subtitles and also go to the English coaching center.
After 2-3 months later I gave my IELTS test, and I got 4 bands in IELTS, and I needed 6 to go to Canada. So I tried again. I got 4 again, and I tried one more time, and this time, I got 4.5. It was still not enough to go to Canada. I started doing more hard work on my English to get to 6 scores in IELTS. After one year and after seven attempts, I got 5.5 scores in English. It still wasn't enough to go to Canada. Suddenly one of my family friends called me from New Zealand, she suggested to me why don't I try to come to New Zealand? And I looked on online there were plenty of good colleges there. I have chosen Yoobee school of design, and I applied there for a Graphic designing course, they accepted my application, but after days later, they emailed me back. I'm sorry, Deep.
Unfortunately, you have 5.5 scores in IELTS, but we needed 6 scores for the graphic designing course. After this email, I lost my hope for a bit, but I didn't give up. I looked for other colleges, and there was another college they were teaching how to make film sets, and they needed only 5.5 scores and applied there and after a few days later someone from Yoobee school of design called. We have seen your application, but you don't have enough IELTS scores, but we have more courses you be interested in. She asked me what do I to in my life. I said I want to see my name on a cinema screen and make explosions in movies. She suggested I choose a film and animation course, and you need only 5.5 scores, and after this course, you can choose film making or animation pathway for higher education. I didn't have any second thought. I straight away said yes to this course, and long story short after a few months later, I got in New Zealand on 9 February 2014.
How Did Deep Get Into Films?
My first day of college was on 14 February 2014, I got into my school, and the tutor started introducing me. Honestly, I didn't understand what he was saying; I couldn't get his accent at all. I was like have I came to the right place? Our first module was storytelling, and I failed it. Our second module was designing I and passed on my second attempt. The third module was filmmaking; I cleared that easily. After the filmmaking assignment, there was a film festival called 48 hours. You gotta make a short film in 48 hours. I was like, maybe I should do it. I asked my tutor if I can participate in it, he said, Yeah, you should do it, and he helped me put my team together from my class.
And It was a horrible experience my English was so bad I couldn't communicate with any of my classmates. I was regretting so much why did I come to New Zealand. After this incident, I got a part-time job at Domino. It was the third day at the job. I was going to deliver the pizza around 9 at night in rainy weather. Long story short again, I couldn't find the house, and they fired me from Dominoes. That incident sparked something inside me. It was the day I decided I gotta do something in my life. I gotta change my situation.
The next day I went to school. Our tutor took us to the fourth floor of the school building, students from 3rd year(Level 7) presenting their 3D work. There was one student called Richard Zeigler when I showed his work. I was like, wow, this is amazing. I want to do this do. It was like I found my thing what I want to do in my life. I went home start learning about 3D online. I still remember spending 14-15 hours going to college and do online education. I decided no matter what, I'm gonna do one big 3D project each month, and I did. I still remember I used to stand outside of Level 7 class and look at their work and do all the beautiful work.
By this time, I was getting better at 3D work, and a lot of students and teachers know about my work. One day a guy name Hrishikesh Varma. He was a level 6 student who came to me and said I had seen your work. I need your help with my final assignment. I said straight yes to him. He filmed his film on the green screen, and I built all the 3D sets for him. Since then we are good friends. Now it was the month of October, One day Level 7 tutor came to me, He said we are seeing your work for few months, it's getting better and better, and we are thinking to transfer you to the Level 7 class but you gotta do a test for it. That time I was the happiest person. I was surprised and shocked. I think I did that test in 2-3 days and gave it back to them.
The first day in Level 7 class, I was good with 3D environments, and the tutor made me a 3D environment artist for group projects, but deep inside, I knew I could do more than just environments. I was still doing my 3D projects on the side. After a few months, later tutor made me the director of one of our group projects. We were almost at the end of level 7, and I got an internship at Yukfoo animation studio. I was so excited. I got my first day at Yukfoo and what I saw there surprised me. I saw Richard Ziegler working there; it was the same guy who inspired me 2 years ago, and today, I was working with him. I was a CGI generalist intern at Yukfoo. I did that internship for 2 months, and meanwhile, I was still doing education on the side. On my graduation day, my mom and sister came from India to see my graduation. I was chosen student of the year, and I got the best technical artist award. A few days later, my interview was published on www.studyinnewzealand.govt.NZ and Yukfoo also extended my internship. After the internship, I became full-time there and got my residency after a full-time job.
It's the end of 2017. By this time, I got bored with my job, and I wanted more film work, not just 3D. Suddenly, my friend called me. He was like can you make a music video for my song? I talked with Hrishi, he wasn't sure either because we have never made a music video before, but we still said yes to him. Hrishi and I decided to do this under our label, and we called it Eleven FX (www.elevenfx.com). We made that music and started this studio called Eleven FX. We made our website and posted our one music video. After a while, we realized we don't have much work now for Eleven FX. We need to showcase our work to people to get more work. I was like, if I could make 3D work each month for myself, I can do it for Eleven FX too. So I did a few full CGI ads for the portfolio, and I also talked with Hrishi, let's film something with whatever we have. We didn't have the camera back then. We were like, we have phones now let's film models portfolio with the phone, and we started doing that and Hrishi used to film and was directing and color grading. We started posting it on social media, and many people got so impressed by we did a video just with a phone. Slowly slowly, we start getting paid work, and last year we did a movie called AAB. This year we have grown 50% than the last year. I'm still working full-time at Yukfoo at the moment and running Eleven FX on the side. I'm hoping to leave my job this year and be full-time at Elevenfx FX.
Thank you so much for your reading my story. I hope this will help you to find your passion. If you have any questions, visit my website www.deepchahal.com and flick me a message.
Deep Chahal
Also read How I Became a Music Producer/Composer
How Did Deep Get Into Films?