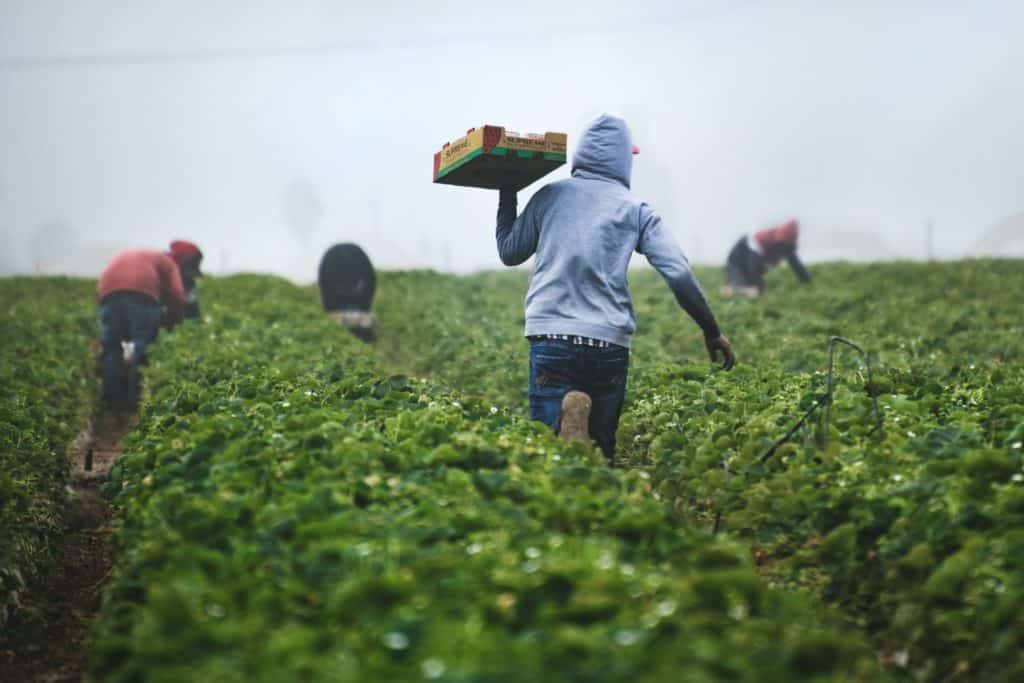 If you want to enjoy the best of both worlds – "traditional" and "modern"; then a career in farming would probably be the best alternative for you. Read on for more about Farming As A Career in this article here!
All About Farming As A Career In USA
Farming is a sector full of rewarding opportunities. It will be a tough job for a novice, but it gives a sense of pride to be a part of the vibrant community that is selflessly contributing to the health and food security of the nation. Farming has been the principal economic base of every country. And it has become all the more relevant in the United States today.
Is It A Lucrative Opportunity?
Farming in the USA contributes nearly $100 Billion to the US economy. So, it sure is a lucrative opportunity here. But it is largely threatened by the trade wars, climate change, and an alternating workforce that are significant considerations. 
If you are interested in knowing more about this opportunity, read on to unleash more about farming in the USA. 
HOW TO BE A FARMER? 
Determine the crop you want to cultivate and its industry type. Also, analyze if it is a profitable choice. 
Evaluate your financing options. Draw enough focus on the capital. 
Analyze the availability of input and resources in need. 
Choose amidst Organic and conventional farming.
Determine the transportation facilities. 
Engage in extensive research to perfect your career. 
Evaluate the local and universal regulations about the field of farming you are looking to work in.
Reasons To Support Farming As A Career
We have compiled eight primary reasons how a career in farming can be the best option for people looking forward to being financially dependent:
It is a common misunderstanding that the agricultural industry is only designed for people who wish to work on a real-life farm. Despite such workers being the sector's backbone, many of the sector's revenue comes from the corporates dealing with food and beverage products. Thus, the industry employs approximately 4 million individuals in positions like manufacturers, distributors, sales representatives, managers, researchers, consultants, technologists, traders, technicians, and logistics specialists. Regardless of your expertise, agriculture will be a brimming career for you.
Contribution of agriculture in the economic development.
Farming is expected to play the most crucial role in eliminating poverty. Today, the USA, like any other nation, needs agriculture to feed both the affluent and the poor. Thus, without adequate participation from the countrymen in farming, no country can grow or even exist. In an economy like the USA, the agricultural sector commands a significant portion of the income, capital, and labor. 
No prior experience needed.
Over the past decade, the US agriculture sector has reported some significant scarcity and necessity of a new workforce. The industry is in dire need of some thousands of farm employees. Therefore, anyone involved in recruiting employees for this industry is not necessarily looking for an education or experience in farming. Instead, they are looking for applicants with the right attitude and transferable skills. 
Growth of technology in the sector.
Most people see farming in its traditional form, where an individual works throughout the day to earn his living. But that is not how careers in agriculture look like in the 21st century. In a country like the United States, farming has grown to be a state-of-the-art industry filled with sophisticated technologies. This advancement in the sector makes food production cheaper and safer using the latest breakthroughs in science and engineering. In the last few decades, the technology of agriculture has been changing significantly and continues to do so.
This technological shift has been pushed by the need to decrease prices, enhance productivity in the face of a growing global population, react to climate change, and better protect the environment. Millions of farmers utilize software like GPS systems, drones, robots, and data analyses for improving their productivity, better marketing, communication difficulties, and general corporate administration. Thus, it can be safely assumed that this sector is yet to reach its apex potential.
High demand for young minds.
By now, we know that this industry is growing at a good pace. And with the increasing adoption rate for high-tech software, there is a need for young people. Technology geeks are in great demand for agricultural research and contribute to the transformation of livelihood and technology in this very undeveloped area. 
Myriad opportunities for entrepreneurs.
The demand for food products is unending. Thus, this sector welcomes people from different walks of life to identify business opportunities in the field. This will lead to mutual growth and development of the industry and the entrepreneur. Moreover, to be successful in this field, it is not mandatory to have a specialized degree.
A poll conducted by Farmers Weekly indicated that the average incomes of the people involved in farming exceed the national average. Also, recruiting consultant De Lacy Executive released a poll of 1300 respondents, including farm-based workers (FWs) and agricultural-related businesses (ARBs). 
The average yearly wage for persons working in farm supplies was £33,583, and 13 percent reported that they make more than £50,000 a year. Many of these employees also obtained additional perks, 39% getting their mobile phone payment and 38% receiving a business automobile. However, the report added that the wages are competitively low for on-ground farmworkers, with an average national income of £26,193. This was considered before any benefits were collected, and 87 percent of participants had any additional advantages, like lodging or a company vehicle.
In the United States, agriculture is mainly managed by the regularly renewed US Farm Bills. Governance is both a local and federal responsibility, with the United States Department of Agriculture being the federal department responsible. Government assistance covers research into crops and regional adequacy. It also covers numerous subsidies, price assistance, and loan programs. Farmers in the United States are not subject to production quotas, and some laws are different for farms compared to other workplaces.
Labour laws restricting children in other industries provide partial to total exemption on farms for youngsters who work on their family farm. Children may also be allowed to get authorizations at professional training institutions or at the 4-H club to perform jobs otherwise unable to accomplish. Most US agricultural employment comprises migrant and seasonal laborers, many of whom are recent Latin American immigrants. These laborers and their lodgings typically supplied by the farmer are subject to additional rules.
Conclusion
Long story short, working in an industry that is so significant to human life is highly gratifying. Every farmer considers his farm to be a blessing. They preserve the look of the landscape for future generations. Those who are part of it may be tremendously proud of their involvement in a sector that makes good quality, cheap food at low costs. The next generation of farmers has a crucial role in repairing past errors as the globe tackles the consequences of climate change.
Frequently Asked Questions
What are the most major farm commodities in the USA?
Recent data from the USDA suggest that these are the best commodities by revenue:
Hogs
Broilers 
Chicken Eggs
Hay
Wheat
Corn 
Soybeans
Dairy Products
Cattle 
It is a term used to define the quality of the soil. The soil's potential to perform as an ecosystem for all living organisms and produce quality food is Soil Health. 
How many Farms Does the USA contain?
The recent reports suggest that there are nearly 2 million farms in the USA. So, it is natural that farming is practiced extensively in the country. 
Is the USA observing a steady decline in family farming?
Not at all. Nearly 93% of farms are family-owned that gross over $1million per year. So, the majority of people practice family farming today.
Is indoor farming a drawback?
No. But it can be slightly expensive as it requires a host of equipment and technology for electricity. So, you may want to consider that before trying indoor farming.
Also read Entering Design as a Career – Career Guide
Farming As A Career in 21st Century