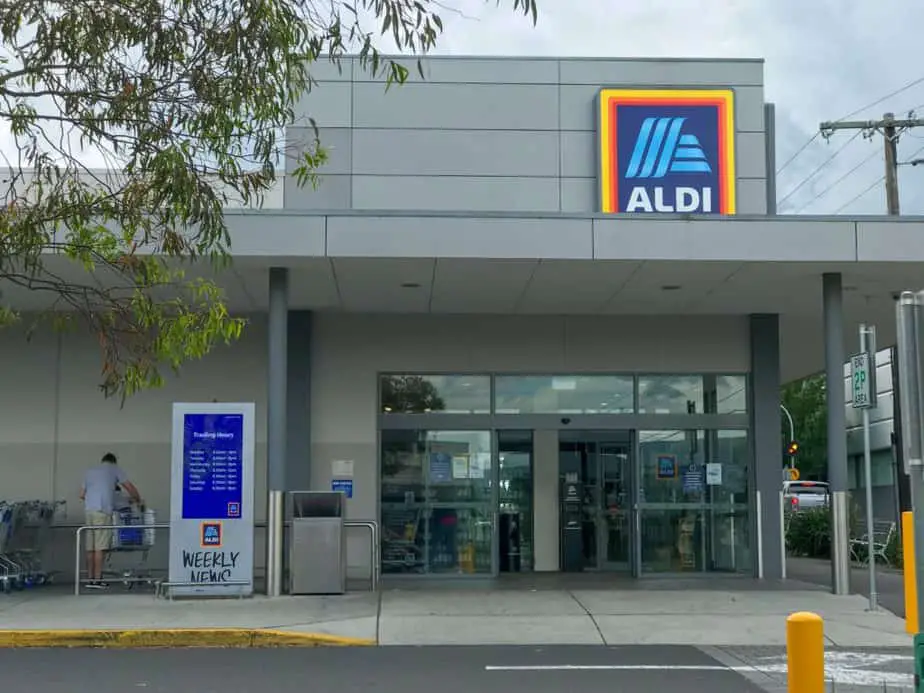 Everyone likes to buy cheap and quality products, especially when you can get everyday groceries at minimum prices. So, most of us look for perfect deals and discounted prices on grocery shopping. Aldi is the only name that fits budget-friendly groceries shopping. Aldi has grown and become one of the most popular grocery stores known for its lower prices. But, it raises doubts like why is Aldi so cheap?    
Aldi has creatively cut the cost with its unique methods and design. Aldi is cleverly operating with its no-frills design, smaller stores, and 90% private label products. Also, its attractive rental cart system, fewer workers, and lesser working hours make Aldi products cheaper. Along with that, they adopted various other techniques to lower the cost. 
Let's dig more into the topic and understand why Aldi is so cheap. 
Aldi: A Brief History 
Aldi, a German-based discount grocery chain, is growing and reshaping the US market. It was initially started as a small grocery store in 1913 by Anna Albrecht in Essen, Germany. In 1948, Karl and Theo inherited their family's business after World War Two. They expanded the business by opening four stores in different parts of Germany. Over the years, they realized success by selling a narrow range of products.
 The stores use the name "Albrecht Discount" for a small chain of grocery stores. Later in 1962, the name was shortened to Aldi, where Al represents Albrecht, and Di depicts Discount. 
After running successful stores for a few years, both the brothers get stuck in a disagreement over whether to sell cigarettes in-store or not. In the mid-1960, both the brothers got separated and divided the stores into two parts. Theo took over the operation of Aldi Nord that runs in northern Germany, while Karl took the responsibility of Aldi Sud stores in the South. 
By 1968, both the stores expanded worldwide as Aldi Sud operating in more than 200 locations. 
In 1976, Aldi opened their first store in the USA with a store in Southeastern Iowa. In 1979, Aldi expanded itself in the USA and purchased Trader Joe's chain. Just like its partner company Trader Joe, Aldi keeps its price low by selling private label products. 
By 1996, Aldi expanded globally with stores in Ireland, Great Britain, Hungry, Australia, Slovenia. 
Currently, Aldi is dominating the US markets with more than 1800 stores in 35 states. Its plans to become the third-largest supermarket chain in America with more than 2500 stores by 2022. 
Why is Aldi so cheap? 
 Aldi's popularity is because of its lower prices. Aldi never revealed their secret of discounted rates, but they admit that they designed everything to save customers money. Here's how Aldi stores charge low prices:- 
Whenever you shop at Aldi, you would observe a lack of brand names on the display shelves. Well, Aldi might appear like any other grocery store, but it does not keep the same brands. Like you can rarely find your favorite Cheerios or brands like Hillshire Farms and Land O' Lakes.
 Instead, Aldi saves money by selling their private label products in their stores. 90% of their products are private label brands. So you will only find brands like Nature's Nectar, Bremer, Fit N' Active, and Never Any! in their display area. 
They skip the middleman that lowers the cost, but it does not mean lower quality because some of their products come from the same place as the other big brands. For example, Happy Farm uses the same milk used by brands like Wegmans. 
While most of Aldi's products are local label brands, they keep overstock branded products. It helps them to buy branded products at lower prices. In return, you will get these products at a lesser rate.  
If you have shopped at an Aldi Store, you might have observed it looks smaller than other stores. Well, it's because Aldi's store size is estimated to be six-time smaller than the average Walmart store. 
Smaller stores mean lesser spending managing the store, less cleaning, less cooling, or less heating. Also, they have to spend less on fixing or monitoring the damages. So, all and all, a small store ensures lower managing costs.  
Aldi uniquely designed their stores for storing a limited number of products. It means employees have to spend less time restocking their shelves. In comparison to that, other stores focus on attractive displays that require continuous restocking.  
Also, instead of arranging every item separately, Aldi stocks the goods in its original shipping boxes that take less time to restock.
Follow Minimalist Decorating Scheme 
While most supermarkets follow unique decoration schemes to attract their customers, Aldi believes in minimalist decorating. Instead of wasting their labor for creating soda can pyramids, they invest in employees to do the actual work. For example, Aldi appoints employees for customer service at checkout or to stock the racks. 
Aldi stock their products on display right after they arrive on trucks. Where the new products are either placed beneath the old one or behind the old one. So, now you know where to find your favorite product.  
Aldi not only keeps limited stock, but they need fewer workers for the maintenance of their stores. It is because they eliminate unnecessary services and follow the minimalistic model. Fewer workers imply lesser capital requirements for paying salaries.  
Customers Carry their Bags 
Aldi asks their customers to carry their bags for shopping. It doesn't mean they won't provide bags, but you need to pay for that. So, it adds to the extra income which they invest in their checkout model. Also, It promotes a green environment in Aldi's stores and saves customers money. 
The efficient Checkout model saves cashiers time on baggers duty and increases the overall shopping experience of customers. All of this saves time and adds to profits by serving more customers. 
Use Energy-Efficient Lights 
In 2017, Aldi announced adopting energy-efficient techniques in some of their stores. The modern design will have open ceilings to allow natural lighting in the stores. Along with that, they focus on environment-friendly methods like LED lights and energy-efficient refrigeration. 
Don't spend too much on Advertising. 
Instead of spending too much on TV commercials or other advertising, they believe in utilizing that money on other services. For example, in 2016, Aldi spent around $42 million on Advertising, while in 2019, Walmart used $ 2.75 billion on ads. 
Aldi used new techniques and created social media presence on platforms like Twitter, Instagram, and Facebook. Along with that, they utilize their time with dedicated posts, blogs, and articles. 
As compared to other supermarkets and grocery stores, Aldi does not open its store all the time. Most of their stores are open for not more than 11 hours. So you can't walk in Aldi's stores anytime you want something. It means they try to maximize their profits in fewer hours. 
Along with that, fewer hours implies a lesser operating cost because of lesser chances of wear and tear in stores, use of fewer utilities, or less investment in the workforce. 
Follow Shopping-Cart Rental System 
Aldi uses a unique shopping cart rental system. You won't find someone to let you shopping carts. Instead, customers have to put a cart to unlock the cart. It ensures that customers return the cart to the corrals and get their money back after the shopping. Also, this means that Aldi doesn't need to pay for hiring employees to monitor and bring back carts to corrals. 
They use Boxes, pre-packed produce, and Milk Racks. 
 Aldi stocks the products straight out of the truck in their original cart shipping boxes. Not only do they save money and time while using the same boxes, but they save space with pre-packed products. As most of their goods like milk come in racks, and products are already pre-packed. Hence this ensures their efficiency with instant checkouts. 
Aldi not only has smaller stores, but they also keep smaller warehouses. It saves the cost of maintaining a big warehouse and benefits the customers because they get fresher goods at all times on the sales floor. 
With the smaller stores and warehouses, Aldi keeps a limited stock with 900 core products. Although, they cleverly use this small space by storing pantries and food staples at favorable prices. The only issue is that you would not get various choices on your favorite products.
Also, commodities like furniture, birthday cards, office essentials, and clothing are only available during ALDI Finds, where Aldi sells special weekly items in limited amounts. It allows Aldi to function appropriately with smaller space. 
Aldi's minimalist model doesn't mean the employees also get lesser payment. Well, you would be amazed to know that they pay more than the United States minimum wage rate. Along with that, Aldi gives generous bonus packages to the employees. 
With the good incentives, employees stay longer and work effectively and efficiently in their job. It ensures stable operational costs of Aldi's stores. 
Have Well-trained Workers 
Aldi's workers may be limited in number, and sometimes they have to work more than regular days. But no one can complain about their inefficiency because all the workers are well-trained. 
Instead of one particular area, Aldi cross-trained their workers to work efficiently in all areas. So, they don't need different workers to work in the stocking or refrigerator section. 
With the 90% private label system, Aldi has control over the product's packaging. The products have barcodes on their packages. With the use of barcodes, Aldi speeds up their checkout process and ensures efficiency in its work.  
Whenever you enter any other store, you get welcomed with the booming music. Well, that's not the case with Aldi stores. Instead of entertainment, they keep customers focus on shopping for necessities. So, it saves time and money to serve more customers.  
They have sitting cashiers. 
Aldi appoints sitting cashiers in their stores to improve the overall efficiency. So they will get less tired with all the work and can scan faster.  
Aldi is not known for providing surplus services. Just like their minimalistic model, they believe in minimal services. For example, they did not bind their employees to answer customer calls 24×7. So you can't call them anytime to complain or ask them to order something. 
Focus on Customer and not Profits 
Aldi always focussed on serving its customers. Well, that's the reason why they don't follow the style of other supermarkets. Aldi does not charge their suppliers for providing self-space in its stores. Instead, its motive is to earn profits out of the industry and serve its customers.
What to buy at Aldi? 
Aldi is known for offering private-label brands at lower prices. All the products are the perfect alternative to big brands in quality, taste, and packaging. If you are going to buy groceries from Aldi, you can buy the following items: 
Aldi has established its image for selling some of the best wines. Many Aldi wines have won several awards like The International Wine and Spirit Competition, Wine Spectator, The International Wine, and The American Masters of Taste Awards. All of their wine is budget-friendly, with 37 varieties under $10. 
Aldi offers numerous types of bread like whole wheat bread, Italian bread, bagels, brioche, rolls, etc. All of the varieties come at an affordable price with great taste. For example, Aldi whole white bread costs around $0.89 while other retailers charge $2.46 in the US. 
Aldi not only offers affordable everyday groceries, but it does also provide tasty chocolates. This company deals with lots of European suppliers for many products that include chocolates. You can buy these high-quality gems at a small price of around $2. 
Cheese is another product that you can buy at Aldi. With the excellent options from gouda to grass-fed cheddar, you can look for your favorite choices. All these fancy flavors come at affordable prices of $2-$5. Just like their wine, Aldi cheese has won many awards in its different varieties. 
Conclusion 
Aldi is rapidly growing and becoming one of the leading grocery chains of stores in the United States. All thanks to its low price and high-quality products. Aldi designed their stores creatively to offer lower prices to the customers. From their small stores, minimum decorations, rental cart systems to selling local label brands. All adds to limiting the rate of Aldi products. 
Frequently Asked Questions 
Q: Does Aldi offer home delivery? 
Yes, Aldi offers home delivery through InstaCart. You can order your groceries online on their app or online portal. You will get your order in an hour after ordering on Aldi InstaCart. 
Q: What time does Aldi close? 
Currently, Aldi is operating more than 1800 stores in the US. All the stores are open for a limited number of hours. Typically, Aldi stores open at 9 am throughout the week. Their usual closing time is 9 pm, some of their stores close between 8 to 10 pm.  
Sunday timings vary as most stores close at 8 pm, while some remain open till 10 pm. 
Q: Does Aldi accept Credit Cards? 
Yes, Aldi accepts Credit Cards in all their stores throughout the United States. You can pay with your MasterCard, American Express, Visa, and Discover cards, or you can opt for contactless payment options like Google Pay and Apple Pay.
Q: Where does Aldi get their produce? 
Aldi gets their produce exclusively from local farmers near its stores. As per their website, they get the pre-packed produce from local suppliers and stock them regularly.