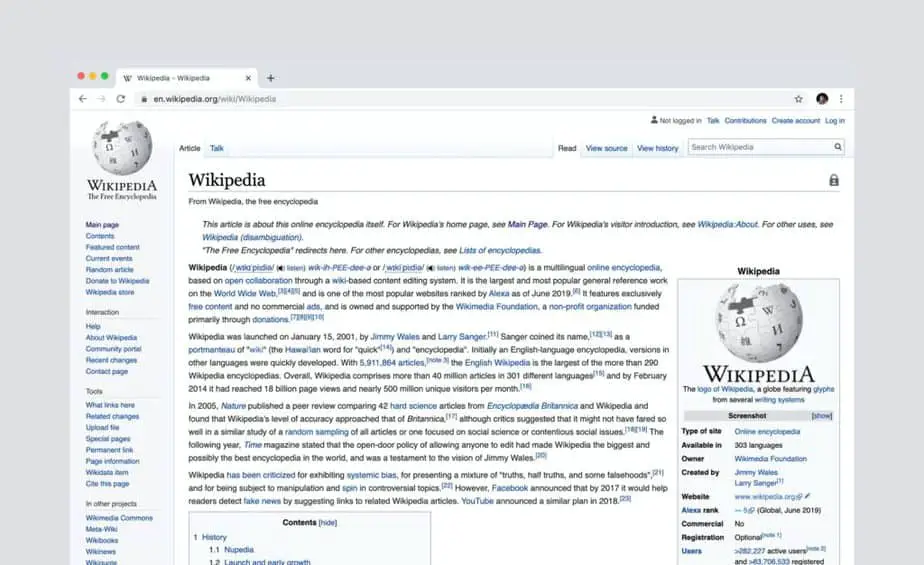 Wikipedia is a free content and internet-based encyclopedia launched on January 15th, 2001, and is founded by Jimmy Wales and Larry Sanger. 
Wikipedia was initially in the English version and soon other languages were developed. Currently, there are 323 languages editions of Wikipedia available. Anyone across the world having an internet connection can easily access it and write articles and can make changes to them in several languages. The encyclopedia site is funded and run by the Wikimedia Foundation, Inc. and the most primary source of income is from the readers. 
Mission of Wikipedia 
The mission of Wikipedia is to allow a global volunteer community, for developing and collecting almost all of the world's knowledge. It is to make it available for all and for free. Wikipedia and its other sources work with all the coordination in a network and with different countries to achieve its aim and goals.  
The 5 pillars of Wikipedia 
It is guided by its five core pillars 
It is an encyclopedia and not a platform used for advertisements.
The contents written on Wikipedia are from a neutral viewpoint.
The content available can be accessed freely and it can be used, edited in any language, and distributed by anyone in the world.
The editors should be engaging in any personal attacks and treat each other with respect.
The firm operates by the guidelines which evolve over time and not on the rules and laws of the firm.
Source of Earning 
Wikipedia makes money in many ways, but it mostly gets money through donations. The other sources are via investments, merchandise sales, which is selling goods on the Wikipedia stores. According to the reports of 2020, the revenue of Wikipedia is the US $127.2 million and 122, 1 million in 2019. It has plans to launch an API that will charge the enterprises a fee to access its data. 
Donations 
Since Wikipedia is not an advertising platform and does not advertise to earn money so it mostly depends on the donations given by its millions of readers all over the world. The donation of these millions of people helps Wikipedia to pay the salaries of their staff, and editors, who work to provide us with correct and edited content. 
The donations that are made to Wikipedia are done in two ways: providing in-kind service and in the currency of donor's choice. In-kind is a transaction that does not include money, it can either be someone who wants to donate his/her car or offer labor service for free.
According to Wikipedia, donations help them to protect the rights of people to free and open knowledge. Wikipedia expresses the reason behind asking for any type of donations; it is done because they want to make sure that their sister sites are safe, secure, and fast and are available to all for free. It helps to sustain free knowledge and make sure all the readers and the donors can have unlimited access to reliable content. The contribution of the donors ensures that these resources remain accessible and valuable. 
Wikimedia donors' private policy 
The policy covers the collection, processing, transfer, storage, disclosure, and the use of information that was collected during the process of donation to Wikimedia foundation. The policy does not cover any of these related to the use of other WKM projects, or features such as Wikipedia. In the process of donating WFM may collect some personal information such as name, contact number, email address, government-issued identification ID number, financial information, device details, demographic details (such as gender and age), and information about our interests and affiliation. For the US donors, they collect these donors' information through publicly available sources and any other commercially available sources. 
It uses donors' information for any general administrative purpose and to operate their fundraising processing, such as updating the donors about upcoming fundraising and other WMF activities, thanking for donations, and setting language preferences. 
They also use donors' information to comply with various obligations, related to reporting and record-keeping such as maintaining internal records, complying with tax requirements, and communicating any changes to these policies. 
The donor's information is also used for updating and improving Wikimedia fundraising services such as understanding the donor's interest in WMF, conducting internal analysis, conducting metric reports and surveys, and improving their fund-raising processes. 
Wikipedia policies promise their donors to never trade, sell, or rent nonpublic information.
Average donation 
The average donation of the Wikimedia Foundation is about $15. 
Some of the donors of Wikimedia, who have donated over $1 million are 
Google 
Apple 
Microsoft 
Facebook 
Humble bundle 
Amazon 
Investments 
Within the year 2020 Wikipedia generated over $5 million from investments. The majority of investments that they create are held in equity holdings and fixed income. The Wikipedia foundation divides the investment portfolio into three different categories. Wikimedia makes sure that its investments are well equally distributed between the three levels. 
Level 1:- invests in marketable securities, mutual funds, and more specifically stocks. 
Level 2:- invest in cooperating bonds, US treasury securities, and mortgage-backed securities.
Level 3:- unobservable inputs suggest it's an assumption that market participants would use in pricing the instrument. 
Merchandising 
The other source of income of Wikipedia is via merchandise sales. They sell merchandise via their stores. There's a different type of item available. The gathering list is as follows:-
Apparel (includes both adult and children's, t-shirts, hoodies, socks)
Accessories (hats, bags)
Mugs and water bottles 
Notebooks and pens and many more.
All their products have the Wikipedia logo and its branding, which is the name on that. It sells creative and sustainable products. The user of Wikipedia can nominate other editors to receive free merchandise through giveaway programs. 
API 
API being the last source of income, Wikipedia announced the launch of the Wikimedia enterprise API in March 2021.  It packages existing data from Wikipedia and plenty of other websites, in a readily consumable format, for the use of their services. Big tech firms transform Wikipedia data for the utilization of their services. For example, YouTube automatically inserts Wikipedia links into videos. 
The companies that use Wikipedia data pay an amount to Wikipedia to urge access to the information. The pricing paid isn't shared publicly but, it is assumed because the payments are given in keeping with the file size which is being imported by a given company. All proceeds generated by API go towards Wikipedia, LLC, which may be a for-profit company established by Wikimedia foundation. 
Wikimedia foundation salaries
Job title                                       salary per annum
Software engineer                 $107,249 
Senior engineer                      $138,576 
Product manager                    $123,198
Program manager                   $99,097
Conclusion 
It is an undeniable fact that most people are addicted to the internet for all the data and Wikipedia being the foremost reliable source is what the majority reach intent on initially, for any information. Wikipedia claims that their data are reliable and that they confirm it's accurate and available for all the readers around the globe for free. 
So, this is one amongst the many reasons why people are willing to donate to the museum, because it is serving our purpose and, to make our life easier for any data collection. This can be one of the factors why Wikipedia has gained such popularity and trust from its donors.  It's also a source of knowledge collection for several companies still. 
There's no language barrier for any of Wikipedia readers as they are available in 323 different languages which is their key point. These are all possible reasons for the massive demand for Wikipedia. And finally, we learned how does Wikipedia Make Money. Hope this would be useful.
Frequently Asked Questions 
Question 1:   Why doesn't Wikipedia have any advertisements?
Answer: Wikipedia doesn't support earning money through advertisements, this is not an advert platform. Therefore, it mostly seeks to earn money through donations, investments, and merchandising sales. 
Question 2: Where does Wikipedia use the donation money?
Answer:  About 250 people are working for Wikipedia, helping to edit and write content for the readers, that the donation money is employed to pay the salaries of the editors and also the staff. 
Question 3:  Worth of Wikipedia?
Answer:  In keeping with the reports of 2020, the overall revenue of Wikipedia is $127.2 million.
Question 4:  Can Wikipedia be completely trusted 
Answer: No, since the data on Wikipedia will be edited, articles are also at risk of errors many times.
Question 5: Who is the owner of Wikipedia?
Answers: It is owned and funded by Wikimedia Foundation. 
Question 6: Is Wikipedia broken?
Answer: The co-founder of Wikipedia, Jimmy Wales revealed that the world's-largest free encyclopedia is not broken and it is in good financial shape. 
Question 7: Do Google fund Wikipedia?
Answer: Google is one of the investors of Wikipedia who have made many contributions in the past and is still doing. Google once donated a huge sum of $2 million to the Wikimedia Foundation to ensure that it runs well. It was also the first time Google donated to the Wikimedia Endowment and that also supports the long-term success of Wikimedia. 
Question 8: Are Google and Wikipedia partners?
Answer: Google and Wikipedia have done many contributions together in the business world. In some way we could say that Google is a partner who has always supported the Wikimedia Endowment, providing monetary help to ensure the sustainability of Wikimedia projects. 
How Does Wikipedia Make Money?- Wikipedia business model