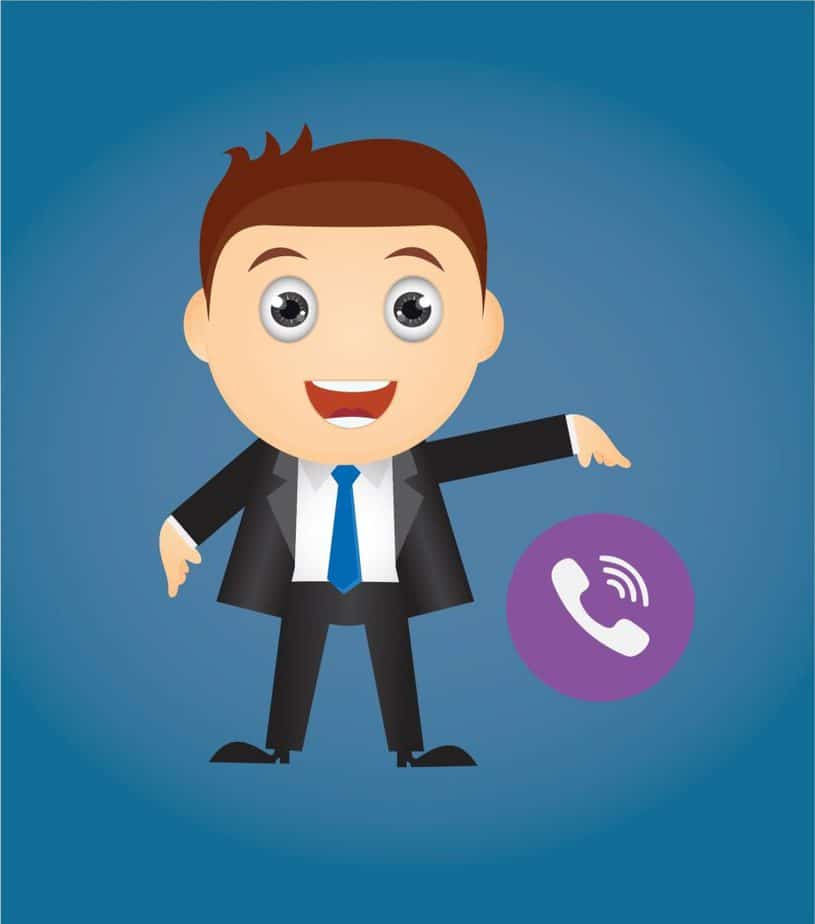 Viber is an instant messaging app that assists its over eight hundred million users in making free calls and sending text messages on its platform. Here, let's know How does Viber make money?
Before Line and messenger, One of the first messaging applications of Viber was launched in 2010. It centers more on calling and is free to use. It enables users to call mobile and landline numbers through the VoIP feature called Viber Out.
Viber: How does it make money?
Rakuten assembled numerous sources for profit, which includes the following:
Viber Out:
It enables users to make calls from the application to other phone numbers, with this when users load money onto their account, varying charges goes to Viber, based on the country. 
Viber Stickers: Viber offers free packs of stickers as well as paid packs of stickers which cost two dollars in the ViberApp sticker Market. So when users send paid stickers when they are chatting Viber generates money.
Viber Games: When Game players of Viber invite their contacts to a group game. 
Viber makes money from there and also by giving Gamers options. While some are free others come at a cost. 
The History of Viber App
Long ago, Marco was in a long-distance relationship with his girlfriend who lived in Hong Kong while he was based in New York City, and discovered that communication was very costly. This triggered him to look for a cheaper alternative to communicate.
Marco had to reach out to entrepreneur Magazinnik Igor; a man whom he had met while working for the Defense Forces in Israel. Prior, creating Viber the Duo set up a P2P file-sharing service iMesh which will generate the capital needed to launch their new app.
Viber was founded for the first 2 years, exclusively once in operation. They hired developers in Belarus and Cyprus to keep expenses low. The app came through successfully, with three hundred and fifty million downloads in the very first 6months, Viber operators could effortlessly call each other and synchronize phone contacts with their cell numbers. This was a huge difference to competitors like Skype that needed to create a list of registered contacts.
In 2014, Viber was acquired by Rakuten, a businessman in a deal worth over nine hundred million. Viber app has two hundred and fifty million active monthly users all over the globe, with a huge number centered in Russia, the Middle East, Europe, Eastern Europe, and some Asian countries. Viber is an accessible application open for many platforms. Another name for it is Skype Killer, which has been downloaded exceeding two hundred million times.
Viber: Is it profitable?
Given Rakuten's rigid experience in developing and promoting web products (Kobo, Pinterest) they will most possibly yield returns of funds in few years,  Viber should be considered as a long-term project acquisition,  Viber had over revenue of about 1.6 million in a year and over 28 million in net losses in the year 2013. Since then, Rakuten has set up an entire model to make money via various channels.
Rakuten accounted for a significant increase in end revenue from the mobile segment in the year 2019, due to the tremendous user base growth.
From the mobile segment, as of  March 2019, revenue hiked to 23.2 percent when compared to its same period the previous year.
Is Viber free?
Yes for all Viber users, Viber is free, quick, and very secure for sending messages on calling. With a good Wi-Fi connection and data plan, you can chat for free, and make free Audio and Video Calls to your family and friends all over the world.
You can share files, photos, stickers, and videos. It is even possible to begin group chats with a limitation of just two hundred and fifty members.
Should Viber App be recommended?
The simple answer to this question is Yes, while the long answer is Viber App has over one hundred million subscribers using this app regularly. With the rise in demand, Viber has heightened its privacy policies making its usage safer.
The messages on Viber are end-to-end encrypted, implying that no 3rd party can see the content you are sharing with the other person.
Nevertheless, being an online platform you should beware of sharing too much personal information online.
Viber app revenue generation
In a nutshell, Viber Business Model is an instant messaging  VolP platform established by Marco Talmon Marco and Magazinnik in 2010, obtained from Rakuten, a Japanese e-commerce icon, in a deal worth nine hundred million.
Viber generates income from Viber Out, enabling users to message  Colleagues and families in more than sixty countries around the world using VolP which is approximately six dollars every month. It is also beneficial to Businesses, an advertising aid for businesses looking for a way to connect with their potential audience via instant messaging and Viber stickers.
Marco and Magazinnik wanted Viber to remain free of charges. Nevertheless, different revenue generation plans were carried out after it was obtained in 2016.
Is Viber Safe to use?
Yes, because it provides
End-to-end encryption, that is it safeguards messages from being read by a 3rd party. Before sending a message to your contact from your device, the message is encrypted. After reaching the recipient device, It can then be read. 
Viber has the following further characteristics for more privacy while chatting: Secret Chat, Message deleting, and Hidden Chats.
Deleting Messages: There are no time barriers for removing chats in Viber and  You are free to delete messages from your chat history in which not every messaging application allows for from both your device and a recipient's. 
Hiding Chats: To hide your chats from unexpected access by others, you can make use of the Hidden Chats benefit. Just fix a PIN-Code for its usage. With the Pin code only you can access the chat, not visible in your chat lists nor would it be revealed to anyone else.
Secret Chat: With Secret Chats, It allows you to automatically remove the message after it has been viewed by the receiver, set your boundaries in a self-destruct timer then when in a Secret Chat, after sending a message, using the Timer you can set the message to be removed automatically. Ranging from 60 seconds to 300 minutes, the timer has a set of predefined amounts of time for you to select. Furthermore, secret Chat notifies you if your contact should take a screenshot of your conversations. Your chats can not be forwarded by your contact as well. 
9 Ways of Using Viber for Business.
Growing small businesses use it to notify the public of recent offers or extend regard or wishes to their customers.
B2C messaging has a huge opportunity to establish a lasting relationship with the client. This is primarily due to the fact, it is constantly existing on the user's device,  wherever they are at. In that way, the enterprise remains in the smartphones of your customers.
It is an enormous piece of equipment for customer care because of its simplicity and has huge coverage. According to Research customers would often choose to send you a text over Viber than calling your helpdesk support line.
Companies use It to trade products and services and in dealings with customers.
Viber is tremendous for the expansion of business, making bargains and exchanges. Using Viber for the Public Account aspect, you can build a mobile improving outlet to target your customers.
It gives pleasant customer service and puts a unique touch on your communication.
Numerous businesses like Refinery29, Coca-Cola, 2Forks, Violet's Kitchen, use Public Chats to catch up with their clients and enrich their experience.  For example, Coca-Cola uses Public Chat to talk to their customers about their goods or developments concerning these products. Users can give Coca-Cola company feedback, solidifying a relationship with the brand.
Companies prefer Viber for communication with clients and internal communication.
Viber app Problems and Solutions.
As discovered on the Forbes website, So far, his company has no venture capital investors. Talmon Marco said friends, colleagues, and family of the Cyprus-based business's founders had helped put into the twenty million Viber industry. This is quite expensive," he said, in addition, Viber employees are over One hundred and twenty shared between Israel, Belarus, and Minsk.
Viber's competitors
Skype, Telegram, Snap, Zoom, and WhatsApp are Viber's major competitors. WhatsApp is a technology corporation for instant texting,  video, sending images, and voice communications.
Summary/Conclusion
Viber is a messaging application established by Rakuten. Viber makes money from three major sources such as Viber Out, Stickers, and Games. Viber App helps Businesses reach out to their customers, it also provides end-to-end encryption for individual users. Viber's competitors include WhatsApp, Telegram, Snap, Skype, and Zoom.
Frequently Asked Questions
How do users make money on Viber?
Users can buy pay-as-you-go credit to make international calls. This credit can in return be exchanged for call minutes, which changes from country to country.
What is the difference between ViberApp and WhatsApp?
Viber is an instant messaging software application with cross-platform voice-over IP while WhatsApp is a cross-platform messaging service.
What are the similarities between Viber and WhatsApp?
 Both Applications are used for sending instant messages.
How does Viber make money?- Viber Business Model