With the booming economy and loads of business industries opening up, one may want to consider profitable options where one can gain a stable income. Keeping this thought in mind one can contemplate working in the grocery commerce. Now the question arises how do they make money and for that one has to understand the ways their marketing strategies work. One can consider trying their luck in this grocery business which is, in turn, serving as you are providing food items and other necessary commodities for their use. In this article, we are going to see about how do grocery stores make money?
Grocery stores usually sell products in a bulk amount to make money. They sell significant household necessities. Most of the time they don't precisely sell their product rather they buy a huge amount from distributors. They sell various items which are in huge demand among the people such as organic vegetables, frozen food e.t.c.  And when the products are stacked up in racks from here the process commences selling products more and more and also earning profit at the same time. This business is very competitive and one that has good food management has a strong command over finance, has business skills, and better marketing strategies can work wonders in this service and can earn a desirable amount of fortune. There are several steps one can put up with to comprehend the strategy behind understanding the market abilities of this service.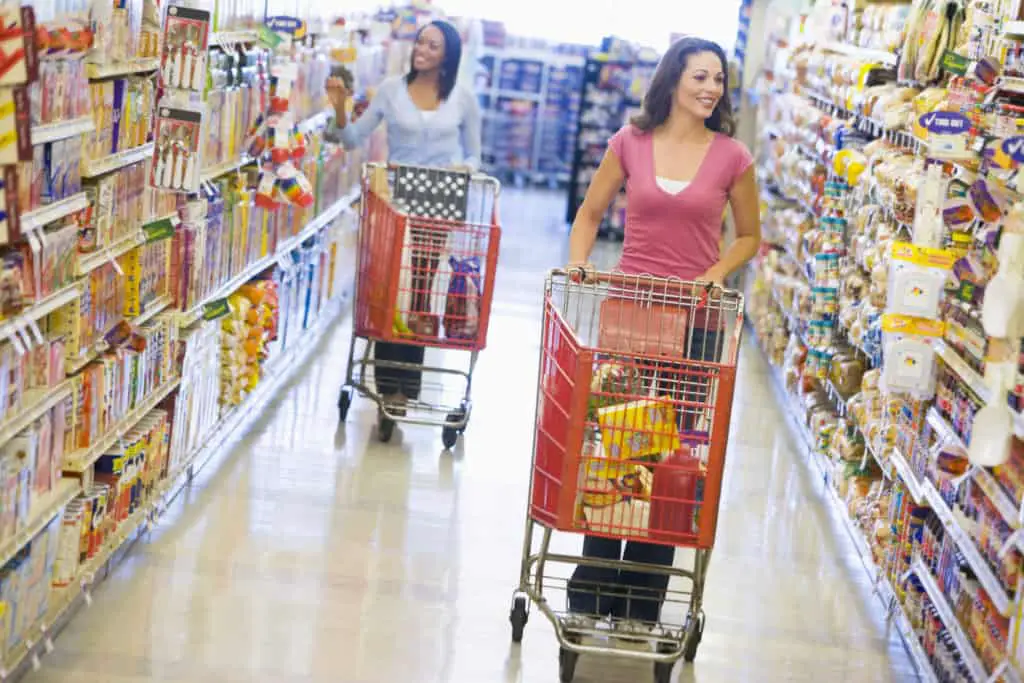 Ways to make money from the grocery stores
There are no such specified steps marked that can be memorized but yeah there are a few ways which have been followed and the results have been observed by the store owners and one can absolutely rely on it. 
One can sell large quantities of food items.
You can reduce the labor costs and hire more part-timers.
One can charge fees for their store shelves. 
You can minimize the risk of having spoiled or expired products.
One can reduce the shrink of products by avoiding theft.
Selling large quantities of necessities
There should be enough supply of necessities so that there is no sudden unavailability of commodities as that might give a negative impact on the customers and that is one of those last impressions you would like to leave on your customers especially the newbies. Every year data shows that grocery stores face enormous difficulties and losses in their profit just because their supply chain wasn't good enough to rely upon. There are ways where you can try to prevent these from happening and one of them is OTIF also known as one time if full which binds your vendors and suppliers to fill up your orders and keep the supply chain management up to the mark. You can foresee the products which are in huge demand in all of the season and accomplish their orders efficiently and effectively. You can track other commodities which usually stay in stock most of the time and vice-versa. One must keep an eye on ongoing trends and keep these specific products and items in stock all the time. To turn up the revenue and increase the stock one can start packaging their manufactured items.
Reduce labor costs
We are living in a world where fast-paced technologies are surpassing the jobs humans were supposed to be a part of. There are several stores where there are no part-timers at all, all they rely on is technology, and yeah that may be an option but it's not right because it might affect the employability chain. You do have an option to optimize your labor expenditures and analyze the expenses according to the profit you are gaining through your business. Removing the staff or reducing the staff's strength can be the last option. One thing to keep in mind is that getting rid of staff can also impact you negatively as it has been found having less amount of staff might make it difficult for your customers to navigate through the store and get the exact item they are searching for and to avoid this hassle you can ponder over hiring more part-timers to reduce the costs and resulting in everyone's benefits be it you, customers or the one who is working. By optimizing your shopping tools, hiring laborious employees who don't get themselves involved in stealing, and last but not least picking up the right promotion techniques, you can increase your store's sales. 
Charging fees for your store's shelves
This is one of those methods where you can attain profit depending on the number of customers you attract to your stores. Manufacturers usually pay fees to rent the ledges as it might give exposure to their generated products and if liked by customers then it's a win-win situation for both the grocery store owners and manufacturers. If the product they would like to launch prevails to be a hit among consumers then you get contacted by a lot of dealers who would like to invest their products in your arena and that might be the profitable situation for you but here is the aspect which needs to be considered is you need to have a check-up on the products and items that might become successful.
With a better shelf setting and atmosphere, the manufacturers tend to rely on that friendly location. One also has to keep in their mind that it's not always a booming business and most of the profit comes from selling in large amounts and keeping the stocks full ahead of the sale. Margins on most of the items and beverages might seem low but correct applications of strategies may give one a quick turnover and profitable revenue. Since there is a lot of competition going on in this field one needs to have that specific mindset and perfect business strategies that would help in increment of their sales.
Minimize the risk of having spoiled products
Spoilage of food is the major problem the grocery store owners would face and this is the crisis that can cause a huge loss of not being addressed suitably. The fresh vegetables and fruits are the most delicate ones and they need to be delivered to the exact destination from the suppliers to the owners at the right time and at the end needs to be sold at the right time to the customers else all the struggle goes to the vain. Since customers would always like to have fresh produce you need to keep the stocks renewed in the correct amount of time. Another thing that poses a threat to the owners is the number of expired products. All this spoilage and waste leaves a major loss in the business, and to combat this situation one needs to have the correct marketing strategies. You need to analyze the products that are consumed more or try to put up discounts on the products you want to sell quickly. These are a few things that need to be kept in mind to prevent yearly losses. With some creative analysis and ideas, you can surely accomplish the goal to get more sales and purchases from the customers.
Reducing the threat of theft 
Thefts in the stores are one of those reasons store owners experience a dip in their business profits and it might be short term or long term. Robberies, stealing commodities, or popular goods that are in huge demand are the common issues that are being faced by the owners. It not only affects the profit they gain from selling the products it also leads to a scarcity in their stock. This ends up spending more money to replenish the stocks and even when they don't want it they have to cut down the costs of labor. It also breaches the trust between the manufacturer and owners and from next time they might avoid supplying their products in the owners' shop.
Well, the method to avoid stealing in the shop is increasing the number of security measures and it can be done by deploying more employees and training them to pay undivided attention towards the customers. The instances of employees stealing the products have also been found and so to further avoid that situation you can take the help of technologies. It may cost a bit more but it's guaranteed to save you from future losses. The installation of security alarms and video cameras may increase the operational cost but it reduces the threat of a dip in your revenue. With this tough and demanding business, one needs to constantly keep all the regulations in check to avoid any difficulties shortly.
A profitable grocery business can only happen if the economics of the sales is benefiting the revenue. It has to be kept in mind that this is an ongoing process to keep boosting the marketing campaigns and minutely analyzing the management of the workforce and assessing the costs that are subsisting as an extra operational cost. With the real-time skills and proper use of resources, one can surely gain accomplishment in this field. Finally, through this article you would have learnt that How do grocery stores make money?
How do grocery stores make money?- Know more