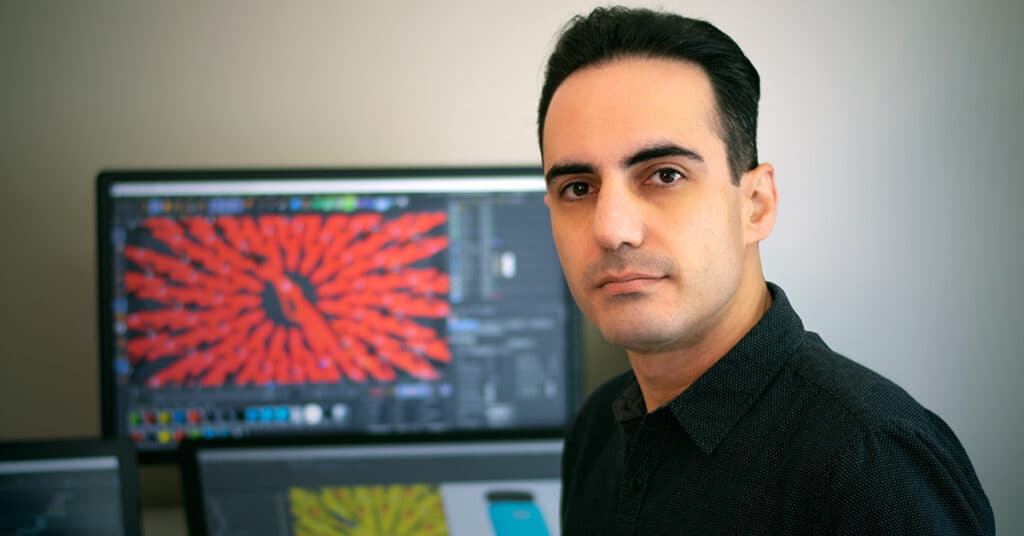 Farzad Golpayegani is a Sr. Art Director with experience in various creative fields, including branding, marketing, web, UI, advertisement, packaging, illustration, apparel, painting, motion graphic, 2D and 3D motion graphics, video, and music production.
I come from an artistic family, and art has always been my passion. My father was a painter and graphic designer, and I started my art-related education in high school of art, and I continued with BA in graphic design. I had great mentors who helped me shape my vision. But at the same time, I consider myself self-thought in some fields.
I learned the digital art and design tools myself, and I still keep learning to stay updated with the industry's latest. Through the years, I expanded my fields of activity from anything under traditional graphic design and illustration to web and app design, 2D and 3D video, and motion graphics. I am also a professional painter, musician, and producer. Although I have the advantage of using my music-related abilities as a sidekick to the projects that I work on, I generally keep it separated from my design career. Art direction and graphic design have always been my main source of income. I have a long career in music, but I don't mention that in my design CV and portfolio to avoid confusion.
Moving between cities and countries, I experienced the challenge of fitting in the industry multiple times. It felt like I started over multiple times. About seven years ago, I started a NY position, to which I was promoted gradually and stayed with the company for almost 3 years. But when I moved to CA, it was not easy to find a job. It took me more than 6 months to start a full-time position again. The last two years, in particular, have been really eye-opening! I interviewed and even partly worked with business models, which I believed to be nonexistent.
Once, I had an interview that started with a strange and quite offensive questionnaire and was followed by a rude interviewer. I literally thought they were pulling a prank on me! On another occasion, for a short period, I worked with a small company where the owner was very openly abusing his employees. I wouldn't believe an employer would yell and insult his staff in the heart of Los Angeles in 2019! Most people probably rather talk about their ideal moments in their career, but I believe these stories need to be heard to give job seekers a realistic view of the situation. All these being said, I consider those unfortunate moments as good experiences. They helped me deal with difficult situations better, stay calm during the crisis, focus on the big picture, and open my horizon.
In one of my past jobs, I formed a design department, and as my team grew, I reviewed hundreds of applications to fill the positions for my team. I realized an application could easily miss its chance to be evaluated, basically because of the large volume of the applications. I was aware of the issue, and I knew that I need to be very patient when it comes to me applying for jobs. But still, it was difficult to understand why I wasn't even getting any single interview for months. So, I started to look for the problem, and I figured out that I need to revise my approach.
First, I learned that most companies simply filter large volumes of candidates with AI's help, unlike me that I used to search manually for the best fit applicant. Meaning my applications were not even reaching the hands of an actual HR. I simplified my CV and avoided tables to list my work history. I'm a graphic designer, and I can give a modern look to my CV very easily, but I know that would be a mistake. I avoid any graphics, extra elements, and images. I use a primary font, which any device can read.
I also removed my graduation date to avoid age discrimination. I also removed some of my old work histories. Although they all were in the same work field, I found it might cause doubts that I might not fit in the position since they were not US-based. As a matter of fact, an ex-supervisor who initially hired me once privately confessed that he ignored my application on his first review since I had a work history in the Middle East. He used to think I might not culturally fit, but as he described, once he met me, he knew I was his guy! He was remorseful about his prejudgment. I thanked him for his transparency, and I told him that I understand. The shock that I still can be discriminated easily aside, I learned that I must remove more of the older work history on my CV!
Another attempt to increase my chances was to expand my skills even more. I've been a designer for many years, and I am very confident about graphic design, regardless of the category. But 3D and motion graphics were not much my thing until a few years ago. So, I pushed myself out of my comfort zone and challenged myself to learn them. That made a huge difference and opened more doors. Fortunately, there are many online learning resources these days. For me YouTube, LinkedIn Learning were among the main ones. Once I was confident claiming that I know more skills and had some work samples reflecting that on my online portfolio, I started receiving positive feedback. It was unbelievable that I did not get an interview for over six months, and then suddenly, I had three interviews in a row within a week! So, endurance had a big role, and it finally paid off.
My suggestion for those in the creative field is to make sure your online portfolio is super user-friendly, loads fast, and demonstrates your latest and best work. You might have hundreds of work samples, but it would be a big mistake to display them all on the first page of your portfolio. Try to demonstrate a few of each related category for the first view. You might add a page to include the rest of your work samples, but that would only be necessary if you attracted your visitor with a glance at your portfolio. It would be great to ask friends to review your web page and give you honest feedback. See if they view the content the way you imagined and if they find your content is presented well. Keep in mind the hiring manager receives hundreds of applications and wants to figure out if you can be a fit or not in maybe just a few seconds.
An important thing to consider is that one should never get so settled in a position. Losing a job in any position can easily happen, and a professional should always be ready to get back on job hunting. Those who want to grow and make progress should try to push their boundaries, expand their knowledge, and stay up to date. Endurance is the key. Stay patient! One last thing to mention, if you are currently hired and working in a related position to your ideal role, try to do your best in that position, even if you're not happy with the pay, work quality, process, or anything. The reason is if you do so, you would be the first person to consider when an opportunity opens in the company. Your supervisor would feel confident promoting you to a better position. Consider the work that doesn't attract you much now might lead you to something bigger in the future.
Also read Working As A Senior Artist: Daniel Nilsen
How I Became An Art Director, Coast To Coast!