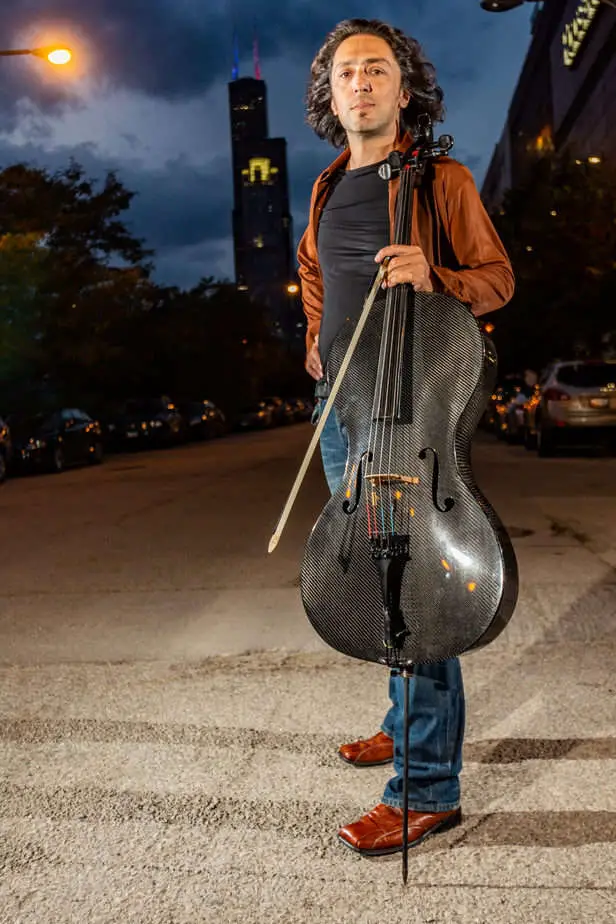 BREAKING BOUNDARIES both musical and geographical, cellist, composer, and multilingual vocalist IAN MAKSIN. He has created and developed his own unique genre by blending elements of different styles in a new way using his cello as the main unifying force. He sings in more than 20 languages: Russian, Ukrainian, English, French, Italian, Spanish, Portuguese, Yiddish, Ladino (the language of the Sephardic Jews of Spain), Turkish, Kurdish, Armenian, Arabic, Latvian, Lithuanian, Belarusian, Mongolian, Buryat,  Macedonian. Ian is equally brilliant in every genre in its pure form, from classical to jazz and blues and Latin to Balkan and Middle Eastern music. His passionate interpretations and soulful sound have generated a contagious universal and ever-growing appeal to diverse audiences worldwide. 
Born in St. Petersburg, Russia, into a multicultural family, Ian Maksin began playing cello at age six at the Special School for Gifted Children at the Leningrad Conservatory. He later continued his education at the Manhattan School of Music in New York City, where he moved at age seventeen. After many years of working with several prestigious symphony orchestras and chamber ensembles in the classical realm, Ian chose a new musical path, exploring his own personal artistic voice by fusing styles from the music of all sorts of genres listened to as a kid. Ian acquired blues and rock guitar skills and learned the cello, which allowed him to expand the cello's capabilities in a completely new and unique direction. 
According to Ian himself, "at some point, I realized that music was much more than just a compilation of sounds for the mere entertainment of both musician and listener, but something much bigger – a force capable of healing, inspiration, unity, and reconciliation among people on a global scale. I believe cello can save the world." 
How was your University time?
I had very strong musical training in Russia before college in the USA, and University (Conservatory) time was a bit of a downer.  I had to pretty much challenge myself and found ways outside the curriculum to grow. 
Why did you choose a career in this field?
The field chose me probably.  I play music since I remember myself. Whenever I pictured myself without music, I felt a huge void in my soul,  so quitting was not an option. 
What was your first job or nuggets from jobs you had that helped you get to where you are today? 
My first paid job was playing at weddings when I was 14.  I am not sure if it helped me get where I am today, but it made me believe that music was more than just a hobby. 
How did you prepare for the interview? 
I am currently what you can call self-employed. In other words, I am my own brand which I built over the last 20 years. Being self-employed or a business owner is a lot more challenging than getting up for a 9-5 job.  You have to have a solid structure in your life, be self-motivated and self-disciplined. 
Can you provide some book recommendations? 
I highly recommend books by Tony Robbins.  They have helped me build my life tremendously. 
Things are changing very fast in the industry; how do you keep yourself updated. Please list techniques or newsletters, podcasts, events, etc. 
I read a lot of industry-related blogs and articles.  In my industry, some of the sources are ASCAP, Spotify, CD Baby, Pandora.  They publish a lot of fresh resources for independent artists like myself. 
Any advice about CVs?  
Include other extracurricular things that suggest strengths of your character:  Karate black belt?  Volunteering in a homeless shelter?  Proficiency in a musical instrument or another field not related to your application. 
Advice for someone looking for a job? 
A good mix of projecting self-motivation and humbleness at the same time
Also read How to Become a Music Therapist
How did I develop my own unique genre of music?