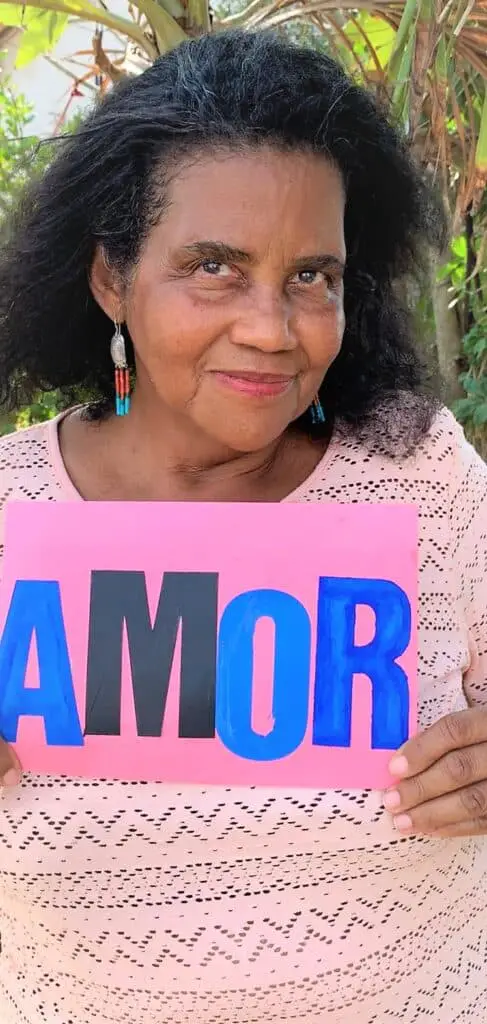 Asyla Holt is a multi-faceted professional artist engaged in various awareness subjects, including installation, photographic manipulation, and visual aspects in a narrative style. She aspires to trigger discussions after confront vivid researching and conclude in awareness subjects creatively. This born female in Lower Antilles inherited her gifted talent from mixed families Windward/European on both artiship and performers, and her practice is since '79.
What were my experiences as a multi-faceted professional artist?
Solo Exhibits followed at Art- and World Trade Center, Curacao Museum, Bonaire Galery, Curacao Galeries, Dominican Republic, Barbados at Gift/Craft shows, Suriname, Galery Tilburg the Netherlands and Visual Art  Academy Eindhoven, Curacao House in the Hague, Werkstatt Bremen, and Berlin.
In the Exhibits, Asyla's Poetry booklets were present to connect her paintings narratively and cards/ organic jewelry pieces in resorts and bookstores on ABC isl. Gradually prose writing emerged from rhythmic into new ways US/Afro & Carib renaissance studies after inspiring cultural travel to Ghana. 2012. Proceeding travels to Suriname Carifesta 2013 participation and receiving honoring award from Diaspora intern.org. in Dallas took place..  With reviewing, a change occurred in 2017. Enliven Emotions was published in the USA, and launching programs started. So a big step internationally in producing creative writing. Asyla was always very active and supportive. As founder of Funark non-profit foundation, coaching programs to youth and adults also became important. 
Asyla's background started with joining community programs, while she supported drama sessions, vocal techniques, and body works. Also from interviewing and writing articles about other artists, writers and performers was a devotion. Nowadays, blogging online turned her promotional tool to maintain her own endeavors. Asyla Holt is an undergraduate with academic and Universitaire conceptual studies. And fusing with her creative writings and healing studies means bringing new value to the surrounding and host lifting programs with grants for the future. Virtual learning is now a challenging means to use.
My primary profession is established female Visual artist residing in the Dutch Caribbean, formerly Netherlands Antilles, main island Curaçao, long  62 km next to Aruba and Bonaire covering around 160.000 inhabitants. As tiny as can be, this island covers mainly human resources and offshore and distribution capabilities in business/media and advertising while high rates Dutch/Antillean professionalism, healthcare systems, and facilities in natural and recreational outreach.                  
That's why many international Arts/cultural influences in the art scene are present next to the mixed-colored community. Reasons are to skip the cold in their own country, opportunities on the Dutch-oriented islands to get more outreach, or a chance to get more view on investing in the self than in the bigger country-origin or tropical nature lover. Many indulge in creativity after establishing with their partner who started assisting or investing in a Dutch company or Government job.  The majority nestling here is Dutch, Dutch/Antillean mixing with Curacao-citizens. So over time, a diverse transition is generated in painters, sculptures, average performers, cultural/historical writers, and a wide range of performing musicians of all genres.  
The dominant part in Visual Art is more European-oriented, and more criticism is released through the Dutch group and would not surprise if the favor went in the first place inside theirs to contemplate as best art.  Gradually, a more effective attitude was suggested and more ease in criticism for achieving islands' artists in their endeavor.
And when I refer to myself as also one in this grip of being prejudiced without explanation or for giving the chance to explain my art to why turned surrealistic with metaphoric meaning, today it would not matter. My art became narrative historically, with layers of time symbolism. The point was that abstracts and realistic art were at the highest impact of interest in buying an art piece for business buildings, especially Dutch ones,  rather than concepts slight activist-colored like mine, to impact the community.  Although my smaller nature-like pieces I presented on marketplaces were liked and changed in photographic touch or monographs, and learned by the time that the originals better stay untouched and not to try to sell anymore but preserve. So persevere for better future outcomes remained my patient belief, and further impact is bringing decades of evidence of retrospective to the foreground and launch in abroad. 
To sum up a little about my art choices, my self-supported strength in life included activating support to women of color as working survivors. It exposed,  turned cultural subjects on foreground in a surrealistic challenge, and dreamy topics had metaphorically meaning. The latter had a long track of philosophical training interests like 'Touch for health, Reiki `Asian method in healing and metaphysical studies. When the proportions in Art were not important to rehearse academically, although my former studies in the Netherlands convinced me that it's because of authenticity to own a brand and somewhat rely on your own wits were more important. Then certainly, criticism doesn't offer any recognition when dragging on and not lifting.
It tells you to seek survival financially as a soul artist in a majority mixed cultural society believing less of the importance of what Art means, which is a connection with form, details, patterns, and colors to attract,  express new ways to catch the eye for discussions or anyone that sees itself connected with can feel one with certain art-style, which inspires again.  Besides, priority to my art endeavor is incessantly spending the time during 40 years in emerging to my own taste and involve the public what is at stake with artists' opinions, I had to find a way, different from an 8-hours work to compensate with the artistic effort financially and of course, smoothen the pressure of being squeezed in a corner because of islands' indulgent taking up with all kinds of artists in a small spacial platform with few abilities and an economic recess that gave sight at the end of '90s. 
Experiencing outside society's life during my stay in the Netherlands from 1969 to 1981 after high school and while working at the lightning city of Eindhoven at Philips was a normal way of living next to endless health and art studies to absorb  My late partner who studied for environment builder, performed in our spare time as guitarist and singer. I joined with percussion tambourine, and we brought Latin American songs to bistro's and pubs, even in theaters. We took vocal techniques studies while we traveled halfway through Europe, inclusive Greek islands with the gains. This experience allowed me to exercise my best will inside my own art business, and I became self-dependent after divorce took place. 
This halfway through the '80's when back in Curaçao, and suddenly the financial part was the emergency topic of my life.  In this crisis, I still cultivated, trusting myself and sought priorities, and gain the confidence to connect myself to the line of Artistic skills that exist in both my families from ancient times instead of stepping into the dark of devastation. I started becoming a talented self-made artist after regularly visiting the Academy in Eindhoven, the Netherlands, for short studies – was before and now after coming back to Curaçao until last visit 1999 until 2000 Universities' Conceptual Art-study with Dutch grant. 
Things turned my way since connecting and indulging in planning and organizing, making prints on hard boards showing outdoor sceneries when the visitors loved ink drawings in cards and public and offered to businesses and bookstores. From the one came the other, so chance came to coaching kids at youth centers and community centers, and there was a bit of life to the world and expansion to my arts. Shoving my scene to Bonaire gave way to more progressiveness to my arts doing underwater sceneries and coaching kids until the '90s peddling back and forth until the Cultural platform improved with workshops and significance Curaçao. From sceneries to Cultural themes and thereafter investigate the islands and complex societies on bringing topics conceptually to the foreground for a solution than a touristic attractive island vibrating sun and beach in the approaching millennium. Of course, the huge migrating part to the islands still proceeded. Ripping apart the economic situation did bring less optimism, and lots of artists tried to survive and small businesses as well but in vain. Only bigger Dutch concerns showed expansion, Real estate, and tourist Dutch attractions. 
My survival was based on structuring a way to seek funds and offer therapies after Millennium. From the start, I made it a custom to approach the Culture department or  Social Funding Institute to fund me for print materials, outdoor exhibitions, and or launching.  The funding strategies remained priorities since and incorporated within my Funark Foundation '89, offering coach programs to uplift art abilities.  Starting in 2001, offering body works therapies to resorts until 2017 gave relief while the conceptual studies became useful to freelance Art teaching at a private school.  As a senior, I still hold on to Art and Writings since this last one was necessary when my emotions ran high. The solution was rhythmic poetry, and turned in nearer future to prose writing and partly recognized within the diaspora renaissance creative writing.  When the  English influence is present within my rooted windward families, and Dutch mentality from overseas intertwine with it, a mix evolves in narrative concept, healing aspect occurs, and Visual Art endeavor makes way to reveal on my performing abilities and finally noticed in Latin America, the rest of the Caribbean, USA, and Europe.
www.asylaholt.com
www.funart88.wordpress.com 
Also read How I Became a Multidisciplinary Artist
How did I Become a Multi-faceted Professional Artist?