BIO: Audio-Visual Arts graduate, majoring in painting and animation. Working as an illustrator and a storyboard artist for book publishing and animation film productions. Creating independent animated short movies with a worldwide presence in festivals and competitions.
www.magdacandiliari.art
instagram: @m_candycandy
Facebook:@ Magda Candiliari Artpage
How was your University time?
I have graduated from the Audio Visual Arts department at Ionian University. This has been a very fortunate decision since I was able to shape a deeper understanding of a wider variety of Arts, rather than Painting exclusively.
I studied Narrative Structure, Screenwriting, Photography, Art History, Video art, Visual Interpretation of Sound, Theory of Communication, Semiology of Multimedia, Graphic Design, 3D, Animation, but most importantly I was always fascinated by how each one of those forms of expression applies in the production market.
What I found, in my college years, is that the gain of having a wider perspective than your niche, especially in applied Arts, is that you become both more expressive and understanding. In other words, you carve yourself to be highly creative and up to any kind of competitive standards, either set by your professional environment or yourself as an artist.
Why did you choose a career as storyboard artist?
 A very particular milestone for defining my career path is when I entered my painting education and researched what fascinates me regarding the styles and means of expression.
I chose painting over graphic design and I got so excited about storyboarding. I loved the advantages of digital illustration and I panicked a few times over learning more and more software to stay updated. In other words, I tried everything, I took it all in and made some decisions. But these weren't my most important decisions as to what came next.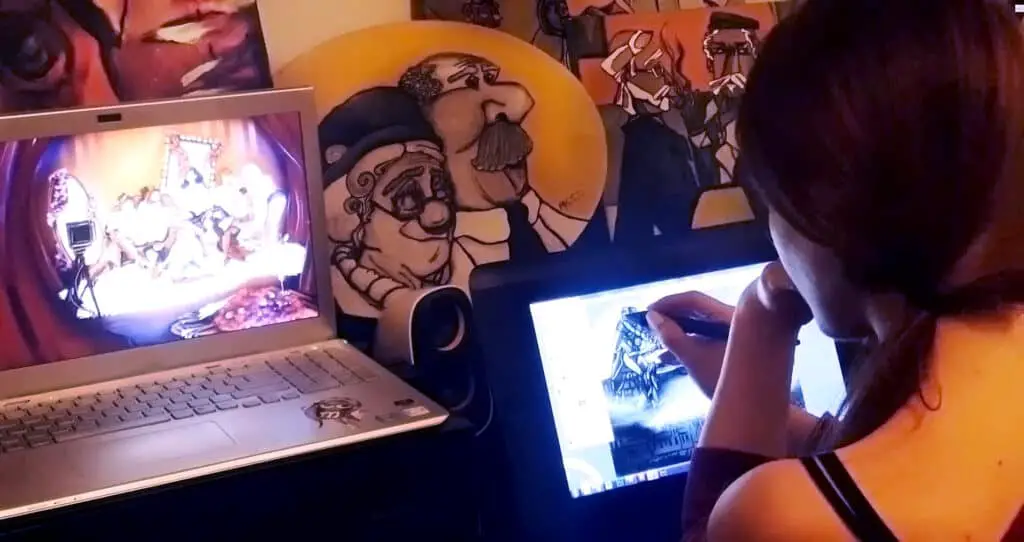 This responds to many other fields of work as well, but it's no secret that the creative path takes patience and devotion as well as a warm-hearted approach to the work you are willing to put yourself through, even if things don't work out.
So the choosing point had to be asking the right questions. Am I willing to put my heart and soul into this? Do I need this field of interest in my life, even if it doesn't mean making money? Do I have the patience and other traits that I need for this lifestyle?
Your field of work is part of your lifestyle and just like any other part of it, you shouldn't be settling, you should be building towards your ideal vision.
What was your first job or nuggets from jobs you had that helped you get to where you are today?
For me, it was very important to start grabbing any chance for testing my capability early on. That meant for sure a lot of failing and I found out it's important to make your peace with that.
However, when I landed my first job the sense of accomplishment was even greater and my motivation even higher. I started as a storyboarder and that gave my book illustration a whole new perspective. Suddenly the cinematic point of view of one job translated to my other projects and to my art in general. I realized my qualities, strengths, and weaknesses, as well as my preferences and direction between projects. I finally understood with some belated clarity what the past failing was compensating for and what growth feels like among the various illustration tasks I undertake.
Sink or swim moments are very common when you are starting out and even though it doesn't feel like so at that moment, I find them highly important to build your confidence and your sense of achievement towards becoming a top professional in your field.
How did you prepare for the storyboard artist interview?
Interviews always seem to me like exams when starting out. Stressful as it may be to some, the same rule applies that if you know your stuff, there is nothing to worry about. That is why I used to study all sorts of relevant and irrelevant things regarding the company, the position, the requirements, and so on to feel prepared. That always helps, truth be told, even if it's just for your peace of mind.
However, now that I am working on a worldwide freelancing mode and I get to do so many interviews with people from such different backgrounds I found out some new piece of information. It is not always as much as proving yourself, as gaining someone's trust that you are dedicated to the purpose they are offering. Being honest and spontaneous, having a spark of passion for the parts of the job that you are truly excited about is what makes a great and relatable communicator. Sometimes trust it's all it takes.
Any advice about CVs?
When applying, it's wise to keep in mind the receiver's point of view rather than anything else. That means keep it short, organized, and impressive on your cv but let your work shine on your portfolio! You don't only get to work on your samples of work but just as much to the way you are presenting yourself, gaining bonus points for having an understanding of visual branding. In the creative industry, the job market craves innovation at all times, so it's not only about keeping up but even more fashioning your way to your recruiter's attention.
Advice for someone looking for a storyboard artist job?
Practically speaking we are living at a strange time, where everything is redefined and renegotiated in the job market. Whether it is your work style, your job aspirations or your very own personal vision that drives you, you can always turn it around and make a hard situation a productive one. This means that you don't need to settle for something that burns you out, but also be mindful that working your way up is a process that usually includes paying some dues.
The worst thing you can do is to let fear or insecurity stop you from filling that application that would be perfect but you feel you are not there yet! Get as close as you can to the people that inspire you, the projects you admire, and dream big for yourself!
Why do you think you were selected among other candidates?
One very common thing that I try to work on a lot and I often see neglected by creatives is communication skills. It's sort of a given that to be a part of a team, a company, a production, a collaboration it's a good thing to be a people person. However, it's not uncommon for the creatives given their working lifestyle, mindset, or multitasking busy brain to be forgetful of that extra attention to details that gives you the lead.
Lessons from jobs that you couldn't get.
Rejection is a tough concept, especially if it's something you take personally into succeeding in. Nevertheless, there is something wonderfully twisted about rejection that turns it into motivation to be better and more strategical about your goals. Ask yourself if it was this particular job or generally the position and aim again and again according to your answer. In that case, aiming means train hard and apply even harder. Find ways to approach your goal even in a circumferential manner and from time to time look back to how much you have come along and thank yourself!
Also read How I became a Freelance Artist
Working as an illustrator and a storyboard artist