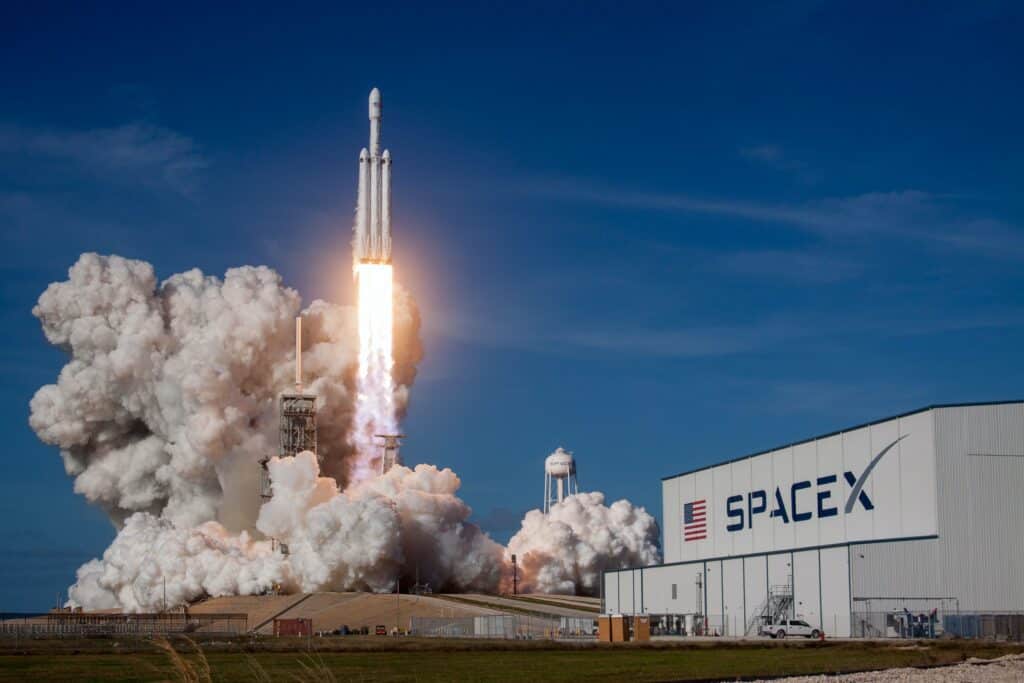 Who Owns SpaceX – SpaceX is an American aerospace company that provides space transportation services and sells space equipment like rockets. Elon Musk founded it in 2002 with the original aim of renewing the public's interest in space travel. With time, the company has evolved, and its stated goal is to make humanity a multi-planetary species mainly by significantly reducing the cost of space travel. 
SpaceX has remained a private company and is mostly owned by the Elon Musk Trust. According to Forbes, before SpaceX's fundraising round in February 2021, Elon Musk owned roughly 48% of the company through his private trust. The rest of SpaceX is owned by investors who have bought its stock over time in private fundraising arrangements. More information about SpaceX, including the identities of its investors, is in the following paragraphs. 
Figure 1: SpaceX is synonymous with Elon Musk
SpaceX's Main Shareholder
Elon Musk is listed as the founder of SpaceX. According to Investopedia, he invested $100 million at the inception of the company. The company's valuation has grown to around $74 billion from that initial investment, with a Morgan Stanley analyst even placing the company's valuation at $100 billion in October 2020. Over time, with SpaceX's increasing appetite for funding, it has sold part of the stock to investors. 
As a result, Elon Musk's ownership has reduced to about half of the company's stock. As of May 2020, Musk owned 54% of the company's equity and had 78% voting control. At the time of a fundraising series in February 2021, CNBC reported that Musk's stock in SpaceX stood at around 48%.
"Since 2015, Google's parent company Alphabet has owned 7.5% of SpaceX"
Other SpaceX Stakeholders
SpaceX has raised around $6.3 billion in 34 fundraising rounds since its inception and had a total of 36 investors at the beginning of 2021. Since it has not gone public yet, only institutional investors can buy its stock. Their latest funding round was on February 16, 2020, where it raised $850 million. One of the companies involved in this funding round was Space Angels, an early-stage venture capital company that invests only in the aerospace industry. The other firm was Republic Labs, a growth-stage investment advisory. 
A wide range of institutions has bought SpaceX stock over the years. These institutions collectively own 52% of the company that the Elon Musk Trust did not hold in February 2020. Pension fund companies like the Ontario Teachers' Pension Plan have bought stock in SpaceX.  So have institutional investors like Alphabet and venture capital firms like Pegasus Tech Ventures. In 2015, Google and Fidelity acquired about 10% of SpaceX for $1 billion. Consequently, Alphabet owns about 7.5% of SpaceX and is represented on the aerospace company's 11-member board. 
Other institutional investors who own part of SpaceX include Founders Fund, Valor Equity Partners, Draper Fisher Juvertson, Bracket Capital, Vanedge Capital, and Legendary Ventures. SpaceX has also received sizeable grants from NASA.
"Morgan Stanley has valued SpaceX at an amazing $100 billion"
SpaceX At a Glance
SpaceX was founded in 2002. Elon Musk had just made upwards of $100 million after eBay bought PayPal, a co-founded company. He thought the American public's interest in space had waned and that no major invention in space travel had been made since the 1970s. Musk wanted to change this and revamp the public's interest in space. 
Together with other space enthusiasts, he planned to send a greenhouse to Mars and grow plants on Martian soil. In service of this plan, he went to Russia to procure ballistic missiles. He came back to America frustrated and decided to build the rockets needed to deploy the greenhouse to Mars. Existing rockets seemed ridiculously expensive to Musk and spotting a niche. He decided to establish a company that would build affordable rockets, which is how SpaceX was born. 
About two decades later, Space X is one of the most valuable private companies in the United States. It has been both a technological and financial success. Through various breakthroughs, SpaceX has reinvigorated the public's interest in space travel. Musk now has a new objective for the company, which is to improve space travel to the point that a Martian colony can be sustainably established. 
The increasing valuation of SpaceX has been on the back of its numerous achievements. For example, it operates the largest satellite constellation globally and holds the record for the most spacecraft launched into space on a single mission. It was also the first company to reuse spacecraft. In addition to its thriving aerospace business, SpaceX, through a division called Starlink, is developing a constellation of thousands of satellites to provide high-speed broadband internet worldwide.
"Forbes placed Elon Musk's worth at $179.6 billion as of April 2021, making him the second richest person in the world." 
Who is Elon Musk? 
Elon Musk is a South African-born engineer and entrepreneur. He has been involved in a handful of companies in various capacities, including as a founder and chief executive officer. These companies include X.com, which later became PayPal, SpaceX, Tesla, Neuralink, and The Boring Company. 
Musk has led engineering teams at these companies to accomplish multiple engineering feats, and they have often disrupted their respective industries. Tesla revolutionized the automotive industry by mass-producing electric cars when many industry players thought it was crazy. SpaceX has encountered seemingly insurmountable odds in its quest to reduce the cost of space travel. 
Due to the inherent difficulties of their objectives, Musk's companies have been on the verge of bankruptcy multiple times. It has taken Musk's ingeniousness and dogged determination to pull through. His companies are now successful can easily be seen as miraculous, and Musk is seen by many as a hero. He has even been compared to the likes of Steve Jobs and Bill Gates. 
Will SpaceX Go Public? 
Apart from SpaceX, the most famous Musk company is Tesla, a publicly traded company that deals in electric cars and power batteries. Tesla had its initial public offering (IPO) in June 2010 and has been doing really well since. The value of its shares has been steadily rising, which has contributed to Elon Musk's personal wealth quadrupling to around $178.2 billion by the beginning of 2021. 
In 2020, ten years after Tesla went public, the value of its stock had risen by 4,125%. It is arguably one of the most desirable stocks on Wall Street. With this in mind, there has been speculation on whether SpaceX will go public, probably to fund its rising number of capital-intensive projects. 
When asked to comment on a SpaceX IPO, Musk said that he intends for SpaceX to remain private in the foreseeable future. One reason for this is that, if taken public, the short-term goals of shareholders would conflict with the company's long-term goals. The main objective for SpaceX is to establish a sustainable mission to Mars, and if taken public, the main focus of the company will most likely shift to making a profit. This would be in line with Wall Street's tradition of obsessing on quarterly returns. The best way to make a profit would likely not include getting to Mars. 
In addition, Musk believes that going public would reduce the chances of getting future government contracts, which the company heavily relies on. Musk insists on this, even though NASA does a lot of business with publicly traded companies like Boeing. 
The only reason that could force SpaceX to go public, according to Musk, is if funding from institutional investors and the United States government decreases. Otherwise, if things continue as they are, Musk will only consider a SpaceX IPO once the company is regularly flying to Mars. However, Starlink, a SpaceX division, could be the subject of a spin-off IPO shortly. 
Figure 2: What the Starlink satellite constellation will look like
Starlink IPO
Starlink is a division within SpaceX, which, once fully operational, will provide worldwide internet broadband services from a constellation of satellites in space. By February 2021, at least 1,000 satellites had been launched for Starlink. The service is still in its beta stage and had 10,000 users worldwide as of October 2020. SpaceX has plans to launch 42,000 internet satellites in the next seven years. According to Musk and SpaceX Chief Operating Officer Gwynne Shotwell, Starlink is the one part of the company to take public shortly. 
Musk has stated on multiple occasions, including via tweets, that once cash flow from the satellite internet business can be predicted reliably, Starlink will be taken public. According to Business Insider, it would take at least three years for Starlink to start paying for itself. Presumably, once that objective is met, the division will be spun off and taken public. 
A Way for You to Own SpaceX Now
At the moment, since SpaceX is a private company, it seems impossible for a normal person to own SpaceX stock. However, there is a way for investors other than institutions like Google and venture capital firms to own a part of SpaceX. Given the track record of Elon Musk and his companies, particularly the publicly traded Tesla Motors, owning SpaceX stock seems desirable. Getting hold of some stock before the company goes public sounds even better because after an IPO, the value of its stock, by all indications, would undergo a meteoric rise. This would result in incredible profits. 
Currently, the only way to own part of SpaceX is through Google's parent company. Alphabet owns 7.5% of SpaceX and is publicly traded. If you buy Alphabet stock, you will own shares in YouTube, Google, the Android Operating System, and SpaceX. Considering the risky nature of SpaceX's business, such a diversity of stock could be argued to be better compared to owning only SpaceX stock. 
Also read Who Owns AT & T? – Company History & FAQs
Who Owns SpaceX? Real Owner of SpaceX