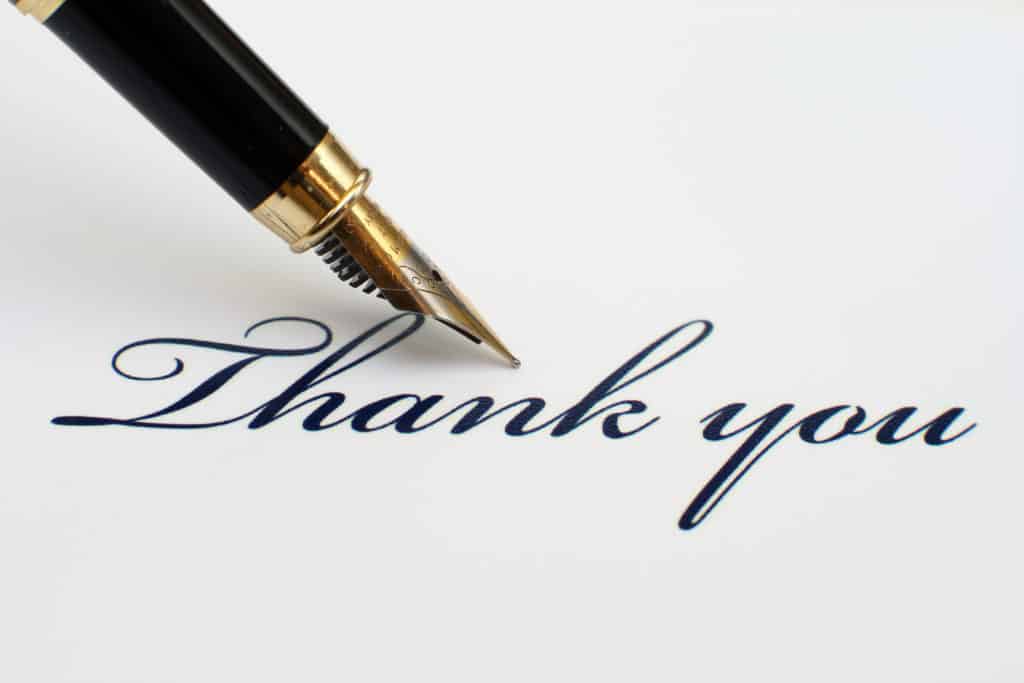 Thank you notes, emails, letters, or cards go a long way to appreciate an individual's effort towards you, and it serves as an opportunity for you to thank the person. So be it that you are looking for a recommendation letter for study purposes or a job, and then you must not take the chances with levity. Besides, writing a thank-you note is also a skill that can earn you a good personal relationship and connection with people. Here, Thank you note for reference examples.
Believe it or not, people love to be appreciated, and the more you show your appreciation to people, the more you will make a long-lasting impression in people's minds. In this piece, we will discuss how you can come up with an exciting thank you letter after being recommended by an individual to put in a word for you. Also, some samples of the thank you letter will be provided for you to use. Besides, a guide on quickly composing your personalized thank you letter would also be discussed.
Why you should appreciate the person that sent a reference letter on your behalf?
When you are requesting a reference letter, the referrer is mostly your mentor, employer, coach, or someone superior. But, more so, your referrer is most likely to write a thoughtful and convincing letter that defines you as a person with good character and worthy of the opportunity you are seeking. Besides, most times, the referrer goes as far as recommending you as a trustworthy person who has specific skills that could make you excel in the potential role you are seeking. 
Generally, sending out a thank you note is a professional courtesy that creates a perception of how important you appreciate the effort of the referrer, which is a good way of maintaining a positive relationship with such people. In addition, most people help many individuals send out reference letters; meanwhile, reaching out to them through your thank you note can serve as a way to help them remember you and put you in their good books. This will also position you for further help from such people in the nearest future. 
How can you say thank you for a reference?
You might be wondering how you should thank the referrer and what the best means you can employ to show your gratitude.  Well, there are several means which you can take to show your gratitude; this can be done through traditional letter-writing, through phone calls, or via email. Any of these methods is an acceptable means of showing appreciation to the referrer.  Note that the advantage of handwriting a letter as a means of gratitude to your referrer is that the person has a tangible reminder of your appreciation and feels more honored. 
However, if you are unsure of the content of your thank-you note, there are several samples you can modify to suit your taste. These samples would be discussed in the later section of this piece. 
What should your thank you note in email entail?
It is undoubtedly essential to thank anybody that provides you with a reference letter because it shows how grateful you are for the effort put into recommending you. When it comes to a professional network, nurturing your relationship with such a network is a big deal. Therefore, it can come in handy anytime you need such a form of recommendation in the future. If you are thinking of sending your thank you in the form of an email, you might have to check out the following dos and don'ts of sending thank you emails. 
What should you have in your thank you email?
Your salutation should be directed to the individual by calling their name. For instance, Dear Albert.
A short introduction of who you are as the person might have lost track of the people he wrote recommendations for. This short introduction would help refresh the individual's memory about you. 
The body of the email should be centered on appreciating the individual for putting effort to write a reference letter for you, even based on their busy schedule. 
Your ending salutation can then come after the body of the email. 
Your signature would be the last content of the email. Note you can hand sign if possible or attach a signature image. 
When you should not send an email. 
There are some situations when it isn't ideal for you to send an email to thank your referrer who was a reference to you. Provided the person's hand-delivered the letter to you, then you must have had a chance to thank the person. If this isn't the case and you haven't got a chance to thank the person, an email would do. 
Email subject line to your referrer
Of course, you must send your thank you email with the best email subject that would convince the individual to open and read the content of your email. Here are some example of thank you email subject you can make use of:
Thank you
Sincerely appreciated 
Thank you for being a reference
I want to say thank you
Your efforts are appreciated
How you can write an exciting thank you letter
There are many innovative ways you can write a thank you letter. However, it depends on your preferences and how vast you are in writing beautiful pieces and showing gratitude. In the following steps to be highlighted, ensure that you follow the steps one after the other to understand the letter-writing process fully. 
Choose a suitable format for your letter writing.
There are several formats of letter writing you can implement whenever you are faced with a letter-writing challenge. The format can be a typed letter, a handwritten letter, or an email (this has been discussed in the previous section).
Firstly you have to understand how your referrer loves to communicate. Understanding how your referrer communicates is crucial, majorly because you would be able to pass your message through the appropriate channel and have it delivered effectively. However, some people love receiving a handwritten note, while others would love an email communication instead. For example, suppose you feel that your referrer would probably appreciate a letter moreover other communication methods. In that case, it is then better to opt for the physical format to say thank you. However, if you often exchange email communication with your referrer, it would be best to send the thank you note through an email. 
You can make use of the email as sub acknowledgment to the reference letter and a handwritten letter. For example, suppose you are not particular about the best method to employ for your appreciation. In that case, you can then use both the handwriting letter with a supporting email as a means of appreciation. 
Follow a simple outline.
You can easily communicate your appreciation through the outlined structure below:
A polite greeting and a possible short introduction of yourself. This can be "Dear Dr. Mrs. Bush." 
A straight-to-the-point unambiguous statement of your gratitude and how the reference letter has supported you in your endeavors.
An update about the job/opportunity/admission for which you have requested the reference letter. 
A closing message and your signature.
Proofread your letter over and over
What you should avoid whenever you are writing a letter is making silly mistakes, grammatical errors, or punctuation mistakes. Proofreading your letter is essential as it makes your message look professional and worthy of reading. Ensure the spelling and every necessary detail that is expected to be in the letter is included. You can give the letter o a friend for review to get a different perspective about what you have written. Finally, take a break from writing and conceptualize what you have written. 
Send your message when you are done.
After you have gone through the above four steps, it is time for you to send your appreciation letter out through the post. Sending out your appreciation message at the appropriate timeline is crucial as it shows how professional you are. 
This structure and outline above would serve as an excellent guide for you when writing a thank you note to your referrer. With your prompt and accurate response, you would be able to keep the professional relationship or personal connection open and enjoy the benefits in the latter days. 
Sample thank you messages.
In this section of the piece, you would use these samples as a guide for writing your thank you email or letter. These samples are tailored to express your profound gratitude to your referrer after you have received a reference letter from them. The sample letter can also serve as a way of personal connection between you and the referrer. 
Thank you letter for reference
Example 1
Subject Line: Thank you for your time
Dear Mr. Bush
Thank you so much for putting out time to write a reference letter to support my application for the graduate program at the University of Ohio. It is no doubt that you have spent some time and effort to assist me in the journey to further my education, which I greatly appreciate. Since my bachelor's degree program at the University of North Carolina, I have wanted to run my post-graduate degree at Ohio. 
I received feedback from the school, and I am currently preparing for my grad school interview, scheduled for early next week. Thank you again for your strong recommendation and kind words; I will keep you posted regarding my interview progress and out. 
Sincerely, 
Jerry Stone
Example 2
Subject line: Thank you
Dear Dr. Grey
I want to say a very big thank you for taking out time to provide me with a reference letter for my job application at Chase Bank. I had a lengthy discussion with the hiring manager, and I have been offered the position. 
Your endorsements of my skills and kind words went a long way towards securing the role; I am utmostly grateful for your support throughout the application process.  Once again, I did appreciate your effort. 
Warm regards
Emmanuel Conman. 
Example 3 
Subject Line: Reference letter appreciation
Dear Mrs. Grace
I am so excited to write this letter of appreciation to you. I was hired for my dream job, and I am confident it resulted from your excellent reference letter, which played a crucial role in the hiring process. The success can be attributed to how you convinced the hiring personnel about my skills and character as a candidate. 
I will be resuming my next position at Walmart next week. Again, thank you so much for the help; I am undoubtedly grateful for your effort. 
Yours Sincerely, 
Sally Brooks.
Who can be our reference
You cannot just pick anybody as your reference majorly because you must be sure the individual has the suitable qualification to be your reference.  The individual writing your reference letter should be knowledgeable about what is supposed to be the content of the letter. Although it might be tough to decide who best fits this role in your life as a referrer, you must only settle for someone with a reputable name.  This is primarily true when the individual has many responsibilities to attend to and most often is on a busy schedule. No matter how little you might think of it, a reference letter commits valuable energy, which can then serve as a spoken word for you during any opportunity process, be it job or other professional goals you aim to achieve as an individual. It goes a long way to convince the hiring manager or panel to revise the application of your potentials and abilities.
More so, sending appreciation letters can be a little incentive for them to keep the communication path open and further oblige to help you in the coming days. However, reference letter being an important document, it is essential that it only carries what your skills are, and none of your capacities are overstated. It is essential because if your skills qualification and capacities are exaggerated, the role you are applying for might suffer under your watch. This is why the person recommending you is recommended to be familiar with you, write relevant reference letters that portray your skills, and supply honest answers when further details are asked from the individual. 
Thank you note for reference examples- How can you say?