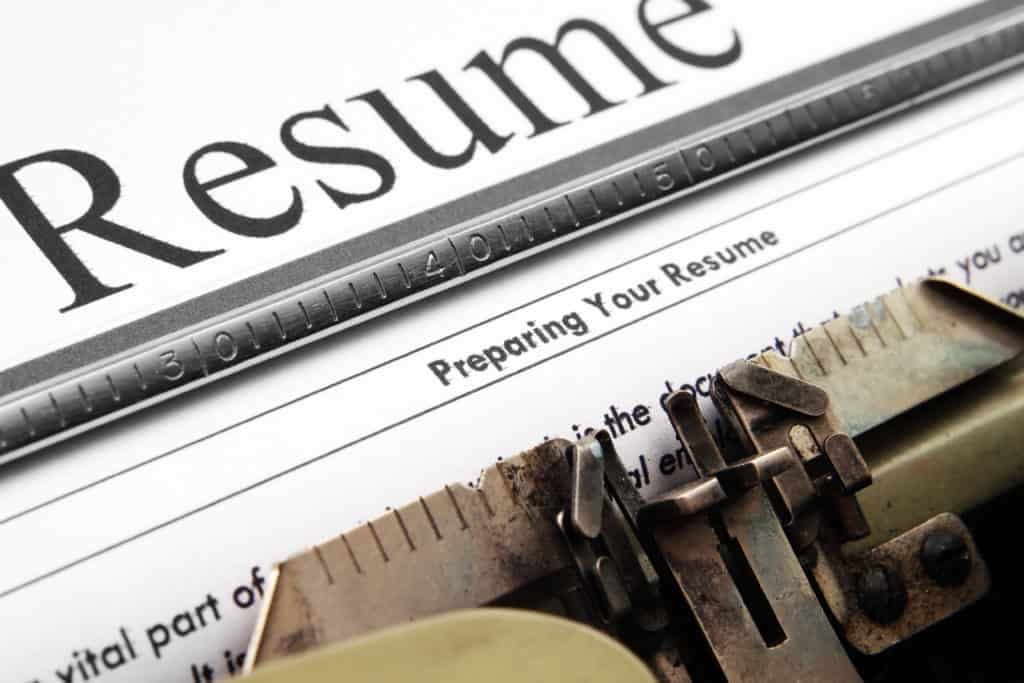 Are you applying for a Product Manager's job? Are you too finding your resume for not up to the desired mark? Do you also often search for things to be included or excluded to outshine your Product Manager resume? If yes, then is the right place you have landed on. Continue to read out to know more about an effective way of writing a Product Manager Resume and put a satisfying end to all your above problems.
A resume or CV is like a document that portrays a professional passport that brings about all the achievements of an individual's career. Who doesn't want to have one such resume that makes one stand out of the box? Of course everyone! So to have a resume that outshines everywhere and in almost every aspect holds a secret of knowing what all to add and what all to leave out.
Product Manager Job
The Product Manager is the one person that holds the due responsibility right from the planning of the product to the throughout the execution of the Product's life cycle which include the gathering of information which is relevant and right also in every perspective, prioritizing the product, conveying the right vision of company behind the introducing the product, sales, marketing as well as customers' requirement and satisfaction(the one of utmost important). Indeed this is the one that makes sure that the product meets all the required and expected goals and desires of the institution.
6 Hard Skills Needed To Be a Great Product Manager
Knowledge of Development Principles
Proficiency in Research and Analysis
Basic Product Management Knowledge
Basic Business Competencies
Familiarity with Economics
Ruthless(objective) Prioritizing Skills
Need For Holding A Resume
A resume plays a vital role in putting forth your highlight reels. It is quite much more than that. It helps an employer to make hiring decisions. It is the one that depicts your whole story at least to hold a good conversation at the required place. A resume allows an individual to:-
Eliminate Fear of Getting Missed out(FOMO)
Set up Distinctive Credibility
To pass the initial screening
Can lead you to the interview first
Hold extra points during Prime Interview inspire holding certain loopholes.
Put forth the benefits that you can offer an organization
Matches your Skills to the desired Position's need
Best Product Manager Resume Format
Chronological Formatting is the best and widely used and accepted format not only in the case of drafting a Product Manager's Resume or CV but instead for almost all the existing occupations. This one is also famous by the name of "Reverse- Chronology." It helps you to display and prioritize your relevant achievements and experiences finely. 
Must Include Sections In Chronological Format:
Name and Contact Information – To begin with, place your name and contact information which must include your name, contact number and of course your mailing address.


Objective or Summary – This section calls for putting in the summary of all your skills and experience that best describes your valued and short term goals that will benefit the organization you are looking forward to working with.


Professional History – Here in this part of the resume or CV you are most likely to mention your current or most recent position you hold in any organization (if any). This is the step that describes your zeal for taking your career to the next level.


Educational Background – This one is similar to that of the professional history section. Start from enlisting the most recent and relevant education achievement you hold and then moving in the reverse direction. Here you can mention all the certificates and awards received during your educational period.


Skills and Abilities – This is the area that can outshine your resume from the rest 9f the candidates. Holding relevant skills for the desired position is just not enough if you are unable to showcase them or present them nicely and mannerly over your resume or CV.
Why Chronological Format?
Creating the right resume is just not fine as if it doesn't follow any proper formatting. Undoubtedly there are many other formatting ways that one can go with but this is amongst the best as in no time it grabs the attention of the employer towards your relevant value over related work experiences. It is the simplest of all formatting methods. It is the format that gets your experience get in the notice to the employer within no seconds.
Highpoints To Make Best Out of Chronological Format
The Objective Section of your Resume should hold an Elevator Pitch.
Emphasis on achievements and numbers over your work history.
Follow Reverse Chronological Order.
Leave a space to mention your top-notch skills.
Attribute vital Educational and Training Capabilities.
Mindblowing 8 Hacks to Prepare Outstanding Product Manager's Resume
Self-Reflection – Understanding the value you can add to the company as a product manager is a first and foremost thing to be looked up to. Often people misunderstand this and mention the list of skills and experience they hold. But to the contrary, this mainly calls for one holding the capability in carrying out decisions that add to the company goals. 


Market Research – They are hundreds of products that get launched every day and not all of them fit in the public shoe. So as a good resume holder one should have carried out detailed market research about the chosen company including knowing about the pains and joys of the company to well resonate with the company's requirements.


Narratives – Listing of thousands of initiatives that you have come across in your past is what many if the people think, will count. But to your surprise listing out 5-10 important initiatives that you have tackled in the past 3-4 yrs of career is far better. Always align keys that add relevant value to the resume rather than making it long and irrelevant.


Prototyping and First Drafts – A product manager always knows about the merits of doing prototyping. They are well aware of the fact that it is ultimately amongst the best ways to push out towards the outcomes. Before holding a final ready to go Product Manager's Resume Or CV, drafting several before and then selecting the one showing your unique value proposition is another important step in creating a unique out of the box resume.


Market Friendly Strategy – Your resume should just be proportionally reflecting your part, not you as a whole. Rather than go on mentioning the things that include Your Go- To Market Strategy rather than depicting any emotional or not needed side of yours.


Design – Following is the list of principles to have in mind while you are at this step of cheating your resume:

Information Architecture – This counts for the way you present yourself.
Information Density – Try always constraining your resume to one but thoughtful page instead of putting in all that even is not required.
Aesthetics – This one represents your product management skills also, so always be confident and sure about choosing visuals like bar graphs and many more in your resume.



Quantifiable Impacts – Always make sure what you say so shall you be able to depict through your narrative ties also. This is where you show the exact value that the company can get from your end.


Execution – After successful completion of the above points, it's high time to have the right execution at the time to hold the right and desired designation in the desired organization. So don't make haste at this point. Put it in place very carefully.
Worst 12 Mistakes To Be Avoided In Product Manager's Resume
Insufficiency of Specifics: Your resume should never simply state everything obvious to the employer. It should in itself allow the Employer to understand what you have done and accomplished so far.


Putting Forth Of Duties Instead of Accomplishments: Rather than creating a huge list of accomplishments try to include things that can help Employers to understand what differences you added in every workplace you have had worked. Employers merely care about what you have achieved so far.


Typos and Grammatical Errors: Everyone knows it is obvious to take care while drafting a resume but on a sad note it is the most neglected also. These types of errors give Employers the image of being careless or you don't bother about it. So be sure and advent while typing and drafting your resume or CV.


Substandard Summary: This is the point where you can either gain an Employer's interest or even lose it also. So to keep the Employer's eye over your resume avoid presenting irrelevant or not necessary information or specifics here.


Skipping Off Important Information: Many amongst us in the hoard of putting in everything forget to add the most important information i,e regarding the Soft skills like work ethics, teamwork, time management and many more in the bucket list to add over there. To your surprise, this is one such which is icing on the cake. So never forget to add it.


No Action Verbs: Make use of action verbs instead of using Phrases like – responsible for. Using action verbs not only punch up your resume or CV but also makes the sound or tone of your resume positive and worth reading.


Incorrect Contact Information: Sooner or later do keep checking this minute and most neglected details of yours. Most of the people opt for a change in their contact number but end up forgetting to update the son in their resume.


Visually Busy: Don't end up using 5-6 different fonts as it will do nothing except giving the employer a headache that is undesired.


Making Details Either Too Long or Too Short: No doubt it is believed to have a resume of a page but that doesn't call out any compulsion. Trying to do so many people cut out their mains which indeed is wrong. But that at the same time doesn't at all mean that you are required to send three to four pages of your resume. It should be such that it includes all that you want to get conveyed to the Employer.


Always suit your resume in a PDF format (in the case of soft copy) unless specifically mentioned.


Avoid making use of big blocks or texts instead make use of bullets as these attract the Employer the most.


If submitting online, make it machine-readable.
5 Best Product Manager Resume Samples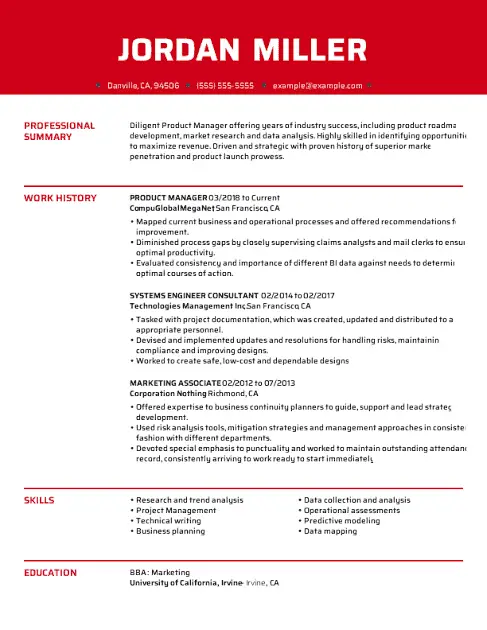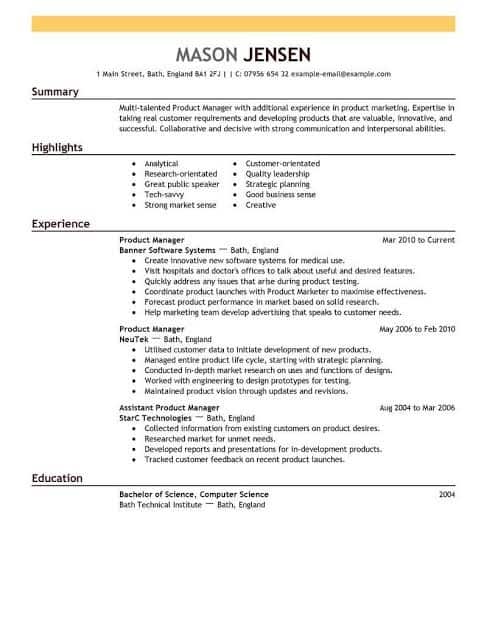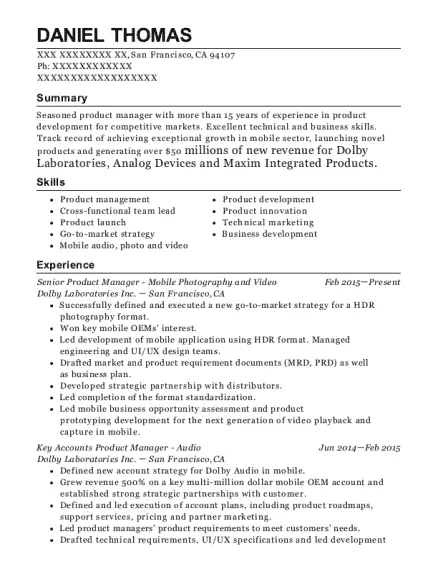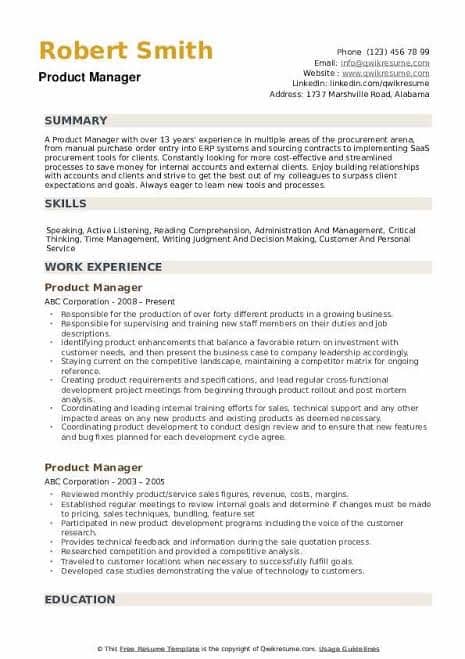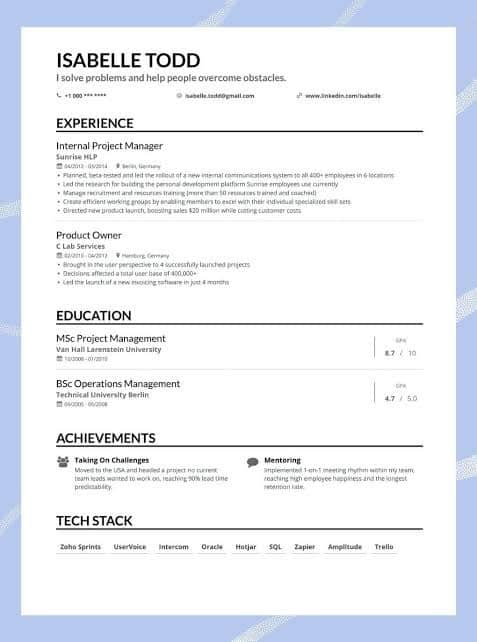 Conclusion
So if you want your resume or CV to portray you and your skills, the best all you need is to follow all the above-mentioned steps and see what magic would create in getting you your desired job. It's believed that your resume indeed is a product that you ship. So it's entirely up to you to ship what product and how.
Frequently Asked Questions
How many pages are there in an ideal resume? It varies from person to person as every other person holds a different set of skills and experience to be added.
Apart from Chronological Format, which resumes format suits the best? There are many others like Alternative Formatting, Combination Formatting but Chronological Formatting especially in the case of Product Manager Resume fits the best.
Does correct formatting play a great role in a resume? Yes, it does.
How to list jobs chronologically in the resume? To list jobs chronologically I resume starting from the most recent position you hold and then start moving in a backward direction including the place, date, location and some of your prominent achievements in each role.
Is it good to go for a chronological format if you are a beginner? No, it is not. It suits you best if you are an experience holder.
Also read Savoring Each Step: How I Fell Into My Dream Product Manager Job
Product Manager Resume Format and Sample