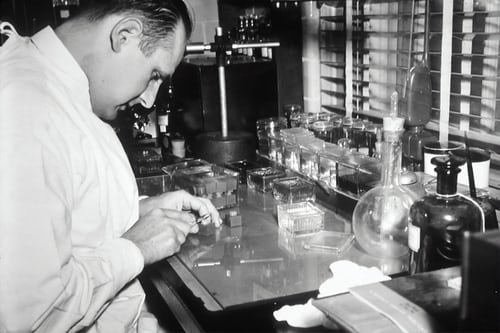 Having medical laboratory technician experience can offer you excellent jobs in medical, pharmacy, which also includes private hospitals, health clinics, veteran hospitals, public hospitals, research labs, doctor's offices, university laboratories, and even specialized experimental laboratories. To gain a Laboratory Technician Experience Certificate of experience in this field, one must have precise knowledge of perfect measurements of chemicals to be used, know how to operate new equipped laboratory equipment mechanically, and know how to fix them. This medical field profession requires immense hard work, patience, hygiene habits, and know-how of how small to big machines operate and their purposes. A certification of this profession for technologists and technicians require a license to practice in some states or by individual employers in America, however in all cases, certification and license isn't required, by earning the certificate implies the dedication you have put in for the employers, shows consistent strengthened commitment towards high standards and lastly, a scope for continued improvement. This profession holds a precious position in the world of the healthcare sector.
Who is a Medical Laboratory Technician?
A medical laboratory technician specializes in developing tests, deriving samples for any analysis, treat diseases, using medical equipped technology to detect microorganisms, supervising procedures, and tests, conduct tests to observe drug or alcohol levels in the blood, to conduct tests to analyze the content of chemical fluids in the blood and a lot more detailed tasks related to the human body.
What is the difference between a medical technician and a medical technologist?
Both technicians and technologists tend to perform tasks, procedures tests that other physicians and healthcare personnel order in doing. However, technologists perform much more complex and complicated tasks and procedures in laboratories than technicians compared to technicians. Technicians who work in medical laboratories happen to wear eye shield masks, medical gloves, and tasks to prevent the spread of the infection or virus and simultaneously protect themselves from reagents and solutions used in testing. 
Given below, is a sample letter of a medical laboratory technician experience certificate:
MEDICAL LABORATORY TECHICIAN WORK EXPERIENCE CERTIFICATE
To whomsoever it may concern.
This is to certify that anesthesia technician Ms. Blair Charles was professionally working at the Red Cross Hospital in neurology as a Medical Laboratory Technician from 25th September to the 25th of November in the year 2019. 
During this time period, her services turned out to be excellent in the following responsibilities and duties carried out:
To conduct an analysis of chemical fluids present in the body, like blood or urine.
To use a microscope or automatic analyzer equipment to detect any different abnormalities or diseases and enter them into the computer.
To analyze the conducted test data for the issue of reports that utilize charts, different graphs, and narratives.
To perform medical research to implement further control or to cure diseases.
To conduct blood tests of the same blood group for purposes of transfusion and to perform blood count.
To procure obtainment of the specimen, cultivation of organisms, isolating them, and identifying new microorganisms for analysis.
To examine cells stained with a drop of dye to locate the abnormalities accurately.
To collect samples of tissues or blood samples from the patients, observe the principles of asepsis to obtain the blood sample.
To conduct with a pathologist to define a final diagnosis when there are abnormalities found in the cells.
To inoculate fertilized eggs, broths, or any other particular bacteriological substance with the presence of organisms in it.
To cut, stain and mount tissue samples for examinations conducted by pathologists.
To supervise, instruct other technicians or laboratory assistants.
To prepare reagents or standard volumetric solutions to combine with samples along with standardized formulas or experimental procedures.
To conduct tests on raw materials, processes, finished products to define them according to quality, the quantity of those particular raw materials, or the characteristics of the substance.
To set up and maintain, calibrate and clean, and to test the sterility of the equipment used in the medical laboratory assigned.
Medical Laboratory Technician Experience Certificate Sample
Our staff wishes her all the very best in her future to continue rendering out excellent services and gain improvement while doing so.
For,
Ms. Blair Charles,
Anesthesia Technician,
Red Cross Hospital
Also read Subjective vs Objective Data in Nursing
Latest Medical Laboratory Technician Experience Certificate Sample