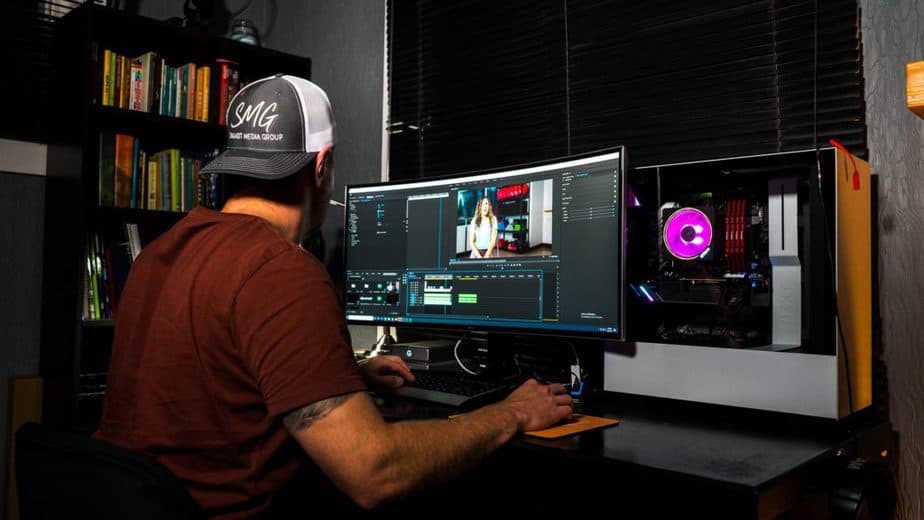 Videos can be a form of self-expression and communication. Whereas words might help you create a world in your imagination, videos bring that world to life in front of your eyes. However, videos take time and effort to make. Creative has to start from zero, from coming up with an idea to recording the footage to editing the video. You also can't skip any of the steps—video editing, in particular. Video editing is where hours of footage turn into a cohesive film. Today's topic- Is Video Editing Hard?
Video editing is a post-production technique that involves modifying and rearranging video footage to create a new work. 
Video editing can trace back to the days of analog recording. Must-do editing steps such as cutting the film and gluing it back together to add or remove frames manually with film reels. After developing the hardware, those operations no longer had to be done by hand, but any footage changes had into the film. The majority of the video record digitally, allowing it to modify with video editing software. Video editing in analog formats is regarded as linear, whereas video editing in digital formats is considered nonlinear.
Since around 2016, every digital media expert has praised a video's unique ability to connect with viewers and promote a company. Video, on the other hand, is challenging to create. But not impossible; when it comes to video editing, it's a creative process, and thanks to technological advancements, there's a lot you can manipulate and create something new and different. 
Job opportunities for video editing
Film Editor – A feature-length film editor ensures that the director's creative vision is carried out. Cuts film into pieces and assembles them in a sequence to create a story.
TV Studio Editor – Raw video shot on the set of a television show is edited into a polished final product for transmission by TV editors. TV editors use computers to combine video footage with music, sound effects, audio, and special effects.
Video Editor for Events – Many events, particularly weddings, are videotaped for the clients' advantage. This job is numerous, and it's a popular method to break into the video editing industry.
Web Video Editor – Work on short-form videos for online dissemination as a web video editor. You'll have the opportunity to work with various clientele and subject matters, which will vary from week to week.
Animator – Adds the finishing touches to projects by creating motion graphics. In addition to the standard video editing platforms, they are skilled in effects software such as Adobe After Effects.
Colorist – A specialized editing role that focuses on perfecting color and other visual settings to give the production a professional, consistent look.
Independent Filmmaker – Creates films on their terms. If you want to make money, you'll need not only attention to the craft of video production and post-production but also good business acumen. Independent filmmakers can efficiently market, distribute, and transform their videos into a reliable source of cash, thanks to platforms like YouTube and Vimeo.
Freelance Video Editor – There are numerous methods to break into the film industry, and freelance videographer is one of these methods. Start by building your portfolio, get clients, and edit videos for them. After that, you are independent to choose projects and clauses to fit your style. 
Basic Equipment Needed
Though video production might be expensive, video editing is relatively inexpensive. You'll need three things to edit this type of video: hardware, software, and storage space.
Hardware
Computer Requirements for Video Editing 
The simplest way to figure out what computer requirements you'll need is to look at what the program you'll be using suggests. Software that isn't as powerful as it should demand hardware that isn't as powerful. The following should serve as a solid starting point as a general rule of thumb: 
Processor – A contemporary Intel Core i5 or Core i7 processor should be sufficient. For budget settings, newer AMD Ryzen 5 processors offer good performance at a low price.
RAM – While specific applications require at least 4GB of RAM, you should have at least 8GB, preferably more. If you're doing complicated or high-resolution video editing (4K+), you'll be happier with 16GB or more.
Graphics Card – Your program and the work at hand will determine whether or not you need a graphics card. Some programs don't even require the utilization of a graphics card. However, if you're going to do a lot of rendering or utilizing DaVinci Resolve, you'll need at least an RX 570 or GTX 1650 (which design to use a GPU).
Storage – Video, especially 4K video, demands a lot of storage space. Solid-state drives (SSDs) will be faster and more comfortable to use than hard disc drives (HDDs). Get the most storage space you can afford if you're going to be making a lot of films.
Good software
A decent video editing software allows you complete control over the editing process, allowing you to change your material any way you like. On the other hand, learning software might be the most challenging element of the learning process, and switching from one software to another can be a nuisance. As a result, selecting the appropriate program before getting started is highly recommended. 
There are relatively simple apps that will allow you to do the most frequent operations, such as deleting scenes, cutting and pasting, and refocusing a set with ease. Additional functions in the more advanced software are often only necessary for professional video editing. It's best to avoid buying software with capabilities you'll never use, as this can be very expensive.
So, here's a list of some popular editing applications to consider:
Animatic: The most popular video editing software on the Microsoft Store, with a beginner-friendly storyboard mode.
iMovie: It is a non-linear software used by industry experts. It is, however, only compatible with Mac, iPad, iPhone, and other iOS devices and is available for free to Mac and iOS users.
Canvas Video Editor: It is a visually appealing video editing application for beginners who want to make social network videos using fashionable templates.
Camtasia Studio is a video capture and editing program for beginners who want to make video tutorials and presentations. It supports webcam and screen capture.
Corel VideoStudio: A powerful video editing program with a user-friendly design that isn't intimidating to newcomers and concealed advanced features for the more experienced user to discover.
HitFilm Express: A free video editing suite with a compositing option for creating visual effects, HitFilm Express is ideal for beginners looking for Hollywood-style visual effects.
Lumen 5: It is an AI-powered video editor that allows you to turn your blogs and material into presentation-style videos without learning new skills.
Wondershare Filmii: It is an entry-level video editing program with preset themes and stickers to help you make videos.
Premiere Pro CC: It is a prominent video editing program used by filmmakers, journalists, videographers, and other professionals. It comes with a full-featured video editing package that includes a cross-platform, non-linear editing solution that's suited for today's file-based creative video creation.
Storage
Processing video and music files on a computer necessitate a substantial quantity of memory or storage space. Examine your computer's storage capabilities and consider purchasing an external hard disc. These units are portable and allow you to enhance your storage capacity without having to open your computer.
Some fundamentals of video editing
Understanding color
Color has a significant impact on emotions and perception: our upbringing, interests, cultural background, and experience influence how we view colors. As a result, while selecting a color palette for your film, it's vital to keep your target audience in mind. When communicating with video, color correction is a systematic strategy to express the intended sensation and make it more attractive. Though it may appear complicated, all you have to do is remember the color theory. You may learn all about the relationship between color and emotions and how to express it in your film from various sources on the internet.
Difference between primary material and the b-roll material.
When going through the raw material, most people will probably create a rough difference between primary and b-roll material in the initial pass. Still, it's crucial to do so consistently. It should include only the sequences meant to build the video's backbone in the main content. Everything else is B-roll material, which is extra recordings that can use for cuts or optical accents. Because of this early sorting, it is instantly apparent if key holders are absent, allowing for reshooting content at a later date.
Understand your workflow
A workflow is a step-by-step process that guides you through the process of performing a particular activity. Once you've created a decent workflow, you'll have a clear idea of completing the tasks to reach a predetermined goal. To provide a clear framework, projects are explained into discrete steps, even the most complex video projects. Furthermore, working more efficiently saves a significant amount of time. You also assure greater transparency, especially when working in a group, because everyone knows each step.
Is Video editing hard?
Video editing can be as basic or as complex as you want it to be. Video Editing is a creative process, and thanks to technological advancements, there's a lot you can do. Likewise, there's a lot you can learn, and you'll probably keep learning even if you think you've mastered the skill. It might take some time to get your head around it. But, practice will make everything easier and will fix our imperfections with time.
More individuals than ever are interested in learning how to make films, for various reasons ranging from documenting moments and memories in the form of vlogs to launching entire enterprises online on services like YouTube and IGTV, and now is unquestionably the best time to do it. In addition, phone cameras are getting advanced day by day, so most individuals already have a camera in their pocket. Taking video is, of course, only one part of the process. It's also crucial to learn how to edit videos.
Video editing software is widely available, making it simple to modify your videos. You can buy whatever you want, whether it's a simple drag-and-drop editor or a full-fledged, professional-grade editing suite, and often for a shockingly low price.
Learning how to edit video may become a never-ending rabbit hole with more tools and ways to select. So, we've put together this guide to help you get started down an attractive new route for those just getting started with video editing.