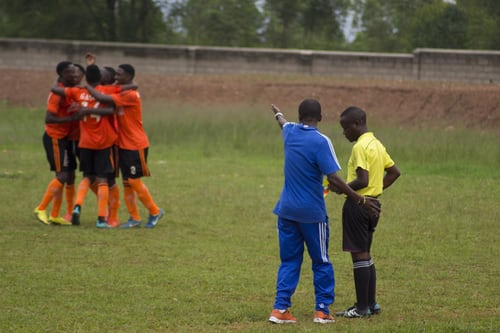 Soccer is a universal language that everyone understands, notwithstanding the country, religion, or social difference. Today, an estimated 5 billion people are glued to their screen watching their favorite team lock head with another. The fan base is greater than half of the population of the world. Soccer is a universal sport but quite popular in Europe and recently gaining ground in America. Soccer is not only fast but exciting and fun for both the players and participants.
Soccer is inexpensive, which means you don't need expensive equipment to start a career. It would be best to have a soccer ball, shin guards, a field, cleats, and 11 players on both sides. If you have ever viewed a soccer match, you know that it is action-packed with players adopting different strategies while playing. Unlike American football, where a quarterback or coach can call each play in advance, soccer is different as each match is 90 minutes. Within this period, there is halftime (15 minutes for players to rest).
Above all, soccer is a great team sport that every player can make a huge difference. It is a demanding game that has led many to become world champions. We have teams ranging from amateur, youth, and professional leagues, which partake in different competitions.
Who is a Soccer Coach?
A soccer coach is a person that teaches people how to play soccer. Their role also includes helping people integrated into a team, building a strong and healthy team. Additionally, the job role also includes planning and implementing training plans, team strategies, and running soccer practices to play against any team. The essence is to win a medal or something; today, we see the increasing demand for soccer coach jobs because they need private soccer clubs, universities, high schools, grassroots soccer organizations, and professional leagues.
The Success of a Soccer Coach
When a soccer team performs excellently well, the coach is recognized as the instigator. However, when things go the other way around, the coach gets the judgment for his team's underperformance. The role of a coach is a critical one that requires much more than passion. It goes beyond ditching instruction on the field. The job is a tough one, and such a person must have passion for the game.
 Becoming a coach is more than assembling a team or conducting training sessions. The number of coaches aspiring to become professional is on the rise, but only a few achieve such feat. Since the introduction, we have seen successful coaches such as Pep Guardiola, Jose Mourinho, Alex Ferguson, Arsene Wenger, etc. These coaches have excelled in their role in building and managing a successful team. In their career, they have defeated the might and won different competitions.
The nature of the job is tactical because you have to strategize on how to win your opponent. You need to think of an effective way to manage a team, make each player happy, and function as a team. In order words, you have to be a good team manager that thinks about improving your team. No matter how small the team might be, it needs a coach. Whether it is a recreational soccer fiesta or a championship, every team requires a coach to put things in their right perspective. Becoming a soccer coach is a demanding task requiring adequate preparation and practice to be a professional. To make it easier, let's guide you on how to become a soccer coach.
Tips to Becoming a Great Soccer Coach
What makes a coach great? You might have asked that question if you have been a coach without any success. Today, several coaches are praised for helping their team improve and get to new heights. However, what qualities do these coaches have that make them great? For instance, Claudio Ranieri took the Premier League by storm when Leicester City won the league.
This section will explore some essential qualities you need to have to be a great coach. 
Professionalism is the hallmark of becoming a great coach. A coach's competence must be evident such that he transfers such professionalism in everything he does. His reaction to staff and players is professional; an essential aspect of professionalism is punctuality. As a coach, you have to lead by example to arrive early at training and games. Being a coach is a leadership role where you lead by example; you have to prepare for training and appear before your team.
Another important thing about being professional is making decisions that would improve your education. You need to evaluate your work ethics and ensure it meets the demand of the team. Furthermore, a coach has to seek improvement and never be satisfied with team training continuously. In other words, they have to push themselves to be better than they were. So, in terms of preparation, continuous education and adequate preparation help make you a great coach.
An essential ingredient to becoming a good coach is to be a good teacher. As a coach, he must be able to teach his payers as much as possible. Furthermore, he needs to know his team's strengths and weaknesses while making it a duty to explain basic tactics such as dribbling, tackling, shooting, and passing. A coach has to ensure every team member keeps learning and improving their skill every day. To be a good teacher, you must give correct and clear instructions during training sessions. To coach a team, you must be knowledgeable about the do's and don'ts when playing soccer. As a coach, demonstrate the drills because a picture is worth a thousand words.
Be Friendly But firm in your decision
A coach must understand how to sustain a relationship with his players because it can affect their performance. Being friendly with each player can help build a good rapport with the team to understand their personality. With this, you can analyze their different emotional and mental characteristics while developing strategies to motivate them accordingly. 
Nevertheless, while you try to be friendly, stay professional in your dealing with the team. Being friends with your team is only a means to an end. Avoid the mistake of forgetting you are a coach such that you go to their level. Your friendliness should be to help your team perform optimally. Additionally, don't fake your friendship with them in other to make them perform when playing.
The coach is the number one motivator of the team as he transmits his energy to each player. While some players may hire a professional motivational coach, the coach shouldn't neglect his role to motivate them for higher performance. You need to develop training activities that would help motivate your team in each game. Remember their goals and mission they want to achieve and tell them how possible it is to achieve them. It would help if you created a winning mentality around the team to help build them. Words of encouragement and development are essential in building a formidable team. Furthermore, understand each player and twerk how to motivate them in performing at their peak in each match.
Your first role is to be an effective communicator that communicates the right message to the team. You need to recognize each player's achievement and performance; look for ways to encourage them through words to improve. Communication isn't only about what you say but your body language when you speak with them. There will be tense situations; therefore, you need to be careful when using words as a coach. In every training and match, use the right body language because look at these things to judge if a coach is worth giving everything.
Get Advice From Professionals
You don't know it all as a coach; at times, you have to seek advice when the results you are getting aren't good. You can take advantage of complete video sessions from other top coaches. Whatever level you might be, the coaching manual is an essential guide to improve your coaching skill. Besides this, you have to attend professional training and workshops to improve yourself as a coach. Today, you can have access to podcasts, interviews, and webinars wherever you live. Improve your professional career through programs and coaching classes.
In the end, your players look up to you to lead. Becoming an example works magic since every player has a role model. While coaching your team, build a rapport such that the younger players will see you as their role model, especially if you had a successful soccer career as a player. Examine yourself and ensure you have the quality for players to mirror. Live by the standards you want your players to exhibit, and indeed, they will mention you as their role model.
In your quest to become a great soccer coach, you need to find a working strategy that works for you. Importantly, each team has a unique strategy or tactic that works for them. Your role as a coach is to find the best tactic that works for each match. During that process, you have to document your tactics and discard whatever strategy didn't work. Furthermore, your tactics for each game are essential. What you do during a losing game to turn the score and what to do when you are winning is essential. 
Guide to Become a Soccer Coach
In the United States, there are over eight thousand youth soccer clubs with over 400k registered coaches. Among these, a larger percentage are volunteers that love the sport. With increased international soccer coverage across various locations, its popularity is considerably growing, with a price – more coaches.
To start a career as a coach, you need to kick-start your career the right way. In this section, you would learn the basic qualifications necessary for a coaching qualification. A huge part of coaching is interaction and communication with players. However, you also need certification to be a coach; there are progressive levels to be a coach. Notwithstanding, if you are a new coach, you should aim to get a basic "E" license. This course usually takes 18 hours and covers the initial principles of coaching, and serves as a preparation phase for the next course.
In the "D" certification, you get information on essential coaching skills that focus on training and instructing kids between ages 9 and 12. Here you focus on athlete and personal development.  It prepares individuals for training sessions and the technical aspect of the game. Graduating from the course gives you the knowledge of basic attacking and defending and implementing these strategies in different situations. 
For those looking for an easier path, you might consider applying with the National Soccer Coaches Association of America, which runs similar courses. The NSCAA has a comprehensive curriculum that includes all coaches at different levels and groups. Additionally, NSCAA offers several residential and non-residential programs for everyone in the United States. If you want to coach players in U-10 and below, you can apply for Youth Diplomas – the program has three diplomas, including Level I to III, based on your requirement.
The table below shows a preview of the courses, level, and time required to complete each diploma. 
| | | |
| --- | --- | --- |
| Course  | Level  | Time Required |
| Youth Level 1 | Under 5 to 8 | 2.5 hours |
| Youth Level II | Under 5 to 10 | 5 hours |
| Youth Level III | Under 6 to 10 | 13 hours |
You don't have to take any assessment as the courses are open to everyone starting from 14 years upward. The summary of what participants can learn from each course is as follows:
In Level I, the course focuses on teaching young children, tailoring training sessions, and creating special activities within their aga. Furthermore, it also includes practice sessions and risk assessment strategies in the game.
In Level II, participants are exposed to the physiological and psychological aspects of coaching children. Students are also taught the foundation of the game, including instructions and laws guiding soccer.
In Level III, participants can perform practical demonstrations and get feedback from instructors even though assessment isn't included in the program. In the course, you learn skills and techniques with praxis on the field. 
How to Become a Soccer Coach in a Nutshell?
Although you can become a coach through different means, you can follow these two methods below. You can gain previous experience, especially if you are new in the industry. An added advantage would be if you had previously engaged in a soccer-related activity. With this, you can be eligible to get a certification course. You can start by following your local team, watch live games on TV, and get a mentor.
Certification From World Soccer Bodies 
The other path to becoming a soccer coach is through certification. It is another aspect of gaining experience, which involves attending soccer clinics, training, and workshops. You can then enroll for professional certification. The best place to start is soccer governing bodies like UEFA and FA that promote these certifications. The best option is to apply to an association closer to you. Furthermore, you need to learn a second language, enhance your communication skills to improve your market value. 
Join Professional Groups
Depending on your location, you can join a professional group. For instance, those in the United States can join the United Soccer Coaches Association, the top country. The association offers a 30-day free membership for new coaches to access newsletters, training materials, and discounts on educational materials. Once your trial period expires, you need to pay an annual membership that costs $125. Here are a few benefits members receive when they pay.
Networking with other members
Soccer magazine
Liability insurance policy worth $1 million
Right to nominate coaches and players for awards
Product discounts on different items
Participation in annual conferences for all coaches
Employment as a Coach
If you are a coach looking for a job, the first place to start your search is the United Soccer Coaches. A platform is where colleges, schools, and pro teams list employment opportunities since they are likely to find candidates that meet their needs. Besides getting job opportunities as a member of the United Soccer Coaches Association, you network with other coaches who might tell you of upcoming jobs before any opening is advertised online.
Furthermore, you can work together with college and pro soccer coaches recruiting staff to help their organization source for new players and coaches. You can also leverage summer camps as parents tend to find a coach for their children. To increase your likelihood of getting picked as a coach, you can ask your previous clients to place a review on your profile once you are done with your previous engagement. With this, your chances of getting a high-ranking job get higher compared to when you do nothing.
How much does a soccer coach earn?
If you decide to be a private coach, you can still make huge money. However, their salaries are astronomical for those coaching professional teams since their job is tasking and time-consuming. Nevertheless, in the United States, a private soccer coach can charge as much as $60 per hour. Some of these coaches offer discounts when you buy multiple coaching hours for different sessions. Currently, the highest-paid soccer coaches rack as much as an average of $12 million per year. The role comes with job security, such that if their employer terminates their contract before the stipulated period, they are paid for such termination.
Please aspire to be a top coach earning multimillion-dollar, but the reality is you have to climb the ladder. You have to start with low-paying coach roles and prove yourself you are worth every investment. According to statistics, the average salary for a professional soccer coach is $44,000 per year. On the national salary range, coaches can earn as much as $120,000 annually. On the other hand, assistant coaches can earn as much as $500 per month during a soccer season. Their payment ranges from $19 to $23 per hour for each game, travel, and practice session for youth soccer coaches.
Job Description for Coaches
The job description of a coach includes demonstrating techniques and methods of soccer participation. Evaluate strengths and weaknesses while recruiting and improving athletes' techniques to prepare a player for competition. 
Summary of Soccer Previous Experience
If you have been a coach, having a lot of experience setting up training programs is essential. However, if you forgot your notes, you can look at the essential knowledge you need.
You need to understand soccer history by knowing the general features and history of soccer and coaching. The whole process requires you to have a full understanding of it.
Motor and learning development; here, you need to understand players' development and growth, including their maturity.
Instructions in soccer or sport in general. Here, you need to know how to teach and implement some strategies of education in the game.
Understand the rule of the game, which include advanced knowledge about coaching and player. You need to master every aspect of the game and apply the rules.
Leadership and psychology training. You need basic knowledge of different psychological attitudes and tools to help build yourself as an efficient leader. During this process, you have to exhibit an essential quality that would make your team respect and adhere to your instruction.
Coaching methodology and theory. Here, you need to understand the training processes and how it works. Furthermore, learn the impact of the development process.
Conclusion
No one starts a house without getting a plan. If you want to become a soccer coach, you have to start somewhere. In this article, you have learned the process of becoming a soccer coach. Indeed, the soccer industry is a lucrative industry with numerous avenues to make money. While players rack a more massive amount of money, the coaches are not left out. 
If you ever desire to be a professional coach, you can choose the route that suits you better. You can learn from mentors and get professional certification from soccer bodies such as FA and UEFA. Furthermore, soccer is inexpensive, which means you don't need expensive equipment to start a career. It would help if you had a soccer ball, shin guards, a field, cleats, and 11 players on both sides. If you have ever viewed a soccer match, you would know that it is action-packed, with players adopting different strategies while playing.
Also read How To Become A Surface Pattern Designer?
How to Become a Soccer Coach in 2021?