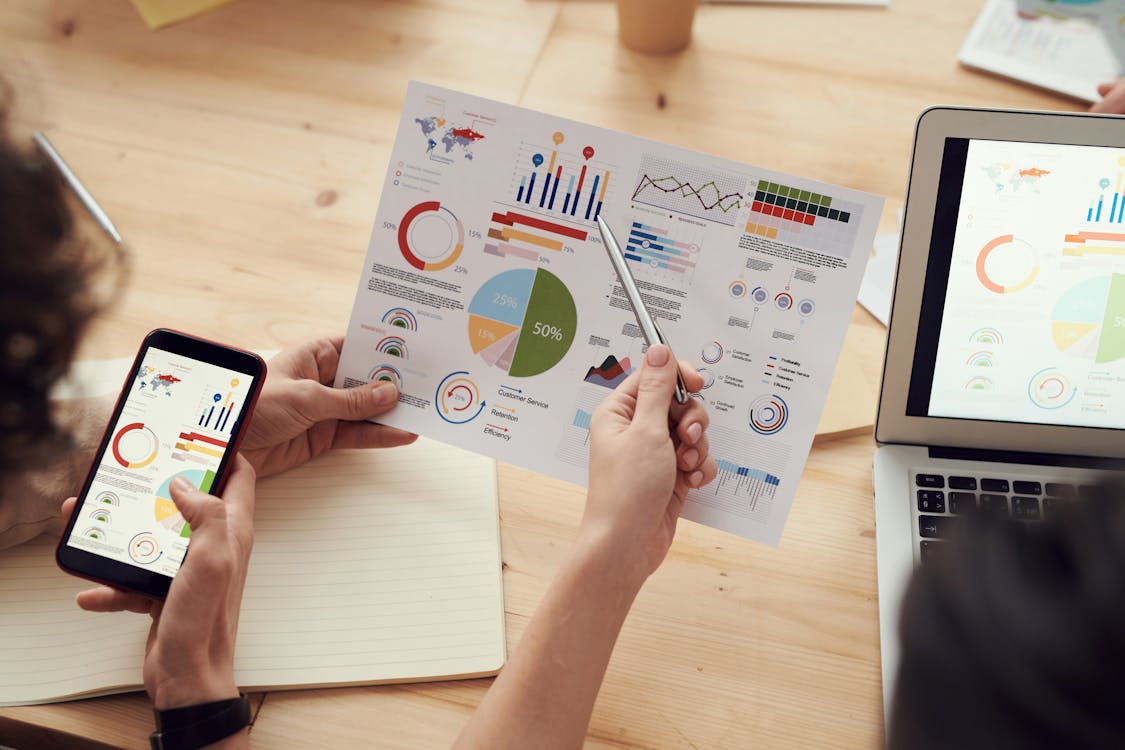 Becoming a data analyst is a key career path that involves having great insight into the trends and patterns found in massive data sets. The art of making efficient decisions that instigate continuous inflow of profits in any business is a major need for most companies. This becomes why they often hire data analysts to aid them in making decisions that will invariably enhance business practices. So in case you are considering becoming a data analyst, it is important to understand this as it prepares you for thinking critically to help businesses and companies make well-meaning decisions. The post guides you through the steps involved in becoming a data analyst and touches on information relating to the skills required to make progress in this career path.
Before knowing the path involved in becoming a data analyst, it won't be much of a great deal to understand who a data analyst is and what he does daily. So let's look at this before we proceed further.
Who is a Data Analyst?
A data analyst is one who aids companies in informed and better decision making using available data sets. A data analyst makes presentations to illustrate his findings on certain topics based on information gained, analyzed, and interpreted about each specific topic through concise reports. Just as the name "analyst" goes, most businesses often use a data analyst to gather and analyze data. The data analyst is often an expert whose expertise in using tools and skills to analyze data makes him constantly needed to identify trends and patterns within industries. 
This makes them in high demand by companies and businesses within different industries.
What Work Does a Data Analyst Do?
The work of a data analyst involves working with data sets for statistical analysis.  This data collection process and analysis are a major aspect of the day-to-day work of a data analyst. The job description of a data analyst also involves the following;
The data analyst is involved in collecting, processing, and performing statistical analysis of large and multiple data sets. They help to solve problems and answer questions by discovering how data can be used for such purposes. 
The data analyst handles the usage of systematic techniques, standard formulas, and methods to analyze relevant information. They usually engage in gathering, manipulation, and analysis of data to make informed decisions for businesses. They prepare detailed reports to present the results from their analysis. 
Data analysts also carry out basic statistical procedures involving a particular product, such as the variations and averages of that product over a period.   They also engage in interpreting the underlying frequency distribution for a data set and also predict yields for that product. They protect the organization's data, ensuring that the data results produced become consistent guides that can be reused again and again to achieve such measures of results.     
How to Become a Data Analyst
Becoming a data analyst entails following different paths that will enable one to have the required skills for this growth in this chosen career area. However, for the sake of this post, some key steps to follow so that one can become a data analyst will be discussed in great depth. This is because, for most people who are passionate about this career path, the question of " how to become a data analyst can often be challenging."
To make one easily resolve this, this post will attempt to show you some steps that you can take to become a data analyst. These steps include: 
Step 1. Know the Basics of Data Analytics
The first step to becoming a data analyst is to know the basics; this entails understanding the use of data analysis tools such as programming languages like SQL, Python, and R and even advanced Microsoft Excel. Other areas to become familiar with are using tools like Spark and Hadoop for number-crunching and creating beautiful visualizations that make one's data come alive. The knowledge of Tableau, Matplotlib, or ggplot2 will come in handy. 
One easy way to learn these basics is through data analysis courses, which give you the platform and opportunity to become grounded in these skills. You also gain hands-on experience in the usage of programming languages, statistical programming, data management, data cleaning, and visualization by using these data analysis courses. Most of these often operate like a school academy, making data analysis way so interesting, unlike following only tutorials.
Step 2. Take a Certification or Do Projects to Build Your Skills in Data Analysis
Having understood the basic data analysis tools, you can take up projects that will allow you to put your knowledge to work. To be successful as a data analyst, you will need to keep up with the latest trend and updates of tools used with data analysis. This includes; visualization tools like Tableau, PowerBi, Plotly, and Matplotlib; spreadsheets and querying languages like XML and SQL and even programming languages like Python and R. 
One will also need to have experience with analytics platforms such as Google Analytics. Then you can take this knowledge to another level by putting together practice projects that cut across various areas of data analysis, including the research of the companies and the market opportunities; understanding the scope for the data that needs to be collected, cleaning the data, and then making models and analysis of the collected data using custom-built algorithms. Thereafter, one can put together the data's findings into visible and beautiful visualizations that allow people to understand your result. One can also choose to use a dashboard that allows others to use your dataset in a user-friendly manner.
By constantly taking up practice projects of this nature, you will ultimately grow and improve your data analysis skills. Also, try to make your practice projects involve different datasets, including structured and unstructured data, data sets involving images and texts, etc. Also, try to perform statistical predictions based on these data sets.
Also worthy of note is the need to pick up certain soft skills along the line as you practice your data analysis skills. These soft skills will make you stand out from other data analysts, and they include; creativity and communication skills,  paying attention to details, analytical and statistical skills. Invariably, you will grow and excel faster in your career path as a data analyst as you imbibe and embrace these soft skills. 
Step 3. Create Visualization and Work on Their Presentations 
Visualization tools like Tableau, Matplotlib, or PowerBi help you make your data presentable to others so they can easily interact with it. Practicing these tools and trying to build your visualizations from scratch so your data can be easily interpreted and understood by others.  Another tool that comes in handy here is Excel, even though it is basically for spreadsheets, using the information in cells to correlate a graph or make suitable calculations. Yet, it is a major tool that helps make visualizations easy and highly unavoidable in data science. 
Apart from just creating visualizations, one should properly understand these visualizations to present your findings as a data analyst. This is where having communication skills comes in handy. You can learn and even practice becoming good at making your presentations as you grow in your communication skills. It's just that simple; start by presenting to someone, maybe a friend or a colleague, and after a while, you can take on a larger crowd. By so doing, you will grow in your presentation and communication skills. 
Step 4. Build a Portfolio of Your Data Analysis Projects to Display Your Skills
As a data analyst, people will only know how good you are from your past or current projects on display. This is where an online portfolio comes in handy. The codes you have written in your practice projects can be put on GitHub to serve as your portfolio on display. This can temporarily showcase your project work to others before you build a professional portfolio page or website. 
Also, being a part of online data science networks like Kaggle and Zindi will help create the platform for you to project your skills as a data analyst. These networks will also enhance your skills through data science competitions, which will continue to grow your expertise and outreach. Eventually, you will show to the world your strides in data science as an aspiring data analyst.
Again, you can show your skills and abilities as a data analyst by working on a well-executed project to solve a particular problem through the field of data science. Just look for a problem or need that interests you and start working on it. Along the way, ask questions, and if you are stuck, you can always refer to Google or Stack Overflow to help you out. Let your solution be an answer to a question of interest. Write out every step you took in finding the solution, and then make your findings well visualized and presentable so others can easily understand and relate to them. This will show your level of creativity and highlight your analytical skills as a data analyst.
 Step 5. Look Out for Relevant Data Analyst Jobs and Apply
With a well-built portfolio, begin the search for data analysis jobs and start applying to companies for these jobs. You will be shocked how you can get a variety of jobs with the skills built so far. These jobs can be entry-level roles or even intermediate roles. 
Data analysts are always in demand by companies as new applications for data analytics are being built daily. This makes the field constantly evolving and gives data analysts the much-needed advantage against other data science fields. And with continuous improvement in the field, the demand may even outpace the supply. As you apply for jobs and go for interviews, ensure you keep improving your skills as you keep up with advances and trends in the field. 
Relevant Skills to Become a Data Analyst
As one aspiring to grow in your data analysis skills, you need to develop and grow certain hard and soft skills that will help you become a data analyst. Some of these skills include; 
Data Visualization Skills. A successful data analyst understands and can properly present his findings using graphs, charts, and other data visualization aids.


Proper knowledge of Database Querying Languages like SQL and PostgreSQL. 


Data Mining and Cleaning Skills. In data collection, there is a need to use tools to gather and work on unstructured data. This gathered data can then be cleaned and processes to get the desired results.


Knowledge of SQL Databases. These are relational databases that contain structured data. A data analyst needs to work with data in tables (structured data) to pull out relevant information to perform much-needed analysis. 


Understanding Advanced Excel. As a data analyst, one should have a firm grasp of Excel about data analysis and understand advanced analytics techniques and modeling.


Proficiency in Programming Languages like R, Python, and SAS. These skills will be used more often in data gathering, cleaning, statistical analysis, and even visualizations.


A Strong Creative and Analytical Skill. Being creative and curious will help you make an informed judgment as a data analyst. Although having a strong background in the statistical method is great, it is even more important to have a critical and analytical mind in viewing problems and finding solutions. This will make the data analyst a sound researcher, as he will constantly generate interesting questions to aid the company's understanding of the subject or project.


Strong and Effective Communication Skills. To be a successful data analyst, one needs to communicate one's findings to people easily and understandably properly. 
Relevant Tools Used for Data Analysis 
As an aspiring data analyst, it is important to know those tools that are often being used to gather, clean, and process data into a usable and easily accessible form. Some tools used by a data analyst are:
Tableau: A tableau is a tool that helps data analyst properly analyze data into well presentable forms. Through Tableau, one can produce dashboards that can be used by other team members and even create visualizations to display the findings from a data set.
Google Analytics Tool (GA): Understanding customer data, especially areas about trends and customer experience, is key to enhancing your analytics results as a data analyst. This is where the usage of GA comes in handy. This enables one to track customer experience areas that require improvement on landing pages and instigate necessary calls to action (CTAs).
GitHub: This is a project building and sharing platform for building technical projects for data analysts. This is especially handy for a data analyst who works with object-oriented programming (OOP). This platform also allows you to have a portfolio to showcase or display your data analyst projects' codes for public view or prospective employers. 
Cloud Storage System (AWS S3): With large datasets, it is important to have a storage system to store and easily retrieve such datasets. This is where the use of Cloud storage systems like AWS S3 comes in handy. Data analysts often use them to hold and retrieve numerous datasets when needed from time to time. 
Jupyter Notebook System: A Jupyter notebook system is a software platform that makes testing of written codes easy for data analysis. As an aspiring and beginner data analyst, this platform helps you to easily write codes and make suitable changes to them because of its user-friendly interface, which also has a prominent markdown feature.  Therefore it is most preferred by non-technical individuals and also because of its simplicity in design.
The Salary Outlook for a Data Analyst 
According to the leading website authority, the average salary for a data analyst, Payscale.com "is $57,261". More often than not, several factors account for changes in salary for different data analyst. These factors include the data analyst's years of experience, his educational credentials, work experience with competent organizations, and even his certifications. 
This is often why initially, the pay will be on the increase for the first five to ten years in this career position. However, there may not be any further increase in pay as one goes higher in this career path. This makes most people move on to other jobs like data scientists, data engineering, or become data architects after spending over 10 years of experience in this career path. 
Another thing also worthy of note is those salary numbers depend highly on responsibilities. The more the job responsibility, the higher or increase in the salary structure. This is what a senior data analyst's role attracts more pay than a junior analyst with data science skills. Based on this comparison, the average salary structure is as follows:
Entry-level Data Analyst: The average salary structure per year is $83,750
Intermediate level Data Analyst: The average salary structure per each year is $100,250
Senior Data Analysts: The average salary structure per year is between $118,750 and $142,500. 
The Career Path of a Data Analyst (Job Outlook)
The American Bureau of Labor Statistics (BLS) projects that the demand for computer and information scientists' labor will grow by 11 percent from 2014 to 2024. This is faster than the average for all occupations. This means that computer scientists have high job prospects because they are highly skilled, and most companies often find it difficult to find workers who possess skills in this area. 
The Bureau also projects that market analyst research positions are expected to grow by 20%. In comparison, there is an expected 14% growth for management analyst positions, which is much faster than the average job growth for most other occupations. The obvious reason for this is that data analysts can easily work in most industries, including healthcare, professional services, even finance. This is traceable to technology, which has brought about the growth of most analyst positions. Hence, data analysts will always be in demand as technology is constantly increasing and changing on a fast-growing consistent basis. 
Data Analysis has been deemed one of the most crucial skills every professional needs to stay relevant in his/her career and excel in one's chosen field. This also stems largely from the fact that their demand cuts across several industries. Some of these industries where their demand is high include; 
The Financial and Investment Industry: In this industry, there is a high demand for both entry-level and expert data analysis experts. Most often, the management position of most financial institutions such as investment banks is usually occupied by data analysts in this industry as the most common career path. This industry's financial services require a high level of analytical and critical thinking for improved customer experience, which makes data analysts in high demand in the industry.
The Sales Industry: The need to influence customer decisions towards buying products and services makes the demand for data analysts of great priority. Lots of data are being churned out by companies daily related to product sales, which, if properly analyzed, can trigger a high difference in the profit turnover and bring about an increase in sales. Besides, increasing customer satisfaction is the desire of every company. Through proper analysis of trends in customer taste and needs, companies can identify ways to make this a reality and maintain long-term customer relationships. This makes the need for a data analyst on a constant rise in this industry.

Market Research: Many marketers ( 72% ) deem data analysts of great importance in surviving and becoming successful in the present marketing terrain. The high success of most marketing campaigns is largely attributed to data analysis. Data analysis can come in handy for companies even with carrying out market research before the launch of a new product or service. 
The data analyst plays a major role in making businesses and companies stay relevant to increasing technology changes. This makes them in high demand and is key to the success of most companies and organizations. 
Also read how I got an analyst job at slalom
How to Become a Data Analyst in 2021