Forklifts are Trucks used in various Industries for handling, shifting and moving heavy materials and objects from one place to other within the work premises. These trucks are also called Powered Industrial Trucks because they are either powered by diesel, petrol, or electricity and are operated manually either by the person driving the truck or by an operator outside the Truck itself who is well versed in the operation of the machine and has at least a High School Diploma as a basic qualification. Such machinery is used by almost all Industries and companies and therefore has its own set of norms and criteria regarding its use. Let us know How Old Must Be To Operate a Forklift?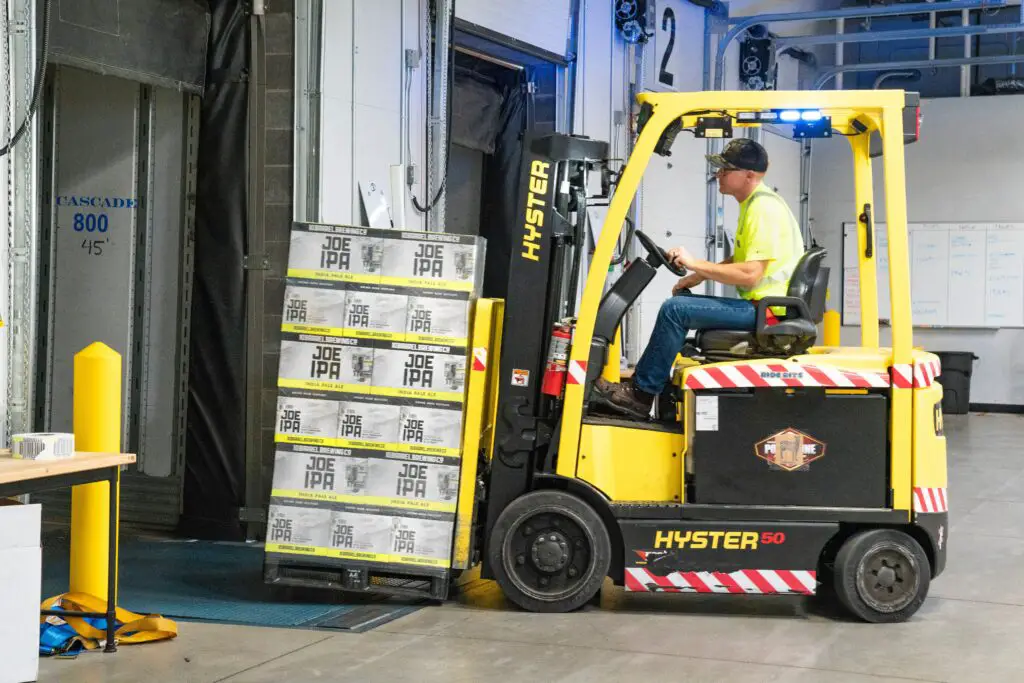 Since Forklifts are heavy machines, their use involves several risks and hazards. A person has to be well acquainted with the working of the Truck and competent enough to handle its use. Therefore, it is legally prohibited to employ a person to operate a Forklift who hasn't gone through or completed a certified training programme for driving a Forklift.
The law has put an obligation on the employer to verify that the operator he is employing is capable of working the equipment. However, even if a person has completed a training programme for running a Forklift, he would still be precluded from operating one if he is below the age of 18 years on the date of employment. Thus, in addition to being a duly certified Forklift operator, a person has to be at least 18 years of age to be able to drive one. 
Relevant Legal Provisions
As to the legality of employing a person below the age of 18 years; it would be regarded as a Federal Law violation to do so. The Fair Labor Standards Act, among other things, prohibits Child Labor and lays down various safeguards for minors working in Industries and Factories. Section 212(d) of the Act provides that the Secretary may by Regulations require the employer to obtain from any employee the proof of age.  One such regulation is Regulation: 29 CFR 570.58, titled "Occupations involved in the operation of power-driven hoisting apparatus", which was 
promulgated per the mandate of the said  Act.  It deals with the employment of Forklifts. Order 7 of the Regulation specifically and categorically forbids the employment of persons below the age of 18 years as Forklift operators in Non-Agricultural Industry, as such an activity is considered to be particularly hazardous to minors between 16 to 18 years of age and could put the lives and safety of such minors at peril.
The logic behind such a restriction is that minors in the age group of 16-18 years haven't yet developed the level of competence required to operate such machinery and therefore aren't fit for a job involving its use. As such, the employer must obtain proof of age before hiring someone and to ensure that the minimum age criteria of 18 years are fulfilled and that if it's not fulfilled, to ensure that under no circumstances the person is allowed to operate a Forklift.
Other than this, the employer also has to take additional steps in ensuring safety while using Forklifts or any other similar equipment.
The Stop Sticker Programme
In the year 2002, this programme comes as an additional protection against the employment of minors as operators of Forklifts. It was started by the Wage and Hour Division of  Employment Standard Administration. Under this programme, a sticker has been introduced which may be affixed to Forklifts as a supplementary precautionary measure.
The sticker, in bold letters, provides a warning as to the minimum age requirement before attempting to operate a Forklift. Affixing this sticker is not mandatory but it surely acts as a deterrent against improper use.
Conclusion
In conclusion, as long as you are 18  years of age, and have knowledge, training and certification in using Forklifts, you're free to be employed as an operator in the Non- Agriculture work. However, in the case of Agricultural work, you may run a Forklift if you are 16 years of age.  
Frequently Asked Questions
Q1. Is the employment of a person below the age of 18 years as a Forklift operator punishable? 
Yes, the employer or the company could face a penalty in the form of a monetary fine which is imposed by an authority known as OSHA (Occupational Safety and Health Administration) created under the Occupational Safety and Health Act of 1970. OSHA can also impose legal violations against the offenders.
Q2. Can a trained Forklift operator below the age of 18 years be employed?
No, the eligibility criteria for operating a Fork Lift are three-tiered: Age, Training and Certification. All three criteria are to be fulfilled independently. 
Q3. Do you need a license to operate a Forklift? 
Yes, a Forklift operator must have a valid license, other than the general Driving license to operate a Forklift, even if he fulfils the age criteria. After finishing the training, you'll receive a certification and a license. The said certification is viable for up to 3 years and has to be renewed after that. If an employee is found to be driving without a license, both he and his employer are liable to a pecuniary fine which may go up to thousands of dollars.
Q4. Is there any exception to the general rule?
Yes. In the case of agricultural and farming work, the age limit has been decreased to 16 years, and any child who is at least 16 can use a Forklift which has been employed for agricultural purposes. A child may even be employed in any other activity which would be deemed hazardous if it wasn't a part of the agricultural processes. 
Q5. Can a minor receive Forklift training? 
 No, according to law, to be able to handle a Forklift, you have to at least be 18 years of age, and hence you can't receive training or certification till you reach that age.
How Old Must Be To Operate a Forklift?