Thinking of pursuing a career in education? Wondering which are the best careers in the world of education? We are here to help. Usually, you will need a specialized associate education degree at minimum to have a career in education.
There are many options with lucrative salaries and as you gain more experience, your pay will increase as well. There is a different rewarding option for every person depending on their skills and needs.
The jobs that we have discussed below will not only help you grow better as a person but will help you improve pay rate as well. There are various entry-level jobs that will give you respectable pay, without any special degrees.
You have to read a wide range of books and apply to different local and federal positions every year and then you will land the position you desire. Here is a list of jobs in the education field and some of the best paying careers in education other than working as special education teachers, counselors, etc. Let's see what they are.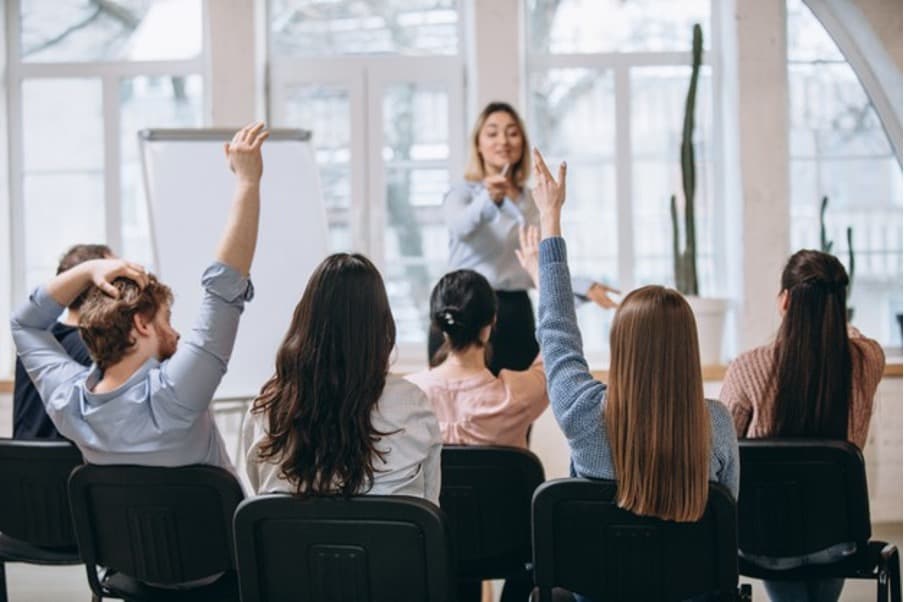 1.         College Professors
College professors earn a median pay around $78,470 per year. They are in charge of teaching pupils the knowledge to teach multiple subjects such as engineering, technology, economics, history, music, art, etc.
Generally, a professor is expected to have a high, advanced understanding of their field so that they would help pupils research and prosper in the selected area. You will need relevant experience and without experience, you won't land this job.
2.         Chief Academic Officers
The median pay of chief academic officers is around $117,541 per year. They are the directors of education and are skilled professionals who are in charge of planning, coordinating, and directing educational programs at education institutes.
The task of creating academic courses and doing all the required research for doing so is the task of a chief academic officer. After a course has been developed, the officers will monitor and discuss student progress of the course at the college level or even university level.
3.         Secondary School Teachers
A couple of years ago, the median salary for a high school teacher was around $60,320. They teach skills to students that will help them go for online education and  college degree or get a job after finishing school. From making lesson plans to helping students overcome educational issues, they do it all.
As teachers, you will work to create course material every year that will adapt to the levels of interest of the pupils, keeping in mind a range of things, such as their mental and health capabilities, etc.
Teachers have to work and have to teach the pupils in the subject area or degree of their interest. Making lessons, preparing the pupils for quizzes and upcoming tests, etc. are part of their job. How to assess student progress as well as communicate any concerns to their guardians comes under the job description of an online school teacher.
4.         School Principals
The average salary of a principal at middle or elementary school is almost $95,310 annually. If you go for school principal as a choice, it will be very rewarding. You will be in charge of overseeing and managing everything that goes on in the school.
You will also be able to keep an eye on operations such as the development of policies and then their execution. All the teachers will be under your supervision and if any teacher steps out of line, you will have to manage that.
5.         Assistant Principals
The average wage of an asst. principal is $87,439 per year. As an assistant principal, you will be part of the higher education administration team and will be paid handsomely. You will help the principal run the school while staying in touch with the students, high school teachers, and parents.
From elementary schools to high schools across the nation, you will find various assistant principals and teachers. You get higher pay as school principal, but assistant principals get a respectable wage as well. Principals are basically overseers of education.
To get administrative education jobs as an administrator, a specialized teaching license is not one of the requirements by law. However, to teach students, you will need one. You have to exhibit leadership skills in a controlled environment and build relations with the community.
You have to keep the classroom standards high and implement important academic programs that will determine the learning abilities of the children, ensuring that you prepare every student for success in colleges.
6.         Postsecondary Administrators
If you are a postsecondary educational administrator, you will be able to earn over $94,340 annually. Such a position is usually meant for a person working in the admissions office, as counselors, or running a financial aid.
Postsecondary administrators are usually hired by a range of universities, or schools.
A lot of managerial responsibilities are given to these employees, related to admissions, housing, residential life, etc. You will have to gather data & information about varying policies.
You can also work as a school counselor in various universities.  School counselors are in charge of school counseling duties and help students with any disabilities. You will have to meet potential students as well as advise current students regarding various issues.
You will have to oversee personal programs and special classes to ensure the students gain top knowledge and advance in their fields.
7.         Instructional Coordinators
An instructional coordinator doesn't earn a lot as compared to other options that we have mentioned above by earning around $64,450 annually. Instructional coordinators have to research various ways and methods of curriculum and instruction options.
They have to develop academic courses and oversee the practice. They have to work with students as well as educators.
Final Word
However, to increase your chances of getting hired for one of the management level options, you should get a bachelor's degree in education. Moreover, if you don't want to teach at a private school and want to work at a state school, you will need a teaching certification or degree before teaching students.
Special teachers are employed at colleges with science degrees to provide help with studies, especially getting an online degree these days. People who publish a larger amount of papers at state level are preferred.
This article was written by Adam Johnson, a professional writing tutor from papersowl.com. He worked in numerous schools as an advisor for getting early childhood education degrees. He teaches people how to supervise graduate students and offers top-notch tutoring on education and educational careers.
7 Highest Paying Jobs in Education in 2021