Seattle's tech boom started in the early 90s, led by Amazon and Microsoft, which transformed the city into a lodestone for tech companies and a lucrative opportunity for tech professionals. After three decades, Seattle became one of the two leading tech hubs on the planet and a sea of tech companies, both hero and zero. So we have selected the top 6 tech companies in Seattle to work with based on. Let us know more detail about 'Top Tech Companies In Seattle To Work'.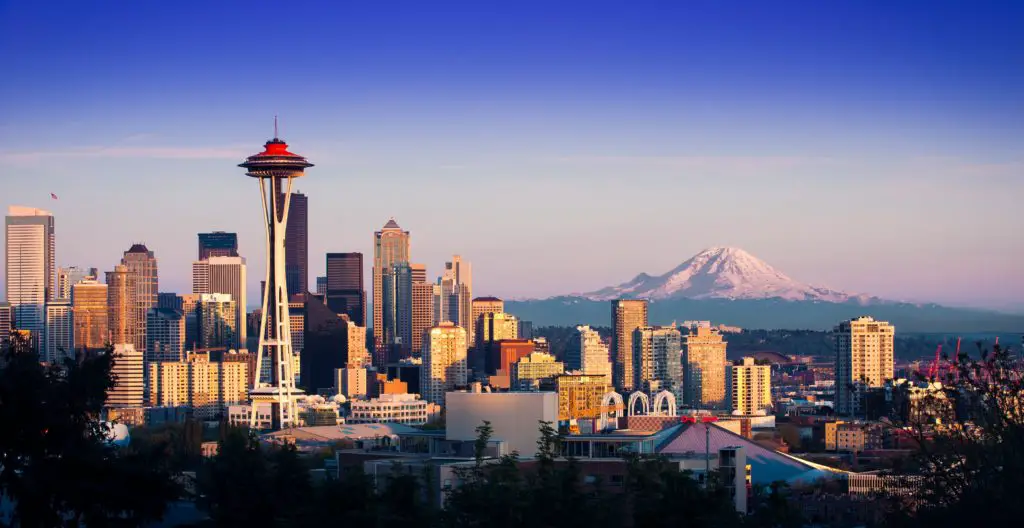 Top Tech Companies In Seattle To Work
Amazon, Microsoft, Google, Tableau, Expedia, and Cray are amongst the top tech companies to work in Seattle. The factors are given in the article help one to devise their strategy and align their interests in order to work with these companies.    
1- Amazon 
About Company:
Amazon is an American multinational technology company and a leading e-retailer which delivers a wide range of products from fresh vegetables to a cozy supple leather couch at your doorstep. With a market capitalization of $1.171 Trillion and monthly visits of 197 million Amazon is the 5th most valuable company on the planet. It is not only the leading e-retailer but also offers a couple of services including Web service, Home services, Pharmaceutical services OTT streaming services, and much more.
Number of Job Offers in Seattle <10000
Tech role in Company 
Data Scientist  
Avg.Pay($88k-$166k)
Software Engineer
Avg.Pay($86k-$163k)
Machine learning Scientist
Avg.Pay($120k-$212k)
Perks & Benefits: Medical, Dental, and Vision coverage for all employees, Coverage for Occupational accidents, up to 20 weeks of paid maternity leave, Accidental Death Insurance, Mental Health Support for work and personal life, paid short-term and long-term disability plans, and much more.
2- Microsoft 
About Company:
Microsoft Corporation eminently known for its software products and services was founded in 1975 by two childhood friends from Seattle, Bill Gates and Paul G. Allen. Microsoft is not only a leading software development company but also a major player in the video games and gaming hardware industry. Microsoft's vision is to" enable every individual and every organization on the planet to achieve more".
Number of Job Offers in Seattle <2500
Tech role in Company 
Software Engineer
Avg.Pay($104k-$215k)
UX Researcher 
Avg.Pay($83k-$169k)
Data and Applied Scientist
Avg.Pay($93k-$162k)
Perks & Benefits: Paid 20 weeks Maternity & 12 weeks Paternity leave, Flexible Work Schedule,4 weeks of fully paid family caregiver leave, Annual cash bonus up to 40% of eligible salary, employee well-being program including 24-Hour Nurse Line, weight management, and tobacco cessation programs and much more.
3- Google 
About Company:
Google initially known as "Backrub" is the most used search engine on the planet that processes 8.5 billion searches per day to satisfy the never-ending hunger of humans for information. Over the years Google has expanded briskly and provided a plethora of products and services including Web-based products, Advertising services, Communication and Publishing tools, Map-related products Mobile devices, Operating Systems, and much more. 
Number of Job Offers in Seattle <500
Tech role in Company 
Developer Relations Engineer-Google Maps
Avg.Pay($76k-$396k) 
UX Research Manager 
Avg.Pay($88k-$173k)
Technical Program Manager –Google Cloud 
 Avg.Pay($109k-$197k)
Perks & Benefits: 4 "work from anywhere "weeks annually,10-15% discount on Google Products, Free Meal & Snacks, Medical Coverage for Yourself, Spouse, and Dependent children, Free Legal Assistance, Free Fitness Facilities, Paid time off including Maternity, Sick, Vacation leave and much more.
4- Tableau
About Company: 
Tableau is a software company, currently headquartered in Seattle which provides collaborative data visualization tools widely used in the business intelligence industry. Big companies such as Deloitte and Honeywell also use Tableau for data analysis. Tableau's mission is to help people see and understand data and use that data to change businesses and the world. 
Number of Job Offers in Seattle <50
Tech role in Company 
Research Manager 
Avg.Pay($54k-$128k)
Software Engineer
Avg.Pay($110k-$189k)
Senior Product Manager –Cloud 
Avg.Pay($122k-$199k)
Perks & Benefits: Annual Company bonus, 15% discount on stock purchase, 401K retirement plan, Free Meals, Paid 12 week's maternity leave & 4 weeks leave for the care of a newborn, Paid sick leave, 2 weeks of paid vacations, and much more.
5- Expedia Group  
About Company:
Expedia.com is a renowned travel booking site that provides the most affordable prices when it comes to visiting the destination of your dreams. From cheap plane tickets to rental cars at your destination, you can book everything you need for a Trouble-free Holiday. Its mission is to power global travel for everyone, everywhere. Expedia Group has many partners around the globe to facilitate a once-in-a-lifetime experience for travelers. With a market cap of $27,834 Million according to Statista Expedia Group is the 3rd largest online travel company.
Number of Job Offers in Seattle <400
Tech role in Company
Machine Learning Scientist III 
Avg.Pay($129k-$607k)
Software Development Engineer
Avg.Pay($60k-$511k)
Principal Security Engineer
Avg.Pay($84k-$222k)
Perks & Benefits: Travel discounts, Business Travel Medical Insurance, Family and Friends Discount, Legal Assistance Coverage, Employee Assistance Program, 3 weeks of paid vacations, Leisure Travel Reimbursement, Wellness Reimbursement, Maternity, and Paternity leave, Family Medical Leave, and much more.
6- Cray 
About Company:
Cray, is a leading computer company that not only manufactures supercomputers but also powerful systems for data storage and analytics. Cray was acquired by Hewlett Packard Enterprise in 2019 for $1.3 billion. The company's high-performance computers are largely used by the US government and agencies such as DARPA for classified and non-classified applications.
Number of Job Offers in Seattle <70
Tech role in Company
Tech Support Engineer III
Avg.Pay ($40k-$378k)
Programmer 
Avg.Pay ($35k-$104k)
Systems engineer 
Avg.Pay ($42k-$323k)
Perks & Benefits: Affordable Health Insurance, Dental Insurance, Disability Insurance, Occupational Accident Coverage for all employees, 401K retirement Plan, Plan, Flexible work schedule, Paid Vacations, Work from home option, Paid sick leaves, and much more.
Top Tech Companies In Seattle To Work