Dominos is a Multinational American Pizza restaurant chain founded by Tom Monaghan and James Monaghan in 1960. The headquarters is situated in Michigan, USA. Primarily, the company logo had 3 dots which represented 3 stores in 1965. One of the owners had planned to keep on adding a new dot with the opening of a new store but it had to break off as the growth of its franchises was very rapid. When scrutinizing this fast – food chain company, The target group focuses on the middle class or upper – middle class families, meanwhile its segments it's for the public to have delicious pizza at home or in restaurants. In this article we are going to see about SWOT of Dominos & Competitors.
SWOT stands for Strength, Weakness, Opportunity and Threat. It is a simple device to analyse  any business not only at its beginning stage but also at various growth points. Analyzing our favourite lip smacking worldwide pizza food chain i.e Dominos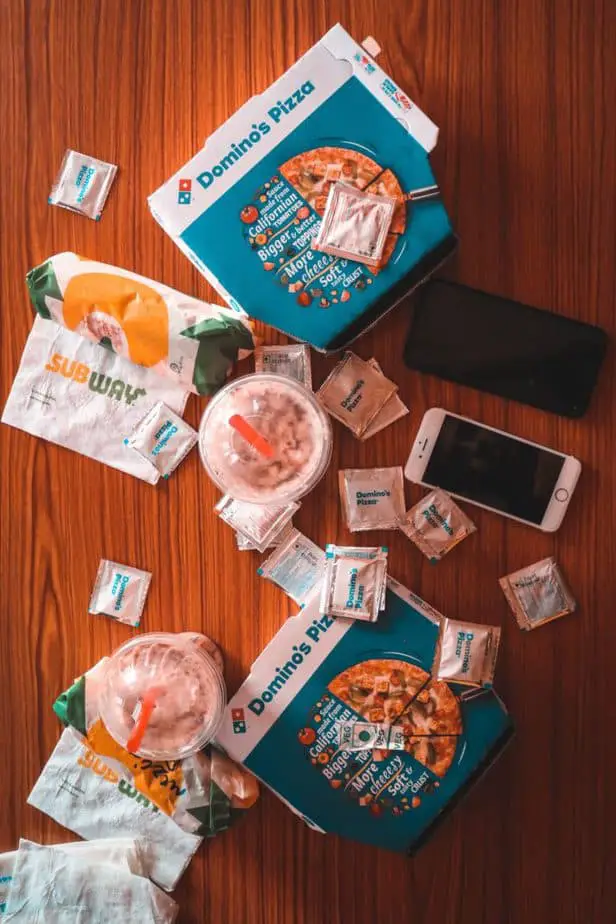 S – Strengths
a. Global Franchise & Prompt Service
The networking of this company is beyond the USA and has company owned locations over 60 countries with more than 9000 franchises. It sells nearly 500 million pizzas per year. According to Forbes, the company holds 1756th rank in the Global 2000 countries. The 30 minute delivery model is another unique factor which makes it stand out from other pizza food chains.
b. Diversification of flavours
Distinctive feature of the company is innovating different flavours in their menu along with customization with respect to distinct regions. For example in the US the tastiest pizzas include – Cali Chicken Bacon Ranch, Chicken Taco  Pizza, Cheeseburger Pizza. Meanwhile in India the majority of people are Hindus thus it has more variety in Vegetarian Pizzas, to lure more people along with its taste buds, it contains oregano and spice packets rather than parmesan cheese packets. Absurd and uncommon toppings, such as in Nigeria – Sliced bananas, Red chillies,mushroom and Philly Steak. Meanwhile in Indonesia a spicy coconut cream with lemongrass and garlic as base sauce with chicken, onion and parsley is being served. One of the delighted flavour i.e. Lotta-Chocca Pizza in the UK, people rejoiced at this flavour, it was made in a 6 -inch pizza base with melted milk chocolate flavour. Tempting right?
c. Technological Innovations
The company went through from near bankruptcy to Tech innovator. In 2008, it launched Domino's tracker which worked efficiently in the delivery process as well as in the kitchen.
There has been consistent enhancements and modernization in the ordering procedure. In 2014, they launched an Artificial Intelligence bot named as DOM, 'Dominos called it' which is a combination of both traditional and e-commerce retail.
For The time being, In this digital world, any customer can order the pizza from diverse channels i.e. chatbots, facebook, messenger, smart watch or Smart Tv, even voice assistants with Alexa either in mobile application or through websites. The optimization of e-bikes or driverless deliveries is been a huge boost in the sales
According to the Yelp Data, there has been a 148 percent increase in deliveries compared to the prior pandemic, because of takeaway delivery. 
d. Healthy Alternatives 
Concerning the health issues and awareness raising among people, it has started to include more  healthy fats in their dough i.e. including whole wheat flour into their dough. The company is also assuring healthier toppings by including salads, sandwiches and diet specific options as – low carb, low sodium, vegetarian, diabetes friendly, gluten free and also vegan foods in their menus. 
W – Weakness
a. Quality Control in Franchises
There has been immense growth of franchises in the USA as well as in other countries, thus to look upon quality management for each franchise or outlet is arduous and faces many other  operational difficulties.Thus, even small errors or flaws can impact and affect the brand's value. 
b. Reduced Beanery
There are more takeout outlets than dining joints which makes it less comfortable because at the end people want to have a chair to sit and eat. 
c. Less skilled workforce 
Dominos faces a crucial challenge in the skilled workforce,with an immense increase of eateries and takeaways,there are chances for lacking adequate training for unskilled staff and working in a frantic or hectic environment can increase the chances of quitting their jobs. 
d. Prioritisation towards fitness
In the pandemic, the most significant priority has been given to health. Thus, more importance has been given to workouts and Gym and alternatives have been created,for example, Make dominos style like pizza or garlic bread at home which evokes curiosity among people as lockdown was continued for almost a year. Apart from health conscious people,there is a rise in mature audiences to opt for healthy alternatives.
O – Opportunity 
a. Lite calorie food
A new menu shall be introduced for normal people, in which low fat additives in their food will definitely generate revenue and create a better brand image.
b. Rewards for Children
The fast food chains are rejoiced by teenagers and young children. Thus, special meal combos with free toys like – marvel, barbie or any other Disney character goodies can attract a lot among these segments. Offering coupons for being a loyal customer to the brand and offering some discounts on the meal can also create a tempt for the meals. 
c. Less takeaways and more restaurants.
Expansion of dominos outlets to big restaurants with seated arrangements and good ambience or creating special party offers for birthdays can also build more revenue. Even targeting these outlets in cream areas will lead to more consumers as people in those areas are interested in deluxe and lavish dinners.
d. Striving for International markets 
If we observe the competitive market i.e. Pizza Hut holds earnings in international markets whereas Dominos earns only 6% of the total sales. It earns the maximum percentage from the US itself. Thus,targeting these outlets to developing countries can uplift and enhance their sales.
T – Threats
a. Dynamic Shift of People's Appetite 
Consuming high calorie foods can lead to chronic illness and increase in obesity among children and middle age groups. There have been numerous sessions through government, NGOs for the termination of obesity illness. Thus, the demand for more healthy food at an affordable price is rising,which is a major threat for Dominos. 
b. Pressure towards Quality Management 
The issues regarding quality food and many other factors are rising, also this company has been facing pressure towards staff salaries. A rise in the price of raw material such as in dairy and vegetables can also increase the price tag of a single pizza. Thus, affecting the company's revenues. 
c. Indirect Competition 
Besides pizza food chains – Pizza Hut or Papa John's, Dominos does face loss from tough indirect competitors such as Mcdonalds, KFC, Burger King etc.
Let's dive into the Top 5 competitors of Dominos.
Pizza Hut 
Even though Dominos still continues to be the largest pizza food chain,Pizza Hut still continues to be the strong direct competitor. The quality and the ingredients are far more of a better quality and there's always new to choose from in variety. It provides services from breakfast items to cold drinks and many more Italian Dishes. Even though they provide very similar services in international markets as well as in the USA,it is loved by non- Americans too. 
KFC
KFC also known as Kentucky Fried Chicken and opened its first franchise in 1952. A distinguished company records high in sales from  fast food chain companies and its expansion in other countries has been a triumph with great revenue. Even though it specialises in fried chicken, apart from that it serves many other fast foods which suit the taste buds of the people.  It has been consistent regarding its quality and a strong competitor in front of Dominos. 
Mcdonalds
Mcdonalds, a very well known fast food chain founded by two brothers in 1940 in the USA. When they opened their first outlet in California, the entire new production system transformed the entire food chain system. Quick serving burgers with fries and cold drinks with an attractive logo attracted the people and today it covers 18%  of the fast food industry making. It is an indirect competitor since it doesn't produce or sell pizza but it is a strong direct competitor to dominos, in the perspective of a fast food chain market. 
Subway 
Subway, an USA based company established by Peter buck and Fed DeLuca in 1965. One of the most prominent brands in the food industry and its signature dish is Six-inch long submarine sandwiches used to serve clients. What makes it distinctive and a threat to dominos is it serves much more healthy food and leaves a choice for the customization of the sandwiches for the customers. Its outlets in international Markets and in the USA have worked very stable and efficiently as a brand.
Burger King 
Burger King is again an American fast food service and has outlets globally. In 2010, it became a privately owned company after it was purchased by an investment firm, 3G Capital. According to the survey, it serves more than 50 million people per month. Most prominent in swift service. Just like Mcdonalds, their burgers are also loved by people because of its quality services and are also rapidly rising its outlets in different segments of the market. Thus,it is one of the indirect competitors.
Frequently Asked Questions:
Which pizza is better: Dominos or Pizza hut ?
Both companies provide amazing quality food, it depends on an individual's tastes and financial capability. Although Pizza Hut serves in small portions, provides one or less types but their quality of ingredients are far better than Dominos. 
What are the busiest days for Dominos?
The Busiest days usually occur during long weekends, Halloween and New Years Eve.
In how many ways a Dominos pizza can be created?
There are more than 34 million ways to create a single pizza. 
SWOT of Dominos & Competitors- Know More