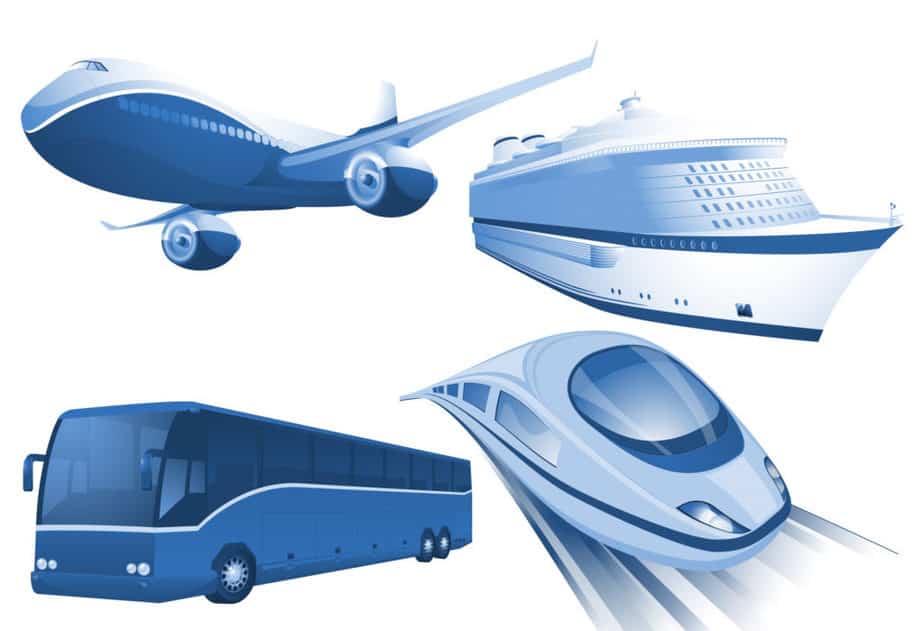 Introduction: 
The transportation sector is a pool of high-paying job opportunities. The USA has a dedicated Department of Transportation that can provide you with significant job roles and pay. You can earn a good amount of salary in this sector while working in different positions. If you are looking for the pay scale of various transportations jobs in the USA, you are on the right page. This article will tell you the average salary paid by different transportation jobs in the USA. So, today's topic- What do Transportation Jobs Pay?
Answer: 
Transportation jobs ranging from truck driving to aircraft pilot can provide you with several high-paying jobs. You can also get good pay in the sector that supports the transportation sector like logistics staff, repair workers, etc. The average earnings in the transportation sector were calculated to be 32440 USD. The highest pay recorded in the transportation sector was 122990 USD for air traffic controllers, while the drivers and other rail and road transportation jobs managed to earn 65020 USD approximately. 
The payment that you can expect out of transportation jobs depends on several factors. The first factor is the type of transportation job that you choose. The various positions that you can explore in the transportation sector in the USA are: 
Delivery Driver 
Tanker Driver (Tanker Hauling) 
Truck Driver 
Bus Driver (Public transportation job) 
Transportation Engineer 
Ice road truck driving 
Hazmat hauling 
Oversized load hauling 
Luxury car hauling drivers 
Owner operator jobs 
Private fleet 
Mining industry Truck drivers 
Jobs in the logistic sector 
Water Transportation sector jobs 
Railroad transportation sector jobs 
Air Transportation workers job and much more. 
The other factors that play a decisive role in paying you will get through the transportation job are: 
Type of goods loaded: 
The first factor that influences the pay from transportation jobs is the type of goods loaded. The pay scale can differ based on the bulkiness and importance of the goods carried by truck or another vehicle driver. For instance, if a person transports oil in his vessel, he is likely to make more gains because of the importance of the goods and the amount of care he has to take. 
Based on the goods carried, the requirement for packaging and related charges will also differ, which can impact your actual pay. 
Mileage covered: 
The second crucial factor for deciding the pay in the transportation sector is the number of miles covered by the vehicle. Of course, this criterion can differ because some transportation drivers might be paid for the number of hours. But still, mileage matters in the payment you get because the fuel charges and the related allowances would be determined based on the mileage covered by your vehicle to transport the goods from one place to another. 
Experience and certifications in the industry: 
Another crucial factor determining the pay you will earn in the transportation sector is your experience and the required certifications. Your experience in the transportation sector industry creates a good track record, and you can make more. 
The risk taken 
In the transportation sector, you might be required to take some risks to transport the goods. For example, if you drive a truck under challenging terrains like mountains or ice, you can earn more in this sector. This is because your skill will determine whether you can navigate through rough terrain and risks. 
Payscale of various job roles in the Transportation sector
Delivery Driver:
A delivery driver is responsible for the secure delivery of goods from the factory to the shop. A delivery driver has to perform various duties as listed below: 
They are dealing with different clients and delivering the goods as per their instructions. 
Control the loading and unloading of goods safely and securely. 
Well-versed with transportation laws and comply with them to prevent any loss. 
They also handle proper documents of the goods that are to be delivered. 
Ensure timely delivery by planning the routes wisely and avoiding jams. 
A delivery driver might be required to use a variety of vehicles for commutation. 
Pay that you get as a delivery driver: 
According to the US Department of Transportation, a delivery driver can earn $19.34 per hour on an average basis. Adding to this basic pay are other benefits and an opportunity to make daily trips from the clients. It is estimated that a delivery driver can get a bonus of almost $50 a day. Some of the top benefits that a delivery driver can bring in additional compensation include flexibility in timings, reimbursements for every mileage covered, health insurance, etc. 
Skills that you will require for taking up the career of the Delivery driver: 
Good physical strength – to carry different goods and keep or take them out from their vehicles. 
Organizational skill – to keep the goods in an assembled way. 
Efficient customer service 
knowledge of all the laws related to vehicles to ensure compliance with rules and regulations. 
Your driving skills should also be good. 
Time management skills to handle more clients and deliver more goods 
Detail-oriented approach 
A delivery driver should be able to work alone and handle pressure. 
Truck Driver 
Truck drivers have an essential job to transfer goods from one place to another. They mostly use their trucks for this delivery purpose. They are required to cover long distances for the delivery of cargo. 
Pay that you can get as a truck driver: 
A truck driver can earn almost 66995 USD annually. The pay can further see an increase according to the location. For instance, you can make nearly 91116 USD in a year by working as a Truck Driver in Chicago. Similarly, in Dallas, this figure is further raised to 91635 USD annually. Atlanta is also a great location if you want to earn an annual pay of almost 89139 USD in this job. 
The pay can also vary depending on your roles like company team driver, individual company driver, or owner-operated driver. In addition, the payment can depend on miles. For instance, a company team truck driver can earn 0.48 to 0.75 Dollars per mile which means that he can earn almost 3154 Dollars per week if he travels 6k miles in a week. 
Similarly, the other post under a truck driver is a company solo driver who can earn 0.40 to 0.64 dollars for each mile. Thus, the pay can total 1183 USD every week if an average of 3k miles is traveled. 
The last job is of a truck driver operating their truck. In this case, you can earn 0.94 to 1.79 USD for each mile covered. This means that if you cover 3000 miles in a week, your average earnings will add to 3163 USD. The only con associated with a truck driver driving their vehicle is that you have to earn huge expenditures on fuel and other maintenance charges. 
Contrary to this, if you work as a company driver, the company will take care of these charges. The other benefits that a truck driver enjoys include paid time off (means you will get paid even for leaves), life, health and vision insurance, allowances for toll charges, etc.  
Tanker Driver: 
As the name suggests, a Tanker Driver is hired for driving a tanker trailer to deliver goods from one place to another. They are also responsible for loading and unloading goods in the tanker. From the security of the cargo to ensuring compliance with rules and regulations, tanker Driver has to stay vigilant and pay attention to details. A tanker driver is also required to keep a record of the driving hours and the miles covered. 
Pay to expect if you are working as a tanker Driver: 
By working as a tanker driver, a person can earn 19.78 USD in an hour in the USA. This figure totals 74851 USD in a year in the USA. Besides this, you can also get additional benefits like the opportunity to buy company stocks at a discounted price (called an employee stock purchase plan), A&D insurance, and much more. 
Skills that you must have to excel as a tanker Driver: 
Great Driving abilities: 
Being a driving job, a tanker driver has to be well-versed in all the nuances of driving. He must know all the technicalities and be able to keep his tanker and goods secure. In addition, since a tanker drive is often required to carry hazardous or bulky material in the tanker, he has to have excellent driving abilities to handle the pressure. 
Timely delivery and clean record:  
A clean record is essential in this field because everyone wants to hand over their goods in trusted hands. To make a clean record, you have to ensure timely delivery and in the right manner. Compliance with local laws and proper documentation will also come in handy in this regard. 
Minimum age and passing necessary exams: 
Some states have specific age limits for a person to become a tanker driver. However, mostly the minimum age to apply for a tanker driver job is twenty-one years. Then you will be required to clear a written and a practical test conducted by the authorities. 
You will require rigorous skills to handle a tanker, and accordingly, a driver's license test is conducted to check for your potential. So, you will have to wait for a commercial driver's license before moving ahead in your career as a tanker driver. 
Oversized load-hauling driver: 
As the name suggests, oversized load hauling drivers are required to transport large goods. Therefore, you will need additional certifications to take up this career. Some of the most popular goods that an oversized load hauling driver must carry are shipping heavy construction cargo, tiny houses, etc. 
Salary insights: 
Since oversized load hauling drivers have to possess high abilities to carry the heavyweight, they get handsome pay. It is estimated that these drivers earn almost 54000 USD in a year. This is just average; the actual payment can also be in lakhs if they have the right experience and opportunity. 
Local taxi Driver and chauffeurs: 
People hire local taxi drivers to travel from one place to another, and rich people hire chauffeurs to drive their cars. They must follow the orders of their boss and take them to and come back from a mentioned location. To become a good local taxi driver or chauffeur, you have to be well versed with the local roads and possess good communication skills besides excellent customer service. 
Salary: The salary range of taxi drivers and chauffeurs is usually between $24724 annually to $51947. The median salary for this job stands at 36551 USD in a year. 
Luxury car hauling: 
Luxury car hauling drivers also earn considerable pay because of the high value of the cargo they carry. The expected salary of these drivers is almost one lac dollars annually (100000 USD). For this kind of job, one requires ample experience in driving to create a presentable record to impress companies. The companies can hire either a solo driver or create a team of drivers to carry luxury goods and cars. 
Ice road truck driving: 
Ice road truck drivers travel across various frozen roads in the USA and Canada to deliver various goods from one place to another. It can be a dangerous job as ice is a very challenging terrain. Accordingly, you will need high driving skills to take up this career. Another thing to note about this job is that it is seasonal because you will be called up for work only when ice covers the road. 
Salary insights: 
Although this job is challenging, you can earn lucrative pay from this transportation job. It is estimated that after taking up this job, you can reach 30000 to 40000 USD in only three months. This is why ice road truck drivers are considered as one of the best-paid transportation jobholders. 
Mining industry truck driver: 
A mining industry truck driver is responsible for carrying mining-related goods like coal and other minerals from the mining site to the market or industries. This job also pays a good ransom. The rationale behind the high pay is that you will require much precision and skill to drive through the bumpy mines and transport it safely to the desired location. Therefore, you should take on this job only if you can handle challenging terrain. 
Pay that you can expect: In this job, you can earn 60175 USD annually. The salary can rise as high as $188551annually, in this job as you become experienced. 
Hazmat hauling job: 
This is another challenging transportation job that can pay you a good amount of money. However, the position is considered a little dangerous because you will need to deliver hazardous material to your vessel. This harmful material can be corrosive substances, flammable gases or liquids, etc. Therefore, the job will require compliance with a lot of safety procedures and a Hazmat endorsement. 
Payscale: a Hazmat truck driver in the USA can earn almost 62485 USD. The pay scale lies within a range of 48575 USD to $81587 for these truck drivers. 
The bus driver or Public transportation jobs: 
Bus driving or getting a job in public transportation is also a great career opportunity. The responsibility might include dropping school children if you are employed as a bus driver for a school. In addition, if you are engaged in public transportation, you are required to deal with the public, drop and pick people in a route, and show customer service skills. 
Salary: a bus driver can earn USD 31500 annually. Similarly, a public transportation bus driver can reach almost 17.08 USD per hour. Other benefits that a bus driver and a public transportation worker can get are flexible working hours, life, health and vision insurance, payment for holidays, etc. 
The pay can increase according to the experience, and it is estimated that a person with one or two years of experience in driving can earn $15.90 per hour, but the same person with knowledge of more than ten years gets 20.06 USD an hourly basis. 
We are supporting industries like logistics, material movers, etc. 
Besides the mainstream transportation sector, you can also get good pay in supporting industries like logistics, material moving work, etc. The various jobs available in this sector are: 
They are responsible for handling and organizing the goods that are to be delivered. As a result, they can earn a good salary ranging from 102121 USD to 189130 USD annually. 
They also assist the material control manager and play an active role in maintaining stocks for delivery. The average salary expected in a material handler job is 30868 USD. 
A logistician is bestowed with the duty to maintain the supply chain of the company. From acquiring the product to delivering it to the consumers, they have to record all the cargo. The pay scale of a logistician is usually between 57080 USD to 96240 USD in a year. 
Packaging handler or engineer 
Packaging handlers or engineers are responsible for effectively sealing the goods that the truck drivers will carry and transport. In addition, they have to coordinate between clients and the company and ensure the effective handling of packets. In this job, one can earn almost 16 to 31 USD per hour. 
Water transportation jobs: 
Water transport is also a crucial sector in the USA and can provide you with great jobs that will help you earn a good salary. The water transportation workers must keep an eye on goods transported in vessels that travel the water bodies. The various jobs that one can apply for in the water transportation sector are sailor, captains, deck officers (watch the daily routes of the vessels and ensure smooth transportation), ship engineers, and much more. 
The median annual pay for water transportation workers was estimated to be 59250 USD. However, these workers have to work for a longer duration. They also require good vision and a healthy body to withstand the water journeys for longer hours. The lowest earnings in the water transportation sector were 29460, while the highest salary touched the 128420 Usd mark annually. 
Job wise distribution of average salaries of water transportation workers is given below: 
Ship engineers can earn almost 75990 USD annually 
Sailors and marine oilers can get nearly 44290 USD 
Motorboat operators that handle the operations of different motorboats for transporting cargo and passengers make almost 55910 annually. 
The highest salary earned in the water transportation sector is attributed to Captains, mates, and vessel drivers, 77130 USD annually. 
Air transportation sector jobs: 
The air transportation sector is one of the best-paying transport sectors. But you will require additional degrees and skills to take up a career in this industry. Various jobs available in the aviation industry include pilots, flight attendants, air traffic controllers, instructors, crew members in aircraft (like air hostesses), etc. 
The lowest salary estimated in air transportation is that of crew members who earn 47890 USD annually compared to the six-figure salary of aircraft pilots. On the other hand, flight attendants earn somewhere around $24.51 per hour. 
Railway sector jobs in the USA 
The last but not the minor transportation sector jobs you can explore and earn good pay are railway sector jobs. For instance, a train driver can make $53830 annually. Similarly, you can take up other careers in the railway sector like rail transportation manager, transportation and material moving workers in the rail industry, etc. 
Final words: 
The transportation sector is indeed well-paying. You can choose your career in the transportation industry from various options like truck driving, taxi driving, logistics support industry, rail industry, aviation industry, and much more. For example, in truck driving, there are many good-paying careers like ice-driving, hazmat, mining industry driver, and much more. But for all of these careers, you will require dedication and the ability to spend long hours traveling. Once you have the right skills needed for the transportation industry, you can earn five to six-figure income based on your certifications and experience. 
What do Transportation Jobs Pay?