A rodeo clown is a skilled performer who works in rodeos and other bull-riding events. They are also known as bullfighters or rodeo protection athletes. A rodeo clown's primary role is to keep bull riders safe by diverting the bull's attention away from the fallen rider. Let us know What are the 'Salaries For Rodeo Clown'.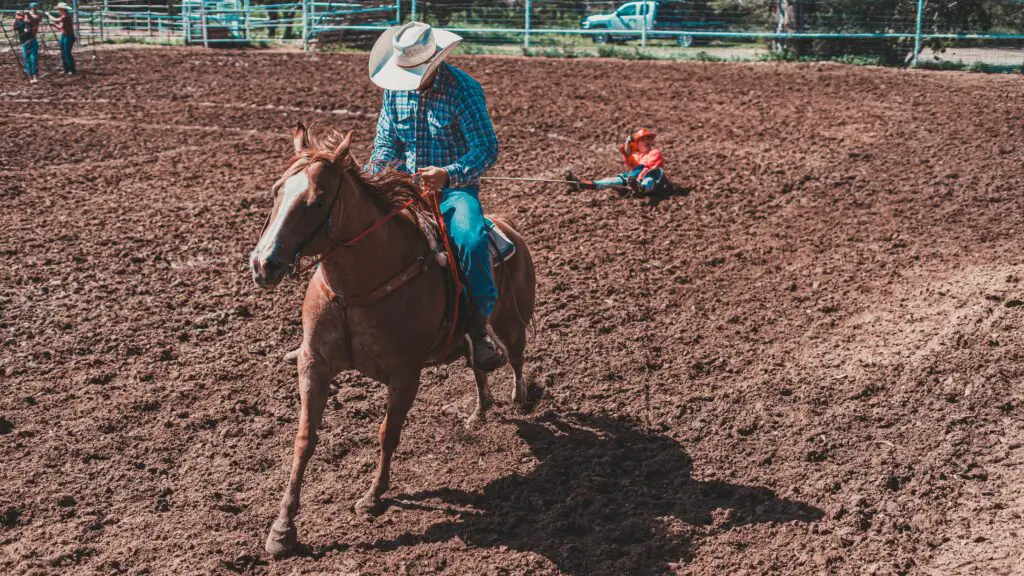 Salaries For Rodeo Clown
The average hourly salary for a rodeo clown in the United States is $24.51.A rodeo clown can earn anywhere from a few hundred to several thousand dollars per event. The majority of rodeo clowns are not full-time performers and have other sources of income.
Average wages for a rodeo clown
The average annual income of a rodeo clown is around $50,000 to $70,000 per year.
This figure, however, can vary depending on several factors, including location, their experience, etc.
The following are the average salaries for rodeo clowns in selected cities of the United States,
Houston, Texas: $38,000 – $55,000 per year
Oklahoma City, Oklahoma: $24,000 – $49,000 per year
Denver, Colorado: $32,000 – $45,000 per year
Cheyenne, Wyoming: $30,000 – $40,000 per year
Las Vegas, Nevada: $24,000 – $44,000 per year
Rapid City, South Dakota: $25,000 – $40,000 per year
High-Paying Rodeo Events vs. Low-Paying Rodeo Events
Some of the  well-known high-paying rodeo events are:
National Finals Rodeo (NFR)
Calgary Stampede
Houston Livestock Show and Rodeo
Cheyenne Frontier Days
Dodge City Roundup
Because of their high level of prestige and competition, as well as the large audiences they attract, these events tend to pay more for rodeo clowns.
Some of the low-paying rodeo events are:
Local Rodeos
Junior Rodeos
Amateur Rodeos
Non-Traditional Rodeo Events
Lower-Profile Rodeos
Factors influencing the Salary of rodeo clowns
Various factors affecting the salary of rodeo clowns are,
Experience: Rodeo clowns who have been in the business for a long time and have built a reputation for their skills and abilities may be able to command a higher salary than less experienced clowns.
Reputation: Rodeo clowns with a reputation for being especially skilled, entertaining, and dependable may be in higher demand and able to command higher wages.
Event Size and Prestige: The size and prestige of the rodeo event can also have a significant impact on a rodeo clown's salary. Larger events with more competition and a larger audience may be able to pay rodeo clowns more.
Location: The location of the rodeo event can also have an impact on the salary of a rodeo clown. Larger cities or areas with a high concentration of rodeo events may be able to pay higher wages than smaller towns.
Benefits and drawbacks of working as a rodeo clown
Working as a rodeo clown can be a unique and exciting career option, but it has its own set of advantages and disadvantages. Here are some of the benefits and drawbacks of working as a rodeo clown:
Benefits: 
Excitement and Adventure: Working as a rodeo clown can be a thrilling and exciting career for those who enjoy adrenaline-pumping activities.
Rodeo clowns will always be in demand as long as there are rodeos. This means that for those who establish themselves in the industry, a relatively stable source of income is possible.
Rodeo clowns have a unique skill set that includes the ability to entertain a crowd, think on their feet, and keep riders and animals safe. Those who excel in these areas can have a fulfilling and rewarding career.
Rodeos are held all over the country and even internationally, rodeo clowns have the opportunity to travel and see new places.
Drawbacks:
While some rodeo clowns can earn a lot of money, the majority of them do not. It can be difficult to make a living as a full-time rodeo clown because of this.
While there are many rodeos held each year, there are also a limited number of opportunities for rodeo clowns. This means that competition for available jobs can be fierce.
Because many rodeos are held during the summer months, rodeo clowns may only be employed for a portion of the year. This can make it difficult to keep a consistent income.
Working as a rodeo clown can be physically demanding because it requires a lot of physical activity, such as running, jumping, and performing acrobatic stunts.
Conclusion
Now We've learnt about 'Salaries For Rodeo Clown', In conclusion, the salary of a rodeo clown can vary greatly depending on a variety of factors such as location, experience, and the type of event at which they work. While the National Finals Rodeo typically pays the highest wages for rodeo clowns, lower-paying events such as county fairs and smaller rodeos can still provide valuable experience and exposure.
Working as a rodeo clown can be a physically demanding and dangerous job, with risks such as injury and long hours. However, it can be a rewarding and fulfilling career for those who are passionate about the rodeo industry and enjoy entertaining crowds. A combination of formal education, on-the-job training, and professional development can assist aspiring rodeo clowns in developing the skills and knowledge required to succeed in this unique and exciting profession.