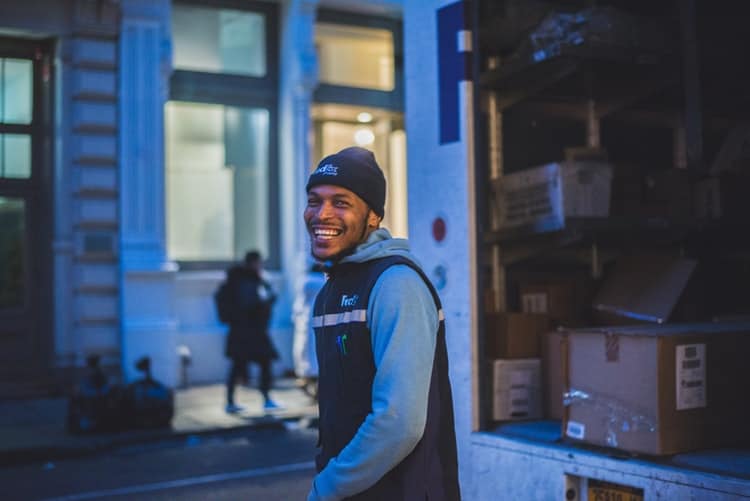 "It gives me immense happiness when I see a customer receive their much-awaited package" the above statement is of Harry, one of the delivery guys working in New Jersey. In today's time, the Postal service has become such an integral part of almost everyone's life. Be it sending important documents or, shipping small to large packages, the postal service does the job. Let's see How Much Do Mail Delivery Drivers Make?.
Mail Delivery Drivers 
Mail delivery drivers are an essential part of the postal service who deliver our long-awaited packages safely to us.  
With the only exception of Thanksgiving and Christmas, they delivered parcels on holidays too.
Sometimes they had to endure bad weather, traffic jam, and even travel through many rough paths, and still, they carry out their work which says a lot about their dedication towards work.
Mail delivery drivers form a basic connection between all the people and their institutions.
Now, let us move forward and know more about mail delivery drivers in brief.
Mail delivery drivers are postal service employees who deliver couriers at the designated residences or companies. 
In the United States, there are two most well-known courier services named: 
USPS – also known as United States Postal Service is a branch of the US federal government. 
About 49% of the total world's mails are handled and distributed through the organization.
USPS deals in postal service of delivering large to small couriers at designated places. They ship both domestic as well as international package.
As mentioned on the official website, their mission is to provide worldwide reliable and affordable mail service. 
In UPSC, the strategy, procedure, service rates, are governed by The Board of Governors of the United States Postal Service.
It is an independent company, formed 50 years ago on July 1st, 1971 (Washington). Its headquarters is at 475L'Enfant Plaza SW Washington, US.
As of the year 2019, USPS has a total no. Of 633,108 employees working for the company.
UPS- also known as United Parcel Service is an American multinational organization (public company) having strong market value.
Founded 114 years ago I.e; on August 28, 1907 (Seattle, Washington) it was originally named The American Messenger Company.
It expertise's in Courier, freight forwarding as well as logistic services and is considered to be worlds largest postal service.
Two of the main reason for its favoritism among people are: UPS provides quality and reliable services and second being company's efforts to maintain good & long-term relationships with the customer.
While its headquarters is in Georgia, United States, the company revenue crosses $71.861 billion. 
As of 2020 UPS had more than 543,000 employees working for the company.
Responsibilities of a Mail Delivery Driver 
As mail delivery driver's primary work is delivering a variety of items at assigned locations. 
They need to have a strict timetable, which helps in time management.
One of the duties of a mail delivery driver includes asking for customer feedback and trying to resolve clients' complaints if any.
Many times they also supervise and operate a delivery vehicle.
Mail delivery drivers are required to collect payments and also let the customer know about any new products.
Requirements
As we had covered about the responsibilities of a mail delivery driver, now let us have a look at the requirements.
To become a mail delivery driver one needs to be a high school graduate with a clean driving record. The minimum age to apply for the post is 16 years and they also need to pass a postal examination.
As a mail delivery driver one needs to travel a lot so, having a valid professional driving license is important. 
Having good memory regarding new routes and locations is a plus point.
Major traffic violations or excessive minor complaints may affect job carriers negatively so, one should be very concerned regarding this. 
Having good management skills is also important for a mail-to-deliver driver.
Acquiring basic knowledge in operating forklifts and tractors is also beneficial. 
Salary  
Mail delivery driver job certainly pays well and is counted among the highest-paid government jobs. While the pay-scale range gradually increases with the seniority and year of service. 
Since 2004, there has been a nationwide increment in postal services salaries by an average of 22.62 %. 
In the case of USPS, in a span of every 14days, the company invest $2.1 billion in salaries and benefits of the employees. It says a lot about its amazing pay scale.
For an entry-level position, the average income of a postal employee ranges from $16.74- $19.19 per hour.
With added benefits, which is about 33% of wages is included it becomes $20.17 per hour.
Coming to UPS mail delivery drivers, in general, their salary varies from $16- $33 per hour.
On yearly basis UPS, mail delivery drivers make $97,631 annually.
States having the highest and lowest salaries for mail delivery drivers
Mentioned below are seven states where mail delivery drivers have the highest average salary-
In California, mail delivery drivers get the highest salary of $54,690 per year.
Second, comes the Virgin Islands where mail delivery drivers make $54,320 annually.
The third state is Hawaii, and mail delivery drivers get an annual salary of $54,080. 
Massachusetts grabs 4th position where mail delivery drivers yearly make $53,990.
5th state is Arizona and the mail delivery driver's salary is $53,900 per year.
In New Jersey, which occupies the 6th position, mail carriers make $53,810 per year.
7th and last state is North Carolina where the annual pay scale of a mail delivery driver is $ 53,580.
States, where mail delivery drivers have the lowest pay-scale, are-
In Wyoming, mail carrier gets the lowest salary of $50,490 per year.
The second state is Oregon where mail delivery drivers make $51,410 annually.
Third comes Puerto Rico, and mail delivery drivers earn $51,430 per year.
Guam grabs 4th position where mail delivery driver's yearly pay is $51,590.
5th state is Montana and mail delivery drivers make $51,590 annually.
In Vermont, which occupies the 6th position, the mail delivery driver's annual income is $51,800.
7th and the last state is Alaska where the pay scale of mail delivery drivers is $51,820 per year.
Working hours
Generally, mail delivery drivers work from Monday- Friday I.e; 5 days a week.
While the working hour is of 8 hours depending on location, working hours may vary.
Mail delivery drivers might also need to do overtime in holidays time.
Benefits 
Apart from good pay scale USPS mail delivery drivers get numerous benefit such as-
Compensation
Health insurance
Dental and vision & Long-Term Care insurance
Flexible spending accounts
Thrift saving and Retirement plans.
Social security & Medicare
Life insurance & Career Development training.
Commuter Program and taking leaves.
UPS also provides mail delivery drivers with additional benefits such as –
Compensation 
Health & vision care
(EAP)Employee Assistance Program 
Retirement plans
Supplement Life Insurance
Vacation and leaves
Note: in both companies, there are special benefits for disabled employees.
Impact of covid-19
As the impression of coronavirus can be seen worldwide, the U.S.postal service also had to suffer its unpredictable impact.
In 2020, the postal service had to divide pandemic- allied expenses such as service, transportation cost, sick & annual leave expenses, etc from daily basis expenses to get a vague idea of the pandemic impact on the company's financial status.
Conclusion
Being a mail delivery driver requires good physical strength as they need to travel from one place to another. Sometimes it might be tough but there are a lot of additional benefits too. Moreover, the satisfaction one mail delivery driver gets after safely handing over awaited packages to people is worth it.      
Frequently Asked Questions 
What can disqualify one from being a delivery boy? 
Major driving violations, a conviction for felonies, complain regarding sexual assault, murder, crime related to terrorism, etc are some of the things which may disqualify one from being a delivery boy.
What is the difference between UPS & USPS?
While both of the names may seem similar but both UPS and UPSC have separate operations. 
United Parcel Service, commonly known as UPS is a public company. It is also known as the world's largest package delivery company. They deal regarding worldwide shipping of big couriers with logistic services.
USPS stands for United States Postal service. Situated in the United States, it is a private company working under States Federal government. It deals in quick shipping of small couriers and mail-in reasonable prices. USPS provides services only in the United States.
What is the standard delivery time?
Usually, standard mails get delivered within 3-4 days.
->In case of priority mails, they are delivered within 1-3 days
->In case of priority express mails, they are delivered within 1-2 days.
What are the working hours of a mailman?
Generally, the mailman works 5 days a week I.e; from Monday to Friday, and the work schedule is of 8 hours.
Which is cheaper UPS or USPS?
Before sending a courier many seem to ponder over this question. In general, the shipping rate is calculated depending on the size and weight of your package. While in the shipping of smaller couriers USPS is the best option whereas UPS has cheaper rates for sending large couriers.
How Much Do Mail Delivery Drivers Make?