An HVAC Technician has expertise in Installation, repair, and maintenance of heaters, ventilation, conditioning systems, and refrigeration systems. Some HVAC technical experts may have specialization in installations, repairing, and maintenance of only a particular system (I.e., maybe just heat ventilation or air conditioning or refrigeration), while some offers service in a broader spectrum. let us know more about that the Hvac Technician Resume-Know More.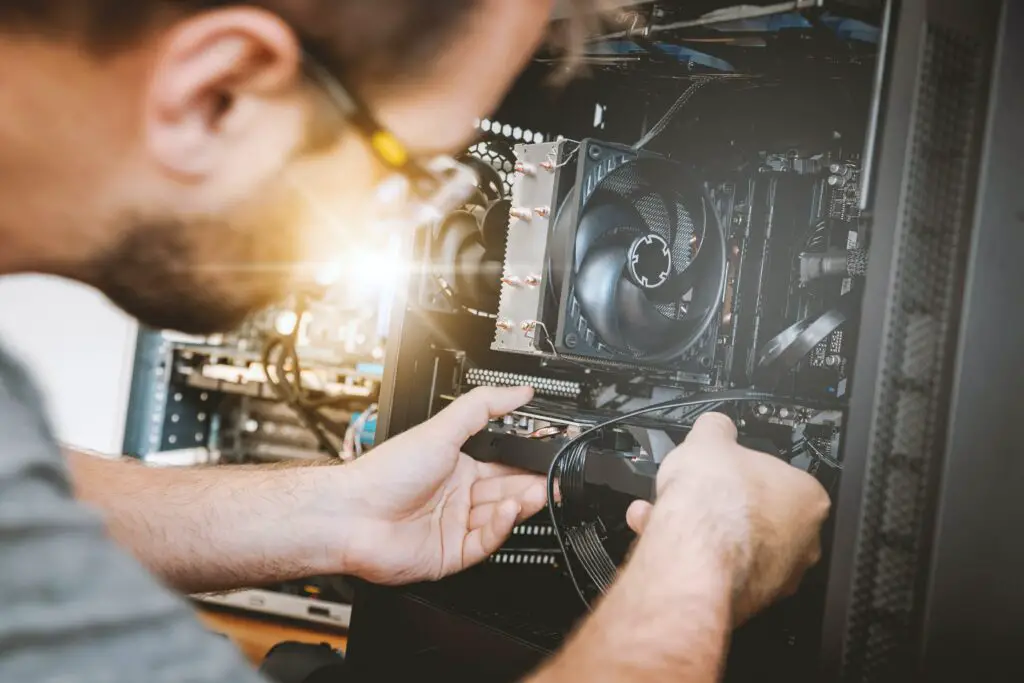 Job Role
Many interior temperature control systems we take for granted are designed, maintained, and replaced by HVAC technicians. They are a specialized group of experienced experts tasked with restoring these systems to an operative condition like Installing, debugging, and overhauling complete HV, A/C, and refrigeration systems. Assessment of refrigeration or air conditioning components in preparation for installation. Installing refrigeration or air conditioning components using hand and power tools.
HVAC professionals can be found working in several environments, including schools, industries, and yes residential areas. Because they manage the installation, they play an important role in the construction of any structure that will incorporate HVAC systems. What a building may be used for is determined by the systems that are put in it.
Qualification for Hvac technician
These are some pre-requisite qualifications and certifications you need to have in your resume, to work as a professional HVAC Technician.
High School Diploma or GED: Vocational Education, Math, and Physics Courses Can Be Beneficial: Typically required for better selection chances.
Technician Certification under Section 608 of the EPA There are three different types of certifications (each requiring a test): When working with refrigerants, this is a must,  
 Type 1: Small Appliance Maintenance.       
 Type 2: High and Very High-Pressure Appliance Servicing and Removal.   
 Type 3: Servicing and Removal of Low-Pressure Appliances.  
HVAC Accreditation from a Vocational School or Community College is strongly advised for Air Conditioning, Gas Heating, Electric Heat & Heating Systems, Basic Electricity, Indoor Air Quality, and Employment & Certification Readiness.
Specialized Industry Certifications: North American Technical Excellence (NATE): Widely Accepted & Can Lead to Career Advancement HVAC Excellence.
Refrigeration Services Engineers Society (RSES).
What do hiring managers expect from HVAC technicians?
Experience and previous work
Past experiences, understanding of current HVAC technology, and past work records are all necessary to demonstrate your competency as a trustworthy professional. Even if you haven't been in the company for long, you can instill trust in hiring managers by displaying an extensive understanding of their HVAC problems and how to effectively fix them. Demonstrate your present expertise as well as prior experiences and successful employment.
Reviews and testimonials
Positive client reviews are a fantastic method to give information about your prior work. How many of your former clients are ecstatic with the quality of your work on their HVAC systems? How recent are their evaluations? Don't be afraid to promote positive testimonials from former clients.
Swift service
Given how many people use their HVAC units on a frequent basis, especially during the summer, timeliness is a significant consideration in deciding which professional to choose. Most clients will select the speedier choice if their preferred technician is unavailable for a month and a less familiar one can be there in an hour. HVAC is a time-consuming profession by nature, with work arriving unannounced and urgently. It is vital to do your best to be open to unexpected employment while without disregarding prior appointments.
Technical specialties you need on your resume
  Depending on your expertise and training, you should describe clearly about your specialization. Below we have curated a list of some specializations you could use in your resume depending on your expertise.
Automotive HVAC Technician
With air conditioning being standard equipment in most automobiles nowadays, there is a rising demand for HVAC knowledge in automotive maintenance and repair services. Automotive HVAC technicians can also work in automobile production, assembly, or research and development (R&D).
HVAC Engineer
An engineer plans and coordinates the installation of new heating and cooling systems with the client and the HVAC installation crew. An HVAC engineer may also be requested to assess and propose ways to repair or enhance an existing system. HVAC engineers can work for design firms, government agencies, or equipment manufacturing businesses, in addition, to directly for HVAC corporations.
HVAC Design Engineer
An HVAC engineer may engage in research and development or specialize in the design of systems for markets such as retail spaces, restaurants, office buildings, big residential structures, or industrial applications. This task entails estimating the space's heating and cooling requirements and then designing every component of the HVAC system. In addition, a design engineer collaborates with customers, architects, contractors, and other team members to coordinate and implement system design.
Refrigeration Technician
Heating, ventilation and air conditioning (HVAC) technicians deal with refrigeration systems in homes or businesses such as grocery stores. Many sorts of refrigeration and cooling systems are learned by these experts, including how to install, fix, improve, and replace them.
Energy Auditor
Energy auditors are crucial in preventative maintenance because they can detect when an HVAC system needs to be updated, modified, or replaced. An auditor examines the energy consumption and each component of an HVAC system to ensure that it is operating safely and effectively. In addition to enhancing system efficiency, an energy auditor may assist commercial building owners in ensuring compliance with air quality and energy consumption standards.
Indoor Air Quality (IAQ) Inspector
An IAQ inspector is qualified to analyze the air quality in buildings and make suggestions for resolving any issues that are discovered. The inspector searches for indoor pollutants, mildew, allergies, and other concerns that may be hazardous to one's health or comfort. Because these problems are frequently linked back to heating and cooling systems, HVAC skills and understanding are required for the task.
Solar Technician
The solar photovoltaic installer is the fastest increasing employment in the United States, according to BLS job forecasts. It is predicted to increase by more than 105 percent between 2016 and 2026. With the solar power industry expanding, eager HVAC professionals may finish a photovoltaic training program to enter this green energy field.
Wind Turbine Technician
According to the BLS, this is the second-fastest increasing employment, with a 96 percent growth from 2016 to 2026. As the need for renewable green energy grows, so will the number of wind turbines and wind farms, as well as the need for service professionals who are educated in the technology.
Selecting a perfect resume style 
Don't you realize how busy the HVAC hiring manager must be, he must be having over 100 resumes piled up in front of him and got no time to read them.
To land up for an interview and ultimately a job offer, you need a resume that serves you as a silver spoon.
Here we'll tell you how to write an attractive resume, that at least lands you for the interview.
We will also tell you what, and what not you should mention in your resume to make it appealing enough for another glance and then a read from the manager.
To persuade the hiring manager to look up your resume properly, you need to make sure that the outlook of your resume is attractive enough to outstand other competitors. A perfect format for a resume is as important as your qualifications for being an HVAC Technician.
You need to use, right fonts, colors, headings, and spacing to make your words look clean and worth a read.
You need to make sure that the layout you follow, makes it smooth for your hiring manager to jump from one headline to another.
Above are two samples of resumes we suggest you take into consideration while preparing an outline of your resume.
Here are some general tips on how to write everything in an effective and effortless way
1. Make sure you introduce your achievements, accomplishments, and everything in reverse chronological order.
Your latest and most recent achievements are needed to be condensed first on your resume.
2. To make your resume stand out and to land yourself for an interview, you are required to mention a resume objective.
It shows, that you are enthusiastic and disciplined about your work and you are willing to work hard.
3. Write tons of measurable achievements (if you have), because this will simply attract the hiring manager to remember your name while shortlisting candidates for an interview.
Here is a sample resume with the resume objective mentioned, instead of a professional summary.
What if you are a fresher?
Well, no big tech company or firm will hire an HVAC Technician with zero work experience, so now the question arises, where should you go?
Well, the best areas for you are the ones, near your place. Call small businesses, tiny tech associations, and send each of them your fresher resume, describing your, knowledge, skillset, and work ethic. Get land on a job with them, a temporary one, but start.
Even if you don't have any prior industry experience, yet they'll hire you, and thus you'll have a ladder to climb and have your experience as a professional while making some real bucks. 
Key points your resume should have
These are the few key points we suggest you put in your resume for a guaranteed consideration by the hiring manager.
Professional Summary 
        A professional summary is a much-needed Introduction your resume should have. It is considered a highly professional approach to Introduction.
Work experience
       If you have any kind of prior work experience whether professional or interned you should mention it on your resume. If you're applying for a senior HVAC technician will post then, you need to have at least 3-5 years of prior experience in this field.
Skills
       Mind you, skills are not your education qualifications/knowledge or technical expertise, Skills are your logic to come up with a solution early as possible, doing your job as a technician efficiently and accurately. In skills, you should describe how efficient and diligent you are towards your work 
Education
       Finally, here you have to write about the knowledge, technical expertise, and formal education you have gathered all these years.
Certification/Licence
      Here you need to mention all the legal certifications and licenses, you have been entitled with. 
Mistakes to avoid
Well as an HVAC Technician, the general mistake many people are guilty of is tossing up every skill they got, in the hope to land up for the job. The hiring manager, won't search for the best-suited skills, instead, he will discard your application and resume.
In other words, you should describe your abilities in a clear manner. Your skills should be in direct collaboration with the work you are applying for.
We have already told you, what you should mention in your skills. Be precise and clear with it.
How does a Hvac technician operate?
HVAC professionals operate in several environments, including domestic (homes, residential buildings, apartments, villas, or cottages), commercial (malls, stores, manufacturing facilities, hotels, resorts, airports, stations, and office buildings), and sometimes outdoor.
 HVAC technicians' tasks are vital because they assist improve the efficiency of HVAC equipment, ensuring the optimal operation of such systems throughout their particular facilities.
Many of the tasks performed by HVAC technicians are geared at enhancing the speed of HVAC systems and decreasing the environmental impact of their operations. HVAC professionals do a wide range of duties to achieve these ecologically friendly goals, including:
Changing old filters for new ones
Dehumidifiers should be installed where they are needed.
Putting in thermostats that help you save energy and money
Heat pumps are being installed to assist cut carbon emissions.
Responsibilities
As an HVAC technician, there are certain responsibilities and suppositions that you are bond with
 Theoretical knowledge and hands-on experience servicing and repairing a wide range of HVAC systems 
 Basic understanding of circuit boards, processors, computer software, and electronic devices 
 Experience with a variety of electric tools and equipment 
 A thorough grasp of HCFC and CFC refrigerant recycling 
 Assisting HVAC journeyman 
 Performing all-around prep work 
Cleaning of both the inside and exterior coils 
 Install, support, and troubleshoot both residential and commercial HVAC units. 
 Installing, updating, and customizing the thermostat and alarm systems 
Routine maintenance work is to be completed while clients are advised on how to care for their systems. 
Filters and cells should be cleaned and replaced on a routine basis. 
Furnace cleaning and cleaning as part of routine maintenance 
Copper and black piping cutting and sanding 
Experience with the use of fiberglass  
Diagnosis of issues in a range of heating and water systems to determine the necessary tools, equipment, and parts for replacement and repairs. 
 Installation of flexible tubing and sheet metal for the installation of complete HVAC systems 
HVAC equipment requires repairs and preventative maintenance measures. 
Before commencing any project, evaluate, analyze, and test tools and equipment. 
On average, I work 35 billable hours each week, with infrequent overtime. 
 General 
Interacting with clients regarding their HVAC concerns
Investigating and troubleshooting mechanical and electrical faults with heating, cooling, and ventilation systems. 
Maintaining truck and office inventory to ensure that all commodities are conveniently available 
When necessary, fabricating equipment parts 
Placing and tracking work orders, including the entry of hours worked and materials utilized 
Maintaining HVAC systems on a constant schedule 
Invoicing and invoicing clients for services rendered 
Great customer service skill 
Selling ongoing maintenance contracts to potential prospects and clients
Mandates to ensure
Consulting with clients on their HVAC needs 
Investigating and troubleshooting mechanical and electrical faults with heating, cooling, and ventilation systems. 
Maintaining truck and office inventory to ensure that all commodities are conveniently available 
When necessary, fabricating equipment parts 
Placing and tracking work orders, including the entry of hours worked and materials utilized Maintaining HVAC systems on a constant schedule 
Invoicing and invoicing clients for services rendered  
Great customer service skill 
Selling ongoing maintenance contracts to clients
Reasons to pursue a career as a Hvac
      There are 3 major reasons to pursue HVAC technician as a career path: 
New Technology necessitates on-site installation
         There will be a technological advancement with the passage of time, that will lead to the replacement of the most efficient designs that are available today, when it happens, you will need to bring in an HVAC technician to make the changeover.
Smarter Systems necessitate the use of skilled professionals
         As new HVAC technologies become more advanced, today's complicated   HVAC systems and their components necessitate the use of technically competent professionals who can adapt to the changing landscape.
Green is popular among graduates
       It is one of the fastest developing sectors due to the regulatory environment and quickly rising consumer demand for energy-efficient products. While this is excellent news for individuals seeking secure, rewarding employment thereby it is a noteworthy opportunity.
Ethical skills needed as a Hvac
Despite the fact that work possibilities are plentiful, the BLS acknowledges a shortage of skilled technicians. HVAC technicians who have received trade school training and have mastered specific abilities will be in great demand. Employers expect all of their HVAC professionals to have certain abilities. 
They ought to be competent to do the assigned objectives
When installing an HVAC system in both new and existing buildings, read blueprints and adhere to architectural standards.
           Install the appropriate electrical cabling and link the HVAC systems to the supply lines. They must also understand how to connect the system to the air ducts and complete all other procedures in the installation process.
Understand how the complete heating and cooling system works. To build and repair HVAC systems, job candidates must have a thorough grasp of how they function.
Understand how to comply with government rules governing refrigerant recycling, including the correct handling and disposal of all related fluids and gases. Assess job-related safety hazards and use accident-prevention measures. Use testing equipment to discover faulty parts and indicate the repairs that are required.
Make use of a variety of tools. HVAC professionals, for example, install and repair HVAC systems with standard hammers and screwdrivers. They also employ specialized tools like acetylene torches, carbon monoxide testers, and a variety of other complex instruments. Employ computer abilities to use software tools that allow them to seek employment assignments. They must also understand how computers are utilized to operate and maintain HVAC systems.
 Troubleshoot. Although installing systems is a large part of an HVAC technician's job, diagnosing faults with non-working systems is as important.
Effective communication is essential. A large portion of the work entails communicating with customers who report problems with their systems. Customers are generally unfamiliar with industry jargon and will describe their difficulties with their systems in perhaps odd words. Technicians must listen attentively and calmly, and they must know what questions to ask to assist locate the problem. Furthermore, selling service contracts is frequently part of the job description, thus technicians must know how to favorably interact with clients for the customer to be open to the purchase.
There are a lot of abilities that must be gained regardless of the area of HVAC a person decides to specialize in. Furthermore, a professional HVAC technician will keep current on technology developments and be eager to continually learn how to enhance and broaden their technical abilities.
Remunerations to expect
Wages are a significant component of an HVAC company's success. They are critical to the company's price, delivery, and marketing activities. Wages are equally important on the employee side in terms of attracting, retaining, and overall work satisfaction.
The average hourly wage for an HVAC technician in the United States is $24.57 per hour, with a potential hourly wage of $52.93 per hour.
The minimum annual salary of $55,000 or higher; maximum annual salary of $110,094
As an HVAC technician
The salary of an HVAC manager might be up to $72,515/annually
HVAC Service Manager may expect to make up to $71,176/annually
Work From Home HVAC DDC Technician:     $70,636/annually
Work From Home HVAC Hospital:     $70,458/annually
Work From Home HVAC Student:     $70,174/annually
this data represents a diverse range of job titles and responsibilities, varying from administrator to senior HVAC professional, and the pay range reflects that.
The above insight is based on a survey conducted in 2019.
Conclusion
Following the above tips and techniques, you will be able to write an effective Resume for an HVAC Technician position, also assisting you in gaining an interview as well as landing a job. You may also use the above mentioned tips to enhance your existing Resume, making it more effective and attractive for the managers.
Hvac Technician Resume-Know More