A barista is someone who serves happiness filled in a cup of coffee. They mix and prepare different kinds of coffee-related drinks. Baristas play a huge role in the working of a cafe. It depends on them whether people will visit the cafe again. A professional barista has extensive knowledge about coffee; the basics and the processing. They have a keen sense of smell and taste that helps them in differentiating between good coffee and poor-quality coffee. Passion and love for coffee are what make a good barista. let us know about that the Barista Resume Examples, Skills, Objective.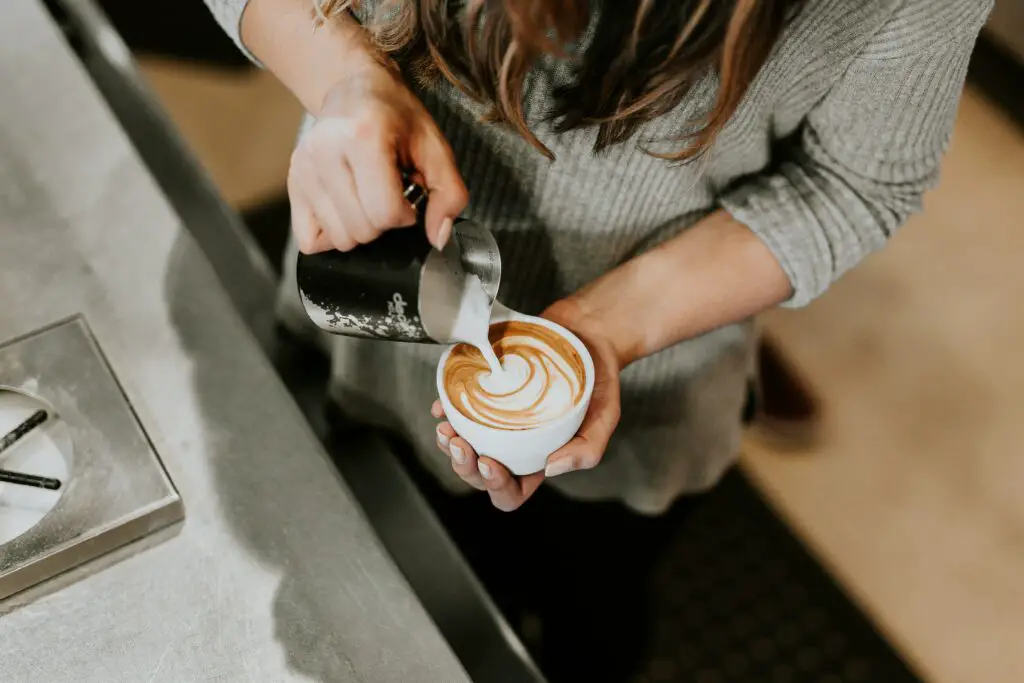 A resume for the job of a barista has to be prepared with attention to detail and in proper order like you do when preparing coffee behind the counter. Just like a menu in a café, a Barista resume is a menu that shows off different skills (ingredients) that you possess. The hiring manager gets a brief preview of what you aim to present on the job. 
If a barista's resume is not written in the correct format, it appears unprofessional and vague of any flavor; like a badly made coffee. Preparing the resume is the first step you take before making the cover letter when applying for a job. 
So, you must follow certain guidelines to be able to display the best of your abilities. After all, it is through the selected best coffee beans that you get to indulge in a good cup of coffee. 
In this article, different formats and guidelines will be explained that you need to follow while making your own barista resume. 
Few Examples of a Barista Resume
Example #1 
Clarissa Loyal
Townspeople, CA 00098
*555 555 5555* (Contact)
Resume Objective 
Passionate coffee-lover with 2 years of experience in the food industry, skilled in brewing methods and different roasting techniques, strong leadership, and organizational skills, looking to learn more about the coffee-making process and developing other skills. Seeking the job of a Barista. 
Work Experience 
Junior Barista
JoJo Coffee/ September 2019- present
Learning and understanding the entire menu clearly and in detail.
Aid other baristas in making drinks and following instructions. 
Cleaning and sanitizing equipment at the end of the day. 
Server 
Bar and Grill/ August 2018-September 2019
List down the order and serve it correctly to the right customers.
Maintaining the cleanliness in the restaurant
Checking the inventory according to the managers' instructions and keeping it up to date. 
Education background 
Masters in Food Science and Safety 
California State University (2020- 2022)
Bachelors in Food Science and Technology 
Chapman University (2016- 2020) 
Skills 
Leadership
Organizational skills 
Customer service/ customer-oriented 
Strong communication skills 
Attentive 
Quick to learn and adapt
Bilingual (English and German)
Roasting and Brewing methods
Additional Details 
Certificate course in culinary arts
Best employee of the month in JoJo Coffee 
Certificate in German language learning 
Example #2 
Robert Harlington 
Common city, LA 00056
*555 555 5555*(Contact) 
[email protected] (Email-Id)
Resume Objective 
Customer-oriented and organized, keen on learning about coffee and the processes behind making a good cup of coffee, hard-working and ambitious about opening a café of my own, looking forward to joining the team and work. Seeking a job as a barista. 
Education Background 
Barista Diploma 
Coffee Association (2021-2022) 
Bachelors of Arts in Culinary arts
Orange Coast College (2018-2020) 
Participated in an annual cooking competition 
Volunteered for the research in various fields of study in culinary sciences and how they defer according to the states. 
High School 
Los Angeles High School 
GPA- 2.7  
Part of the food science club and participated in different events in charge of the food supply. 
Participated in charity events that required cooking food for undernourished kids. 
Work Experience 
Server 
Healthy Café (June 2021- present) 
Memorize the entire menu and learn details about different drinks and food.
Take orders and deliver the food and drinks to the customers
Resolve any queries of the customers
Explain and educate the customers about the drinks and different dishes available. 
Cleaning the tables and equipment at the end of the day. 
Skills 
Organizational skills
Strong communication skills 
Good memory 
Quick to adapt 
Attentive 
Customer service 
Ability to follow instructions clearly 
Responsible
Time management 
Example #3 
Nicole Keys
NameTown, Street, ID 0009 
*555 555 5555* (Contact Number) 
www.login/nameyourdomain.com 
Resume Objective
Customer-oriented, a Professional, certified Barista with almost 3 years of experience in preparing drinks, involved with the development of new drinks, and introduced two new drinks in the last café. Experience in handling more than 2 junior co-workers and organizing the daily menu. Seeking for the manager role. 
Professional Background 
Lead Barista
NameTown, ID / December 2019- present
Supervise all the sales and promotions in the store as instructed by the manager.
Train new baristas on the job
Working in busy hours and making sure the high standard services are provided to the customers. 
Recommend new drinks and educate customers about the origin of the beans and the process of making their drinks. 
Barista 
Address / November 2018-November 2019
Learned all the different drinks on the menu, and made sure to satisfy the customers. 
In charge of sanitizing, cleaning all the equipment at the end of the day, and maintaining cleanliness. 
Included in promotion of the store, costume changes, handing out flyers, serving sample coffees to try, and social media interactions. 
Education Background 
Barista Diploma 
Coffee association (2017-2018)
Food and culinary studies 
Idaho State University (2015-2017) 
Skills 
Foreign Language( Spanish and Italian) 
Multitasking 
Knowledge about coffee 
Customer service 
Promotional strategies 
Organizational Skills 
All the three examples mentioned above are different from each other. Example 1 is a resume belonging to a person who has relevant experience and some knowledge about the coffee business. So, the first resume showcases the work experience and education in a balanced state. 
The second example is a resume of someone who is not as experienced in the relevant work and is still just starting out. So, their resume focuses more on their educational background rather than their experience. And the educational background is listed before work experience, unlike other resumes. 
The third example displays the perfect skills required for the job of a barista and has a strong work history. It is a resume for a higher position as the person has already worked as the lead barista and has enough knowledge about the work and is capable of more responsibilities. So, their work experience is more detailed than their educational background, which just highlights the work experience more. 
Looking at each section individually 
Personal Details 
As you see in the example given above, the resume begins with your personal details. The first thing that you need to put in your resume is your personal details that the hirer can use to contact you. 
Personal information includes your name, your address, your contact number, and your email address. 
You can include any other source of contact if you wish to. For example, Facebook, LinkedIn profile, or any other communication app. 
Resume Summary
Call it a resume objective or resume summary, either is fine. The purpose of the resume objective is to highlight your experience and skills. As the hiring manager looks at your resume, they would quickly get some information regarding your experience and skills through the resume objective. 
It is also known as a resume summary as it summarises your entire resume in a few lines. However, how you decide to write the resume has an impact on your first impression of the hiring manager.  
In your resume objective, you need to focus on the purpose of the content. Explain your professional background and experience in technical terms and not in lengthy statements with additional details which are not necessary. In the summary or objective, you should only focus on what you want the hiring manager to know. 
Use terms or keywords that are often used in the Coffee industry, and keep it short and precise. 
Also, include the position that you are applying for, at the end of the summary.  
Work Experience 
Under this category, you will include your experience either in the barista line of work or other work. You can mention your internships and training too if you wish. 
While writing the details about the work experience, you have to be detailed and specific. It should explain your position and duties on the previous job. The details about the work show the hiring manager what kind of work you have been doing in specific. 
The position you worked for, your duties, the amount of period you worked there, and include the café or company's name. These things are key to understanding your previous working experience. 
Many employers look for people who put in effort in their application and show that they are interested in the job that they have applied for. By providing the details of your previous experience, you are letting the hiring manager know that you have given it more thought before putting it into the resume blindly. 
An example of the incorrect way of writing your work details are: 
Responsible for cleaning.
Memorizing the menu
Promoted the store
It is not the correct way of writing your work details. It shows laziness and improper communication. This line of duties sounds vague and doesn't look like something that will get you hired for making coffee. 
The correct way to write your experience is: 
Responsible for cleaning equipment throughout the working hours, and keeping the store clean all the time. 
Memorized all the different coffees on the menu and experimented with making different drinks
Actively promoted the store through different mediums, like handing out flyers, making sample drinks, interacting with customers, and educating them about different coffees. 
If you are applying for a higher position like the Lead Barista or manager, you need to include your key achievements during your previous job. It showcases your capabilities. 
Education Profile
Education profile is where you explain the history of your education. Education profile can include all the degrees and courses that you have completed and the ones you are pursuing.  
Your university/college, the year you pursued that course in and you can include any other additional information about the course if you wish. You can mention other extra components that you took up in university or other courses that you have participated in. 
If you have done courses related to the role of Barista, it is well and good. However, if you haven't joined any course or degree which is related to the job, it might cause some trouble. 
Unless you have skills and experience in the field similar to barista work, applying for a higher position is not possible. 
Your educational background should show what you have learned and whether you have the qualifications to be accepted for the job. 
Awards 
The awards section is optional, you can decide to include it or you can decide to leave it out. Though, it may be advantageous in the hiring process, if you have awards or achievements related to the field. 
You can include awards that you have received earlier in your life during university or college, awards that you have received on your previous jobs, and any other awards you may have received which might benefit you with getting hired for the said position. 
Skills 
Skills are one of the essential elements of a resume. Skills are what define you and show who you are. You need to be clear and precise when describing your skills. 
Usually, one-word responses are expected when mentioning your skills. But you can add little detail to the skills. 
Some of the skills you may need as a barista are: 
Customer service 
Creative mind
Organized
Latter art
Coffee-brewing automatically and manually
Communicative sills 
Multitasking skills 
Operating coffee equipment
Knowledge about food safety and hygiene
Time-management
Strong verbal communication skills
Working under pressure 
Knowledge about coffee beans and different processing methods 
Leadership skills 
Teamwork skills 
Fast-paced and efficient 
Attentive 
You need to add the skills which are relevant to the job you are applying for. Despite not having enough experience, you can still showcase your skills and get a chance to be hired as a barista. 
Additional Sections 
This section is optional, you can either include it or leave it out of your Barista resume. In the additional section, you can include your 
Extra-curricular activities, 
Café awards received on previous jobs, 
Food-related course certificates, 
Personal projects related to coffee that you might be working on, 
Foreign language if you know any,
 and more that you wish to add. Add the skills that are relevant to the job criteria. 
Café awards and certificates let the employer know about your potential and your achievements in the same field. 
Personal projects can include creating a new recipe for coffee or planting your own coffee beans and selling them. This option lets your hirer see your creativity skills and independent thinking. 
Foreign languages can play a role in your hiring process too. While working as a barista, you have to interact with the customers who come in every day. There are different types of customers that visit a café, tourists, locals, wanderers, and more. Having bilingual skills is a bonus for any job. Any different foreign language can be a benefit in your role in interacting with various customers. 
A Rough Template of a Barista Resume
Name 
Address 
Contact Number
Email-Id 
Resume Objective 
Explain your goals and skills. Summarize your experience, if any, or focus on your skills and your aim while working for the particular job. 
Education Background 
Recent Qualification
Name of the institution 
Duration of the course 
GPA or your score
Followed by your previous educational background
Work Experience 
Position of responsibility/ Role
Location/Duration of the job
Summary of your responsibilities and duties
Position of responsibility/ Role 
Location and Duration of the work
Summary of the key responsibilities and key achievements 
Skills (Include relevant skills that you possess)
Leadership 
Organizational skills 
Time Management
Hard-working 
Key Points When Formatting The Resume 
When you are writing about your experience and educational background, follow the reverse-chronological style. 
Bold your headings so it is easier for hiring managers to read the important points first or find what they are looking for
There are specific fonts that you should use when writing a resume. Don't use decorative or downloaded fonts, they are not standard and come off unprofessional. Some of the fonts you can use are Times New Roman, Calibri, Cambria, Book Antiqua, Helvetic, and other fonts that are used for formal occasions. 
The usual font size is 12pt and about 2-3pt more for the title.  
Make sure that you proofread for typing errors or spelling mistakes. 
The dates of your education period and experience term should be accurate and up to date. 
Add in your details in bullet points so it is easier for the manager to go through them quickly. 
Avoid leaving too much white space, arrange your resume in such a way that it is easier to read and comprehend. 
Always submit your resume in the form or PDF, unless asked in a different specific format by the café. 
In a general barista resume, the experience may come first, followed by educational background. However, if you lack experience or are a fresher, you can put your educational background first and follow it with experience. Make sure that you give detailed information about your course and complete education background. 
Having relevant skills and a passion for coffee are two things that can guarantee you the job of barista.  You need to develop skills by taking courses and different internships. 
Some of the commonly asked questions
What are the requirements of a Barista? Is there a specific educational degree required? 
High school degree or GED. 
Experience in retail, hospitality, and the food industry. 
Strong communication skills in English 
Ability to solve problems quickly
Have a strong sense of smell and taste related to coffee
It should be noted though, that there are no specific educational requirements for the job of a Barista. However, employers prefer people who have a high school diploma at the least.  
How long should my resume be? Is there a specific number of pages? 
There is no specific number for how long your resume should be. However, it is preferred that you make the resume of 1 page only. Arrange it in such a manner that your whole resume is visible in the first look. Unless your resume is filled with a lot of details, you can opt for the second page. 
As an entry-level candidate with no experience, how do I frame my resume objective? 
Instead of earlier experience, include your education details and mix them with your skills and what you hope to achieve through this job. For example,
"Coffee-lover and an engineering student with a 3-year experience of being a home barista. Passionate about learning coffee-brewing methods and coffee beans plantation. Familiar with the art of roasting and latte art. Looking forward to joining the team and creating a happy environment through coffee and giving the customers an amazing experience."
In this way, you included your passion for coffee, your interests, and your aim regarding the job you have applied for. 
What is the format for writing the educational background? 
Start with your latest degree/course that you have just finished or are currently pursuing and follow that with the reverse order of your education history. 
When you are adding in your education details, follow this format:
Course name 
Name of the institution 
Year of joining and end or expected to end
GPA/ Score 
Mention the coursework that was included in the course or any extra projects that may be useful to the job of a barista. 
The coffee industry is advancing quickly and continues to rise in demand at present too. Cafes have become a hot spot for people to meet, have fun, and work. It is not surprising that the number of baristas has also gone up. More people are following their dream of becoming a Barista. 
If you are passionate about coffee, the barista is the job for you. You'll get to learn more about coffee on the job and you can also do something that you love. 
With the help of these guidelines, you can impress the hiring manager and increase the chances of getting hired.
Every resume has its own guidelines according to the job that you are applying for. These guidelines provide you with a set of rules that you follow to get a job. 
Writing a barista resume is no difficult task, just follow these guidelines and you are good to go!
Barista Resume Examples, Skills, Objective