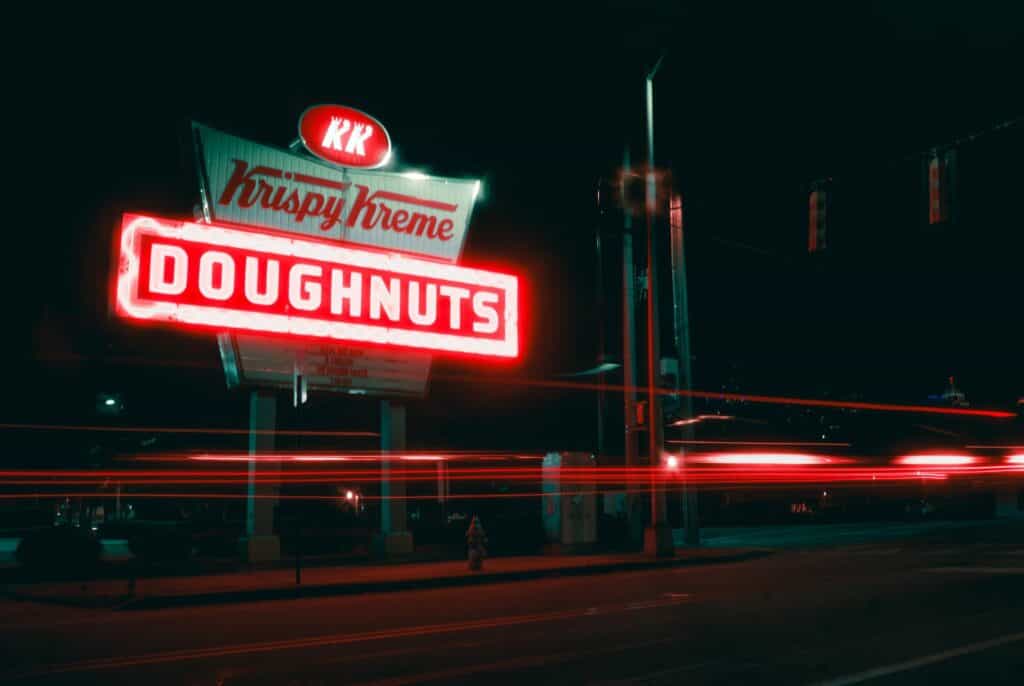 About Krispy Kreme:
Krispy Kreme is an American doughnut chain that was founded in 1937. Its first store was located in North Carolina, United States which started with a purchased recipe and a venture in a small building. Vernon Rudolph founded the corporation in Winston-Salem. With its rising fame worldwide, it became known for its freshness and stood out among its competitors like Dunkin Donuts. Krispy Kreme uses yeast-raised dough and fries the doughnuts which makes them rich and tasteful. Let's know Who owns Krispy Kreme?
Krispy Kreme is primarily known for its classic glazed doughnuts. Such a simple product, but the immaculate taste has appealed to the majority of customers worldwide. This recipe has been perfected ever since 1945 and continues to amaze customers. Krispy Kreme also makes its doughnuts in-house unlike its competitors who mass produce them. The freshness quality of the fryer to the box is what attracts more customers their way. The doughnuts are fried, not baked which is what makes them tastier. They also have a specific sign to let the customers know that they are making a fresh batch at that time. This information can also be searched on the app by enabling your location. Customers can know in real-time which is the closest Krispy Kreme store and where fresh doughnuts are available. 
Krispy Kreme sources their coffee beans from small farms and in this way still think about the well-being of their farmers and employees no matter the level of employment. This is why their coffee is not certified as Fair Trade because small farmers do not qualify for that since their products might not be continuous. 
About the founder:
Rudolph's uncle purchased a secret yeast-raised recipe from a French chef and sold doughnuts copyrighted under Krispy Kreme. He started selling to local grocery stores to attract a newer demographic, and the business gradually grew from there. This business idea started when Rudolph along with two partners sold freshly made doughnuts with a delivery rack in the back of their car. Their growing interest among the customers made them take this forward to the retail world. 
After continually producing their product to doughnut stores and coffee shops, they started manufacturing it large scale with their machinery, and by the 1960s Krispy Kreme earned its brand name and the infamous green color brand was widely known. 
After Rudolph died in 1973, the company was stagnant for a while. Until the company was bought in 1982 by Beatrice Food Company. Then Krispy Kreme opened its first store in New York and California in 1996 and 1999 respectively. 
History of Krispy Kreme:
Like mentioned before, Krispy Kreme started as a small venture in the back of a car, a 1936 Pontiac. The authenticity and freshness of the doughnuts brought more and more customers to their doorstep. This somewhat forced them to go big and end up to where they are today. With a variety of stores put up by the '40s and '50s, they made sure that each store made its doughnuts in the store and continued the legacy of fresh products. This process wasn't always consistent in producing their promised products so, Rudolph decided to set up a doughnut producing machine owned by Krispy Kreme. They produced the doughnuts in this plant and developed a distribution system to provide to all stores at the time. Over time they tried to perfect their automatic process of producing doughnuts. 
Growth of Krispy Kreme:
Krispy Kreme turned 60 in 1977, and by then it was recognized as the 20th-century American icon. With this title they brought upon themselves, they also donated some company artifacts to the Smithsonian Institution's National Museum of American History. 
As of December 2001, It went international by setting up a location in Toronto, Canada. Their growth from here on was a straight road ahead. In 2003, they opened locations in Sydney, Australia, and London, England.  As of 2006, Krispy had over 400 locations worldwide selling over 2.7 billion doughnuts every year. To top all of this, they opened over 700 locations in Asia, Mexico, Puerto Rico, Turkey, and the Middle East. Once Krispy Kreme was known worldwide, there was no stopping to its rapid growth. 
However, Krispy Kreme did not stop here, its continuous growth over the years had been phenomenal and continues to do so. There is so much the company is looking forward to in the future with the changing times. 
What does the future look like for Krispy Kreme?
From the very first day of Krispy Kreme to this date, they have not wavered from their company reputation of providing fresh and delicious doughnuts. They branched out to coffee, pastries, and savories with their rapid growth and have over 1400 locations worldwide as of today. 
In 2019, Krispy Kreme went under development to redesign its stores and menus. This was their first store redesign in a decade. They are on the road to portraying new designs that have flavors of the modern world while still staying true to their roots in certain elements. The Krispy Kreme logo went through a minor change in 2017, and now they are looking to redesigning their stores and the customer experience.
New stores brought in doughnut-infused ice cream available in the form of milkshakes and scoop sandwiches. Milkshake flavors varied from vanilla glazed, double chocolate, strawberry, salty caramel, oreo cookies & Kreme, and many more. This provided a brand new experience for customers to help them customize the original glazed doughnut in any way they wish. Krispy Kreme also plans to introduce concepts where customers can customize their doughnuts from a variety of five glazes, ten different toppings, and five drizzle flavors. Customers can customize their doughnuts in numerous ways and receive them in three-packs or six-packs.  
With the growing technology of the modern world, Krispy Kreme has provided digital menus, interactive enhancements for an end-to-end view of the doughnut-making process. Stores also added new lighted display cases. Krispy Kreme needs to keep continuing its legacy but at the same time keep up with the times and mold its business strategy to appeal to newer customers. 
The company is in talks of offering online ordering services and pickup services in stores. They are also planning to expand their drive-thru to double lanes. The increasing demand calls for improvements and development like this. 
Krispy Kreme had plans of opening a flagship store in New York in May of 2020. It was delayed by a few months due to the global pandemic, but it had been officially set up at Times Square as of September 2020. This flagship store has become New York's biggest Krispy Kreme store. Customers can shop following social distancing rules in the store. Customers will be able to watch the doughnut-making process in this store as it incorporates a seating arrangement similar to a stadium where customers overlook the bakers. They can see how their orders are being processed from the mixing of ingredients, making the doughnut shape, baking, and finally the highlight, the glaze waterfall. The glaze waterfall was one of the main elements used to attract customers and get them excited for the opening of this store. They also offer New York-themed merchandise like coffee mugs, bags, t-shirts, and many more. 
One of the other highlights of the store is their new doughnut that will only be available at that store, the 'Big Apple' Doughnut. This doughnut recipe was inspired by the candy apples from Coney Island. This exclusive doughnut and the candy apples have a very striking similarity. The doughnut has a shiny red glaze shell and is filled with red cream. It has a pretzel stick as the stem of the apple. Now customers are intrigued to visit this store in New York and has become one of the iconic locations of Krispy Kreme.  This store would also incorporate a pickup service place in the store of glazed and assorted doughnuts along with the merchandise they produce. The grab-and-go system would increase the speed at which customers come and go since it is at the heart of Manhattan, New York, and is the standalone store of its location. 
Conclusion:
An overall look into Krispy Kreme tells us that it is a corporation that will be remembered by generations. The company offers a wide variety of doughnut flavors that cater to multiple age groups and continues to grow its customer demographic. They started with their original glazed doughnut but these days they are producing doughnuts based on the seasons and trends. From Valentine's Day specials to Christmas or Halloween doughnuts they have appealed to a larger demographic. Krispy Kreme has also explored with jelly-filled doughnuts that is a doughnut without the hole at its center and they have also explored with differently shaped doughnuts. 
Krispy Kreme has lived through multiple generations and will strive through many more. The primary factor that has contributed to its growth is its constant production of fresh products and working towards its company image. 
Who owns Krispy Kreme?- Full History